In 2018, Five9's stock (NYSE: FIVN) has hugely outperformed the market by gaining 101.9% YTD. Although the company's growth story is still intact, its stock price is now overextended and a steep correction may be imminent. For that reason I recommend investors to sell their long stock holdings or put on a protective put to hedge their positions.
What do investors like about the company?
Business wise, the company is a leading provider of cloud software for contact centres which is an essential niche as contact centres have already become an indispensable part of our business society. Couple characteristics of the company increased its attractiveness for investors.
1. Large and diverse client base. As of December 31, 2017, the company has more than 2,000 clients that span across different industries with no single client representing more than 10% of the firm's revenue. This ensured the firm's stream of revenue.
2. Market potential. According to a market research report published by MarketsandMarkets, the market is expected to grow to USD 20.93 Billion by 2022, implying a CAGR of 25.2% during the forecast period.
3. Barriers to entry. It is difficult for a large number of other vendors to enter the space as vendors in the space need to have a range of expertise including network, cybersecurity and how to build a SaaS platform. In addition, providing cloud service to complex enterprises create enterprises creates stickiness as the cost of switching vendor is high.
4. Management. Rowan Trollope is an industry veteran from Cisco who led business that includes contact centre. The market believes Five9 has a strong team in the helm and expects them to deliver satisfying results for investors.
Fundamentals
Driven by the enterprise business, the company's top line is growing rapidly over the years. Revenue growth accelerated in Q2, up 28% YoY to $61.1 mn and the market expects it to grow 22.9% to $246 mn in 2018. Gross margins continued to expand as the company continues to shift to the enterprise segment and controlling cost-effectively, the market expects its 2018 gross margin to be 63.5% which is 450 bps higher than that of 2017. Although the company is still relying on cash from financial means, its free cash flow has been improving consistently and is likely to further improve.
As the company's strategy focuses on capturing more market share, increasing in existing clients and expanding internationally, it is reasonable to assume that the top line will continue rise while net cash flow will remain under pressure.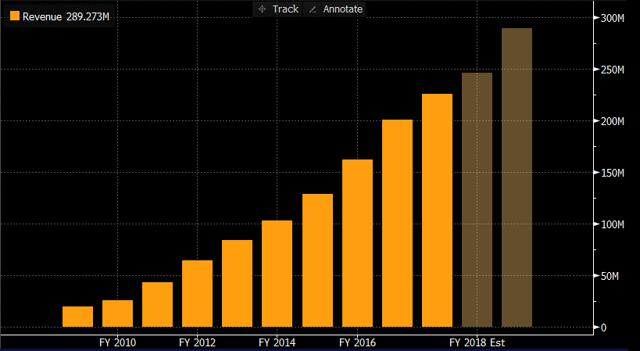 Source: Bloomberg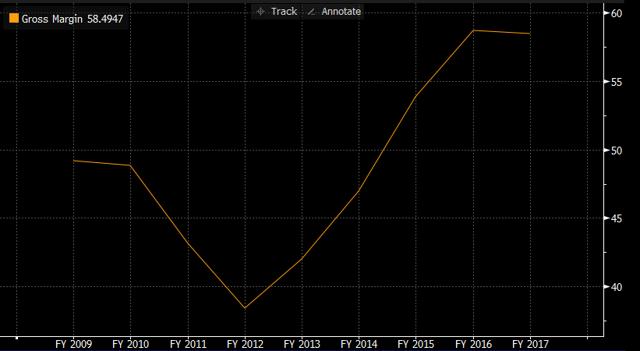 Source: Bloomberg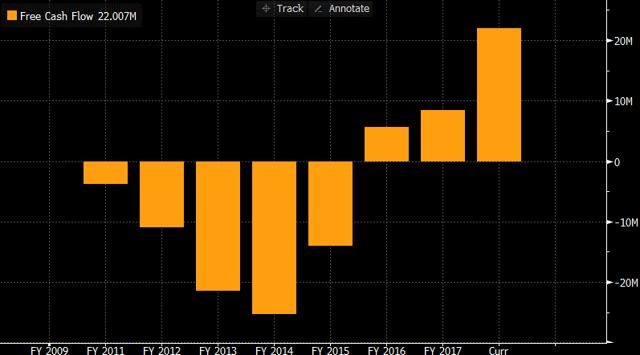 Source: Bloomberg
You may be wondering why I suggest investors to sell their holdings after saying nothing but praises about the company. Five9 is a good company with a lot of potentials but its valuation is way ahead of its fundamentals. Market positions show a correction may be imminent.
Valuation and Technical
Not only is the company yet to be profitable (therefore can't value it using P/E), its price/sales ratio is at historic high after the sharp increase of stock price. Apart from that, the street consensus price for the stock is $41.56 which implies a return of -13.8%. Although stock prices are still largely in line with the growth of revenue (shown by the EEG graph below), its stock price is overextended and weekly RSI is trading near 80. The stock has a tendency to trade around its 21 week SMA over the past 3 years and if the stock reverts back to its 21 weeks MA now, the stock can correct by more than >20% (21MA is currently at $37.51). In addition to that, the stock's momentum is weakening against SPX and short interest is currently at 52 week high.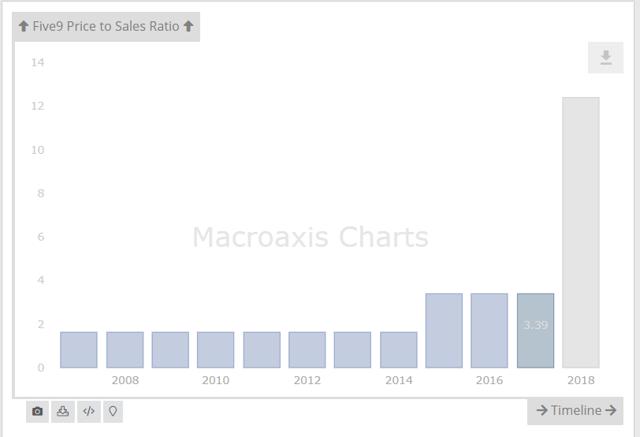 Source: Macroaxis Charts

Source: Bloomberg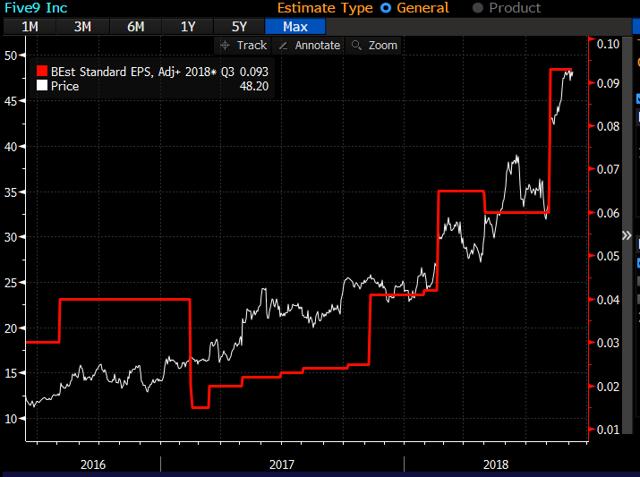 Source: Bloomberg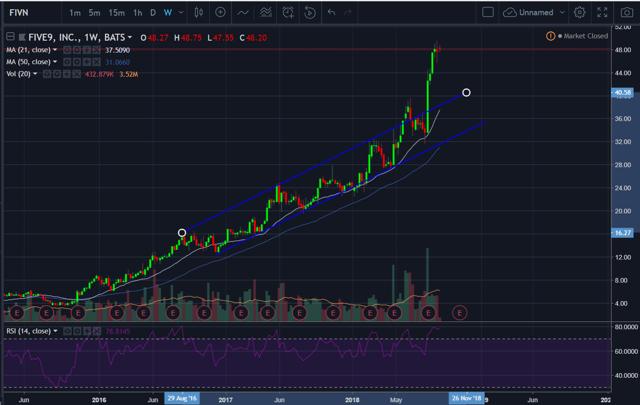 Source: Tradingview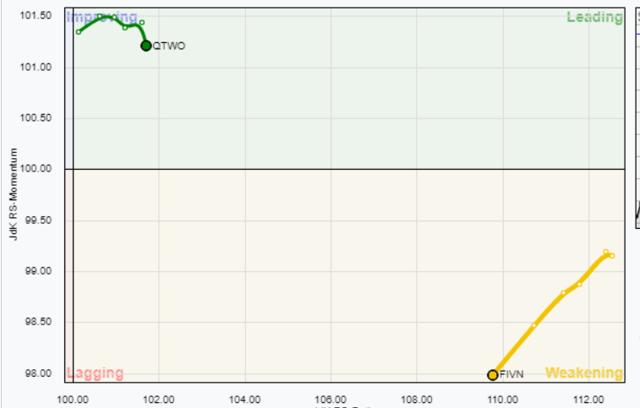 Source: Stockcharts.com

Source: Bloomberg
Action Plan
In both previous correction phases this year, the stock dropped to its 50 SMA and that is very likely to happen again. Its 50 SMA is now at $39.98 and therefore I set my first target price at $40, implying 21.46% downside. Action plans for different types of investors are as follows:
Investors already have a position: Take profit or purchase a protective put option to hedge downside risk.
Investors who plan to build a long-term position. Wait for the stock's price to drop to its 50SMA then initiate your long position.
Conclusion
Five9 is a good company with tremendous growth potential given its position within the industry and its niche market, the fundamentals of the firm are rapidly improving however its stock price is now too far ahead of its fundamentals and posts a significant downside risk for investors. For that reason, I suggest investors not to go long the stock now and should take profit or hedge it with options if they own any long positions.
Disclosure: I/we have no positions in any stocks mentioned, and no plans to initiate any positions within the next 72 hours. I wrote this article myself, and it expresses my own opinions. I am not receiving compensation for it (other than from Seeking Alpha). I have no business relationship with any company whose stock is mentioned in this article.