A Short History of East-Coast Hurricanes
It has been some time since a hurricane greater than a category 2 has hit the Eastern Seaboard of the U.S. In fact, you have to go back to Hurricane Fran in 1996 before you find a storm that makes landfall as a Cat 3 to hit the Eastern Seaboard (with the exception of Florida). Hurricane Fran caused significant damage as it tore through the Carolina and Virginia coasts and created significant disruption to infrastructure hundreds of miles inland. UNC-Chapel Hill was left without power for more than a week.
Hurricane Florence may well be the first major hurricane to hit the eastern seaboard since Fran in 1996 devastated my home and most of eastern North Carolina.
While Sandy was initially a major hurricane, it weakened before hitting New York City, but still left catastrophic damage due to incessant flooding and high tides. Often, it is the flooding, not necessarily the high winds, that do more damage to coastlines and infrastructure. Hurricane Katrina and Harvey are certainly perfect examples of that.
Can hurricanes or tropical storms be beneficial? In the case of Tropical Storm Gordon two weeks ago, it may have been a blessing to the Gulf Coast of Florida, lessening the detrimental effects of Red Tide.
Since 1851, hurricane Hazel in 1954 has been the lone hurricane that was a CAT 4 or stronger to strike North Carolina. Hurricane Hugo in 1989 was the strongest hurricane of the century to make a direct hit on South Carolina. Both Hazel and Hugo occurred during a La Nina event, as did Sandy in 2010 and Irma and Harvey last year!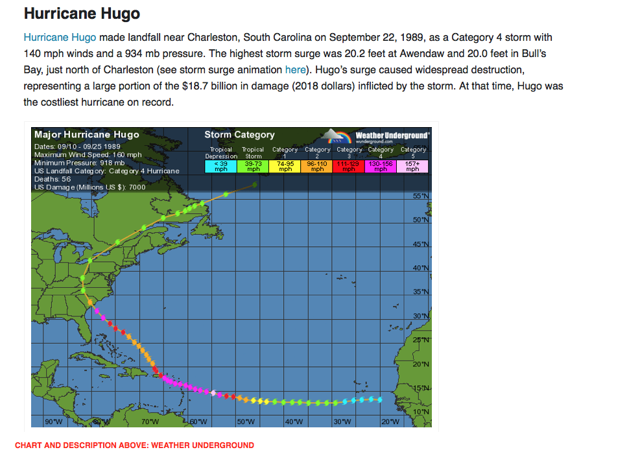 What makes Hurricane Florence so unusual, is that it is coming at a time during a weakened La Niña. In my view, the record warm global temperatures across the globe, have been partly responsible for Florence's explosion. However, my orignal forecast last May to clients, was for an inactive hurricane season overall with the greatest threats to the East Coast. Inactive hurricane seasons usually occur when an El Nino is present. This is not the case right now. Nevertheless, Africa dust and other variables with respect to Climatology, will "probably" curtail the rest of the hurricane season.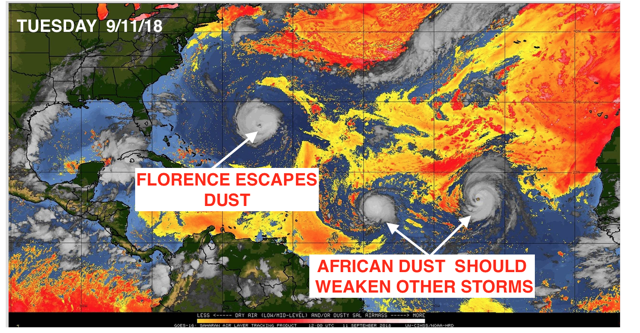 Hurricanes and Trading Commodities
Natural gas (UNG) futures used to be the ultimate "hurricane" weather market and equities like the ones listed below would often rally anytime there was a storm in the Gulf of Mexico. However, since the post-Katrina days of 2005, U.S. shale production has spiked and the amount of platforms and natural gas production in the Gulf has shrunk to less than 15% of total U.S. gas production. Hence, any major rally in natural gas prices are unlikely at this time. Could we see a cold winter to spark a rally? Currently, I have pretty high confidence in the winter forecast. This is outlined in my weekly Climatelligence Report.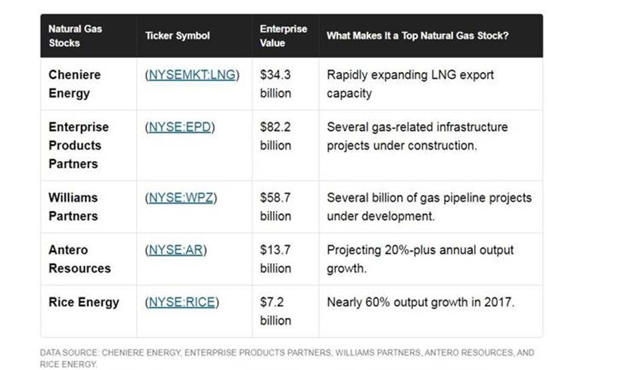 The biggest weather related hurricane trade of the last 8 years, was easily in the gasoline market late August, 2017.
I felt quite guilty even talking about trading opportunities in the midst of one of the world's most serious natural disasters - Hurricane Harvey - last year. However, I was lucky enough to warn clients ahead of the pack about a potential huge trading opportunity in the energy sector. While gasoline prices spiked, crude oil fell in the midst of lower demand brought on by Harvey.
Weather markets in commodities based on hurricanes are usually ephemeral affairs. They tend to last less than a few days at the most and are often more "psychological" than anything else. One exception was of course after Katrina when the natural gas and energy market spiked for weeks on end and last year to Gulf refinery capacity to gasoline. Again, this was because of direct "production" outages. Typically, there are not major supply disruptions to commodities following hurricanes.
Lumber prices soared on the heels of both Harvey and Irma last year and with tightening U.S. supplies. Then, Trade Tariffs hit.
The Trump administration, which enacted tariffs on materials used for construction, includes lumber. The National Association of Home Builders says the supply of lumber in the U.S. may not be enough to meet demand. Homes are becoming more expensive and more are outside the budget for familes in the low to medium income range. Average home prices have added almost $9,000 since western wild fires and Trade Tariffs hit last summer.
Soaring lumber prices have begun to hit home buyers. The price of cedar, for example, has almost doubled over the last year.
Currently, lumber future prices are treading water. Speaking of water, the western U.S. wildfires continue to consume forests. This could put lumber in short supply. Given hurricane Florence lumber prices could be bottoming for now. For an interesting article about the timber industry please go here
Equities and Hurricanes
The number one most sensitive stock to watch during and after hurricanes is without a doubt, Home Depot (NYSE:HD). This stock has already had a huge run-up the last couple years on a combination of a strong U.S. economy and active hurricane season last year. You should also watch Lowe's Companies (NYSE:LOW) and Costco Wholesale Corp (COST). Generac Holdings (GNRC) is the United States' largest producer of back-up generators with 70% of the U.S. market. When hurricanes damage electric lines, Generac often rallies.
Some analysts feel that it is wise to sell these stocks right after the storm. However, history shows if you buy just before the biggest and sell 5-7 days after them, this is usually the best trading strategy.
Shorting insurance stocks prior to a major hurricane's landfall, has been a winning bet more than 70% of the time. For example, Allstate Corp (ALL), Travelers (TRV) and Progressive Corp (NYSE:PGR). The insurance stock that will fall the most, will be the "least" geographically diversified. Hence, they are the most at risk for major property destruction; so do your research before entering into the "insurance hurricane game."
Flooding from hurricanes can influence companies such as Xylem (XYL) and PentAir (PNR) - One of the key concerns is flooding and that likely means a demand boost for the pumps used in dewatering, drainage and other applications from these two companies.
Procter & Gamble (PG) - While many think of Procter & Gamble as a household product and beauty related company, it also owns one of the leading battery businesses - Duracell, which is a billion-dollar brand for the company. Emergency preparedness boosts battery demand as consumers scoop up batteries to power their flashlights, radios and other storm related devices.
Construction and transportation stocks such as Fluor Corp. (FLR), Granite Construction (GVA), Swift Transportation (SWFT) and JB Hunt (JBHT) - often benefit from major hurricanes. The fallout from Florence in the form of damage, repair, and clean up may mean good things for engineering and construction companies Granite Construction and Fluor Corp. Because it is a primary service provider to the United Services federal government, Fluor in particular may benefit given prospects for federal disaster relief. As the storm subsides, the need to re-stock shelves and bring in supplies will be met by trucking companies like Swift Transportation, which counts Walmart (WMT) as a key customer, and JB Hunt.
Conclusion
I can go on and on about potential weather plays during the hurricane season. However, a word of caution: Many equities have of course been in a major bull market the last few years due to lower employment and a strong economy. With my forecast of a much more tame end to the hurricane season, a majority of these stocks described above may only have short-term reactions. With September and October notoriously being the weakest months for equities, buy a basket of these stocks above, be nimble and take profits even if you are lucky enough to attain a 2-5% return in the days ahead. After all, this is still better than T-bills.
Disclosure: I/we have no positions in any stocks mentioned, and no plans to initiate any positions within the next 72 hours.
I wrote this article myself, and it expresses my own opinions. I am not receiving compensation for it (other than from Seeking Alpha). I have no business relationship with any company whose stock is mentioned in this article.