Come Gather 'Round People
In early 2016, I was extremely bullish on Natural Gas (NG) prices. It seemed like a no-brainer that Natty would bounce from a 25-year low. Dissatisfied with the market vehicles I researched to bet on such a bounce, I largely missed out on the price double from February 2016 to December 2016.
The argument was simple:
- Persistently low gas prices had ruined producer economics.
- The bottleneck in takeaway capacity for the Northeast producers was infinitely compounding the problem of what appeared to be already marginal economics.
- LNG export initiatives were forthcoming.
- Mexico's reliance on natural gas, coupled with a declining production profile, was conspiring to create an easy arbitrage opportunity for US producers to move supply out of the market.
- Little was yet known of the high associated gas production of the Delaware Basin.
- The coal industry was dying on the vine, which meant Natty could become the primary source for electricity generation in the States.
- A cold winter just had to be on the horizon… the list could go on.
Prices had to respond!
Many of the same arguments listed above still hold water but I can no longer conclude that the future looks bright for gas prices. Let's look at where we presently stand and where we might be going. Join me in a three-part series that details the current state of natural gas markets, plays, and opportunities.
Come Writers and Critics Who Prophesize With Your Pen
Most investors are aware that natural gas is primarily used for electricity generation. In late 2015, gas-fired plants overtook "King Coal" as the primary source of total utility-scale electricity generation.
Electricity Generation By Source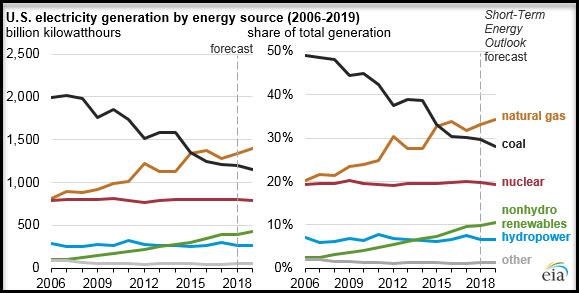 Source: EIA
Natural gas is much cleaner burning than coal. The advent of horizontal drilling and fracking has unlocked a cheap and plentiful supply of natural gas, which has allowed it to easily overtake coal as the primary input for electricity generation. The current administration has not been so keen to let go of coal and has attempted to revive the dying domestic coal industry. Coal supply has not magically disappeared. When the price of NG rises too high, utilities switch the production mix to a higher coal component to prevent costs from being passed on to the consumer. Thus, less NG is withdrawn from storage. In lieu of a major gas production/storage event, "coal switching" effectively caps the price for natural gas. The "coal switching" effect has certainly contributed to keeping the commodity range-bound for the past few years. Of course, weather ultimately dictates near-term price direction of NG contracts. This analysis will remain largely agnostic of weather, although all junior meteorologists are welcome in the comments section.
There is a Battle Outside And It's Ragin'
The Marcellus and Utica shale formations in the Northeast have become the flagship "gas plays." Others such as the Barnett shale in North Texas and Haynesville in East Texas/West Louisiana were once dominant sources of capital allocation, but have failed to produce attractive economics in this persistent low-price environment. The core of the Marcellus and maybe a small portion of the Utica can generate decent well level returns at sub $3 gas. Most producers in the Northeast have failed to realize anything resembling NYMEX or Henry Hub pricing over the past five years. Oil and gas drilling is not a straightforward procedure. Producers must compete for leases in geologically defined windows of certain plays. Motivations to drill wells are not always economically driven. Sometimes wells are drilled to hold the lease, sometimes to improve CAGR metrics, and sometimes, well just because that's what drillers do. Most of the producers in the nascent days of the Marcellus brought production online with no means of getting the gas to market. Regionally fractionalized pricing took over at various pipeline interconnects and has mainly stayed that way. The de-bottlenecking of the Northeast has made some positive strides. Projects such as the ROVER (ETP), NEXUS (ENB), and SUNRISE pipelines are either under construction or close to completion. While improved wellhead pricing might help the Northeast producers, it certainly ensures more supply and price displacement for regional markets.
Impending Pipeline Takeaway From Marcellus Shale, Heat Map of Active Permits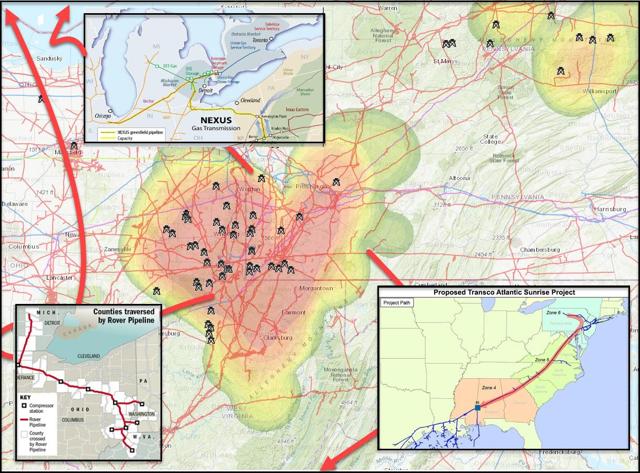 Source: DI Analytics, Author Creation
After all, not all gas markets are the same. The area depicted below is what is referred to as the "Southeast Box."
The Southeast "Box" Gas Market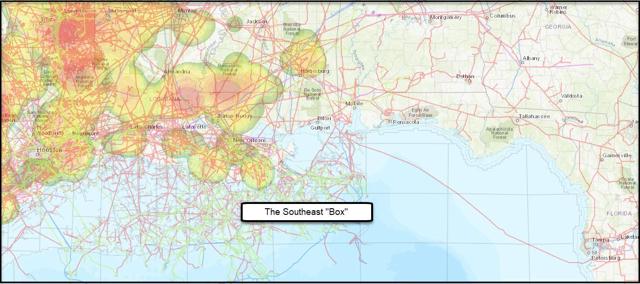 Source: DI Analytics, Author Creation
Price indexes within the "box" are typically superior to other regional price points. Of the three pipeline projects mentioned, only William's (WMB) Atlantic Sunrise pipeline will deliver gas from the Northeast to the "box." On a forward-looking basis, the capacity for gas intake at the "box" appears to be narrowing. This will cause a spill-over effect for other markets. The Midwest (Chicago) and "Michcon" markets, which will be serviced by the ROVER and NEXUS pipelines, will need to absorb the excess capacity diverted outside of the "box."
It is a virtual assurance that producers will further compound the supply problem due to Minimum Volume Commitments. To elucidate, the years of volume constraint forced the major producers into take or pay contracts with the mid-stream companies to incentivize the pipeline build-out.
When I analyze the investment prospects of any shale driller, I look to well economics to understand if a given company can create economic growth and not just growth for the sake of growth. Northeast producers have created a Catch 22, whereby they may be forced to grow even if it comes at a determinant to their balance sheets. The idea that improved pricing (for these set of producers) will allow for a more judicious capital outlay is probably a flawed thesis.
Admit That The Waters Around You Have Grown
Supply growth in the Northeast is only one side of the story. The improvements in oil price also come with a NG supply growth narrative.
Rising Associated Gas Production From All Basins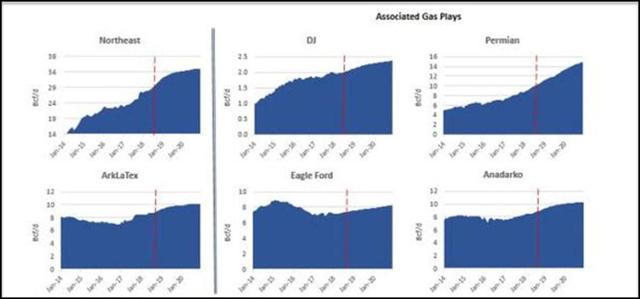 Source: East Daley
Geo-pressure is a key component to successful well economics. Pressured reservoir allows for a longer period of flowing pressure, which forces more hydrocarbons (typically on a 3-stream basis) through the fracture swarms without the aid of artificial lift. The phase changes in hydrocarbons throughout any specific basin, heavy oil to wet gas to dry gas are typical characteristics of deposition time frames. Thermal maturity (phase changes from oil to gas) occurs in deeper rock as it is older and hotter. This is an over-simplification but the nexus to this argument is that mature rock produces better economics and much more associated gas. The vintage type curves below for Wolfcamp wells (completion dates of 2015 to present) in the Texas Delaware basin illustrate this relationship.
Wolfcamp Wells Drilled in Over-Pressure Texas Delaware Since 2015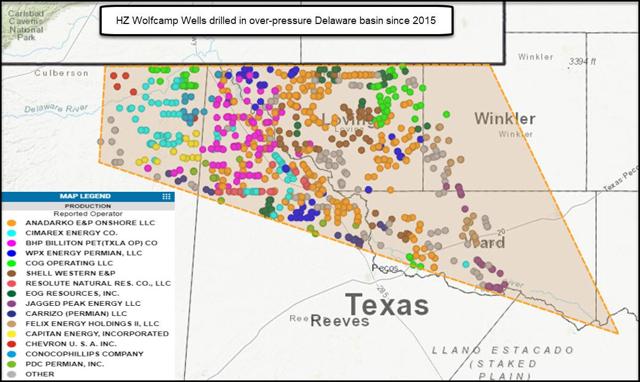 Source: DI Analytics, Author Creation
Type Curve For Wells Based On Data Set Above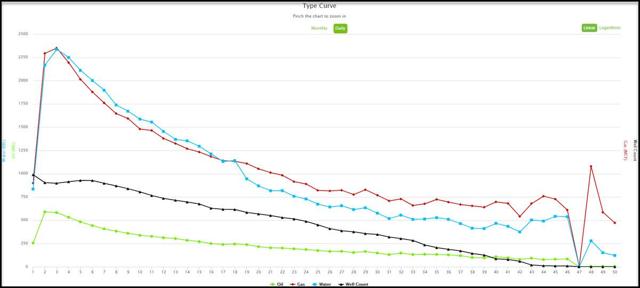 Source: DI Analytics, Author Creation
Most of the shale plays which will attract capital in the coming years exhibit a high gas cut.
Keep Your Eyes Wide, The Chance Won't Come Again
In 2015, Mark Papa (CEO of CDEV) gave a talk at a local geological function in South Texas. He repeatedly mentioned natural gas as being an "island economy." This meant that the price function of NG contracts bore a direct correlation to US supply/demand. This dynamic has certainly shifted some since the venerable Mr. Papa made that proclamation.
Mexico has pushed to the forefront of escape outlets for US natural gas. Mexico is one of the more NG-dependent countries in the world. NG supplies roughly 45% of all basic energy needs and nearly 60% of electricity generation for Mexico. This is a problem because domestic production has cratered for our Southern neighbor. This has set up a nice price-arbitrage opportunity for US producers to get supply out of the domestic market and into Mexico where it can be sold for a premium.
Growth In Gas Sales To Mexico

Source: EIA
Like all price arbitrage opportunities, means of transport are required. Lately, mid-stream companies have stepped up to fill the gap. The Trans-Pecos and Comanche Trails (ETP) pipelines will serve as effective outlets for Permian Basin gas sales to Mexico. Meanwhile, Howard Energy Partners Nueva Era Pipeline will deliver gas from the Southern Eagle Ford to the important hubs of Monterrey and Escobedo, Mexico. Also, of note is Kinder Morgan's (KMI) proposed Permian Highway Pipeline which will run from the WAHA hub of West Texas to regional Gulf Coast markets. From there, it will supposedly matriculate its way to hubs across the border.
New Gas Pipelines For West and South Texas Focused On Gas Sales To Mexico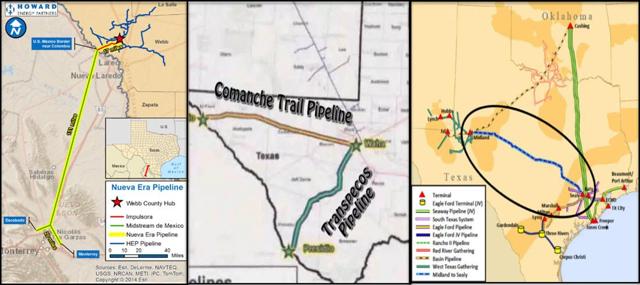 Source: Howard Energy Partners, ETP, KMI, Author Creation
The increase in takeaway capacity for "gas to Mexico" sales should be a boon to NG prices. However, in Part II, I will explain why new gas plays will step in to close the arbitrage gap. It is my belief that the market is either 1.) not aware of the impact of these new plays 2.) mis-pricing the effect they will have on arbitrage opportunities and resultant NG prices.
The Present Now, Will Later Be Past
This triumvirate of this market analysis would not be complete without some attention paid to LNG. LNG has come a long way in a short span of time.
Growth In LNG Feedstock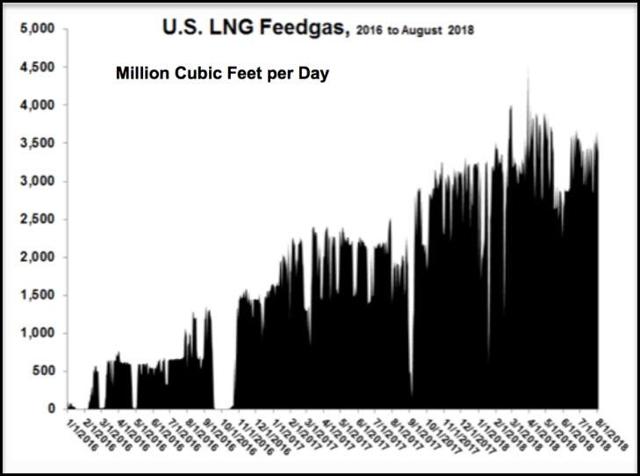 Source: EIA
It was only a decade ago that Cheniere Energy (LNG) built the Sabine Pass LNG port under the premise that America would run out of domestic natural gas supply and would need to import LNG to meet its demand needs. In 2017, America became a net natural gas exporter and is now on a trajectory to be within the top three nations for net gas exports before 2020. The current expansion of LNG is in full swing illustrated by the image below.
Proposed LNG Export Terminals

Source: FERC
The Line It is Drawn, The Curse It is Cast
The purpose of this article is to inform readers of the current state of natural gas markets without tipping towards an investment bias one way or the other. However, the sum of the parts certainly points toward a net bearish inclination. By the end of this three-part series, I believe that it will be obvious to readers that LNG might be the lone bright spot for hopes of reducing domestic NG supply. For my part, I am quite bearish on the short- to medium-term prospects for NG prices. However, I also see opportunities within the bigger picture to root out investable ideas. As mentioned above, the next piece will focus on new areas, their economic profiles, and what effect they may have on markets when and if they bear fruit. The third piece will focus on actionable investment ideas which revolve around the concepts contained herein.
The times they are a-changin'.
Disclosure: I am/we are long CDEV.
I wrote this article myself, and it expresses my own opinions. I am not receiving compensation for it (other than from Seeking Alpha). I have no business relationship with any company whose stock is mentioned in this article.