I've always found Kinross Gold (KGC) as a great vehicle for short-term rebound trades after Russia-related sell-offs. The trick worked back in 2014 and also worked in 2018. Unfortunately, for this simple tactic, the current downside of Kinross Gold has nothing to do with the perceived dangers to its Russian mines but with the drop in the gold price, the general sell-off in the gold mining shares, and worries about a change of fiscal regime in Mauritania.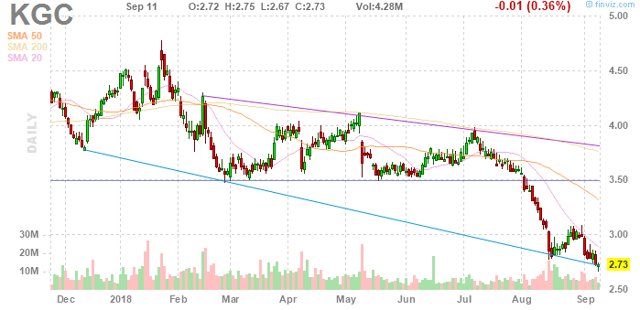 Let's start from positives. The company managed to maintain balance sheet strength and flexibility. Kinross Gold ended the second quarter with $919 million of cash and $1.7 billion of long-term debt, whose maturities are spread comfortably with first major repayment coming in 2021: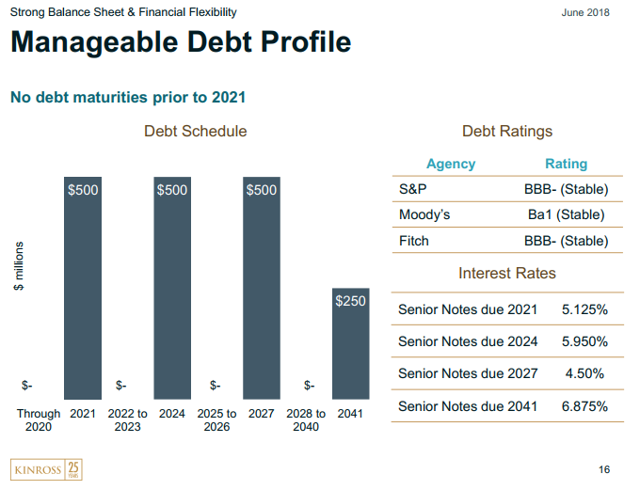 Source: Kinross Gold presentation
Also, the company has a $1.5 billion credit facility that matures in August 2023 at its disposal. So, liquidity situation looks good. I believe that liquidity matters are always worth exploring in sub-$5 stocks regardless of their capitalization in order to find out whether any near-term financial challenges exist.
Outside of the strong balance sheet, the company has problems that are typical for many miners. Gold equivalent ounce production fell from 2.8 million in 2016 to 2.7 million in 2017 and is expected to decline further to 2.5 million in 2018. Also, as I mentioned above, the company ran into an uncertain situation in Mauritania. The slide from the company's presentation sums it up well: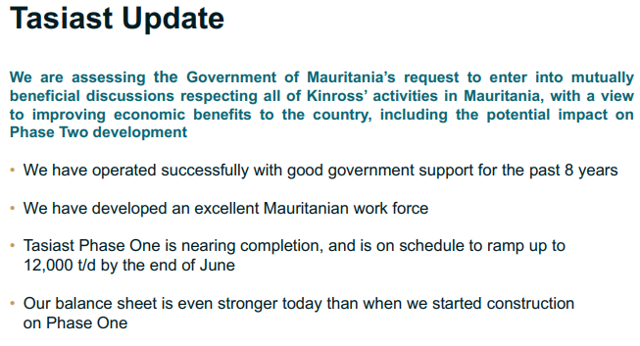 Source: Kinross Gold presentation
The key words here are "with a view to improving economic benefits to the country", which, as per experience of miners operating in Africa, typically means "they want more money from us". The management team tried to calm investors during the latest earnings call by telling them that it's a major tax overhaul in the whole country, and Kinross is not specifically targeted, but I think the market will apply some discount until it really sees that everything is well in Mauritania. Amidst this uncertainty, Kinross Gold stopped Tasiast Phase Two until it better understands what's going on - actions tell more than words.
The company currently has growth projects, but whether they are growth or de facto sustaining depends on Kinross's success in Russia, where the company is in a race to extract value from the Kupol-Dvoinoye. The above-mentioned presentation once again comes in handy: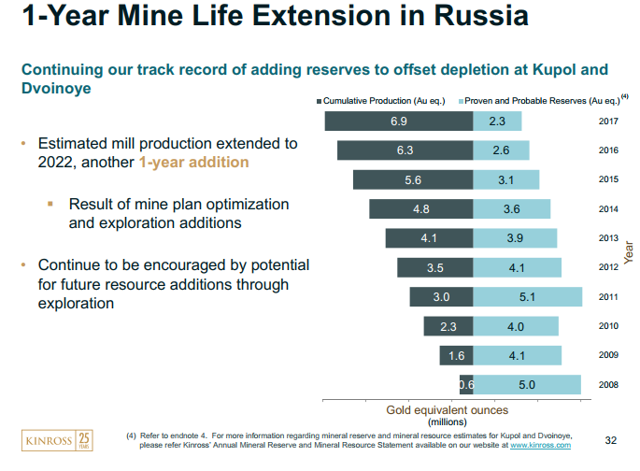 Source: Kinross Gold presentation
Kupol produced 120,418 gold equivalent ounces in the second quarter of 2018, second only to Paracatu which delivered 121,226 gold equivalent ounces. However, the Russian project is a very high-grade operation (7.7 g/t vs 0.4 g/t at Paracatu), which makes it a significant cash flow contributor to the company.
At current price levels, Kinross Gold is trading at less than 18 forward P/E and 0.74 P/B, a valuation which is not an outlier in the current gold price environment. As I'm looking into potential rebound plays, I ideally want to see both the solid technical level from which a stock can rebound and specific upside catalysts to support the fundamental story. Kinross Gold will of course rebound to a certain extent should gold price sprint back to $1300 and above, but I think that it's less attractive than Goldcorp (GG), Newmont Mining (NEM) (I wrote about it here), Barrick Gold (ABX) (here) or Yamana Gold (AUY) (here). The reason for this is that Kinross is not as cheap as Yamana, not in a turnaround like Barrick, and not on the verge of production and earnings growth like Goldcorp (consensus calls for lower Kinross Gold results in 2019) and not a leader in execution like Newmont Mining.
If you like my work, don't forget to click on the big orange "Follow" button at the top of the screen and hit the "Like" button at the bottom of this article.
Disclosure: I/we have no positions in any stocks mentioned, and no plans to initiate any positions within the next 72 hours. I wrote this article myself, and it expresses my own opinions. I am not receiving compensation for it (other than from Seeking Alpha). I have no business relationship with any company whose stock is mentioned in this article.
Additional disclosure: I may trade any of the above-mentioned stocks.