As a great admirer of Warren Buffett, I read a great many books on his investment strategy. While being inspired by his long-term value approach to investing, however, I am also left with the feeling that this great investor has overlooked one crucial point. That is, "What is the impact of an investment on society and the environment in the long run?" Investing in a company lowers its cost of capital, therefore giving it more access to growth capital.
When investors allocate their capital consequently, they contribute to shaping the future generation. Why then invest in assets that disproportionately tax the common good? Warren Buffett invested enthusiastically in McDonald's (NYSE:MCD), a company that performs well from a value investor's point of view, but also contributes significantly to global warming and deforestation. Selecting stocks on financial merit alone without consideration for its global impact is an example of the tragedy of the commons and therefore no longer tenable.
So, what can we do to direct our capital towards protecting the common good while safeguarding our returns? In this article, I will go over five sustainable investment strategies that are accessible to every investor.
1) Invest in 'Prudent' stocks
So-called 'Prudent man rules' have historically restricted pension funds in the companies they are allowed to invest. This often excludes companies that do not sit well with its beneficiaries, such as big tobacco, weapon manufacturers, etc. When building your own portfolio, you could define your own 'Prudent man rules' to exclude 1) the worst-polluting companies, 2) companies that are still known to use child labour in their value chain, or 3) companies that contribute to deforestation. Following this strategy alone, however, does not promise a completely prudent portfolio. This is, because most companies unfortunately still lack transparent reporting on their environmental impact.
Video: Forest 500 has created a metric for scoring companies in terms of their impact and commitment to fighting deforestation. Forest 500
2) Reward companies that are changing their governance for the better
Another strategy for sustainable investment is to 'reward' companies that are positively changing their Environmental Sustainable Governance (ESG) for the better. An example of this strategy would be - let's say – to invest in McDonald's after it has made an announcement that it will replace plastic straws from its restaurants. Or one could invest in a company such as Intel (NASDAQ: INTC) that recycles 85% or more of their waste and has put an environmental management system in place (ISO 14001).
The risk in this approach is, however, that you could invest in a company that still has a net-negative impact on the environment. It is often hard to gauge what the impact of a new ESG policy will be on the entire company's operations. In the case of McDonald's, removing straws from its packaging seems rather symbolic when compared to its enormous environmental impact in terms of deforestation and emissions from raising cattle. Intel, in turn, depends on rare metals such as Cobalt that have significant hidden costs from mining. In the absence of a clear metric, what you find acceptable and what not will depend on your best judgement.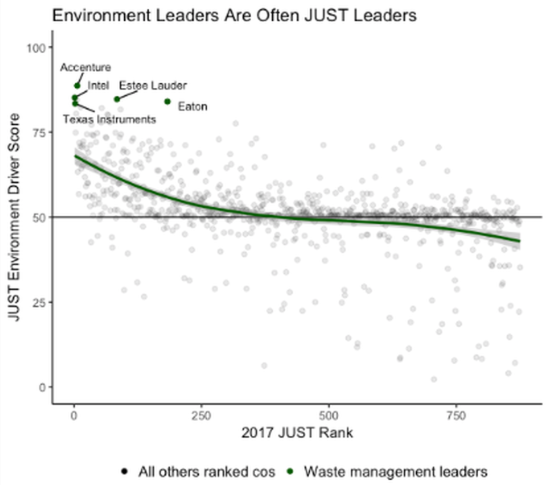 Figure: Intel is one of the top companies in terms of waste recycling. JUST Capital
3) Invest in companies that tackle social or environmental issues
One way to invest your capital is to invest in companies that specifically tackle social or environmental issues. When you wish to invest in tackling plastic pollution you could, for example, invest in Symphony Environmental (OTCPK:SETPY), one of the front-runner companies in developing biodegradable plastics. Another possibility would be to invest in a clean energy company such as NextEra Energy (NYSE: NEE).
Shareholders in this company have had a steady increasing 5-years total return of 144%, very attractive from a value-investor point of view. There are plenty of successful companies out there that develop products with positive impact. If you have any great ideas in this respect please share them.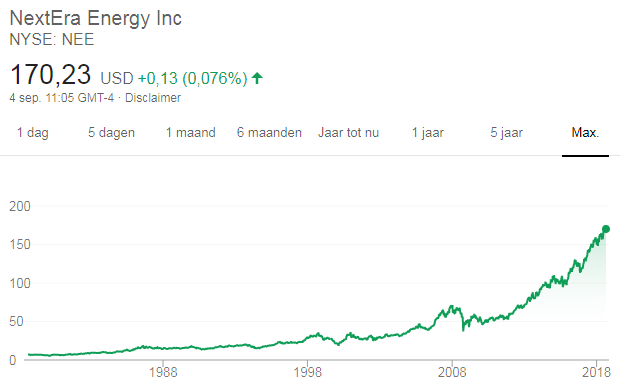 Figure: Clean energy NextEra has seen significant growth over the past two decades. Google Finance
4) Become a shareholder activist in a 'Vice' stock
Sounds groovy! There has been a significant increase in shareholder activism on sustainability issues over the past decade. This type of activism attempts to change the target company's direction towards a more sustainable one. Good examples include As-You-Sow and Follow-this. These groups allow investors to pledge their shares to back shareholder resolutions in environmental bad boys. Follow-this specifically targets Royal Dutch Shell (NYSE:RDS.A) (NYSE:RDS.B), no. 9 on the top-polluters list.
Follow-this operates by submitting and voting on environmental resolutions during the general shareholder meeting. The group has so far managed to muster 6.3% of all shareholders, including several pension funds. Becoming a member in Follow-this would lend your vote whilst being entitled to a solid 5.6% dividend yield. It should be noted that activist initiatives typically do not reach a majority vote. Also, when not carefully selected, resolutions could be value-destroying from an investment point of view.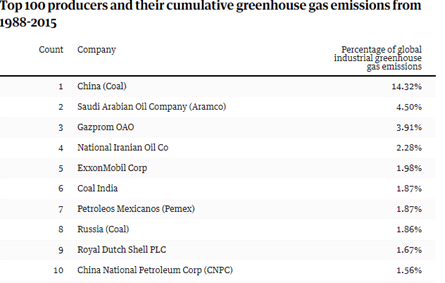 Figure: Top 100 producers and their cumulative greenhouse gas emissions. CDP
5) Invest in a sustainable ETFs
When you lack specific ideas or skills when it comes to assessing an investment in a single company, investors can also choose to invest in sustainable Exchange Traded Funds. These are funds of stocks that follow a specific market, such as clean energy. The benefit of ETFs is that through ETFs you can invest in a large portfolio of companies with very low management costs. A diversified portfolio has inherently less risk than investing in a single company. For less experienced investors this is typically the preferred route.
Final recommendations
There are plenty of opportunities for building a sustainable value-investment portfolio that does not erode your returns. With interest rates on savings close to zero, why not invest part of your savings in companies that positively impact the future generation? A few final recommendations:
Don't be blinded by your desire to invest in sustainable companies. The primary goal of investing is making returns, so do your homework diligently.
Stick to what you understand. It is risky to invest in technology companies with innovations that you do not fully comprehend. The market for wind turbines can be a lot more predictable than that of oxo-biodegradable coatings.
Buy and hold for as long as the stock performs as expected. Patience is the key to value investing.
Adding a sustainable component will become the new generation of value investing.
Disclosure: I am/we are long RDS.A.
I wrote this article myself, and it expresses my own opinions. I am not receiving compensation for it (other than from Seeking Alpha). I have no business relationship with any company whose stock is mentioned in this article.
Additional disclosure: I am a member of the Follow-this foundation
Editor's Note: This article covers one or more microcap stocks. Please be aware of the risks associated with these stocks.