By Erik Norland
U.S. aluminum prices soared between January and April in anticipation of the Administration's 10% import tariff. Prior to the tariffs, U.S. prices were about 10% higher than the global average. Now, they are almost 20% higher. Since the tariff went into effect on June 1, forward-pricing has been stable, indicating that few investors anticipate an end to the tariff policy in the short term (Figure 1).
Figure 1: U.S. Premiums Soared in Anticipation of Tariffs and Have Been Stable Since.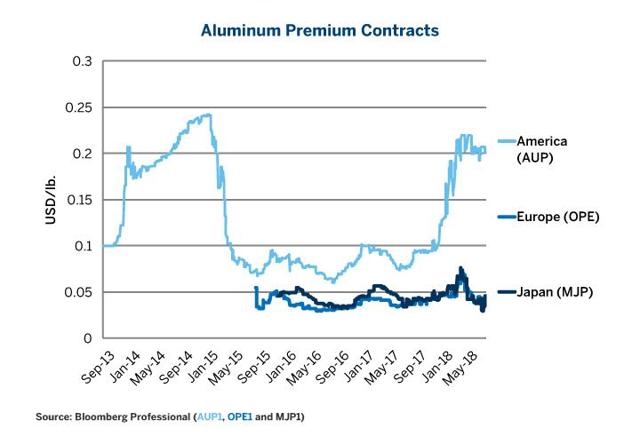 While Americans have to pay higher prices as a result of the tariff, premiums paid in Europe and Japan have fallen slightly. It appears that the U.S. tariff will reduce the quantity of aluminum used in the United States, resulting in a small but measurable supply glut in Europe and Asia.
While tariffs have a direct impact upon regional pricing, especially in North America, they could also have indirect consequences for aluminum prices generally. If the imposing of U.S. tariffs on China slows its economic growth or causes the country to devalue its currency, it could depress aluminum prices around the world. Like copper, iron ore and other industrial metals, aluminum prices closely track Chinese economic growth. This is true of both China's official GDP as well as a more volatile alternative measure called the Li Keqiang index, which measures growth in electricity consumption, rail freight volumes and outstanding bank loans (Figure 2).
Figure 2: Global Aluminum Prices and Chinese Growth.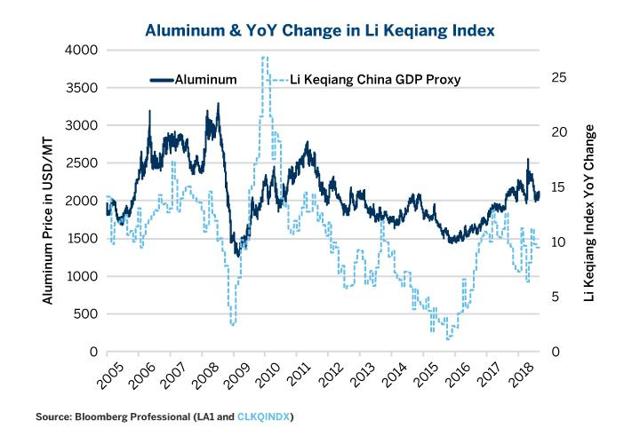 The Li Keqiang index correlates aluminum prices at between 0.5 and 0.6 up to five quarters in advance (Figure 3). Chinese official GDP has an even stronger correlation with aluminum prices up to one year in advance, but official Chinese GDP has been unusually stable of late, showing between 6.5% and 7.0% growth in each quarter since early 2015. This apparent stability might reflect the growing diversification of the Chinese economy into services, but nevertheless, we think that it understates the true degree of volatility in China's industrial sector. For aluminum prices, industrial demand is what counts. As such, when it comes to aluminum, we would be inclined to pay more attention to the Li Keqiang measure of growth than to official Chinese GDP.
Figure 3: The Pace of Growth in China Correlates Positively with Aluminum Price Levels.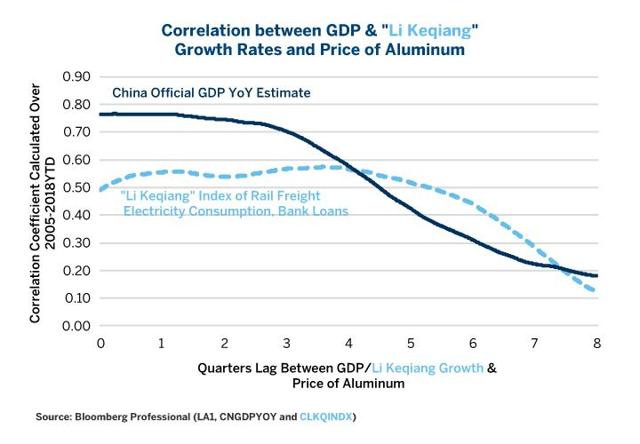 So far, the U.S. has imposed only a 10% tariff on $34 billion of Chinese goods, too small to make much of a difference. However, should the U.S. apply tariffs to a wider set of goods or increase the tariffs from 10% to 25%, the economic impact on China will start to be measurable. The Chinese economy, the world's second largest after the United States, is already beginning to slow under the burden of high debt levels and collapsing emerging market currencies (Figure 4). If China slows further and, if it devalues its currency, aluminum prices could risk taking a major slide. This would not necessarily have much of an impact on the U.S. premium for aluminum, but it could depress European and Japanese prices further should a global aluminum glut develop.
Figure 4: Renminbi has Fallen Versus USD but Soared Versus Most Other Currencies.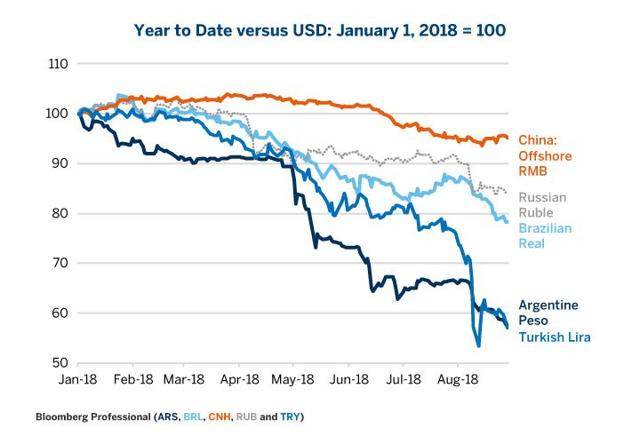 The reason why China matters so much to aluminum is simple. China consumes 40-50% of the global aluminum supply each year. Any slowing in the Chinese economy will make it harder to absorb the vast amount of aluminum being mined each year. Global mining production in 2017 was close to 60,000 metric tons, more than triple what the world was mining in 1994 (Figure 5).
Figure 5: Aluminum Production Is Rising. Without Chinese Demand Growth, There Could be a Glut.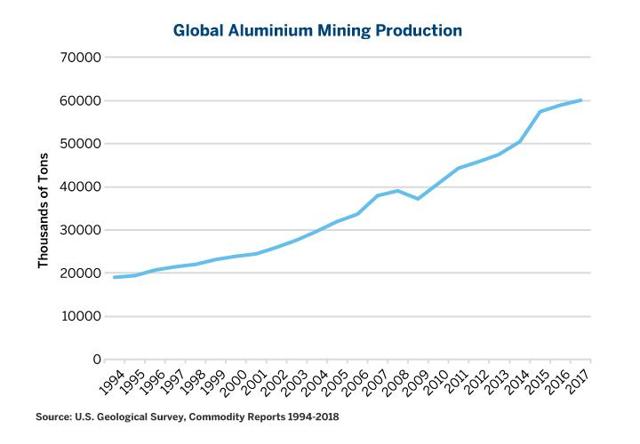 Bottom Line
U.S. tariffs have raised U.S. aluminum prices but may be lowering prices elsewhere.
Chinese demand will be critical for the future direction of aluminum prices globally.
Any slowdown in China could create a global supply glut that could depress prices, especially in Europe and Japan.
The main downside risk to U.S. aluminum prices could be a sudden removal of tariffs.
Investors don't seem to think that the Administration is likely to change its tariff policy soon.