Editor's note: Seeking Alpha is proud to welcome Lucid Investing as a new contributor. It's easy to become a Seeking Alpha contributor and earn money for your best investment ideas. Active contributors also get free access to the SA PRO archive. Click here to find out more »
For most of 2018, trade concerns and emerging market collapse have dominated headlines. While countries from China to Turkey to Brazil have witnessed bear markets, U.S. assets have been seen as a safe haven. The Dollar Index has rallied above 95, the yield on the 10-year Treasury has yet to break above 3 percent, and major U.S. indices, such as the SPDR S&P 500 Trust ETF (SPY), are just below all-time highs. While U.S. markets have proven to be immune from almost anything, there is a looming catalyst that could have major implications in the debt and equity markets.
Rising interest rates and quantitative tightening are nothing new to investors, but their potential acceleration may come as a surprise to many. Starting in October 2018, the Federal Reserve is scheduled to reduce the holdings on its balance sheet by $50 billion per month. This is an increase from $40 billion from July to September and $30 billion from April to June. What this means is that the Fed will no longer reinvest the principal from its maturing securities. $50 billion worth of assets and government debt are going to have to start finding a new home every month.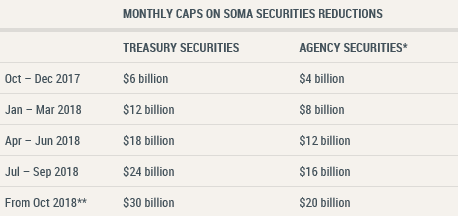 Source: New York Fed
This is particularly concerning for the debt market, as the Fed does not place competitive bids at Treasury auctions. This means that the Fed purchases bonds at whatever the market price is, and this creates artificial demand (which leads to artificially high prices, and so on). With the government issuing debt at a record pace, and the Fed no longer rolling over its maturing debt, government debt will likely be auctioned off at higher yields. Basic economic principles can explain this situation, as increased supply and decreased demand for a good or service will lead to lower prices (and higher yields).
This will undoubtedly have an impact on the equity markets, as many corporations are heavily indebted. Corporate debt is largely influenced by yields across the broader debt market, as investors are constantly weighing opportunity costs. Over the past decade. many companies have gone deep into debt to help grow earnings, and much of this money has gone towards share buybacks. While these buybacks have boosted earnings per share numbers, many executives have quietly been selling their shares like mad, but that's a separate issue. The point is that many companies aren't focused on growing their cash flows. They are instead focused on borrowing money at historically low interest rates and attempting to boost their share prices. This trend cannot last if interest rates rise, as companies will be spending more money paying off their debts instead of growing earnings.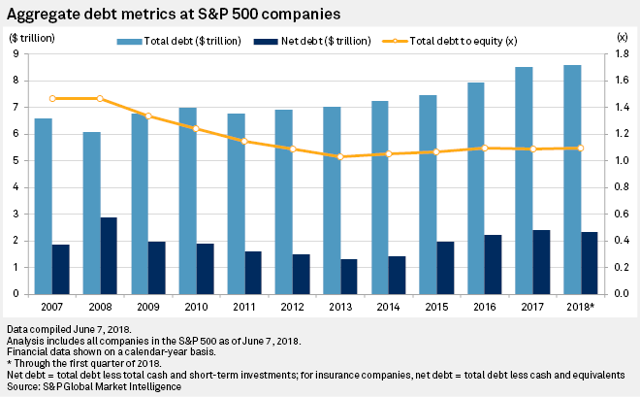 Source: S&P Global Market Intelligence
The yields on many consumer and business loans are also tied to the yields on U.S. treasuries. With record levels of auto, mortgage, credit card, and student loan debt, consumers will be forced to spend more money financing their debts instead of investing or consuming things. Given that consumption makes up roughly 70% of U.S. GDP, it seems likely that GDP growth will slow.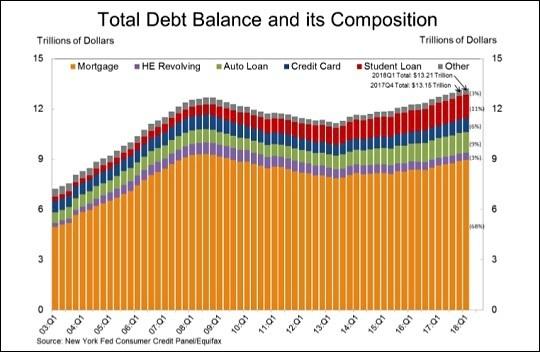 Source: New York Fed/Equifax
The federal government is also responsible for financing its debt at higher yields. While many have been warning about federal debt levels for years, this current economic cycle may actually prove to be different for the government. 2017 essentially marked the end of a 36 year bull market in bonds, which will force the government to make higher interest payments to its creditors. But since the government deficits are so large, it will have to take on more debt just to pay off its existing debt. It doesn't take a genius to realize that this will eventually lead to a death spiral of epic proportions.
The 'kick the can down the road' mentality that has dominated our politics and our financial markets is one that will have devastating long-term effects. Let's imagine for a minute that the federal government is a business. This business not only loses money every year, but it is projected to lose larger amounts of money every year for the foreseeable future. No sane investor would put money in this business, yet U.S. Treasuries are seen as some of the safest assets on the market. Maybe I'm naïve, but it does not seem like this trend can continue without more inflation or massive austerity.
I don't mean to be a pessimist, but higher yields are inevitable. Years of cheap credit has led to mountains of debt across all sectors, and all of this debt must be financed. Interest expense of S&P 500 (SPY) companies as a percentage of sales, EBITDA, and net income are near multi-decade lows, and in a rising interest rate environment, there is no place to go but up. Companies with large amounts of debt or limited cash are likely to underperform over the next several years, while companies with clean balance sheets and sound management are likely to perform very well. The first major company to declare bankruptcy or default on its bonds could trigger a widespread market correction, and those with cash on the sidelines are going to be able to take advantage of some serious bargains.
With markets near all-time highs, now is the perfect time to reevaluate your portfolio. Diversification across asset classes will protect you and paying down debt while rates are still low could save your wallet in the future. Higher yields are coming, and they're here to stay. Prepare yourself.
Disclosure: I/we have no positions in any stocks mentioned, and no plans to initiate any positions within the next 72 hours.
I wrote this article myself, and it expresses my own opinions. I am not receiving compensation for it (other than from Seeking Alpha). I have no business relationship with any company whose stock is mentioned in this article.