On Tuesday, shares of former Chinese social media highflyer Renren (RENN) soared more than 55% on heavy volume after the company reported Q2/2018 results. After spinning off most of its legacy business and investment portfolio and also distributing the vast majority of its cash to shareholders in June, the current iteration of Renren derives roughly 90% of its revenues from the sale of used cars in China, a business the company initiated during Q2/2017.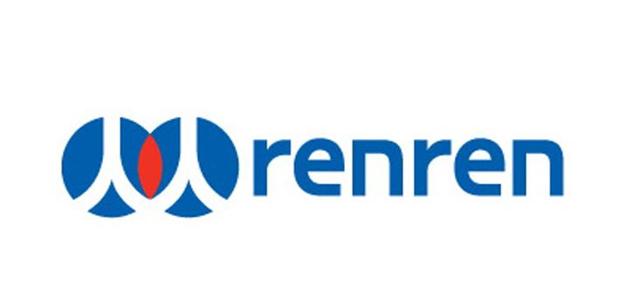 While the company is also operating a mobile live streaming service and "an auto dealership SaaS platform", these segments haven't been growth drivers for the company in recent quarters.
It's hard to get excited about Renren's new core business, as selling used cars is a competitive, capital-intensive, low-margin effort as evidenced by the company's performance over the past couple of quarters: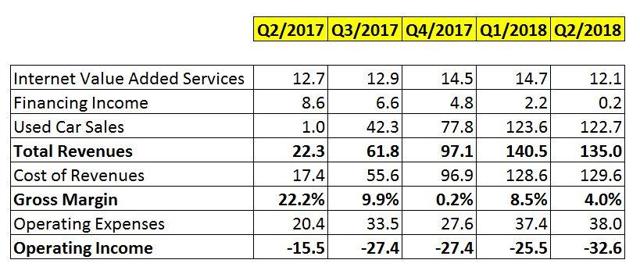 All numbers are in million dollars unless otherwise stated - Source: Renren Quarterly Earnings Releases
Not only did the growth of the used car sales business stall in Q2, the company also fell short of its own projections for revenues in the range of $140-145 million. With both gross margins down and operating losses up materially quarter over quarter, there's obviously very little to cheer about here.
In addition, Q3 guidance was nothing to write home about either as the company guided for revenues to decrease sequentially again to a range of $123-128 million.
Moreover, after the major cash distribution in June, the ongoing losses are already cutting heavily into the company's remaining, unrestricted cash balance, which was down to $30.5 million at the end of Q2.
So, given this rather bleak picture of the company's business, what caused the share price to explode on Tuesday?
The answer can be found further down the income statement as Renren reported two large one-time items that caused reported net income to balloon to a whopping $166.1 million:
A $180.8 million accounting gain on the recent deconsolidation of subsidiaries
$30.8 million in other income which was not explained in detail in the press release but is, most likely, also related to the above-discussed spin-off of the company's legacy business and investment portfolio.
In combination, these one-time gains resulted in Renren reporting Q2 net income per diluted ADR of $2.21, a number considerably higher than Monday's closing price of $1.37.
Without doubt, these eye-catching headline numbers, in combination with the low share price attracted the usual suspects, generally referred by me as the "Momentum Crowd", a color and powerful mixture of speculative retail investors, traders, and algorithm-based programs often resulting in targeted stocks gaining several hundred percent in impressive multi-day runs.
The lower the stock price and free float, the more attractive a stock becomes for the Momentum Crowd, and, at least for the short term, the trigger news doesn't get much scrutiny.
Unfortunately, the Momentum Crowd never chases a stock for more than a couple of days, particularly not when the trigger news doesn't withstand a closer look, like in case of Renren.
Another great recent example has been Netlist (NLST), which saw its stock price soar by up to 500% over the past couple of sessions after the company announced a favorable claim construction order in its longstanding patent litigation with SK Hynix (OTC:HXSCF).
As a rule of thumb, a strong momentum stampede typically unfolds over three subsequent trading sessions with the stock usually reversing course at some point during day three. The recent Netlist rally, again, is a perfect example for this rather frequent pattern.
With the rally in Renren seemingly just getting started, there's obviously some risk in committing to a short position too early in the game. But given the fact that the hype has actually been caused by a major misinterpretation of the company's rather disappointing Q2 earnings release, I don't think the stock will be able to mirror the recent Netlist performance and fully expect the shares to reverse course rather early in Wednesday's session.
To avoid getting caught in a short-squeeze, wait patiently for the stock to exhibit some early signs of weakness like a decrease in trading volume or a break of day-lows.
Renren is a rather liquid stock with plenty of shares still available for borrowing even after Tuesday's rally.
Bottom Line:
Really nothing to get excited here as Renren reports just another set of poor quarterly operating results and guides for Q3 revenues to be down sequentially. The company urgently needs to reduce losses as the remaining cash balance of just $30.5 million looks pretty tight already.
The Momentum Crowd was attracted by some impressive headline numbers entirely derived from $210 million in non-cash, one-time gains from the company's recent divestments.
Given the rather weak catalyst, I do not expect Renren to stage a multi-day run like Netlist has managed over the past couple of sessions and advise investors to take a short position once the stock is showing early signs of weakness. To avoid getting caught in a potential continuation of the rally, consider using a stop-loss order.
As always, don't bet the farm on short positions and adequately manage your risk.
Disclosure: I/we have no positions in any stocks mentioned, but may initiate a short position in RENN over the next 72 hours. I wrote this article myself, and it expresses my own opinions. I am not receiving compensation for it (other than from Seeking Alpha). I have no business relationship with any company whose stock is mentioned in this article.