Maple Leaf Foods ("MLF") is a Canadian protein company which experienced headwinds in the past year due to slowdowns in the pork market. It produces sustainable meat and meat-alternative products including poultry, beef, and pork. The company is headquartered in Mississauga and trades on the Toronto Stock Exchange.
MLF has production in Canada with minor assets in the US. It sells these proteins primarily in Canada (~75% sales) with minor but growing sales (~10% sales) in the US and Japan. MLF is amid a brand renovation towards a "sustainable and simple" product line to deliver solid results for investors.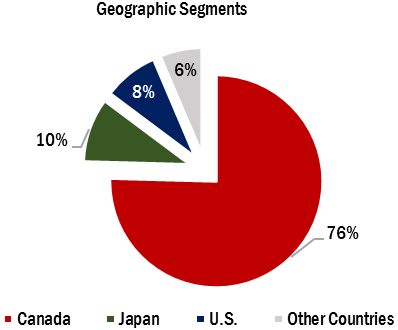 MLF has a strong strategy, management team, and fundamentals, and presents an opportunity to add a Canadian discounted value firm to your portfolio.
Investment Thesis
There are four major reasons to invest in MLF:
Strong support for core products: beef consumption growth improving to 2026, hog impacts stable
There are significant volume and price growth drivers present in the Canadian beef market. The OECD-FAO projects an 11.0% growth in global consumption of beef by 2026, driven largely by an expected 16.0% growth in demand from developing countries. Demand for Canadian beef will be up due to tariffs on producers of meat in the United States reducing supply of international meats. Finally, India's recent ban on bovine slaughter introduced in 2016 will impact global beef prices starting 2018/2019 improving margins on beef sales. In hog production, investors overestimate the slowdown in hog prices on MLF's bottom line. Due to the diversity in categories in MLF such as RWA, high proportion of value-added products, and a balanced portfolio, the impact of pork production on MLF's earnings are not linked to the commodity.
Expansion into poultry and plant proteins through acquisitions supports fast-growth business lines
MLF entered an agreement to acquire two poultry plants with associated supply, producing ~32 million kg of organic chicken from Cericola farms on June 28, 2018. Chicken is the fastest growing meat protein, and RWA and organic chicken show strong growth potential. 86% of Canadian shoppers buy and make chicken meals at home at least once a week and 25% of them are consuming more chicken than last year. Prime RWA chicken, produced at these plants, is growing at 25% annually. (ChickenFarmers.ca, newswire release). MLF also entered into an agreement to acquire Lightlife foods, a manufacturer and brand of refrigerated plant-based proteins, for $140 million US in February 21, 2017. MLF predicts robust growth of both market size and market capture with Lightlife in the United States. Both segments are great value-adds for MLF and present opportunities for robust future expansion.
2. Identified path to increased EBITDA margins
MLF has identified a path to achieve 14% to 16% EBITDA margin (Investor transcript, Q2 2018). This is set to be launched by 2019/2020 through improvements in supply chain performance and changes in the cost culture at MLF. The management team has proved that they can achieve a similar increase in margins: MLF has increased from 5% to 10% adjusted EBITDA margin from 2015 to 2017. With margins currently at 9%, it is expected that the company will reach 15%. To remain conservative, the model assumes a modest increase to 12% EBITDA margins.
3. Strong Financial Fundamentals with an Aligned Management Team
MLF has strong financial fundamentals. It has a low debt to equity ratio, with total debt including pension and other obligations of 230.7 M, and 203.4 M in cash. This equals a net debt of 27.3 M with equity of 2,051.6 M, which totals a very low 0.01 debt to equity ratio. ROIC also stands at an industry leading 7.89. MLF also has a strong management team focused on improvement. CEO Michael McCain has 39 years of experience in the industry and insider ownership is industry leading at 27.61%.
Primary Risks
U.S. Tariffs on Poultry and Prepared Meats
One of MLF's key growth areas is the United States. With political volatility around protectionism and NAFTA, and tariffs imposed on US beef, Canadian livestock could be at risk for future tariffs. To remedy this, growth in the U.S. is assumed to be slower than the current higher rate quoted by management.
Valuation
Based on an average of comparables and discount cash flow analysis methods, MLF resulted in an implied valuation of $40.16. Sensitivity analysis indicated a range between $26.90 and $45.40 in the low to high case respectively.
The key assumptions used in the model included simulating the four growth drivers and operational risk. Revenue assumptions included simulation of continued growth from the past five years to the next five years for beef, an addition of a separate poultry segment through Cericola, and a plant-based protein segment through Lightlife. Cost assumptions included a change in EBITDA margins over the next five years to 12%.
There was a lack of relevant comparables available which fit both the industry and geography of MLF, so one company was used: Premium Brand Holdings Corporation, a $2.5B market cap company headquartered in Toronto and trading on the TSX. Premium Brand Holdings Corporation is similar size company that does food manufacturing and distribution. It is traded at a higher multiple than MLF since 25% of its revenue comes from sandwiches which it sells to Starbucks. Taking a 25% discount to account for this process, we arrive at an EV/EBITDA exit multiple of 15x. This increased ratio from MLF's current 12x multiple is also ratified due to the recent rebranding efforts towards sustainable, organic foods which typically demand a higher price multiple.
Recommendation
At current price levels, MLF is an attractive investment opportunity. There are significant growth drivers with new businesses and strong fundamentals to support growth. MLF has leeway to be opportunistic and push growth due to low debt levels. Management is also aligned on brand renovation, innovation, and a strong cost culture providing a strong reason to buy.
Investors should purchase MLF and sell at $40.16, for an implied upside of 29%.

Disclosure: I/we have no positions in any stocks mentioned, and no plans to initiate any positions within the next 72 hours.
I wrote this article myself, and it expresses my own opinions. I am not receiving compensation for it (other than from Seeking Alpha). I have no business relationship with any company whose stock is mentioned in this article.