Investment Thesis
Alliance Resource Partners LP (ARLP) is a pure play coal stock that offers a covered and growing yield - perfect for income minded investors. They are showing strong financial performance and are rewarding investors with distribution increases and stock buyback.
Company Overview
ARLP operates coals mines spread across two states as well as one terminal for loading coal barges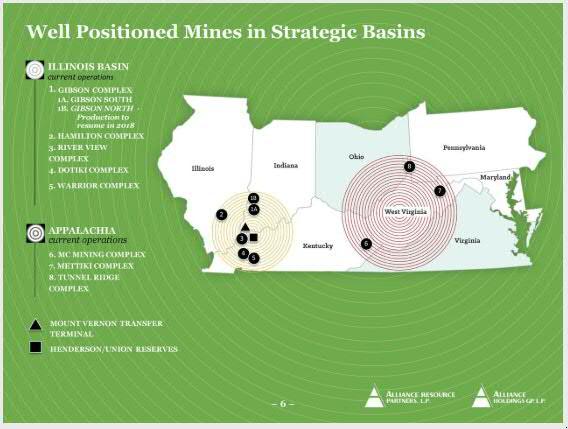 Source: ARLP Presentation
These various coal mines provide the backbone for ARLP's financial strength. This part quarter ARLP saw a year over year increase of 26.7% in its EBITDA, earnings before interest, taxes, depreciate and amortization. Year over year the per unit earnings increased to $0.63 from $0.47.
ARLP is forecasting strong coal demand for the coming years from overseas. This expectation was repeated by CONSOL Coal Resources' (CCR) management - which we covered in a previous article.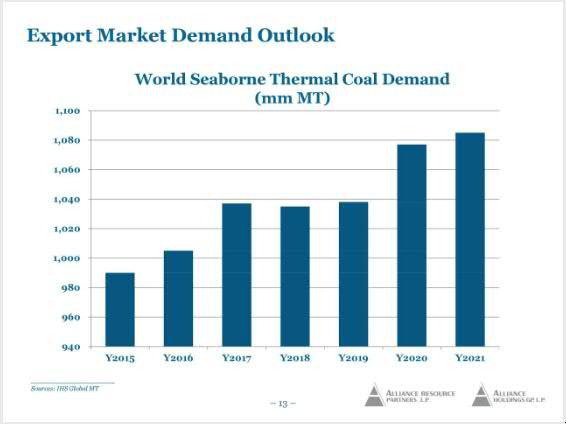 Source: ARLP Presentation
This demand will continue to provide strength for ARLP as it is dependent on the commodity prices. However growing international demand has caused global coal prices to rise - which in turn will give ARLP strong financial performance.
ARLP also accomplished there process of internalizing their general partner this past quarter. This process was started back in 2017 and greatly simplifies their corporate structure.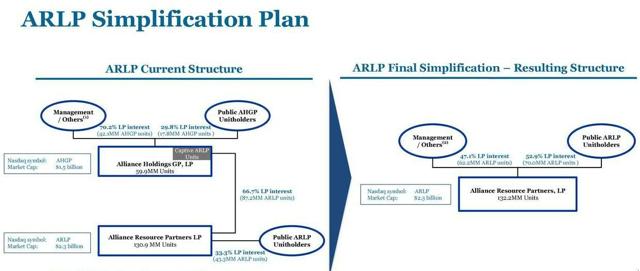 Source: ARLP Presentation
Now investors in ARLP hold equal standing with management, furthermore it has successfully removed IDRs from calculating ARLP's distribution coverage.
Capital Usage
ARLP is using is excess cash wisely. ARLP is investing its cash into debt reduction, distribution increases and share buy backs.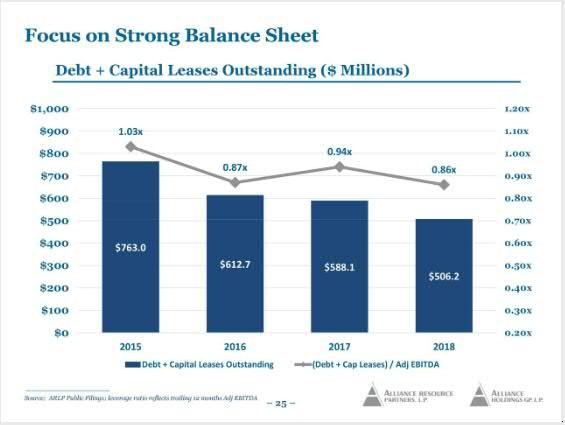 Source: ARLP Presentation
ARLP has been actively reducing its debt to provide financial liquidity - which is extremely important for commodity dependent companies. This focus reduces interest payments which in turn allow them to reduce debt further or use for other means.
On the distribution front, ARLP currently yields just under 10.5% and has been actively increasing its payout. Management forecasts the distribution to increase 1% per quarter the remainder of the year. This payout is strongly covered in their earnings per unit.
ARLP reduced its share count by 851,000 shares last quarter. Their total share count jumped while finalizing the internalization of their general partner, but ARLP has actively reduced their share count since then. This reduction is a win win for investors. Reduced share count means less funds distributed allowing for stronger coverage and increased share price.
Investor Takeaway
ARLP offers a strongly covered high yield that is growing. Management is spending their profits well and are encouraged to do so, since management and the average shareholder are on equal ground now that the general partner has been internalized.
Disclosure: I/we have no positions in any stocks mentioned, but may initiate a long position in CCR, ARLP over the next 72 hours. I wrote this article myself, and it expresses my own opinions. I am not receiving compensation for it (other than from Seeking Alpha). I have no business relationship with any company whose stock is mentioned in this article.