Market Intro


CNBC: 10:48 AM EST
Expect the headlines to ramp up over the next couple months as a contentious midterm election period may be kicking into high gear. US equities (SPY, DIA, QQQ, IWM) are mostly taking things in stride; US equities are faring better than the majority of international stocks (ACWX, EFA, EEM) recently.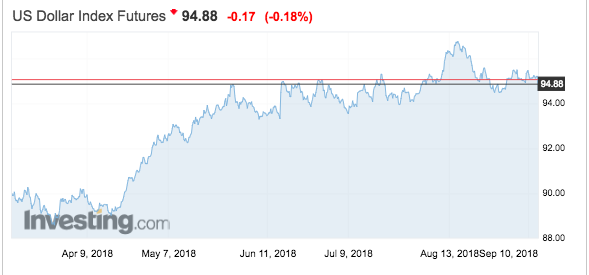 Don't assume that politics will remain neatly contained in one corner of the globe. EU President Juncker's comments surprise me (I would think that the EU would want a weaker Euro FXE); I'm getting the sense that a lot of "policy arrows" are flying around in a rather haphazard fashion.
Thoughts on Volatility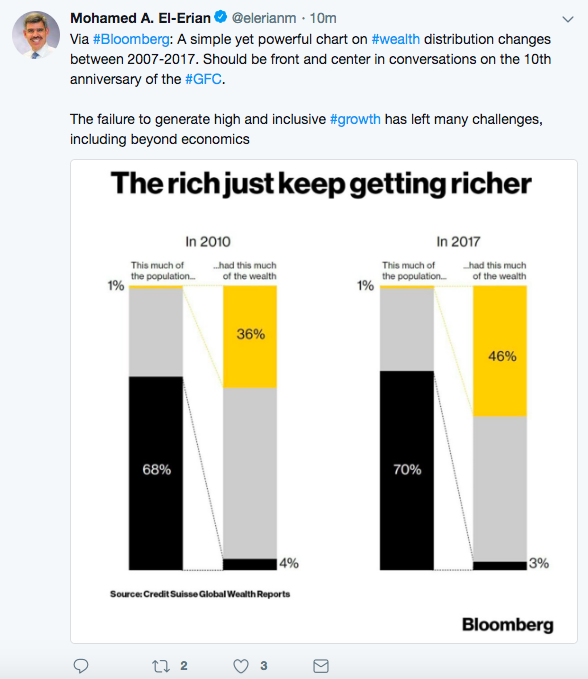 Depending on your socio-economic status and political beliefs, the graphic above may or may not trouble you. Remember, the graphic above displays wealth, not income. Note that what we see above pertains to global, and not US, wealth, but the story is basically the same.
I am curious as to readers' views on whether they see this as a problem (I do, with some important caveats). Do you believe that a low-volatility policy regime magnified or diminished this reshuffling of wealth distribution?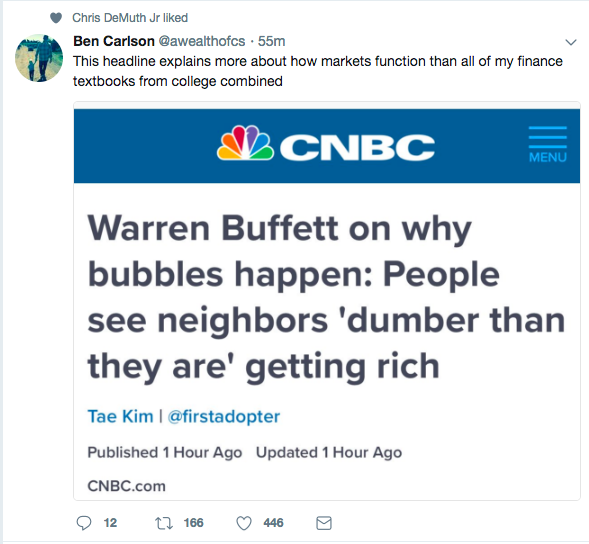 Amen! I do believe that there's something to this for bubble formation. It just doesn't sit right for many when they see people without any particularly amazing insight, training, or expertise go in and follow a simple playbook only to discover prosperity and riches.
The financial world we live in now has been called the "everything bubble"… maybe so. But whether or not that is the case, I think there is a great deal to be said for humility and sound risk management in becoming a better trader, investor, or decision maker in any field that involves uncertainty. Let thy neighbor enjoy his riches: don't chase (at least not without a solid plan)!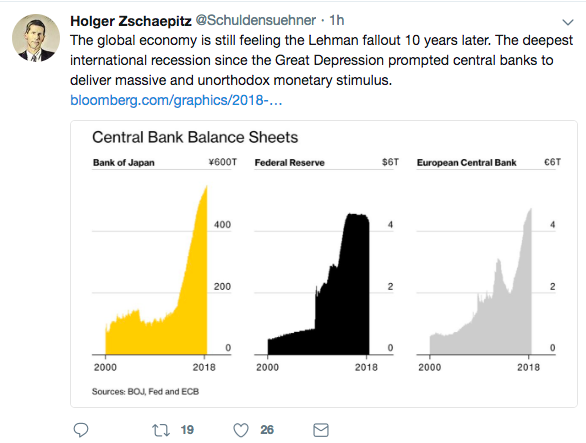 This is the genre of graphics that I find concerning... Mission not accomplished. Now I understand that in theory the ballooning of global central bank balance sheets does not have to spell doom for the global economy.
Consider how gold (GLD) drove higher and higher, peaking in September 2011 at around $1900/troy oz largely on the premise that CB largesse could only be inflationary.
Seven years later and the yellow metal is down about 40%... even more if you ironically account for inflation. But none of this is to say that we're all clear (not that we ever are)… the monetary experiment is most certainly ongoing; the implications for volatility and risk assets may be underappreciated by many.
Term Structure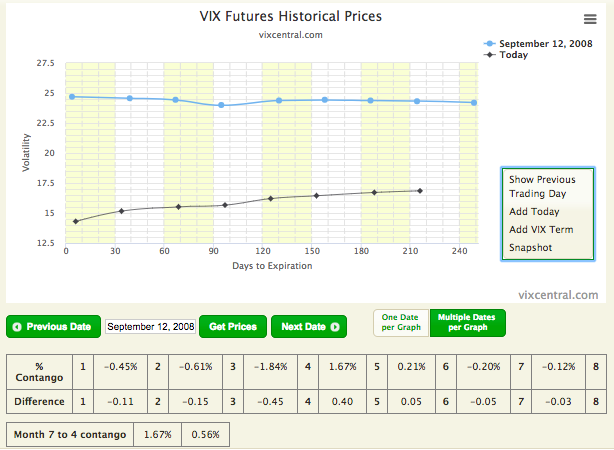 In light of the fact that the"Lehman moment" occurred a decade ago, I decided to contrast the closing VIX for Sep 12, 2008 and Sep 11, 2018. What is most surprising is how tame the vol term structure was a decade ago… most of us know what came within a few weeks of Lehman's collapse: the volatility genie escaped from its bottle and wreaked havoc across markets all over the world.
Vol today looks reasonably priced if September 12, 2008 took the shape that it did. Sure we could see a bump in realized and implied vol, but those taking a long-vol position (VXX, UVXY, TVIX) may need to temper their expectations.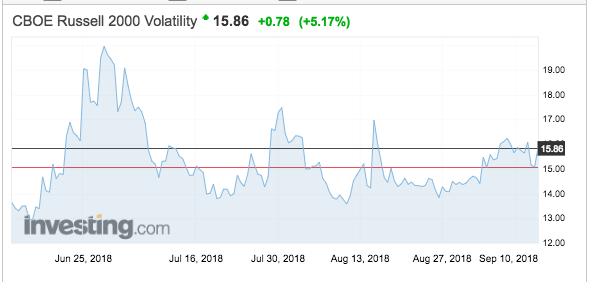 The Russell 2k has been range bound of late. This past summer the small cap index acted as an important catalyst for the broader US indexes to shrug off turmoil in foreign stocks. Vol for the Russell looks to be on the ascendant, but not on the same order thus far as what we saw between mid and late June, when you may recall we did see a fair bit of choppiness.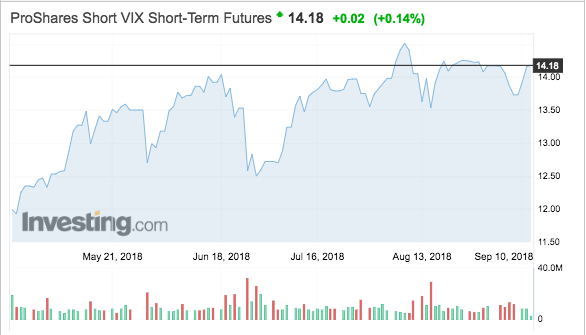 As inconsequential as June's small flare-ups may seem in the here and now, note that even relatively modest increases in VIX took its toll on short-vol positions (SVXY).
I would encourage those who mostly trade vol from the short side to examine what it is they are expecting a short-vol stake to deliver to them… roll yield? Collapsing front end? I do not mean this sardonically, but it is in my view time to start evaluating one's reasons for shorting vol here.
Conclusion
If this is your first time reading Market Volatility Bulletin, thanks for giving it a try. If you're a regular, we thank you for your ongoing contributions in the comments section.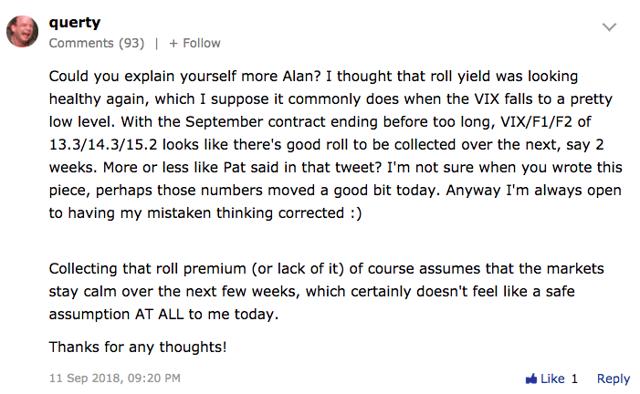 In the previous MVB, querty asked me to expound on my take on VX roll yield. Click here for my response. My point was that, with a week left on the M1, 5% roll yield is not a great deal of edge given how swiftly spot VIX can jump.
Thank you for reading.
Please consider following.
Disclosure: I/we have no positions in any stocks mentioned, and no plans to initiate any positions within the next 72 hours. I wrote this article myself, and it expresses my own opinions. I am not receiving compensation for it (other than from Seeking Alpha). I have no business relationship with any company whose stock is mentioned in this article.
Additional disclosure: I actively trade the futures and options markets, potentially taking multiple positions on any given day, both long and short. I also hold a more traditional portfolio of stocks and bonds that I do not "trade". I do believe the S&P 500 is priced for poor forward-looking returns over a long timeframe, and so my trading activity centers around a negative delta for hedging purposes.