Apple's (NASDAQ:AAPL) new device lineup has been released. During the company's now traditional late summer annual event, the iPhone Xs, Xs Max and Xr were introduced, boasting features that were in line with expectations and entry prices that were up to $100 higher than forecasted by some experts. Today's product refresh also included the launch of the Apple Watch Series 4, but not the anticipated iPad Pro update.
Because the iPhone is still by far Apple's most important product category, at the very least from a revenue point of view (representing roughly 60% of the company's total revenues in the past two quarters), I will focus today's discussion on this particular device.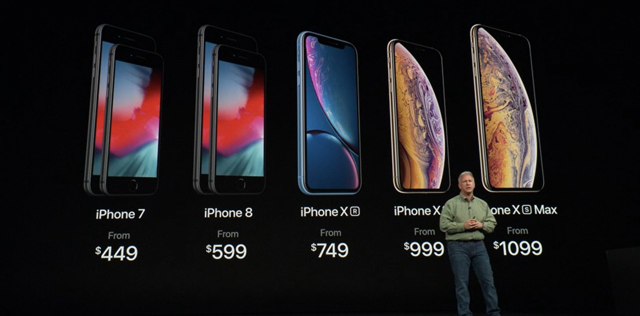 Image credit: Apple's event presentation
What mattered most today: iPhones
Much could be said about the new products from a features and technology perspective. However, as a shareholder, I'm more interested in the event's impact to the investment thesis.
As a quick revisit, I believe the success of Apple's iPhone in the first three quarters of fiscal 2018, when segment sales increased an astonishing 16% while the smartphone industry in general saw only timid growth if at all, resulted from two key factors.
First, but less impactful, the strong global macroeconomic environment lifted all boats, even if modestly. Second and more importantly, Apple's iPhone lineup in the back end of 2017 captured the widest range of price points since the first release of the company's smartphones, with the SE on the low end selling at $349 and the large-capacity X going for $1,149. This pricing strategy means that Apple, until recently an aspirational brand that had not been within the reach of a large chunk of the global smartphone consumer base, now appeals more to both a price-sensitive crowd (and to certain demographic groups in emerging markets) as well as to more affluent buyers.
Today's new smartphone introductions maintained this dynamic largely intact, in my view. The new iPhones have refreshed the product portfolio, eliminated what I believe was some redundancy at the mid-range (e.g. 6s Plus and 7 Plus) while still reaching across a wide spectrum of features and pricing points - which I believed was crucial. To be sure, the lowest end of Apple's smartphone offering has been raised by $50, which seems to suggest (1) confidence by the Cupertino company in the willingness of more cash-constrained users to spend more on an Apple device, and (2) a bet on continued strength in discretionary consumer spending around the world.
Apple's move to increase prices well above the pace of inflation despite a competitive smartphone landscape is bold, in my view. But should the company be successful at still attracting healthy demand for its new products, the positive effect should be increased margins and op profit growth. At this moment, I have no reason to believe that the more aggressive pricing strategy will fail, considering the robustness of the economy and the appeal for Apple's devices as of the past few quarters.
For reference, below is the iPhone lineup as of September 12th in the morning (yellow column) compared to the new, more simplified smartphone portfolio: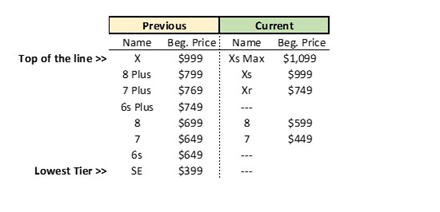 Source: DM Martins Research, using data from company's website
A word on future iPhone sales
I continue to believe that iPhone revenue growth is most likely to taper off in the mid-term future (see graph below, the dotted line is DM Martins Research's estimate), with unit sales comps becoming increasingly tougher as we enter the 2018 holiday season. For the near term (i.e. fiscal 4Q18), I still expect to see robust growth driven by two major factors: (1) last year's brief pause in smartphone upgrades ahead of the much-anticipated iPhone X introduction, and (2) a likely increase in ASP, as the higher-end iPhone X family, this quarter probably representing about 12% of the unit sales mix per my estimates, should play a key role in supporting average prices.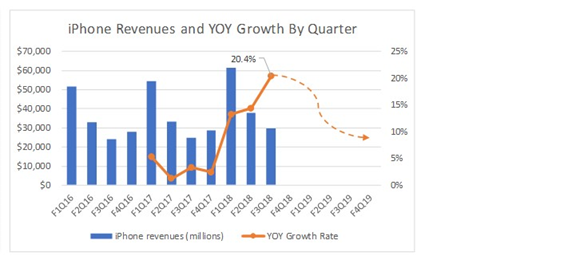 Source: DM Martins Research estimate, using data from company reports
Possibly helping to beat my expectations might be a more robust upgrade cycle, now that most of the iPhone 6 and 7 (along with their S and Plus versions) that are still in use could be retired soon. Apple's fiscal 4Q18 earnings report, expected to come out in the very early part of November, might provide the first glimpse into the short-term upgrade trends.
Final thoughts on the investment opportunity
Following the most recent product refresh, I remain an AAPL bull. My investment thesis is not so much grounded on short-to-mid term upside driven by the sale of new devices, but primarily on Apple's opportunities to monetize its growing installed base (the company is about to reach the 2 billion iOS device sale milestone, as per CEO Tim Cook's announcement this afternoon). For example, I project that services will account for most of Apple's op profits by as early as 2027.
Regarding iPhone sales, I'm not overly concerned about what I expect will be growth deceleration over the next few quarters. I continue to see the company's product portfolio well balanced at different price points and overall appealing to the global tech device consumer base. Trading at a next-year P/E of 16.5x, I believe the stock is still a bargain considering the fundamentals of the business, even if Apple's equity already is valued at more than $1 trillion.