The Weather
Last week, the number of total degree-days (TDDs) declined by around 6% w-o-w, as cooling demand went down – particularly, in the Central and Southeast parts of the country. However, we estimate that total energy demand was no less than 25% above last year's level. Please note that during this time of the year, heating degree-days (HDDs) have almost no effect on natural gas consumption. Cooling degree-days (CDDs) continue to have a disproportionately stronger effect on consumption and traders should be paying attention to changes in CDDs. Seasonal trend, however, calls for high, but declining number of CDDs and for a rising, but low number of HDDs.
This week, the weather conditions continued to cool down. We estimate that the number of CDDs will drop by a whopping 36% w-o-w in the week ending September 14. However, total energy demand (measured in TDDs) would still be some 10% above last year's level. Next week, however, the heat is expected to return. The number of CDDs is currently projected to increase by no less than 16% w-o-w for the week ending September 21 (see the chart below).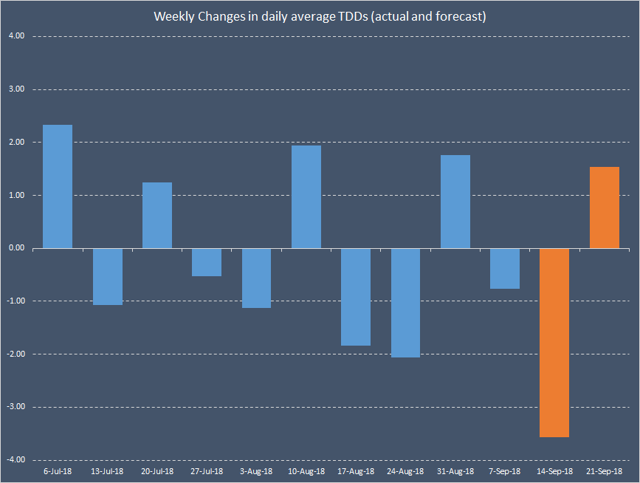 Source: Bluegold Research estimates and calculations
The latest numerical weather prediction models are still showing above normal CDDs and TDDs over the next 15 days (September 12-27), but the changes have been mostly neutral lately. Consumption-wise, however, the weather is bringing bearish changes as rising number of HDDs cannot compensate for the declining number of CDDs.
Storage
U.S. Energy Information Administration should report a larger change in natural gas storage this week compared to the week prior. We anticipate to see an injection of 71 bcf (6 bcf larger than the comparable figure in the ICE's latest report for the EII-U.S. EIA Financial Weekly Index, 3 bcf smaller vs. 5-year average and 16 bcf smaller than a year ago).
There is currently a double-deficit in natural gas inventories – i.e., the amount of natural gas in the underground storage is smaller compared to previous year and also compared to 5-year average. Next two EIA reports are expected to confirm the contraction of 5-year average deficit by a total of 11 bcf and the expansion of annual deficit by a total of 22 bcf.
Further down the road, however, we see larger injections both relative to 5-year average also compared to last year. In this respect, we currently disagree with the market's view. As you know, we use the settlement price on ICE's EIO-EIA End of Storage Index Future to estimate market's implied storage expectations for the end of the season. The latest figure was 3,325 bcf. In other words, the market expects another 757 bcf of natural gas to be injected over the next eight weeks (or nine reports) – i.e., 84 bcf on average per report.
We do not see how this injection rate can be achieved under the latest production and weather/consumption forecast. Our own EOS storage index is currently showing 3,352 bcf, implying a 27 bcf "bearish gap" between our projections and market's expectations. Under the latest production and weather/consumption forecast, we expect injections to average 87 bcf over the next eight weeks (nine reports), and we expect at least two 100+ injections in the end of September – beginning of October.
Thank you for reading our weekly report. We also write a daily update of our forecast for key natural gas variables: weather, production, consumption, exports, imports and storage. Interested in getting this daily update? Sign up for Natural Gas Fundamentals, our Marketplace service, to get the most critical natural gas data. In addition, every Sunday, we publish three special reports: "Trends in the U.S. Electric Power sector", "Trends in Global LNG Market", "Global Oil Products Inventories".
Disclosure: I/we have no positions in any stocks mentioned, and no plans to initiate any positions within the next 72 hours. I wrote this article myself, and it expresses my own opinions. I am not receiving compensation for it (other than from Seeking Alpha). I have no business relationship with any company whose stock is mentioned in this article.