Investment thesis
Preeminent free cash flow and earnings growth of Valero Energy (NYSE: VLO) have beaten the estimates with new heights because of favorable refining margins. I feel incredibly bullish on the firm's future because of substantially increasing diesel and kerosene demand, new IMO regulations on low-sulfur ship fuels which will sustain the firm's revenue and FCF.
Introduction
As of September 12, 2018, Valero Energy operates across 3 segments: Refining, Ethanol, and VLP. VLP stands for Valero Energy Partners (NYSE: VLP). It is a publicly traded firm, as well as a subsidiary of a core company. I have compared the contribution of these segments to the operating income in Q2 2018: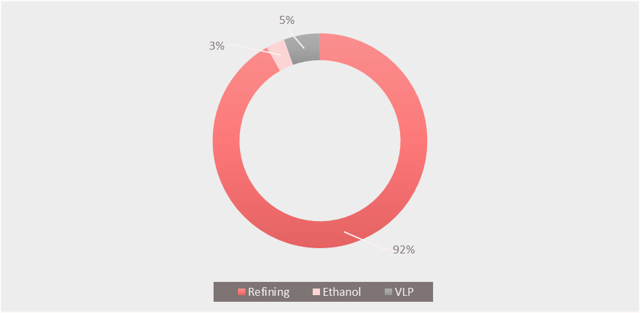 Source: Author's spreadsheet. Data source: Valero.com

It is abundantly clear that Refining is a leading part of its business model with 1.4B operating income in Q2 2018. This fact causes benefits, as well as risks, because, in the case of severe damage to the profitability of the Refining segment, other divisions will not be able to support the bottom line in the consolidated statements. Valero owns 15 petroleum refineries in the US, Canada, and the UK. Valero also produces ethanol. Its ethanol segment consists of 11 plants with a capacity of about 4 million gallons per day. An impact on revenue is tiny, as you see. Operating income provided by the refining segment is 23x higher than generated by the ethanol.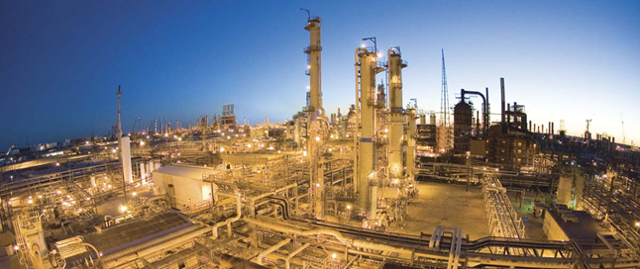 Port Arthur Refinery. Source: Valero.com
Even though the most potent refineries in the US are attributable to ExxonMobil (NYSE: XOM), Marathon Petroleum (NYSE: MPC), Royal Dutch Shell (NYSE: RDS.A) (NYSE: RDS.B) and Saudi Aramco, Valero Energy has a sufficient number of plants to stay competitive. Here are the capacity data: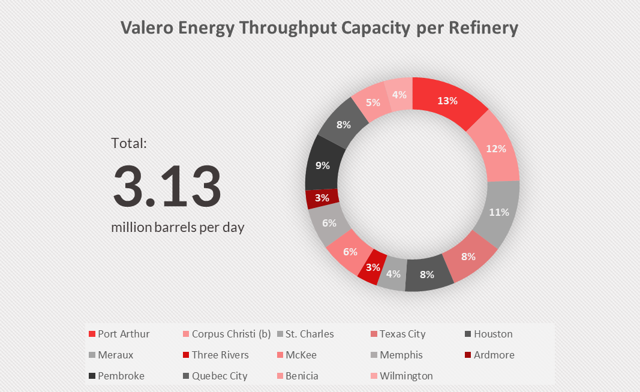 Source: Author's spreadsheet. Data source: valero.com, Form 10-K 2017.
Before we turn to the meticulous analysis, let's answer the pivotal questions of Valero investors. What factors will have an impact on revenue? Global fuel demand (mainly low-sulfur), U.S. fuel demand, competition within the industry and capacity growth. What could be the reason for weak profitability? Refining margins, oil prices volatility are the main culprits. The decrease of refining margins will hurt the income statement and the statement of cash flows. What will be relevant for free cash flow? All mentioned above plus capex level. Let's go into details.
The future is about low-sulfur fuel
It is abundantly clear that fuel demand is growing. On June 12, 2018, the American Petroleum Institute reported that motor gasoline demand for first 5 months of 2018 had become the strongest on record,jet fuel demand also had faced its best May ever.The truth is that the refining sector is going through the transition from gasoline to diesel and jet fuel (kerosene). The future is undoubtedly about low-sulfur fuels, and Valero is in the right place at the right time. This point is supported by a study made by a British consultancy Wood Mackenzie "The rise and fall of black gold", which has been published earlier this year. It is not arguable that in the next 5-7 years gasoline demand will grow annually, but experts from Wood Mackenzie presume that gasoline demand will decrease after 2025, as significant amountswill get displaced.
I assume that such giants as ExxonMobil, Royal Dutch Shell and Chevron (NYSE: CVX) will be able to hedge the possible troublesome consequences of renewables revolution and electric car widespread by merely expanding their renewables portfolio. Valero Energy is focused only on refining oil, mainly Louisiana light sweet oil, and producing fuels. What I consider as a shelter in this case? Fuel demand from the cargo ships fleet, locomotives, and airplanes (jet fuels, kerosene).
Let's take a look at the short-term context using data provided by the U.S. Energy Information Administration. The short-term prognosis is not very inspiring, but the tendency is apparent: the demand will grow. Here is the compound annual growth rate of fuel consumption in the U.S. from 2016 to 2019: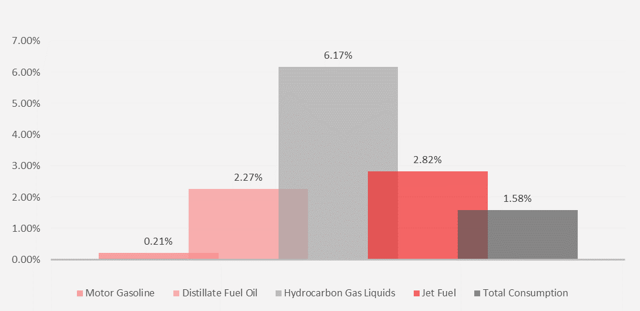 These data represent only US trends. Source: Author's spreadsheet. Data source: www.eia.gov
While hydrocarbon gas liquids growth from 2016 to 2019 is the most rapid, jet fuel is also a driver of consumption with a CAGR of 2.82%. On the contrary, motor gasoline consumption grows at a CAGR of 0.21%. At the same time, according to the U.S. EIA, jet fuel demand will double by 2040. Moreover, this trend is global. Speaking about emerging markets, India and China could be considered as significant contributors to the overall demand, as a growing middle-class buys more and more airplane tickets. India's demand is growing, but its refining capacity is not able to meet it: country's share in the world refining capacity is 6.1%, while the U.S. stands on the first position with 20.3%, the EU on the second with 14.6% and China on the third with 14.2%.
IMO and low-sulfur diesel
In 2016 International Maritime Organization prohibited the use of ship fuels with 0.5% of sulfur. The new rules will be activated in 2020. Today's mandate is 3.5%. The rationale behind the restrictions is to arrest adverse consequences of the emissions. New marine fuel regulations are bargaining chips of independent refiners which produce high-quality low-sulfur diesel. I consider the ramifications of new rules as catalysts for Valero Energy increasing value.
VLO stands to gain from it because it will inevitably lead to a surge in cash inflows to its refining segment. VLO is not the only beneficiary of new regulations. ExxonMobil and Royal Dutch Shell, to name a few, will also receive their portion of opportunities. Despite some possible alternative solutions, which Royal Dutch Shell mentioned in its whitepaper, ship owners will have to buy expensive low-sulfur diesel.
Points of Wood Mackenzie, S&P, and Morgan Stanley converge on this matter. In "The rise and fall of black gold" Wood Mackenzie mentioned that "the refining sector reverts to being distillate-led," and that the transition "is further supported by the forthcoming marine fuel regulation." S&P pointed out that Valero is "expected to benefit from changing International Maritime Organization (NYSEMKT:IMO) regulations."
Ultimately, growing jet fuel and exceptionally high-quality ship fuel will energize business of Valero Energy and boost revenue. Alternatives in aviation do not make sense in 2018, and this is not about to change in the next 5-10 years. The percentage of alternative fuels in the industry is tiny. It is account for 0.26% of the total flights in the world in 2017. It will do no harm to the revenue of the kerosene producers. In sum, the foreseeable future for the sector and for the company is bright and prosperous. Even if gasoline demand faces decline, diesel and low-sulfur fuel will support the growth.
Valero's capacity is preeminent. Is it enough?
Is Valero able to produce enough diesel and jet fuel to stay competitive? The answer is 'Yes.' Here are the data. If we put the number in the context, we shall see that VLO is among the few: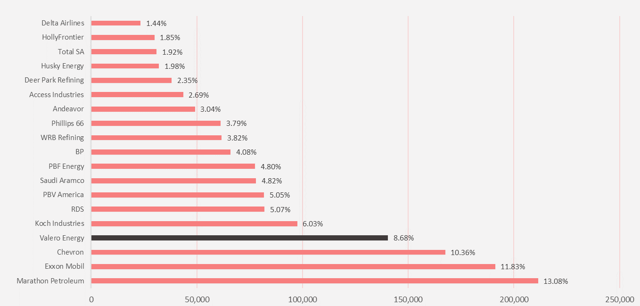 Source: Author's spreadsheet. Data source: Eia.gov. Please, take notice that this chart does not include refining capacities outside of the U.S. Also, WRB refining is a joint venture of Phillips 66 and Cenovus Energy.
If we select the Desulfurization, kerosene, and jet fuel sectionin the dataset provided by the U.S. EIA, we shall see that in 2017 Valero Energy had a downstream charge capacity of 140,400 barrels per stream day, which represents 8.68% of the U.S. capacity of 1,616,850 barrels per stream day. Being on the 4th place amongst the leaders of jet fuel production in the U.S., Valero Energy is the champion of diesel. Here are the most significant U.S. diesel producers by daily capacity (85% of total).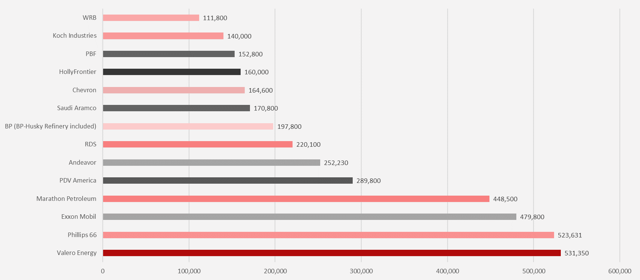 Source: Author's spreadsheet. Data source: Eia.gov.
The refining giant from San Antonio is on the first place with 531,350 barrels per stream day. One critical remark is that WRB Refining LP is a joint venture of Phillips 66 (NYSE: PSX) and Cenovus Energy. As disclosed in Form 10-K 2017 of Phillips 66, "We are the operator and managing partner of WRB, a 50/50 joint venture with Cenovus Energy Inc., which consists of the Wood River and Borger refineries." Which means that 50% of Wood River Refinery and Borger Refinery are attributable to PSX and 50% to Cenovus. In this case, Phillips 66 should be considered as the leader with Valero Energy on the second place but still among the few.
Additional remarks on risks
The refining margins are the cornerstones of the firm's success. Substantial operating income for Q2 2018 was "driven mainly by higher distillate margins and wider discounts for sour and domestic sweet crude oils versus Brent."
When E&P companies stand to gain from higher prices, enterprises focused solely on refining consider this factor as ominous and destructive. Uncertainties, as a result of volatility, make their business less profitable. VLO does not produce oil feedstock, only purchase it. In Q3 2016 Valero Energy faced the burdensome decline of profit determined by shrinking of refining margins.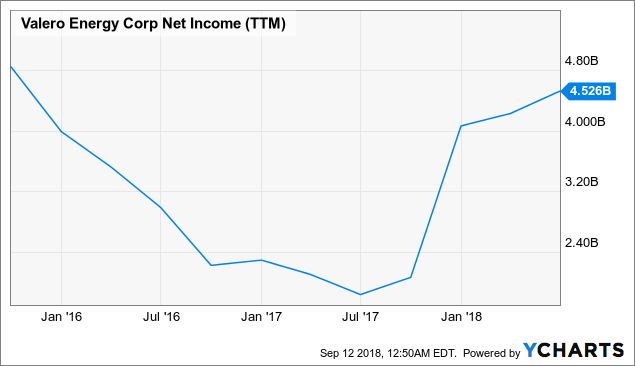 After all, I should mention that Valero is highly dependent on Venezuelan oil. Possible ban on fossil fuels from Venezuela will be burdensome for the company. So, any news related to this issue should be considered as ominous for the company and its investors.
Valuation: Multiples Approach
Balance sheet: small flaws, overall robustness
I am content with the firm's balance sheet, but specific issues concern me. First, the vast amount of inventory as a part of current assets might seem troublesome. Second, P/BV is more than 2x. At the same time, putting it in the context of peers helps to see that this is an inescapable particularity of refining industry: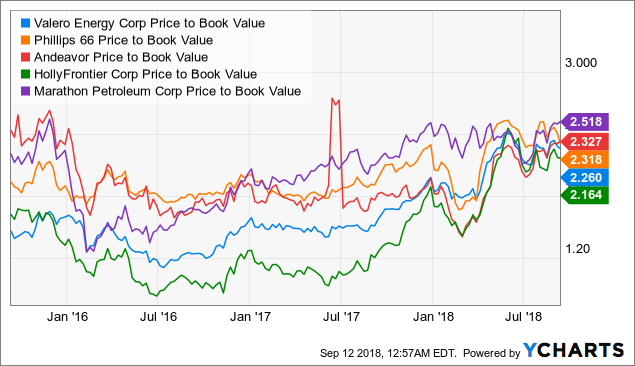 P/E, EV/EBITDA, Financial debt/EBITDA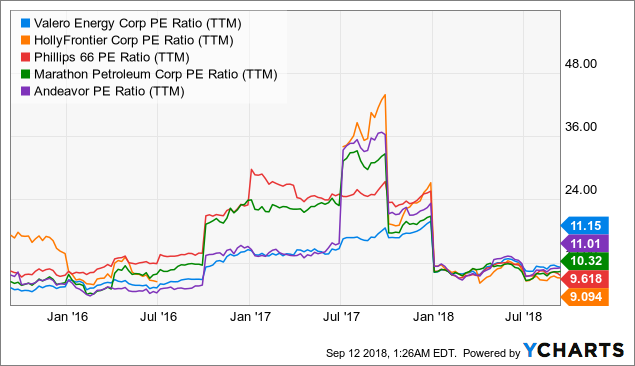 It appears that Valero's P/E multiple is slightly higher than the industry average (10.23x), but it is evident that all figures are practically in the same range without drastic deviations.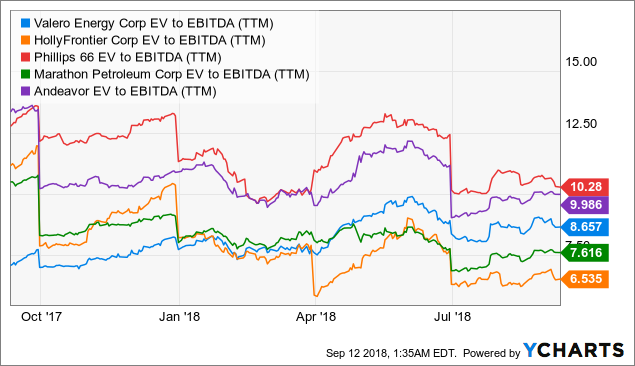 Valero's EBITDA is robust enough, EV/EBITDA ratio lies precisely in the industry range (average is 8.6x).
The financial debt-to-EBITDA ratio indicates that the firm uses debt more proficiently than its peers (average is 1.7x). The default risk is justifiably lower.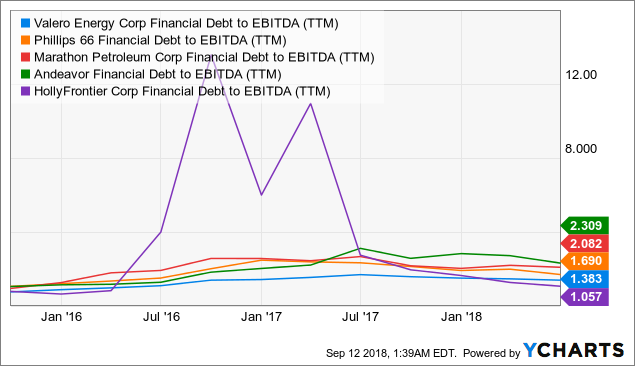 Ultimately, multiples indicate that VLO is fairly valued in comparison with its closest peers. Let's take a look at the DCF model.
DCF Analysis: Uncovering the Intrinsic Value
To conduct the comprehensive analysis and sensitize all possible ramifications of the market trends mentioned above, I have performed a DCF analysis.
Historical financials were used as a ground for certain assumptions, as D&A, margins, and capex, etc. The average and median figures were used in the projections. Q3 and Q4 2018 expected results were also incorporated in the model. On the contrary, I have not used the revenue growth rates for 2013-2018 which you can see in the Historical periods' section. The sales growth rates applied in the DCF model are the consequence of the powerful impetus mentioned above:
Low-sulfur diesel demand,
Jet fuel (kerosene) demand.
It should also be mentioned that the growth pattern in 2018-2023 is not unique or unprecedented. These data show the growth waves of the industry in the past: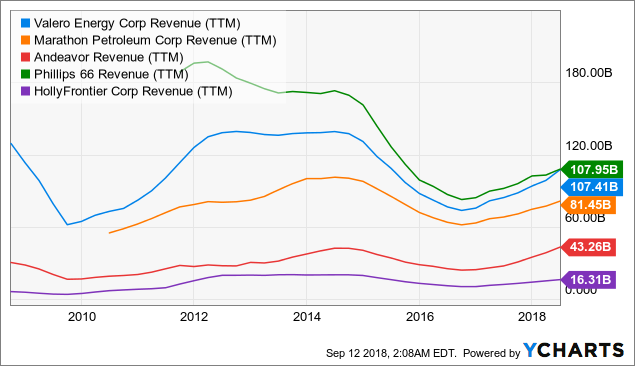 I used Unlevered FCF. In this regard, debt issuances and repayments were not taken into account, and WACC, not Cost of Equity, was used as a discount rate. I also applied mid-year convention to account for the fact that annual FCF is received throughout the year, not at year-end. The use of a mid-year convention resulted in an imperceptibly higher valuation.
The historical effective tax rates were calculated as % of EBT or Net Income before Tax. Finally, 23% effective tax rate was selected for modeling purposes.
D&A, Increase/Decrease in NWC and Capex as percentages of operating revenue are equal in all three scenarios. Median historical levels were used as a benchmark. I also assumed that no mergers and acquisitions and restructurings would take place in 2019-2023. Lawsuits and burdensome fines are also not expected in this period even in the worst-case scenario because of the unpredictability of their nature.
Capital Expenditures
Capex are consisted of Capital expenditures and Capital expenditures of certain variable interest entities:

Source: Valero Energy Form 10-Q Q2 2018.
In all 3 models capex were held constant as 1.6% of revenue.
Margins and profitability
Historical patterns provided a solid ground for the projections of profitability: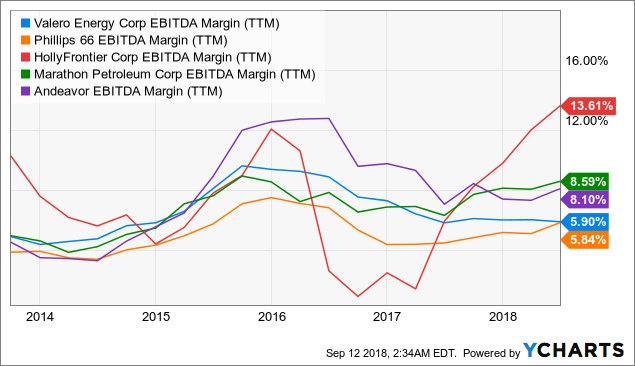 Ultimately, I used the average EBITDA margin for the previous 5-year period (FY 2013-2018), or 6.3%.
WACC and Discount factors
WACC consists of Cost or Equity and Cost of Debt. To keep a long story short, I picked a weighted average cost of capital of 9%forthe primary operating scenario. In other cases, WACC is equal to 8.5% and 10%.
The following analysis represents 3 possible scenarios:
The Base Case,
The Best Case,
Mediocre Performance.
The Base Case
In the base case scenario, I used the following assumptions:
Revenue CAGR is 4%.
EBITDA margin is 6.3%.
Capital expenditures comprise 1.60% of revenue.
WACC is 9%.
EBITDA Exit Multiple equals to 8.3x.
The key drivers are incredibly favorable refining margins, high low-sulfur and diesel fuel demand, an imperceptible decline of the gasoline consumption in 2022-2023.

Source: Finance.yahoo.com
I picked the highest estimate for the current year revenue (2018), then subtracted Q1 and Q2 results to receive the amount of sales in Q3,4 2018.
According to the average consensus estimates, operating revenue in FY2019 will be 123.27B. As far as I have no projections for the upcoming period, I assume that sales will grow with a CAGR of 4% from 2019 to 2023. My 6% prognosis for 2020 is based on the expected effect of rising high-quality ship fuel demand. 5%, 2% and 1% for 2021-2023 are the results of the decline in gasoline consumption.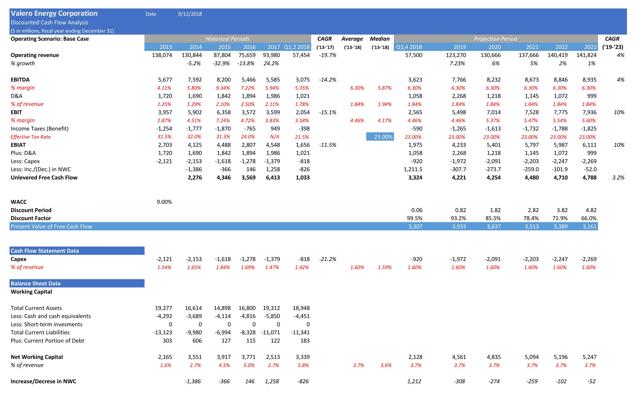 EBITDA margin in FY 2019-2023 is constant and equals to the average figure for the historical period, or to 6.3%. EBIT margins vary because operating income depends on the D&A and the D&A depend on the revenue. In this scenario, EBIT will grow with a CAGR of 10% from 2019 to 2023. The effective tax rate is 23%. Net Working Capital was estimated as 3.7% of revenue.
EV equals to the sum of the cumulative present value of FCF and terminal value: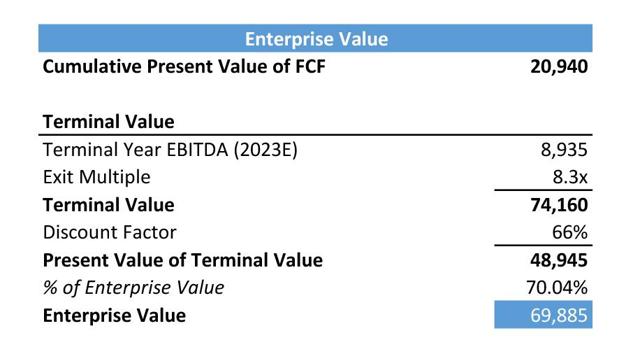 Source: Author's spreadsheet.
Then I subtracted total debt, minority interest, added cash and divided the equity value by the number of shares outstanding.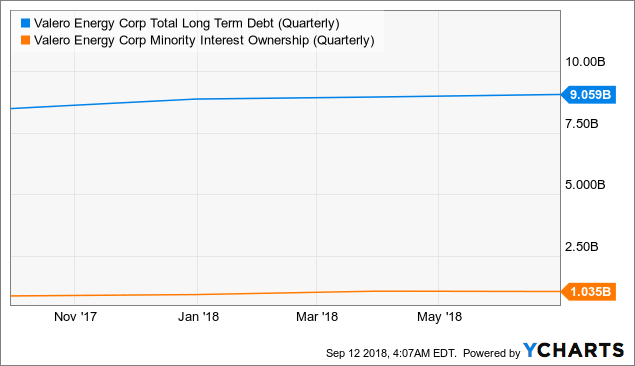 The number of shares outstanding used in the model is as follows: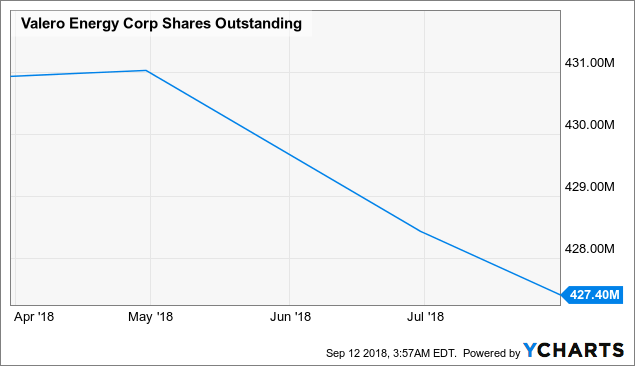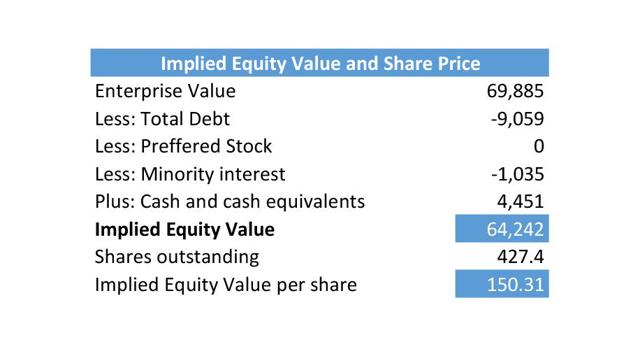 Source: Author's spreadsheet.
Ultimately, the implied equity value per share is $150.3, and the upside potential is 30%.
Preeminent growth, or the best-case scenario
In the best-case scenario, these assumptions were applied:
Revenue CAGR is 2% in 2019-2023 with 20% increase in FY2019.
EBITDA margin is 6.3%.
Capital expenditures comprise 1.60% of revenue.
Discount rate (OTC:WACC) is 8.5%
EBITDA Exit Multiple equals to 8.3x.
I picked the highest estimate for the FY2019 revenue from Finance.yahoo.com, or $148,900. Because this figure is humongous, I assumed that in FY 2020-2023 the top line would grow only by 1-2%.
The essential foundation for this scenario includes exceptionally favorable refining margins, extremely high low-sulfur fuel, diesel and kerosene demand, significant motor gasoline demand, lack of international tensions. All in all, it will help Valero to sustain revenue growth at this level.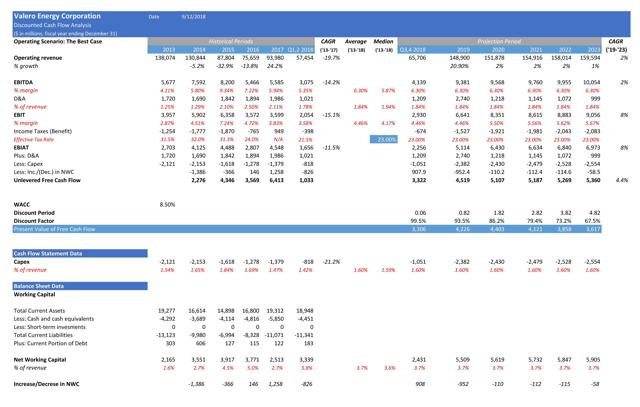 Source: Author's spreadsheet.
Long story short, the intrinsic value is $170.72 per share.

Source: Author's spreadsheet.
The upside potential is 48%.
Mediocre performance scenario
In my opinion, this scenario is unlikely due to the favorable economic conditions discussed in the previous sections. Even though let's consider the dramatic scenario.
The essential assumptions are as follows:
Revenue growth of 2% with a decline in 2022-2023. A CAGR of -1.5%.
EBITDA margin is 5.87%.
WACC is 10%.
EBITDA Exit Multiple equals to 8.3x.
I picked the lowest estimated revenue for the current year from finance.yahoo.com, or $99.7B, and subtracted the results for Q1,2 to receive $42.2B as possible operating revenue in Q3,4 2018. I also used the lowest estimate for FY2019, or $95.5B. Then I assumed that Valero's sales would increase by 1% in 2020, and from 2020 to 2023 would decrease by 1% every year.
The main culprits of lackluster performance are:
the immensely volatile or shrinking refining margins,
average low-sulfur and diesel fuel demand,
drastic decline of gasoline consumption due to the expansion of electric vehicles,
inability to outperform and outmaneuver the contenders in the field of kerosene production.
Implied Equity value is $91.9 per share. All in all, the downside potential is 20%. Again, I don't think that this scenario is likely to occur.
Final remarks on Valero price targets
An additional remark: in May 2018 Morgan Stanley (NYSE: MS) upgraded its Refining industry view to Attractive and raised the price target for Valero Energy from $110 to $140. In July the price target was changed to $150.
Finally, here are the highest, the lowest and average price targets. My projections lie practically in this range.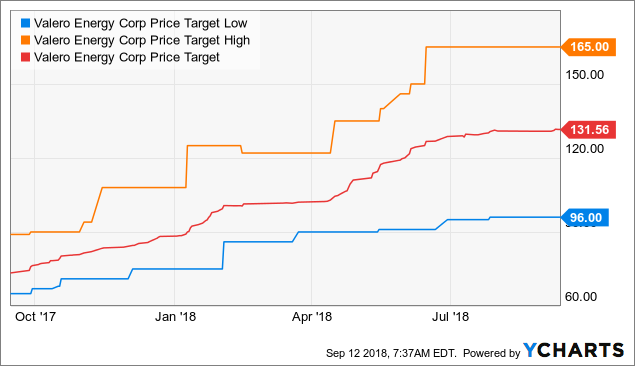 Conclusion
The inescapable particularity of oil-based business is a fickle and changeable dynamics of oil prices these years, but taking into consideration the DCF model and the economic environment, I think that shares of Valero Energy are underpriced. Quality of its fuels, as well as throughput capacity of refineries, will sustain revenue driven by the high kerosene and low-sulfur diesel demand. Its fair value according to the primary operating scenario is $150. The upside potential is up to 31%.
Disclosure: I/we have no positions in any stocks mentioned, but may initiate a long position in VLO over the next 72 hours. I wrote this article myself, and it expresses my own opinions. I am not receiving compensation for it (other than from Seeking Alpha). I have no business relationship with any company whose stock is mentioned in this article.