PX strength to continue into 1H19
PX and MEG are used to make PET, and PET is made into polyester yarn. China started regulating the import of waste PET in 2018 and in 2017, the country imported 2.2mn tonnes of waste PET. The demand for waste PET is now being supplanted by demand for virgin PET. The import of waste PE has also been banned, but waste PE imports have been waning since 2014. On the other hand, the import of waste PET has been steadily increasing until 2017, which explains the impact of the shift in demand. We believe PX demand will increase by 1.3mn tonnes and MEG demand by 750K tonnes per year. However, while the PX spread has widened to a record level, the MEG spread has not improved much. We expect PX strength to continue into 2019, but believe MEG will peak out during 2019 due to increases in coal-based MEG utilizations and capacity.
PX demand is strong due to fresh demand coming from the ban on waste PET imports and over 80% utilizations for polyester in China. However, PX utilizations remain low due to slower-than-expected normalizations of the Nghi Son plant in Vietnam (680K tpa) and Petro Rabigh plant in Saudi Arabia (1,300K tpa). While supply is expected to increase going forward, we believe supply will remain tight due to the increasing utilizations of the downstream industry (1,250K tpa capacity JBF PTA plant in India).
Going forward, the PX spread will likely hinge on when China's Hengli plant (2,250K tpa) and Zhejiang PC plant (4,000K tpa) come on stream. These facilities should come online in 2H19 but there remain uncertainties about the timing, as the two are chemical companies that have mainly operated PTA plants, and because the supply of heavy crude oil is tight. As such, even if the PX spread narrows somewhat due to seasonality, it will still be wider than in the past.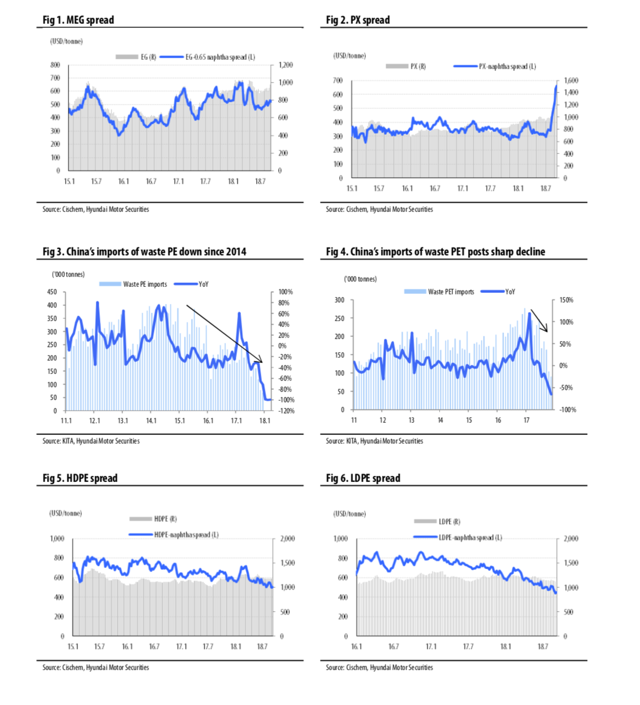 Disclosure: I/we have no positions in any stocks mentioned, and no plans to initiate any positions within the next 72 hours. I wrote this article myself, and it expresses my own opinions. I am not receiving compensation for it (other than from Seeking Alpha). I have no business relationship with any company whose stock is mentioned in this article.
Editor's Note: This article discusses one or more securities that do not trade on a major U.S. exchange. Please be aware of the risks associated with these stocks.