In this article, we examine the significant daily order flow and market structure driving WTI price action.
12 September 2018:
As noted in Tuesday's WTI Daily, buy-side transition within micro-supply (68.50s-69.50s) implied potential for buy-side continuation toward key supply overhead, 70.70s-71.41s. Tuesday's auction saw a structural buy spike, 69.40s-70.01s, following the API release, implying potential for price discovery higher. Wednesday's auction did result in buy-side continuation to 71.26s within key supply overhead as inferred.
Wednesday's auction saw minor pullback during the London auction to 69.51s within the structural buy spike that had formed following late Tuesday's API release. Sellers trapped near 69.51s amidst buying interest, driving price higher back toward the Globex high, 70.16s, into the NY Open. The market opened gap higher, reflecting buy-side structural imbalance and implying asymmetric potential for price discovery higher based on the market generated data.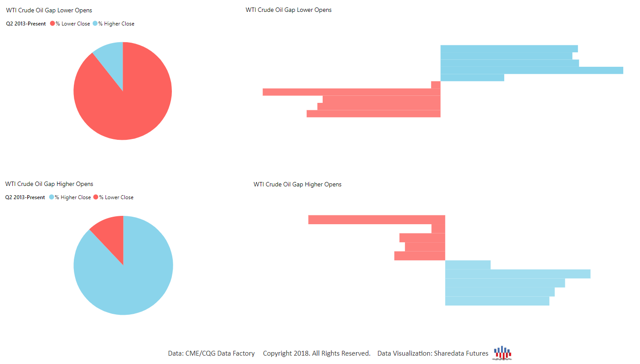 Initiative buying interest emerged, 70.15s, early in the NY auction, confirming the gap, driving price modestly higher to achieve a stopping point, 70.52s, into the EIA inventory release. A minor flush of the limit order book developed upon the EIA release (-5.2mil v -800k expected) to the buy-side breakout/key support area, 70.06s. Buying interest emerged, shifting the order flow sequence back to buy-side, driving price higher, achieving the stopping point high, 71.26s, near Sharedata's daily 2nd standard deviation high target within key supply.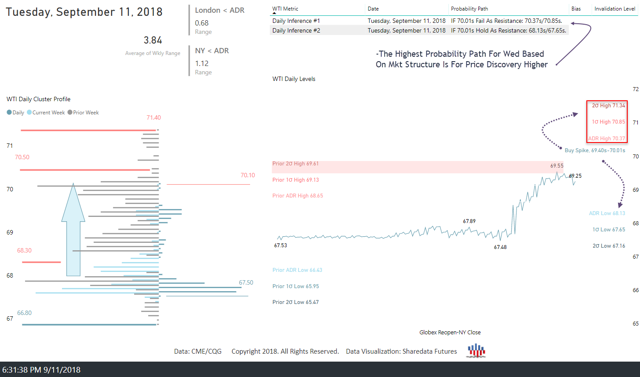 Selling interest emerged there, driving price lower in pullback, forming a sell excess, 71.26s-71s, providing structural indication that the buy-side auction had been halted, at least in the intra-day context. Pullback developed to 70.16s at/near the buy-side breakout area where buying interest emerged, developing balance, 70.16s-70.90s, into the NY close, settling at 70.37s.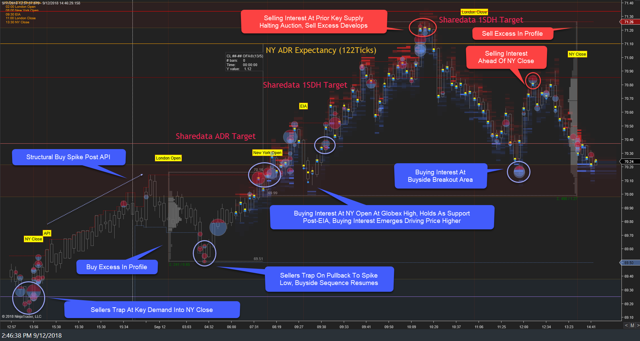 NinjaTrader
Looking ahead, the market's near-term buy-side phase from last Thu-Fri's support continued in Wednesday's auction as price discovery higher developed into key supply overhead, 70.70s-71.40s. Sell excess developed there, 71.25s-71s, indicating a halting of the buy-side auction. Response within this prior supply cluster will be of focus into the rest of this week's auction. Should Wednesday's sell excess hold, some balance development would be expected. As noted frequently, the development of consensus (a high-volume node of 10-20k contracts) usually fuels directional activity. Following balance development, buy-side transition within this cluster will imply price discovery potential higher to key supply overhead, 72s-75s. Alternatively, new sell-side interest absorbing demand will imply price discovery potential lower to key demand below, 65.75s-64.40s.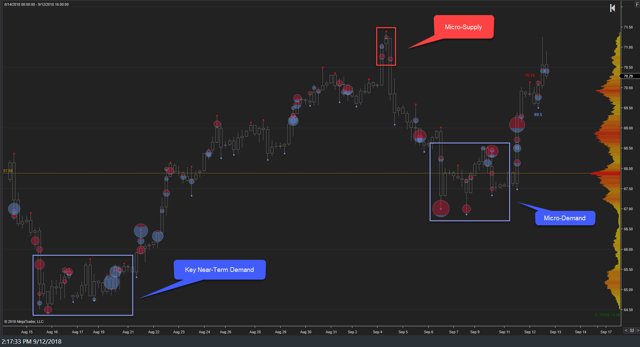 NinjaTrader
As noted in last week's WTI Weekly, seasonal price weakness in confluence with continued extreme bullish posture in the Managed Money suggests headwinds for WTI trading beyond the key supply cluster overhead (72s-75s). Near-term, the market structure (sell excess, 71.25s-71s) provides empirical evidence indicating the buy-side auction has been halted within prior supply, and balance development following the buy-side phase is the likeliest near-term probability path.
Disclosure: I/we have no positions in any stocks mentioned, and no plans to initiate any positions within the next 72 hours.
I wrote this article myself, and it expresses my own opinions. I am not receiving compensation for it (other than from Seeking Alpha). I have no business relationship with any company whose stock is mentioned in this article.