Welcome to the peak pessimism edition of HFI Research Exclusives!
In late August, Canada's federal court of appeals dealt a big blow to the Trans Mountain pipeline project. The court ruled that the Canadian government did not 1) study the impact of higher shipping traffic on the killer whale population and 2) did not consult with First Nation.
Following the setback, Canadian energy stocks went into freefall with investors selling energy stocks indiscriminately across the board, but mainly in Canadian heavy oil producers.
On the day of the court ruling, we wrote an article titled, "Trans Mountain Setback Is Not A Material Threat For Canadian Heavy Oil Producers." We said that 1) the TMX was not slated to come online until 2021 making any price impact negligible in the short-term, 2) valuation in Canadian oil producers has already discounted in the wider than normal WCS-WTI spreads, 3) crude-by-rail ramp-up near-term provides a clear and obvious catalyst, 4) Line 3 expansion in H2 2019 provides another tailwind, and 5) lack of clarity on TMX reduces capex spending going forward pushing lower Canadian oil supplies and resulting in even tighter global oil fundamental balances.
But logic isn't so abundant these days and common sense is not very common. Despite seeing right through the noise created by the TMX debacle, investors instead viewed the TMX decision as 1) Canada is not investable, 2) Canadian heavy oil producers are set for extinction, and 3) Canadian energy stocks are not investable.
Rather than going through the facts and looking at the upcoming catalysts for Canadian heavy oil producers, investors chose to sell first and ask questions later. But with peak pessimism setting in, are investors turning bearish Canadian heavy oil producers at precisely the wrong time?
In this report, we will discuss a few variables that some readers had questions over. The topics will range from 1) why Canadian heavy oil producers are a buy today, 2) will IMO 2020 really widen the discount that much, and 3) the chart indicates that this pullback was merely a retest of the breakout in Q2.
We hope the logic laid out in this article will allow you to see why we view the sell-off over the last 6 days was irrational and completely sentiment driven.
Why are Canadian heavy oil producers a buy today?
With the current uncertainty around TMX, investors would be foolish to buy Canadian heavy oil producers, but that's precisely why we think now is the time.
Being contrarian for the sake of being contrarian can and is often suicidal, but in this case, we have not only long-term fundamentals in our favor, but also short-term catalysts on the horizon.
Last week Friday 9/7, Cenovus (NYSE:CVE) announced that it has signed a multi-year crude-by-rail deal with Canadian National (NYSE:CNI). CNI is currently the largest crude-by-rail or CBR and it's not that CNI didn't want to ramp-up CBR capacity, it's that it had operational hiccups at the start of 2018 that delayed the timing.
The news that CVE signed the multi-year deal sent heavy oil names bouncing back from the lows of the day. Why? Because CBR implied WCS-WTI discount is only in the $16-$18/bbl range versus the current STRIP of $24/bbl.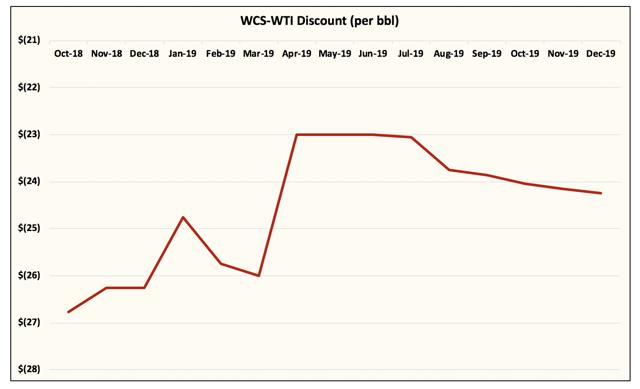 Source: CME
As you can see in the spread breakdown above, the average discount we are seeing in 2019 is $24/bbl or some 50% higher than implied by the CBR discount.
Our head analyst, Aaron Bradley, has been watching this closely and notes that Plains All American believes the current takeaway deficit excluding CBR is around 279k b/d in Canada: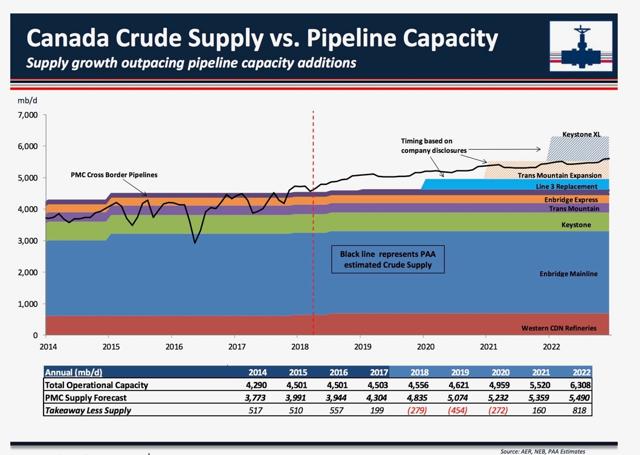 Source: PAA
How much capacity are we at today?
We are currently around 200k b/d and according to the Reuters report on Friday, CBR capacity is expected to be 300k b/d by the end of the year. This is important to understand in terms of timing because if CBR capacity can ramp to 300k b/d by year-end, that implies that there won't be any takeaway capacity issues in Canada.
We can also check if capacity is ramping by checking the Association of American Railroads weekly data: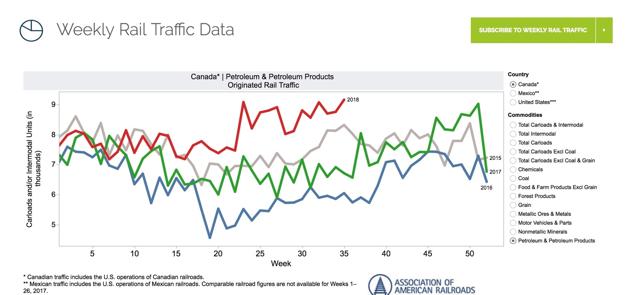 As the data indicates to us, we are starting to ramp meaningfully once again.
All of this implies that once CBR capacity ramps to 300k b/d by year-end, the takeaway capacity issue would go away, and this would push WCS-WTI spreads from $24/bbl in 2019 to $18/bbl.
For 2019, the current expected ramp-up in Canadian heavy oil production is around ~150k b/d pushing the required CBR capacity from 279k b/d to ~430k b/d. According to PAA, that figure is around ~454k b/d.
Based on the current estimate for CBR capacity increase, rail operators expect capacity to increase to ~500k b/d by the middle of 2019. Keep in mind that the slated production increases in 2019 will be in the back half of 2019 or coinciding with the capacity increase in CBR.
This implies that once CBR capacity increases by year-end to match the current needed takeaway capacity difference, the spreads should remain sub $20/bbl into 2019. This is why despite the current headlines around the TMX delay, the near-term solution is really the CBR capacity increase.
The moment the WCS-WTI spreads start to reflect a lower differential, smart money managers will realize that the prospects of Canadian heavy oil producers may not be so bad after all.
Mexico and Venezuela heavy oil production are in decline…
One of the key tailwinds to why we are bullish Canadian heavy oil producers is the fact that two of the largest heavy oil producers and key suppliers to the US Gulf Coast refining market are showing inevitable declines in oil production.
In a slide presented by Marathon Oil, it shows clearly that heavy oil production in the world will be in decline: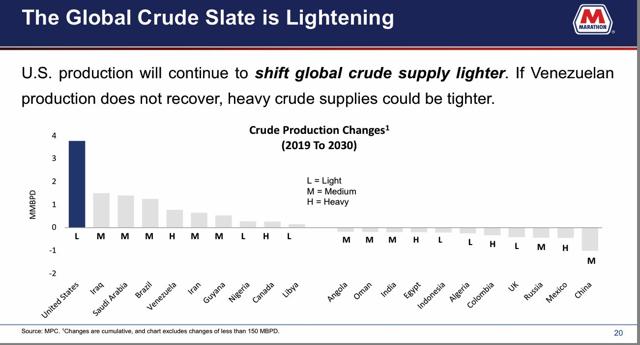 This is important to emphasize because as you can see in the chart above, the only countries that are slated to show higher heavy oil production are Venezuela and Canada. We all know that Venezuela's current economic turmoil won't likely be resolved anytime soon, and if Venezuela's oil production continues to decrease, then this leaves Canada as the only option going forward.
But the TMX debacle has now forced Canada's largest heavy oil producer, Suncor, to announce that it will not sanction any new projects until there is clarity on Canada's future pipeline developments.
If Canada doesn't grow oil production going forward, does that mean heavy oil will be in short supply in the future? Yes, it does, and as you can see from the crude production growth forecast, US light tight oil will be the main growth going forward. This comes at a time when global refinery capacity is geared towards a heavier slate of crude implying that there will be a substantial crude quality mismatch in the future. And this is especially the case in the US where the API gravity of US shale oil is considerably lighter than what the US refineries use: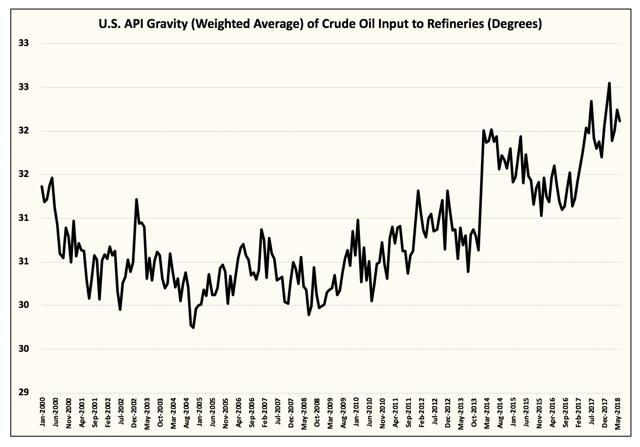 Source: EIA, HFI Research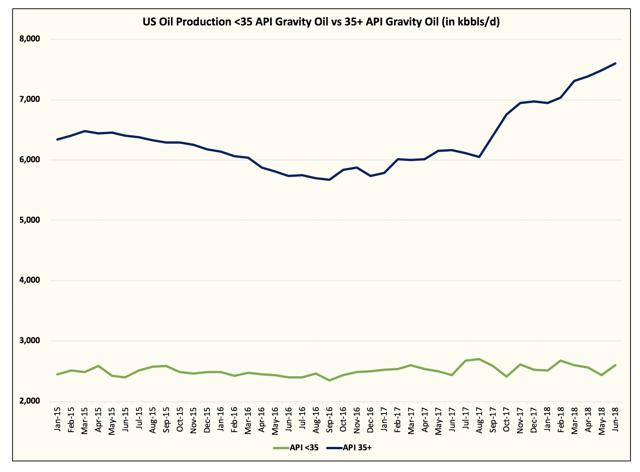 Source: EIA, HFI Research
As you can see in the chart above, the average API gravity (the higher the API gravity the lighter the crude) for US refineries is between 32 and 33, while the bottom chart indicates that oil production growth in the US has been concentrated entirely in API gravity 35+ oil. This means that as US oil production increases, the crude quality imports will be geared primarily towards lower API gravity crude.
But to make matters worse (or better for Canadian heavy oil producers), Mexico's oil production will continue to decline into the mid-2020s.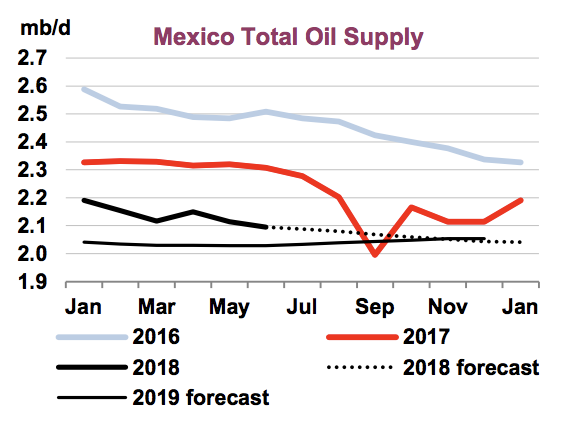 Source: IEA
This is especially alarming considering that Mexico is a large exporter to the US.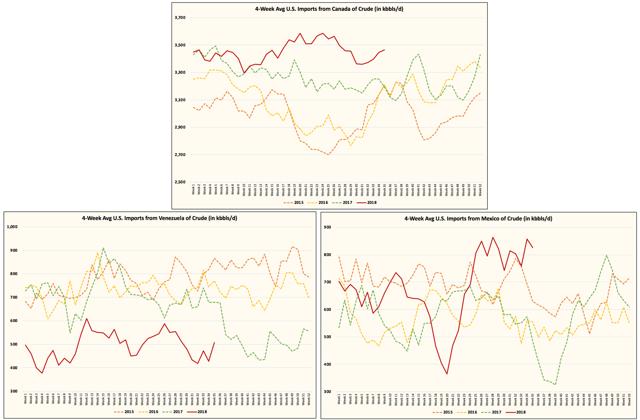 Source: EIA, HFI Research
Where will the US source the needed heavy oil supplies then? Ding, ding, ding, Canada.
Bottom-line: Crude-by-rail capacity increase by the end of 2018 will narrow the WCS-WTI spreads we are seeing for 2019. The tighter spreads will immediately impact Canadian heavy oil producer valuation because the market is currently pricing in the 50% higher spreads into the stock valuations. The CBR catalyst will provide near-term upside and hence why we believe they are a buy now.
In addition, US refineries need heavy oil and with Venezuela and Mexico production in decline, Canada will need to fill the import gap left by the two battered countries. Looking ahead, global heavy oil production is also falling leaving the heavy oil market wide open for Canada.
Will IMO 2020 really widen the discount that much?
There are a lot of concerns in the marketplace today surrounding the International Maritime Organization's 2020 Sulphur oxide emission rule or known as IMO 2020. Investors are already starting to believe that the impact to heavy oil producers globally will be negative, but how negative?
Western Canadian Select or WCS has a sulphur content of ~3.68%. With the IMO regulation pushing sulphur requirement for fuel oil from 3.5% to 0.5%, market participants believe that sour crude will start to price in a hefty discount. In fact, during the indiscriminate selling we saw in Canadian energy stocks this week, a report came out from Canadian Energy Research Institute saying that 574k b/d of oil sands production would not be economic under the IMO 2020 scenario. The report also notes that WCS-WTI discount could widen to $30/bbl+!
Oh, no (excuse the sarcasm here)! What will we do?
The reality is not as simple as CERI indicates. Why? Because the report fails to mention the CBR capacity increase (as stated above) or the Line 3 expansion that's slated to come online by H2 2019. In addition, the drop in fuel oil demand resulting from IMO 2020 is nowhere near as bearish as indicated by the report. Why?
A simple way to illustrate the market's concern on IMO 2020 as it relates to WCS pricing is by looking at WCS Houston pricing or what the market would be willing to buy WCS if WCS could be shipped globally. This discount reflects what WCS, or heavy oil, would fetch in the global markets. The WCS-WTI discount implicitly prices in the takeaway capacity issue, but to figure out the quality issue versus light oil, we look to WCS Houston pricing.
Here's what the discount looks like to 2020: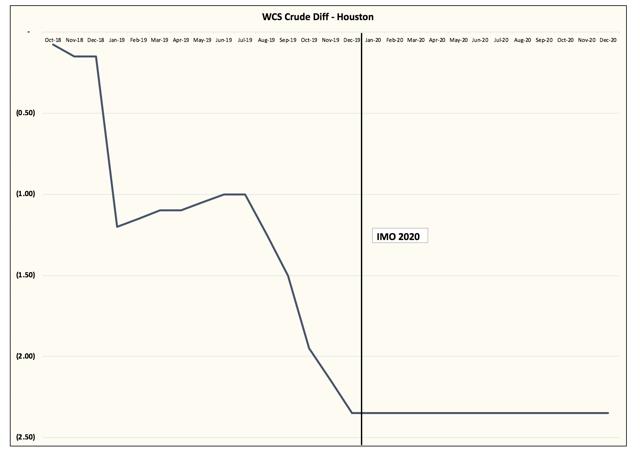 Source: ICE
According to the futures curve, traders believe that the current IMO impact to WCS pricing will be around $1.50/bbl. Keep in mind that the chart above shows WCS trading at a very small discount to light oil as there's a shortage of heavy oil globally currently.
Putting this in another way, if Venezuela's oil production continues to decline to sub 1 million b/d, and Mexico loses another 150k b/d by 2020, will $1.50/bbl be enough to kill the bullish Canadian heavy oil thesis? No, and as you can see, WCS spreads could widen, but it's not anywhere near the level touted by market pundits.
Bottom-line: Concerns on heavy oil barrels due to IMO 2020 are massively overblown. The market is discounting WCS by an additional $1.50/bbl by 2020 indicating to us that the threat of WCS-WTI spreads blowing past $30/bbl by 2020 is slim to none. In addition, market pundits are not factoring in the increase in CBR capacity or the Enbridge Line 3 expansion by the second half of 2019. Lastly, global oil production going forward is concentrated in light oil, while heavy oil supplies continue to decline leaving a major quality gap by 2020. IMO 2020 concerns are overblown.
The chart indicates that this pullback was merely a retest of the breakout in Q2.
On the surface, the sell-off over the last 6-days looked devastating. XEG.TO, the S&P/TSX capped energy index ETF, fell below the previous August lows, but looking at it from a chart perspective, it looks merely like a retest of the breakout: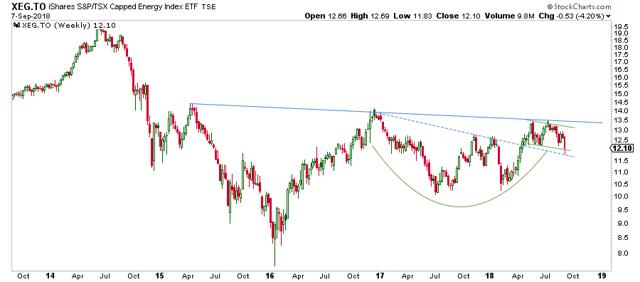 As you can see, XEG.TO looks to be forming a classic cup-and-handle pattern with the price currently at the bottom of the handle portion. In addition, the lows of last week look to have bounced off of the breakout trendline (dashed blue line).
Looking at XEG.TO from another lens, the relative performance to the Canadian stock market looks like a mere retest of the breakout we saw in Q2: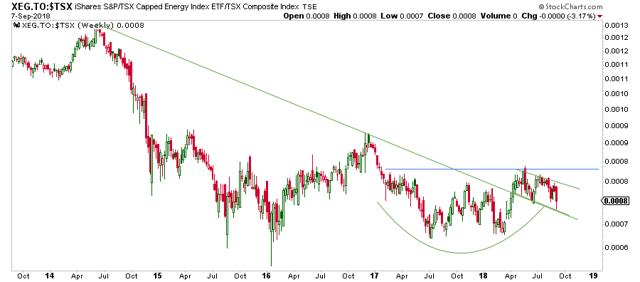 You can see that the relative performance also indicates that if prices break above the handle candle, then the retest was a success.
Not only does the Canadian energy sector as a whole indicate a technical pullback to us, but also the individual heavy oil company charts point to the same:
Here are the charts of the 5 names we are long, Gear Energy, Meg Energy, Cenovus, Baytex, and Athabasca.
Gear [GXE.TO] (OTCPK:GENGF)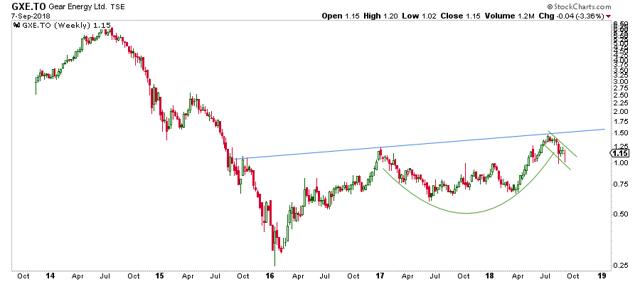 Meg [MEG.TO] (OTCPK:MEGEF)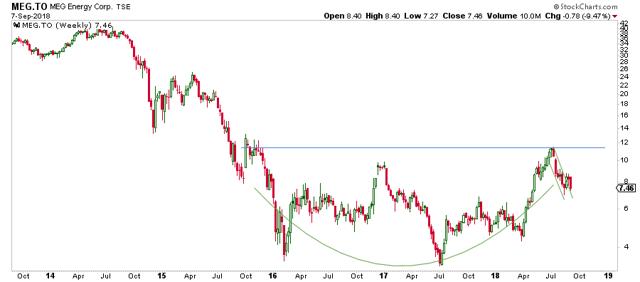 Cenovus [CVE.TO] (CVE)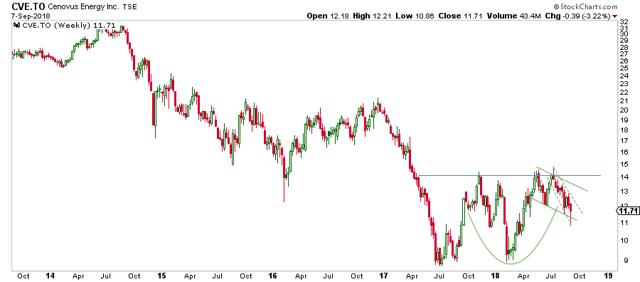 Baytex [BTE.TO] (BTE)
Athabasca [ATH.TO] (OTCPK:ATHOF)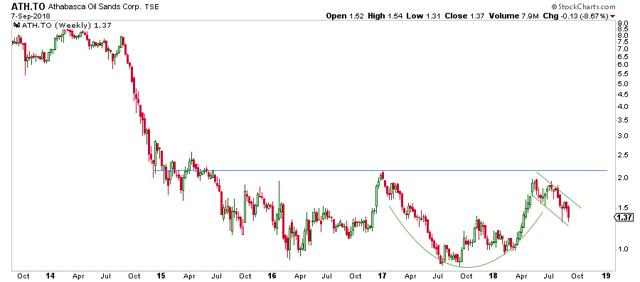 As you can see in the charts above, we believe the technical consolidation is close to over. If our analysis that we are 1) near peak pessimism in Canadian heavy oil stocks, 2) macro oil market fundamentals point to higher prices, and 3) CBR capacity on the horizon which would push lower WCS-WTI spreads are correct, then we expect Canadian heavy oil names to breakout above the blue resistance line by October.
Bottom line: The recent pullback we saw in Canadian heavy oil names is part of a broader consolidation pattern we are seeing. With the bullish reversal we saw on Friday, we believe Canadian heavy oil names have bottomed. This combined with our fundamental analysis indicates the time to buy is now.
Conclusion
As we laid out in this report, we believe Canadian heavy oil names are a buy right now based on 1) near-term catalyst from CBR capacity increase which would push WCS-WTI spreads lower, 2) Mexico and Venezuela heavy oil production decline leaving quality gap open for US refineries, 3) IMO 2020 concerns are overblown as indicated by futures curve on WCS Houston pricing, and 4) the charts indicate the latest pullback to be part of a more bullish consolidation pattern.
Given that we are seeing peak pessimism in Canada and the large differential already being priced in the valuation of these companies, we believe the time to buy Canadian heavy oil names is right now.
Our favorites are:
Gear Energy, Meg Energy, Cenovus, Baytex, and Athabasca.
For US investors that are not able to buy Canadian names, there are ADR options available. You can also buy Cenovus and Baytex) on the main exchanges.
Author's Note: Thank you for reading this article. If you found this article insightful, please leave a "Like" below.
If you are currently invested in energy stocks and need clarity on the direction of the oil markets, we think you should give HFI Research premium a try. We have provided much-needed clarity for our subscribers during periods of uncertainty.
We are now offering a 2-week free trial. Come and see for yourself why we are the 4th most subscribed premium service on Seeking Alpha, see here for more info.
Disclosure: I am/we are long GXE.TO, ATH.TO, BTE.TO, CVE.TO, MEG.TO. I wrote this article myself, and it expresses my own opinions. I am not receiving compensation for it (other than from Seeking Alpha). I have no business relationship with any company whose stock is mentioned in this article.
Editor's Note: This article discusses one or more securities that do not trade on a major U.S. exchange. Please be aware of the risks associated with these stocks.