The Consumer Price Index for All Urban Consumers (CPI-U) increased 0.2% in August on a seasonally adjusted basis, the U.S. Bureau of Labor Statistics reported today. Over the last 12 months, headline inflation rose 2.7%.
The increase of 0.2% was below the consensus estimate of 0.3%, and the year-over-year number also dipped below the consensus of 2.8%. So this certainly isn't an upside surprise, and the markets should react calmly.
Energy and shelter costs were the main contributors to rising costs in August, the BLS reported. Gasoline prices were up 3.0% for the month, and are up 20.3% over the last 12 months. The shelter index increased 0.3% in August, the same increase as in July. Rents were up 0.4%. Food prices were up a moderate 0.1%.
Core inflation - which removes food and energy - rose 0.1% in August, and is up 2.2% over the last 12 months. Both of of those numbers were below the consensus estimates of 0.2% and 2.3%.
So today's inflation report continues to point to moderate inflation that seems to be stabilizing in a range between 2.2% and 2.8% a year. This chart, showing annual inflation numbers over the past year, shows the stead rise through mid-summer and then the dip in August:
What this means for Social Security
The 2019 cost-of-living increase for Social Security will be determined by the average of the Consumer Price Index for Urban Wage Earners and Clerical Workers (CPI-W) over the months of July, August and September. (I explained this process in an August 1 article.)
The BLS set the CPI-W index for August at 246.336, 2.9% higher than the index for August 2017. But that annual increase is not totally relevant to the 2019 COLA calculation, because of the three-month average calculation. At this point, with one month remaining, the Social Security COLA would be 2.7%, less than my 3.0% prediction back on August 1. Here are the numbers so far: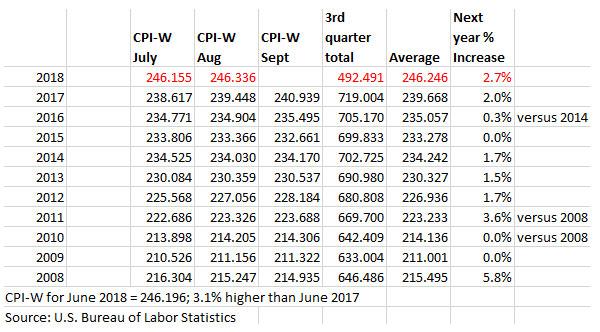 I'll point out that in September 2017, CPI-W rose a strong 0.6% because of the aftermath of Hurricane Harvey in Texas, which shut down oil operations. The gasoline index increased a massive 13.1% in September 2017; that increase seems unlikely to be repeated in 2018. So we are probably looking at a Social Security COLA under 3.0% for 2019. But with inflation forecasts, you can never be sure.
What this means for TIPS and I Bonds
Investors in Treasury Inflation-Protected Securities and U.S. Series I Savings Bonds are also interested in non-seasonally adjusted inflation, which is used to adjust principal balances on TIPS and set future interest rates on I Bonds. The BLS set the August inflation index at 252.146, an increase of just 0.06% over the July number.
For TIPS. The August number means that principal balances on TIPS will increase 0.06% in October, after a similar paltry 0.01% increase in September. However, over the last 12 months, inflation accruals have increased 2.7%. Here are the new October inflation indexes for all TIPS.
For I Bonds. The August inflation number is the fifth in a six-month series that will determine the I Bond's new inflation-adjusted variable rate, which will be reset on November 1. At this point, with one month remaining, inflation has totaled 1.04%, meaning that the variable rate would be set at 2.08%, less than the current 2.22%. However, one month remains, and even a moderate inflation gain of 0.2% in September would boost the variable rate to 2.48%.
Here are the numbers so far:
What this means for future interest rates
Inflation is moderating in mid-2018 and that will take pressure off the Federal Reserve to act rashly to raise short-term interest rates. But I think the Fed will move forward with its plans to raise its Federal Funds Rate twice more in 2018, to a range of 2.25% to 2.50%. That will mean that short-term rates will continue climbing this year. The prospect for longer-term rates remains uncertain.
From this morning's Wall Street Journal report:
Economic growth is "continuing to tighten labor markets and continuing to put more upward pressure on inflation," Boston Fed President Eric Rosengren told The Wall Street Journal on Saturday. Still, he said, the central bank can continue to gradually raise rates.

"We're not seeing a huge, surprising increase in inflation," he said. "So there is no reason to be moving with too much alacrity."