Introduction
Earlier this week we asked (while referring to the markets) 'Is It A Wonderful World'? and the simple answer was that it very much depends where you look. On one hand, It's All In The Numbers And The Numbers Never Lie. On the other hand, Will This Time Be Different? I Strongly Doubt That. So Should You!
Nevertheless, although almost everything is relative in life - especially when evaluating the markets/economy - there's one place that sends very clear and decisive signals. The main problem for investors is that this is the most reliable, consistent and trustworthy market to look at - the credit market.
Many people ask how can it be that a recession is in the cards when the unemployment rate is at 4%? The short-simple answer is that history suggests that when unemployment rate is at 4% - or even 5% for that matter - the economy is likely peaking or getting close to peaking.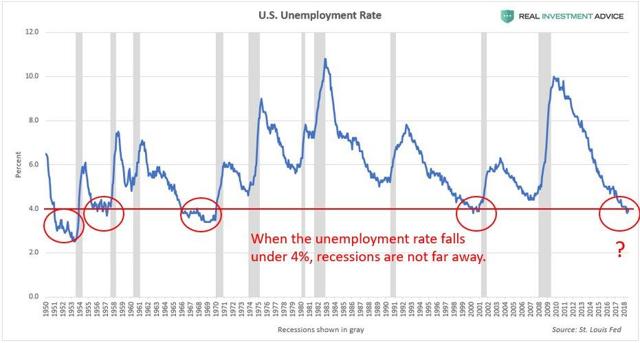 Does the unemployment rate at 4% means we are close to a recession? No, but it's certainly not implying that we are far off.
Nonetheless, economic gauges are always subject to debate and personally, I always prefer to count on the most reliable place I'm aware of - the credit market.
Credit Market
What do you think about when you hear "Credit markets"?
Principally, credit markets refer to where the governments and corporations issue debt, i.e. bonds (BND). On a broader perspective, debts/bonds are associated with short-term rates, long-term yields, credit spreads and yields curves.
In this article, I wish to look at various models/gauges, related to the broad perspective of the "credit markets" and see what they are telling us about the odds of a recession in the US.
Based on the past decade, one may claim that (absolute levels of) yields across most types of debts (LQD, AGG) - except for US corporate high yields (HYG, JNK) are already at reasonable levels. Contrary to that, however, credit spreads are still at very low levels.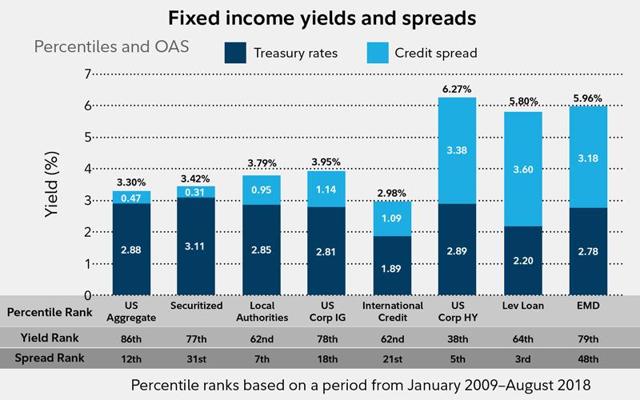 Short-Term Rates
Short-term US Treasury yields (SHY, IEI) trade at their highest levels in over 10 years:
1-month: 1.98%
3-month: 2.14%
6-month: 2.32%
1-year: 2.54%
2-year: 2.73%
3-year: 2.78%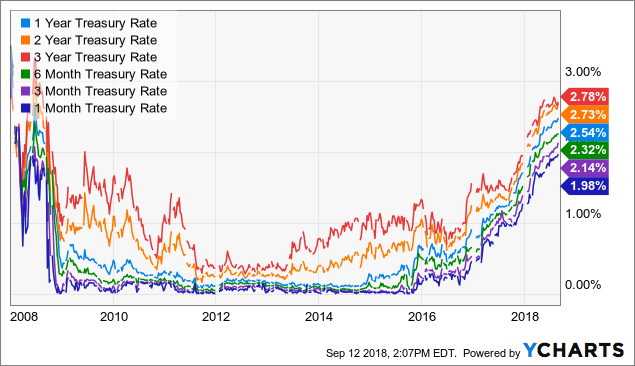 Long-Term Rates
Long-term US Treasury yields (TLT, IEF) trade at their highest levels in over 10 years:
30-year: 3.09%
10-year: 3.02%
10-year: 2.94%
5-year: 2.83%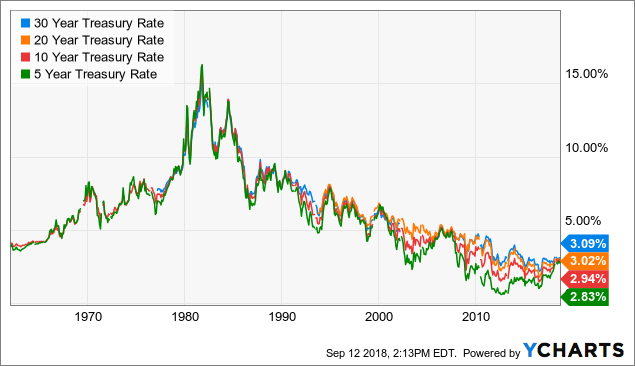 Note that you only get an extra 0.26% per annum if you move from a 5-year debt to a 30-year debt. It's me telling you that for every year you're willing to invest for longer I'm willing to give you another 0.01%. If that doesn't sounds like much/enough - you're right!
Credit Spreads
The spread between longest long-term rate (30-year debt) to the longest short-term rate (3-year debt) is only 0.64%. If you're unsure whether this is a small, medium or large spread, here is something for you to consider: Not only that this is the smallest spread in more than a decade but we actually haven't seen a spread smaller than 1% since 2007!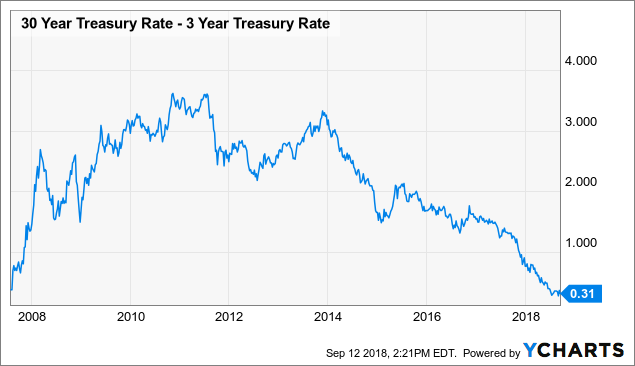 So when you hear that the yield curve is flat - you should know that it's actually very flat. So flat that many are talking about an inverted yield curve, i.e. when long term is yielding less than short term.
How likely is that to happen? I don't know. However, I do know that if it happens - it mustn't be taken lightly!
Debt/GDP
One of the most commonly used ratios is the total (corporate) debt to GDP. This basically signals how dependent the economy is on debt. If the level (of dependency) is high that's not good. If the level (of dependency) is high and rates/yields are rising - just what we're experiencing now - it's even worse.
The last two times corporate debt as a percentage of GDP was this high, the US entered a recession.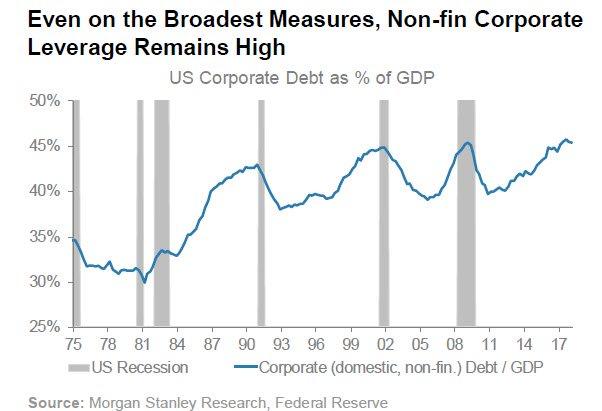 Fed Models
According to two regional Fed models, the risk of a recession is still low but rising.
The yield curve-based model puts the chance of a recession at around 1/7.
August's level remains below the 30% threshold breached in the last seven recessions. Nevertheless, it is still the highest level since early 2008.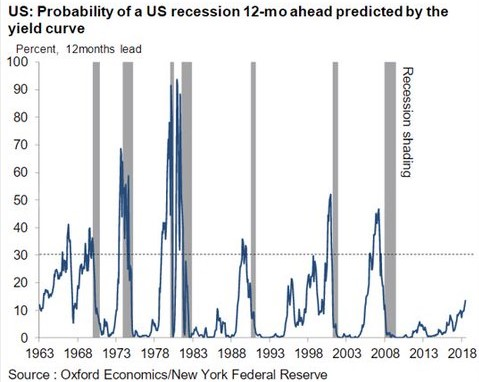 The activity-augmented yield curve model showed odds of a recession over the next six months are almost 1/4.
Nevertheless, the measure remains well below the 50% threshold associated with each of the last seven recessions.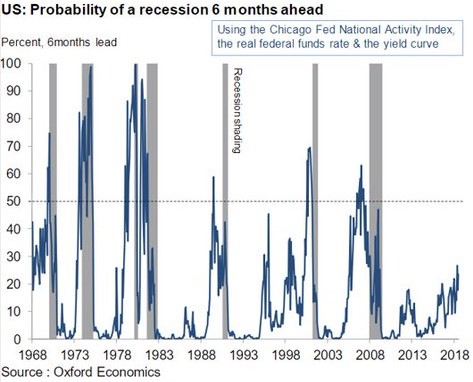 Small Business Optimism Index
The NFIB Small Business Optimism Index soared to 108.8 in August, the highest level in 45 years!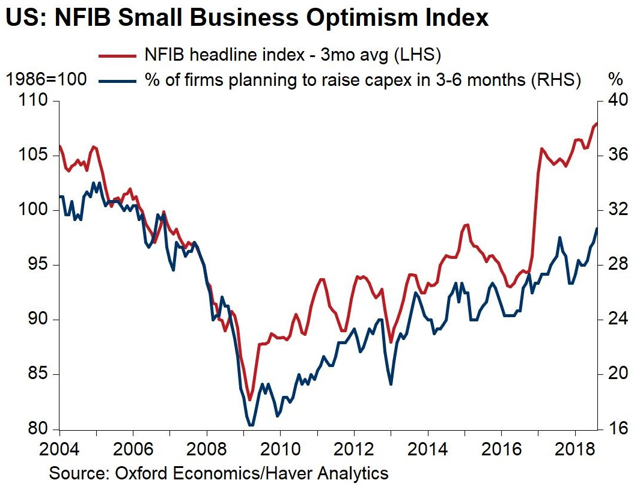 This, however, is perhaps no reason for investors to cheer because the annualized return in the Russell 2000 (IWM, IWO, IWN) when small business optimism is above 107 has been -3.5%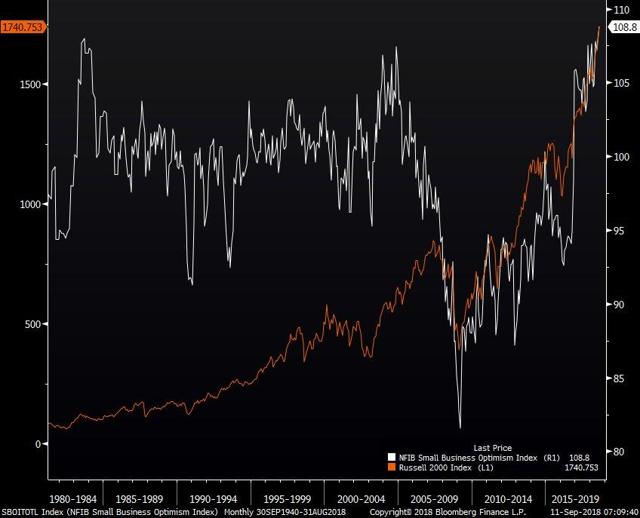 Growth Vs. Value
Ratio of growth to value, in both large caps and small caps, hits a 17-year high. We already expressed our view that this is an appropriate time for a change.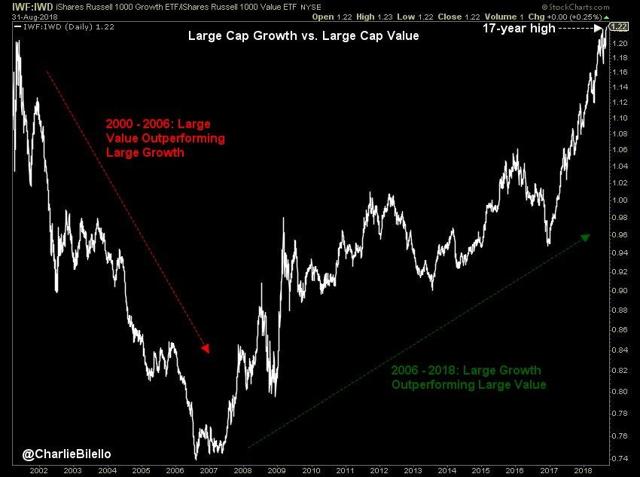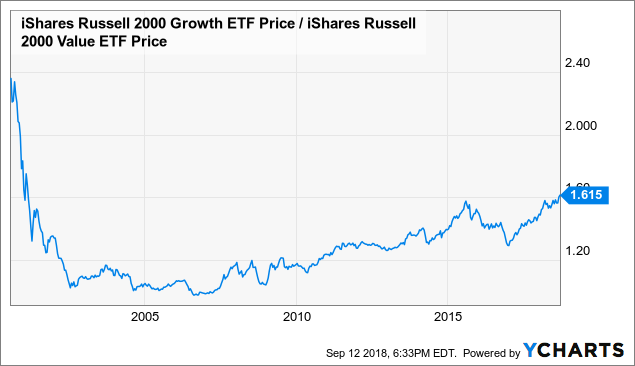 Inflation
Both the CPI as well as the CPE are now standing above the Fed's long-term 2% inflation target.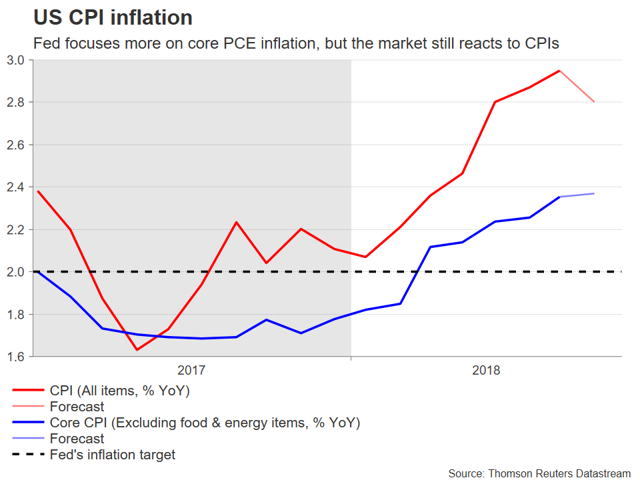 Boosted by the strong wage growth, US consumer inflation expectations rose to their highest level since 2015.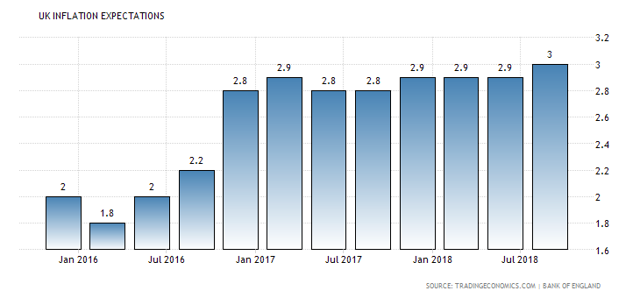 The Fed simply has no choice but to keep hiking rates, possibly at a rapid pace than even the most bullish FOMC members were hoping for.
Fed Unofficial Target?
During (and post) recessions, the Fed usually cuts rates by no less than 5%!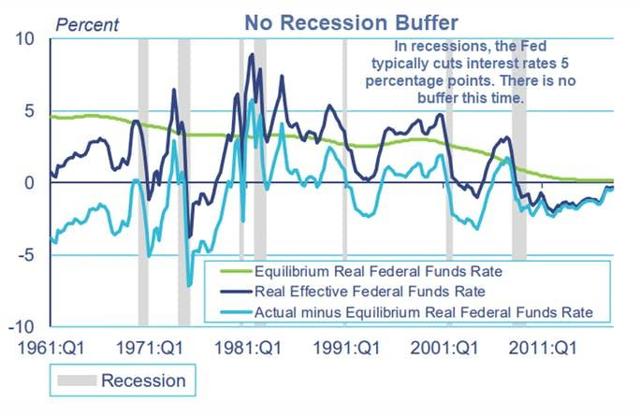 Since Fed funds are at less than half the usual cut - it's safe to say that the Fed is likely to speed up things as much as possible. Not only that this is justified based on the recent data but also - perhaps mostly - due to the Fed wishing to build a sufficient buffer before the next recession arrives.
It might take a while till the next recession, especially if the Atlanta Fed GDPNow forecast is going to materialize: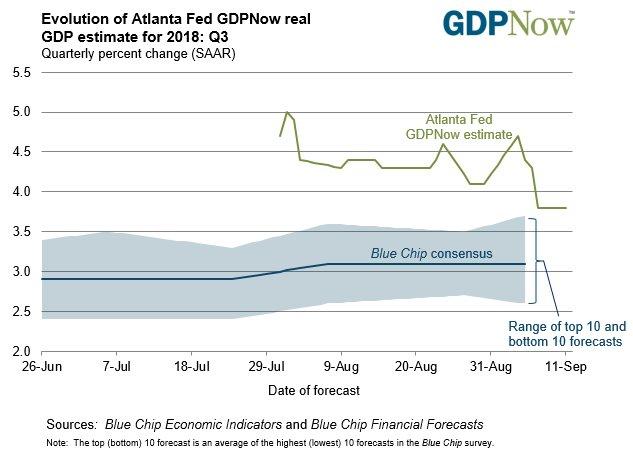 Nevertheless, when growth is fueled by debt - someone, sometimes, somewhere, somehow will eventually need to pay the price...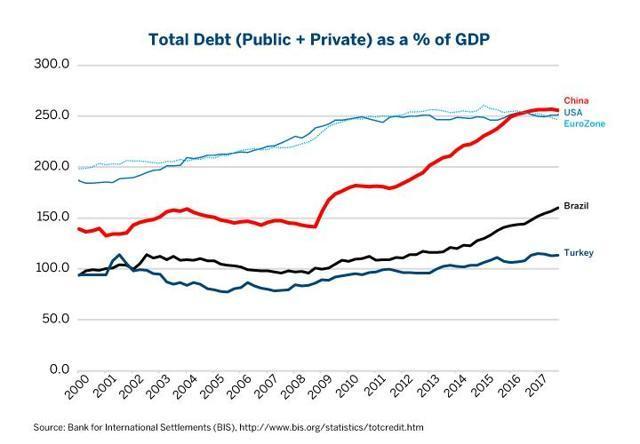 Recent Data
Recent data in the US has been very bullish. That's true when it comes to inflation...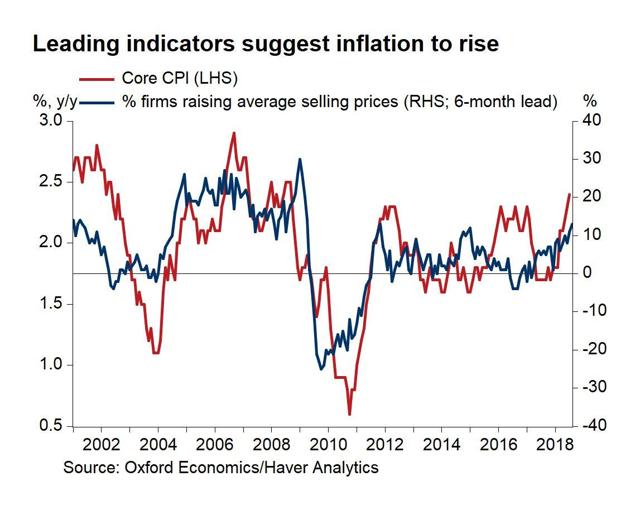 ... as well as when it comes to employment.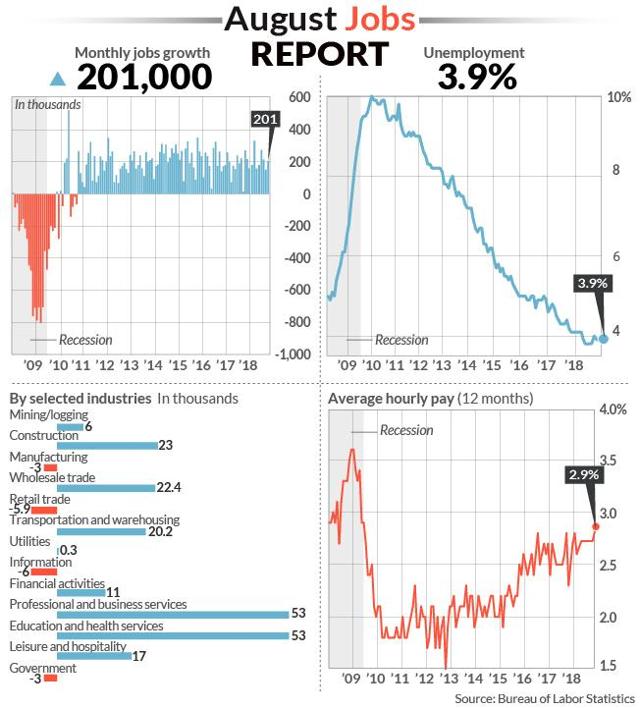 Where's The Problem Then?
There's are few problems at the moment, some are still developing while others are already at scary levels:
1. Too high levels of debt all across the board, involving the US (SPY, DIA), China (FXI, MCHI), the EU (VGK, EZU) on one hand and Brazil (EWZ) and Turkey (TUR) on the other hand.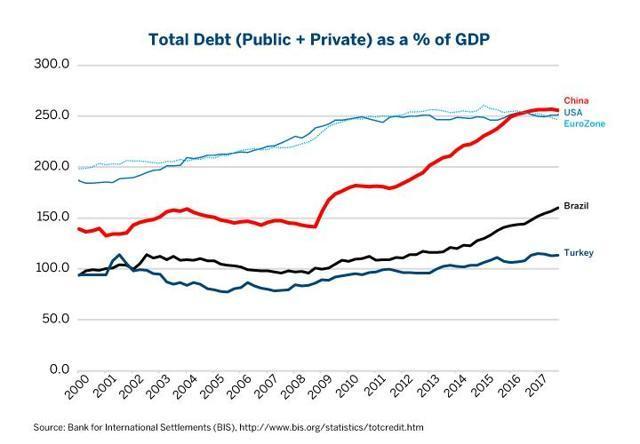 2. Strong USD (UUP), adding more fuel to the already high-burning fire in many Emerging Markets (VWO, IEMG, EEM) that are far from being out of the woods.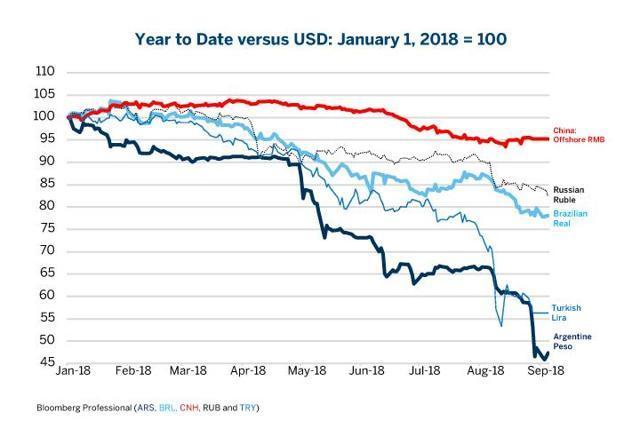 3. Flattening yield curve that is threatening to invert soon.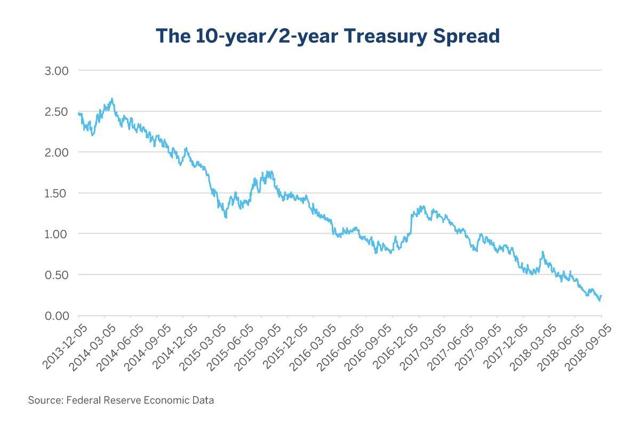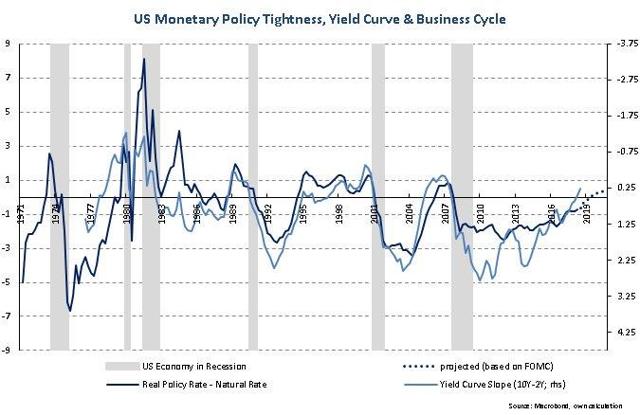 4. Fed tightening policy (which, if anything, is expected to accelerate).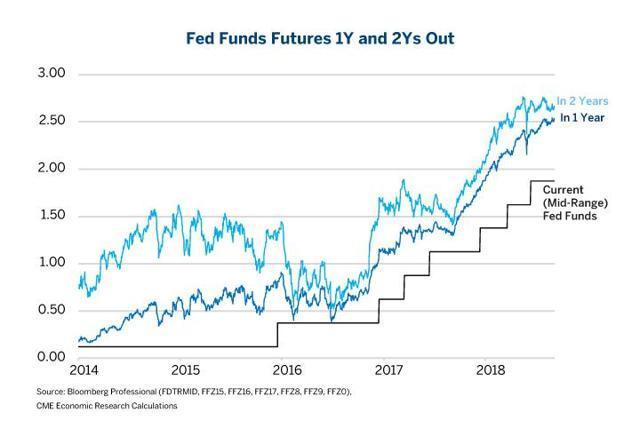 5. Peaking earnings (post the 2017 tax reforms).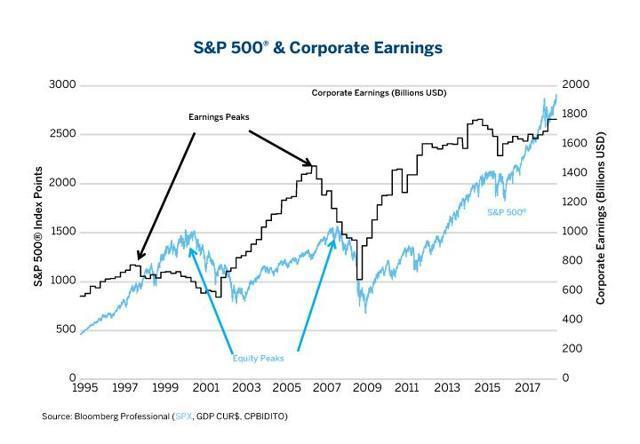 6. Rising deficits (even at times of growth).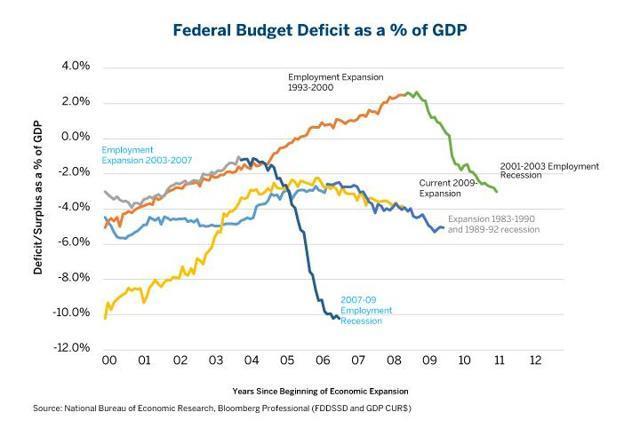 7. Rising CPI and inflation expectations.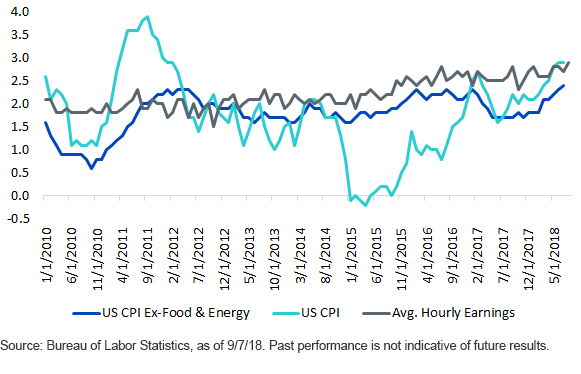 8. Extremely low credit spreads that are likely to widen, especially on High-Yield credits.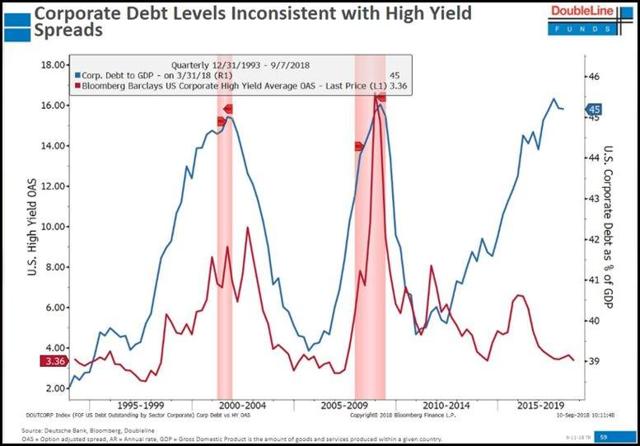 9. Few stocks leading the way (FAAMNG anyone?).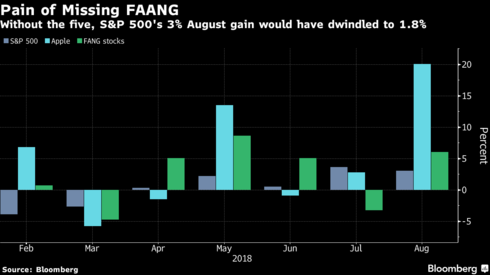 2018 YTD performance:
Netflix Inc. (NFLX) +92.54%
Amazon.com Inc. (AMZN) +70.20%
Microsoft Corp (MSFT) +32.28%
Apple Inc. (AAPL) +32.15%
Invesco QQQ Trust (QQQ) +17.55%
Alphabet Inc. (GOOGL) +11.16%
SPDR S&P 500 ETF (SPY) +9.23%
SPDR Dow Jones Industrial Average ETF (DIA) +6.62%
Facebook Inc. (FB) -8.34%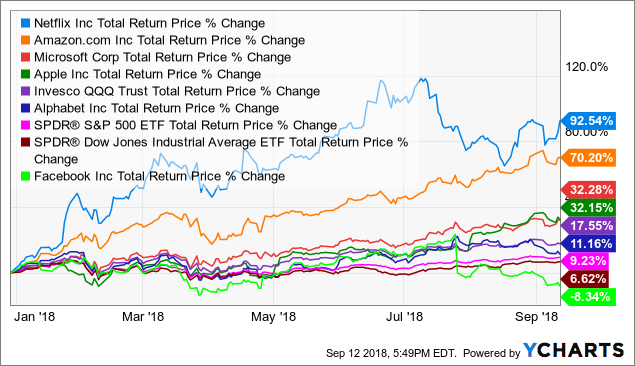 10. Housing prices. I'll allow the St. Louis Fed to speak for itself: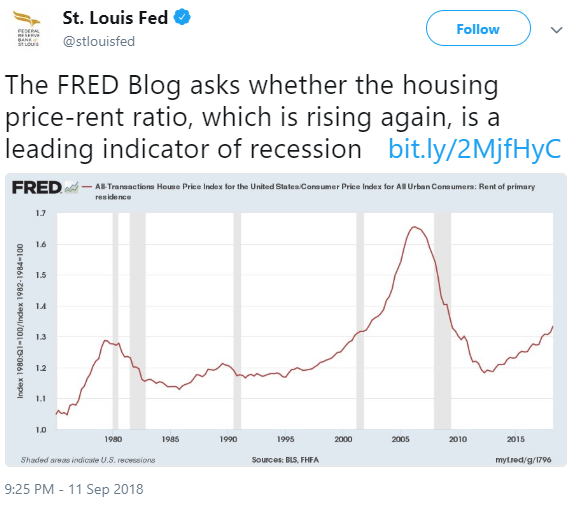 11. Bank stocks - perhaps the best barometer of a market/economy - seem like they are getting tired. Among the US largest banking groups, only three have delivered positive total returns YTD and all ten are underperforming the S&P 500 (SPY).
JPMorgan Chase & Co. (JPM) +7.43%
Bank of America Corporation (BAC) +4.33%
US Bancorp (USB) +1.14%
PNC Financial Services Group Inc. (PNC) -0.39%
Capital One Financial Corp. (COF) -0.90%
Bank of New York Mellon Corp. (BK) -2.12%
Citigroup Inc. (C) -3.79%
Wells Fargo & Co. (WFC) -5.97%
Morgan Stanley (MS) -8.12%
Goldman Sachs Group Inc. (GS) -9.52%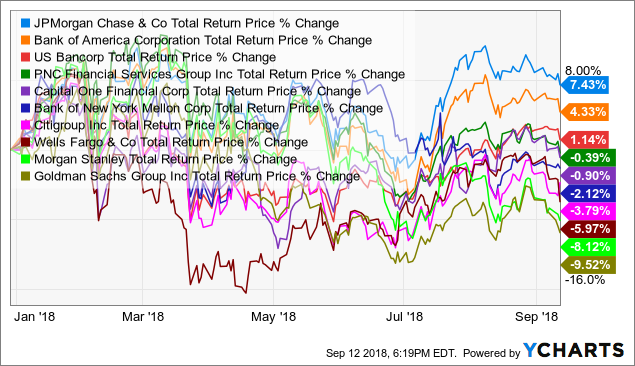 What's missing to make it even more powerful? Rising volatility (VXX).
Bottom Line
I'll let Goldman Sachs' (GS) Peter Oppenheimer sum it all up for you. What he basically says is that when you add everything (all these positives) together - you are actually creating the problem:
All of these variables are related. Tight labor markets are typically associated with higher inflation expectations. These, in turn, tend to tighten policy and weaken expectations of future growth. High valuations, at the same time, leave equities vulnerable to de-rating if growth expectations deteriorate or the discount rate rises, or, worse still, both of these occur together.
It's no wonder then that when GS is adding everything together - their bull/bear market risk indicator is at a level that points at a 75% chance for a recession to be upon us soon.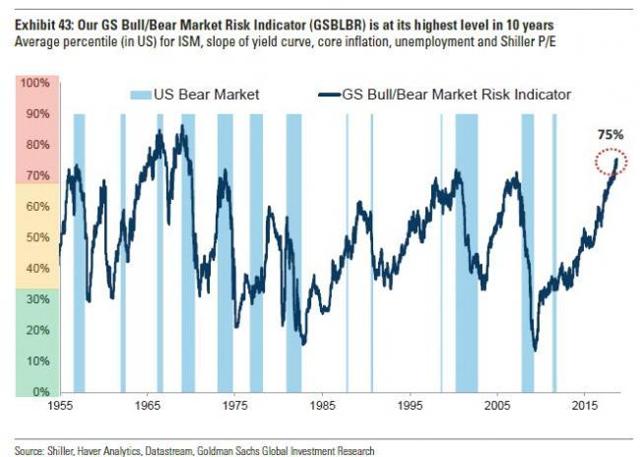 That's the highest level for that specific indicator in almost 50 years.
Is a recession upon us in 2019? 2020? 2021? Never?... Nobody knows. However, it's clear that there are more and more warning signs and more and more indicators pointing at a higher probability for this growth cycle to end within a foreseeable future.
Author's note: Blog Posts notifications are only being sent to those who follow an author at real time. In order to receive notifications regarding both articles and blog posts that we publish regularly at real time you must ensure that you're (not only) following us (but also doing so) at real time. In order to follow us at real time go to Author Email Alerts, where the list of all the authors you follow appear, and make sure that "get e-mail alerts" is ticked on!


The Wheel of FORTUNE's monthly review for July is now available (August soon...). Check it out while our free trial is still on!
TWoF is one of SA Marketplace's most comprehensive services. We view our service as a "supermarket of ideas" with an emphasis on risk management and risk-adjusted returns.
We cover all asset-classes: commons, preferreds, public debts, baby bonds, options, currencies and commodities.
With Trapping Value on-board, you're getting two leading authors for the price of one.
Before committing to the service on a long-term basis, take advantage of the free trial - allowing for a two-week, free of charge, first-hand experience.
Disclosure: I am/we are long JPM, C, MS, BAC. I wrote this article myself, and it expresses my own opinions. I am not receiving compensation for it (other than from Seeking Alpha). I have no business relationship with any company whose stock is mentioned in this article.