In a Harvard Review article, Martin Reeves and Mike Deimler explain: "The goal of most strategies is to build an enduring competitive advantage by establishing clever market positioning (dominant scale or an attractive niche) or assembling the right capabilities and competencies for making or delivering an offering (doing what the company does well)."
Recently I ran across an article by James Allen (with Bain & Co.) explaining that "sometimes the largest companies lead an industry, but in many cases, the leaders that create exceptional value don't rely on scale alone. They use other skills to move into pole position."
Allen went on to explain that Bain & Co. defines profit as "economic profit minus the cost of capital from the reported earnings before interest and taxes of each company. That produced the earnings of companies above their cost of capital."
Allen's article suggests that "the classic strategic imperative for challengers-build scale or get out-is only one of several options…In most markets, one or two companies make all the money while others either struggle to return their cost of capital or destroy value. Scale can help, but companies that consistently outperform their competition build competitive advantage beyond scale."
Keep in mind, REITs are unique in terms of their ability to grow moats; there are essentially two valuable levers that the company can (and should) utilize to build competitive advantage: scale and cost of capital.
Although they are not entirely exclusive (scale and cost of capital), REITs that generate the best long-term performance have typically demonstrated that they must capitalize on both (scale and cost of capital) to become the greatest moat-worthy REITs.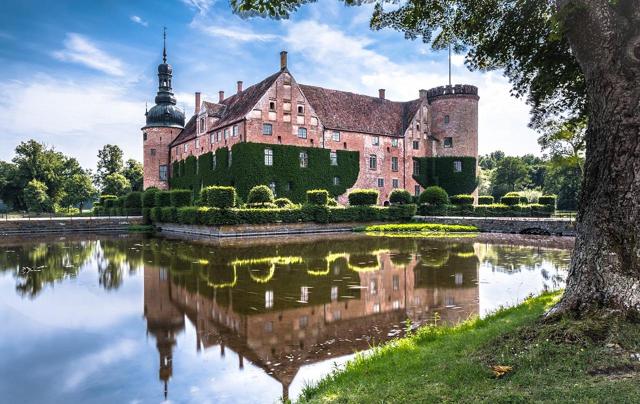 12 of the Greatest Moat-Worthy REITs
Public Storage (PSA)
Acquisitions: Public Storage has four principal businesses: U.S. self-storage conducted under the Public Storage brand, European self-storage conducted under the Shurgard brand, commercial properties conducted under the PS Business Parks, Inc. (PSB) brand and ancillary businesses, primarily reinsurance of policies sold to our self-storage customers conducted under the Orange Door brand. Public Storage doesn't own 100% of either Shurgard or PSB, but hold a significant equity interest.
Under the Public Storage brand, the company owns and operates about 160 million square feet of space in 2,400 properties, more than the next three largest competitors combined. The company's name and ubiquitous orange signage and doors give it tremendous brand recognition, especially on the internet, where most of the customers now shop.
While Public Storage is in 38 states across America, most of the NOI is generated in 10 states, with California by far the largest. In those states, Public Storage is in or near the major metropolitan centers, including Los Angeles, San Francisco/San Jose, Seattle, Dallas, Houston, Miami, Orlando, the boroughs of New York and Chicago. In the self-storage business, scale is important not only for operational efficiency but also to cost-effectively market on the internet. Also, big cities have more potential customers with smaller living spaces and greater need for storage space.
Dividend Safety: Public Storage has never cut its dividend since going public and the company has enjoyed a steady stream of dividend growth. The payout ratio (based on FFO) is 76.1%, and the company has been successful with maintaining occupancy through various market cycles.
Earnings Growth: In Q2-18, PSA's FFO was $2.65 per diluted common share compared to $2.31 in 2017, representing an increase of 14.7%. For the six months ended June 30, 2018, FFO was $5.02 per diluted common share compared to $4.65 in 2017, representing an increase of 8.0%. Public Storage also declared a regular common quarterly dividend of $2.00 per common share.
Valuation: Public Storage shares trade at $211.71 with a P/FFO multiple of 20.3x (three-year average is 23.5x). The dividend yield is 3.8%. We are maintaining a BUY recommendation on PSA, the only self-storage REIT with a BUY rating now (except we have a STRONG BUY on JCAP).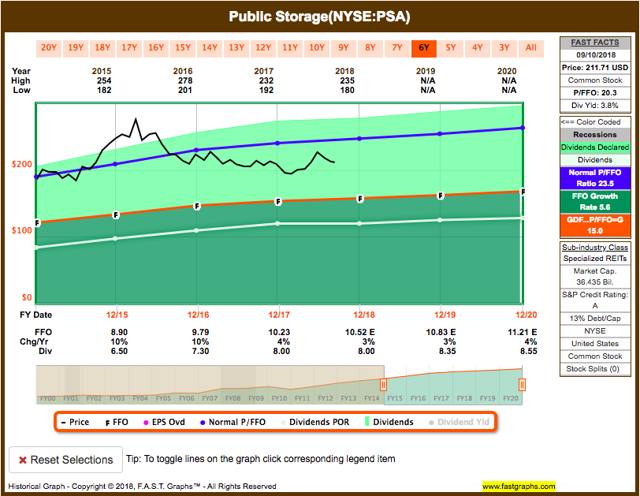 Healthcare Trust of America (HTA)
Acquisitions: HTA is the largest MOB owner with a portfolio of more than 24.2 million square feet (averaging $807 million in annual acquisitions since 2012), with more than $7 billion invested primarily in medical office buildings. Last year, the company closed on the $2.8 billion Duke Realty (DRE) MOB portfolio, proving that it could deliver growth by scale. The company has "achieved 1.8 million of synergies with property management and building services, and these investments yields are now 5.2% up from 5% into acquisition." Over the next few quarters, HTA "expects these yields to be closer to the 5.5% range, as the remaining developments come online."
Dividend Safety: HTA's FFO payout ratio is 74.5%, and the company has been successful at growing its dividend.
Earnings Growth: In Q2-18, HTA's normalized FFO per diluted share was $0.41, an increase of 5.1% year-over-year. Funds available for distribution increased 23.3% year-over-year to $74.1 million while same-store cash NOI was 2.6% compared to second quarter of 2017. Analyst estimates forecast HTA will grow FFO by 1% in 2018 and 4% in 2019.
Valuation: HTA shares trade at $27.76 with a P/FFO multiple of 16.9x. I consider HTA an attractive STRONG BUY today given the 4.5% dividend yield and discounted valuation (4-year P/FFO average is 18.1x).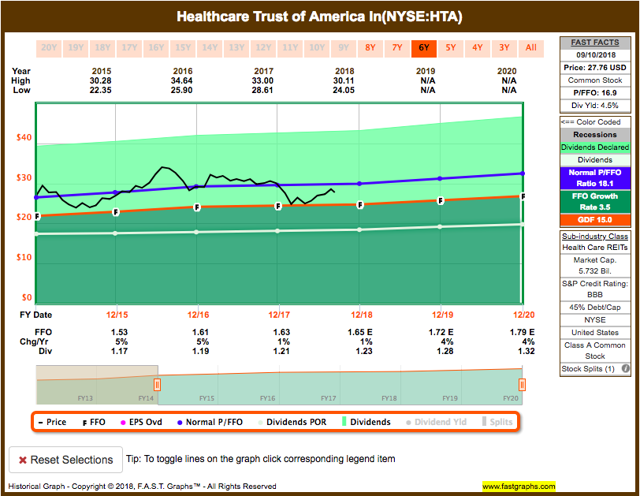 Realty Income (O)
Acquisitions: Given the continued strength and visibility in the investment pipeline and the current market environment, Realty Income increased 2018 acquisition guidance to approximately $1.75 billion from the prior range of $1 billion to $1.5 billion. The Net Lease sector is highly fragmented, and Realty Income is well-positioned to flex its balance sheet (now rated A- by S&P) to continue consolidating high-quality stand-alone properties.
Dividend Safety: Realty Income has increased the dividend for more than 24 years in a row and the payout ratio (based on AFFO) is 83%. The diversified tenant base provides Realty Income with enhanced dividend safety.
Earnings Growth: In Q2-18, Realty Income's Funds from operation (or FFO) per share was $0.79 for the quarter. Adjusted funds from operations (or AFFO) or the actual cash available for distribution as dividends was $0.80 per share for the quarter, representing a 5.3% increase.
Realty Income recently increased the dividend for the 97th time in the company's history. The current annualized dividend represents a 4% increase over the year-ago period. Realty Income is one of only five REITs in the S&P High-Yield Dividend Aristocrats Index.
Valuation: Realty Income shares trade at $58.35 with a P/FFO multiple of 19.0x. The dividend yield is 4.5%. I consider shares to be soundly valued, which means there is no wide margin of safety at this time. I maintain a BUY, and recommend nibbling down and increasing exposure if shares pull back.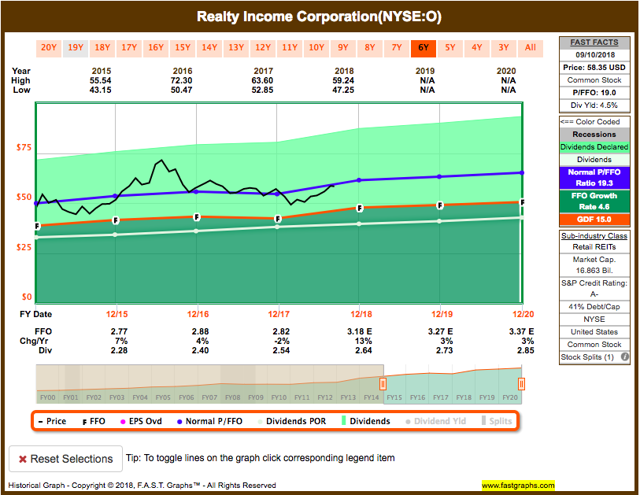 W.P. Carey (WPC)
Acquisitions: In mid-June, WPC announced that its board approved a merger pact in which CPA:17 will merge with a subsidiary of WPC in a stock-for-stock transaction valued at $6 billion. CPA:17 is a $6 billion non-traded REIT that WPC has managed for over 10 years and is primarily invested in a diversified portfolio of net lease real estate in the U.S. and Europe.
In June, WPC completed its largest deal year-to-date: the $187-million acquisition of a portfolio of 14 logistics assets in the corporate headquarters of Danske Fragtmaend, which is the number one provider of business freight solutions in Denmark with a dominant 50% market share dating back over 100 years. This deal fits nicely within WPC's existing Nordic portfolio, a region the company has been investing in since 2001.
Dividend Safety: WPC has paid and increased dividends for over 15 years in a row, and the payout ratio is 84.6%. WPC's international exposure (and limited U.S. retail exposure) provides the company with a distinct advantage in maintaining occupancy.
Earnings Growth: In Q2-18, WPC announced AFFO per diluted share with 82%, or $1.08 per diluted share, generated by the real estate segment. Net real estate revenues excluding reimbursable costs totaled $168 million for Q2-18, in line with the prior year period.
I was hoping to see considerable growth for the CPA:17 rollup, but clearly, there is short-term dilution. The tradeoff is simple: instead of growth, WPC investors are getting higher quality income and enhanced diversification. I modeled a $.01 per share dividend increase for WPC in 2019 and resumed growth of 4-5% in 2020.
Valuation: W.P. Carey shares trade at $65.54 with a P/FFO multiple of 13.9x. I don't expect robust price appreciation because of the dilutive impacts related to CPA:17. However, the dividend yield of 6.2% should help you sleep well at night.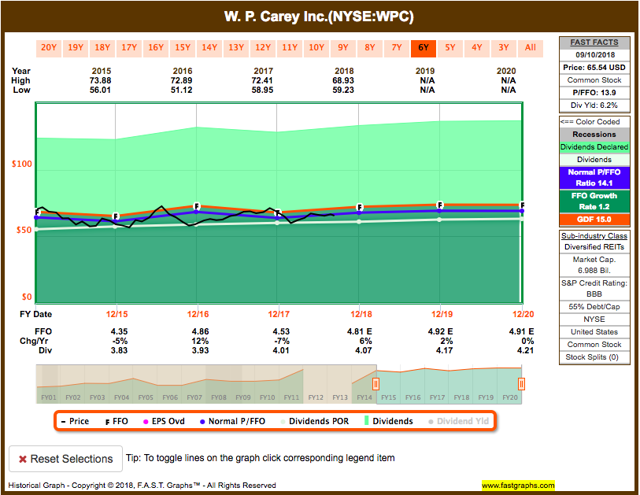 Prologis (PLD)
Acquisitions: In early August, Prologis completed its all-stock acquisition of DCT Industrial Trust for $8.5B, including assumed debt. As a result of the acquisition, Prologis boosts its 2018 core FFO guidance to $3.00-3.04 per share from the prior range of $2.98-3.02. This transaction validated Prologis' tremendous scale advantage capabilities. The combined company expects immediate corporate G&A savings and significant scale economies within its operating portfolio.
Dividend Safety: Prologis has a strong record of dividend growth, and the dividend is extremely safe (payout ratio is 63.7%).
Earnings Growth: In Q2-18, Prologis' core FFO was $0.71 per share, and the company's share of cash same store NOI growth was 7%, led by the U.S. at 8.2%. These results were exceptional, as quality, well-located space remains in high demand. PLD increased its 2018 core FFO range to between $2.98 and $3.02 per share up $0.02 at the midpoint.
Valuation: Prologis shares trade at $66.54 with a P/FFO multiple of 22.6x. The DCT deal validates Prologis' scale advantage and cost of capital advantage (rated A- by S&P), giving us clarity that this dominant REIT can continue growing its dividend. There is no margin of safety today, and this means that we will maintain the HOLD.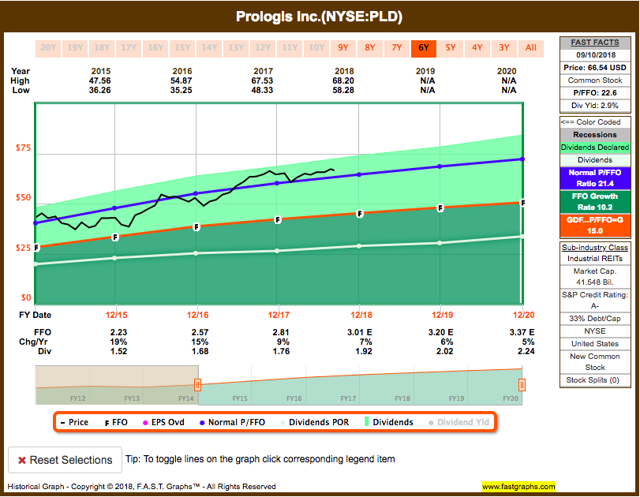 Mid-America (MAA)
Acquisitions: Last year MAA closed on the $4 billion Post Properties acquisition, and the merger-related activities are winding down. During July, MAA successfully wrapped up the final systems conversion work and completed the consolidation of the legacy MAA and legacy Post operations into one management and reporting platform.
Dividend Safety: MAA has a strong dividend record and has balanced the growth with a conservative payout ratio (11.1% based on FFO).
Earnings Growth: MAA increased net income and FFO per share guidance ranges for the full year and slightly narrowed earnings guidance ranges to reflect the reduced uncertainty following two quarters of performance for the year.
Net income diluted common share is now projected to be $1.85 to $2.05 for the full-year 2018. FFO is projected to be $5.96 to $6.16 per share (or $6.06 per share at the midpoint), which includes $0.08 per share of projected final merger and integration costs related to Post merger.
AFFO is now projected to be $5.35 to $5.55 per share and $5.45 at the midpoint.
Valuation: MAA shares trade at $104.01 with a P/FFO multiple of 17.3x. We maintain a STRONG BUY recommendation, but we're less excited as we were when we initiated coverage a few weeks ago (since shares have grown). We like the moat advantages (scale and cost of capital), but investors should not overpay.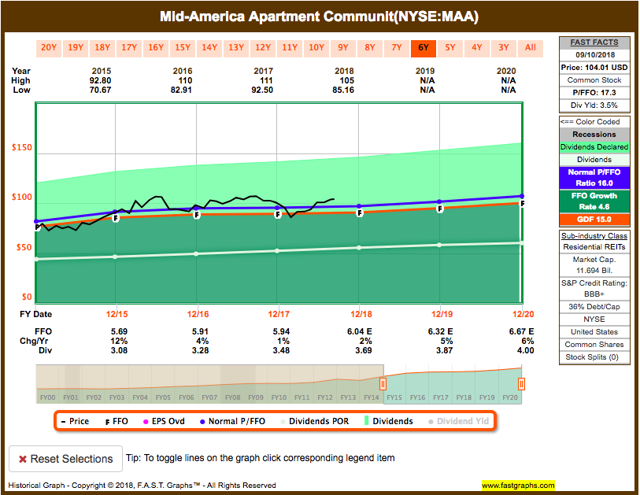 Simon Property Group (SPG)
Acquisitions: Simon has ownership interests in more than 230 retail properties totaling more than 190 million square feet located across North America and Asia. Additionally, the company has an expanding footprint in Europe with its 21.1% interest in Klepierre (OTCPK:KLPEF) - a leading European mall operator based in France - and a joint venture with McArthurGlen - a leader in European designer outlets.
Simon's portfolio is well-diversified from a geographic, tenant and revenue by real estate sector perspective. Major state concentrations by net operating income include Florida (15%), Texas (10%) and California (13%). Additionally, roughly 9% of Simon's net operating income is derived from its international properties, which are located in Europe, Japan, Mexico, Malaysia and South Korea.
Dividend Safety: Simon has an impressive dividend growth history with a well-protected dividend (payout ratio is 65.6%).
Earnings Growth: In Q2-18, Simon's funds from operation (or FFO) was $1.06 billion, or $2.98 per share, an increase of 20.6% compared to the prior year. Simon continues to grow cash flow and report solid key operating metrics. Simon's average base rent was $53.84, up 3.3% compared to last year. The mall and premium outlets recorded leasing spreads of $7.32 per square foot and an increase of 10.7%.
Valuation: Simon shares trade at $182.09 with a P/FFO multiple of 15.4x (trailing four-year average is 18.1x). Simon's dividend yield is 4.4%. Given the impressive cost of capital advantage (rated A by S&P) and massive scale, we expect the company to continue to command dominance and provide investors with attractive long-term performance.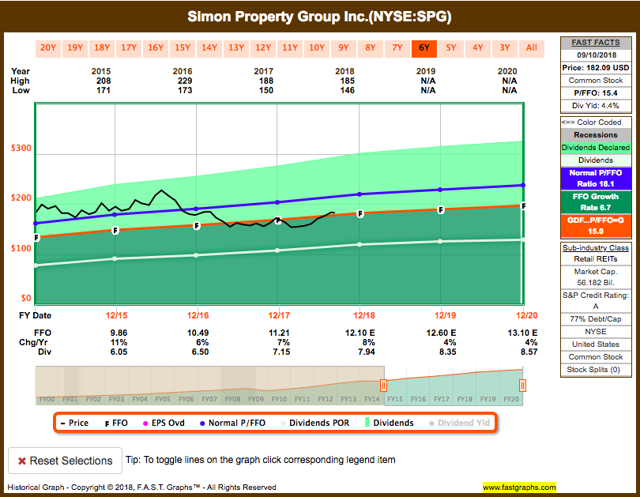 Federal Realty (FRT)
Acquisitions: Federal Realty closed on a portfolio of retail assets referred to as Primestor. On the latest earnings call, the management team said they are "actively looking to make some new investments," and "we're getting close, and hopefully in the next quarter or two, we will be able to tell you something more." The Primestor assets are located in LA and include seven properties totaling 1.3 million square feet (six stabilized properties: 98% occupied). Top Tenants include Ross (NASDAQ:ROST), Costco (NASDAQ:COST), Marshalls, Food 4 Less, Petco (PETC) and CVS (NYSE:CVS).
Dividend Safety: From a historical perspective, Federal Realty has the most impressive dividend growth records in the REIT sector and has increased the dividend in every year since 1963. The payout ratio is solid (65.5% based on FFO).
Earnings Growth: In Q2-18, Federal Realty reported FFO per share of $1.55, ahead of both consensus and internal expectations by a couple of cents, as well as the $1.49 reported in last year's quarter. Rental income was up nearly 8% in the quarter, reflecting both the Primestor acquisition midway through last year and the fruits of strong leasing over the past few quarters in both the core and mixed-use divisions.
Valuation: Federal Realty shares trade at $130.11 with a P/FFO multiple of 21.3x (four-year trailing average is 25.5x). The dividend yield is a less impressive 3.1%. Given Federal Realty's powerful balance sheet management (rated A- by S&P) and scale advantage, we consider this REIT a blue-chip BUY.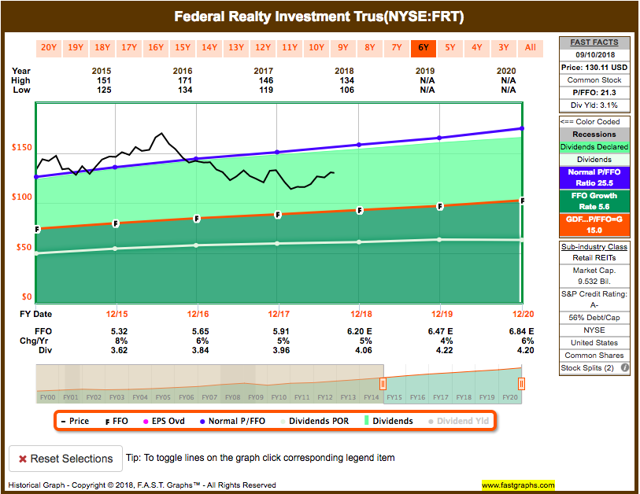 Regency Centers (REG)
Acquisitions: Regency continually enhances quality and growth of the portfolio by astutely allocating capital into higher-quality developments, redevelopments and acquisitions with superior growth opportunities and compelling margins.
In early 2017, Regency closed on the Equity One merger that created a combined company with a total market cap of around $16 billion. That resulted in Regency joining the S&P 500 index. The merger was immediately accretive to Regency's FFO.
Dividend Safety: Regency has one the strongest dividend growth forecasts in the shopping center REIT sector (+5% in 2018) along with a sound payout ratio of 58.7% (based on FFO).
Earnings Growth: For Q2-18, Regency reported Funds From Operations of $0.93 per diluted share while same-property Net Operating Income, excluding termination fees, increased 4.2% compared to the same period in the prior year. The same property portfolio was 95.5% leased, and spaces less than 10,000 square feet were 92.2% leased.
Valuation: Regency shares trade at $65.68 with a P/FFO multiple of 17.5x (four-year trailing P/FFO is 21.2x). The dividend yield is 3.4%. We maintain a BUY on Regency shares.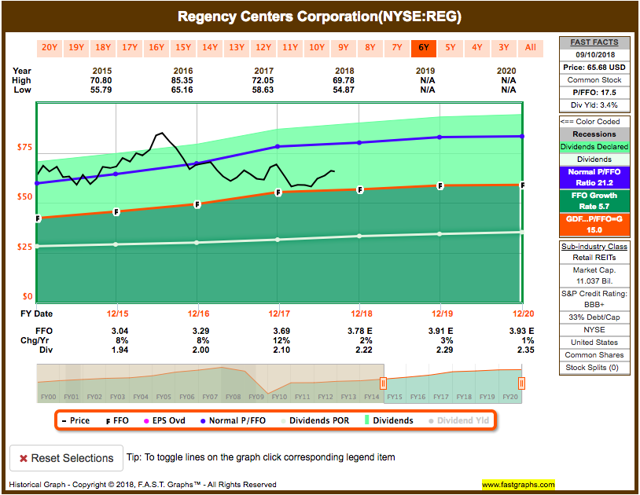 American Tower (AMT)
Acquisitions: AMT deployed nearly $1 billion of capital in Q2-17, including approximately $79 million for acquisitions and more than $400 million for stock repurchases. American Tower is the biggest owner of communications towers in the world with a massive footprint of more than 144,000 sites, including 40,000 in the U.S. and 58,000 in Asia.
Dividend Safety: American Tower has raised its dividend in every year since 2012. Not only that, but also the company has increased the dividend by an average of 23% in each year. American Tower also has a healthy payout ratio of 47.2%.
Earnings Growth: In Q2-18, American Tower generated another quarter of strong growth in property revenue, adjusted EBITDA and consolidated AFFO. The most significant highlight from the quarter was the U.S. organic tenant billings growth, which accelerated more than 1% both sequentially and year over year to 7.4% - the highest level of U.S. organic tenant billings growth since the fourth quarter of 2014. American Tower also grew its common stock dividend by more than 20%, repurchased more than 700,000 shares of common stock and added nearly 10,000 sites to the scaled Indian portfolio.
Valuation: American Tower ain't cheap, and in fact, I consider shares (trading at $147.33) expensive. As much as I love the dividend growth, I cannot buy a REIT that yields 2.1% (yes, I prefer CCI).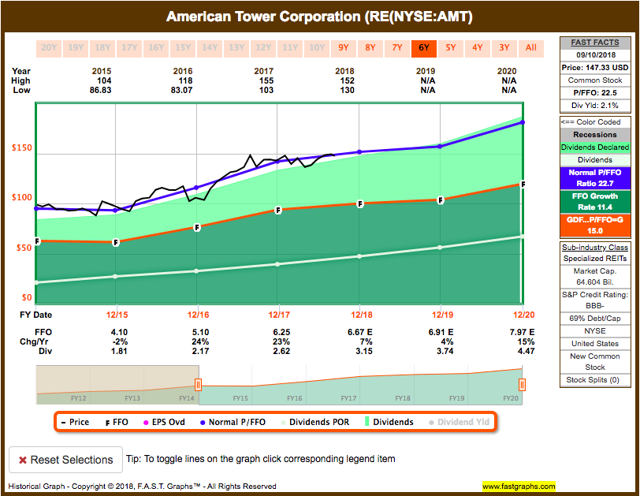 Ventas, Inc. (VTR)
Acquisitions: Ventas is a diversified healthcare REIT that has deliberately constructed a portfolio of more than 1,200 high-quality assets leased to best-in-class operators. In 2015, the company decided to de-emphasize skilled nursing facilities (or SNFs), and opted to spin off a majority of these "higher risk" properties to Care Capital Properties, which is now owned by Sabra (NASDAQ:SBRA).
By spinning most of the skilled nursing properties (to CCP) and selling about $700 million SNF of properties to Kindred Healthcare (NYSE:KND) - at a very favorable cash rent yield to Ventas of 7% - VTR has made smart divestitures that have allowed the diversified healthcare REIT to further differentiate its excellent portfolio mix.
More recently, Ventas has focused on the defensive life science sector. The company now generates $134 million in annualized NOI from Life Science assets. Two projects opened this year, and two other ground up developments at Penn U. and Brown are moving toward completion. These projects are showing strong leasing trends, and Ventas will begin to see the NOI benefit from these projects in coming periods.
Dividend Safety: Ventas has increased its dividend since 2000 except for 2009 when the company opted to maintain a flat payout. The dividend has grown its dividend by around 5% annually, and more recently, the company has moderated the growth to around 1-2% annually. The payout ratio is 78%, and we expect Ventas to return to a normalized (5%-ish) dividend growth policy in 2020.
Earnings Growth: In Q2-18, Ventas grew normalized FFO by 2% to $1.80 per share, and the diversified portfolio grew same-store property cash NOI by 1.3%. Meanwhile, full company cash flow from operations reached an all-time high exceeding $400 million. Ventas' updated guidance - for the second time this year - is as follows: FFO increased from $4.02 to $4.07 per share, representing an increase of more than $.01 at the midpoint and $0.03 improvement in the low-end of the range. Ventas also raised total same-store NOI by 25 basis points to 0.75% to 1.5% guidance range driven by higher triple net and SHOP same-store expectations.
Valuation: Ventas shares trade at $59.28 with a P/FFO multiple of 14.5x (three-year historical P/FFO multiple is 14.5x). The dividend yield is 5.3%. We maintain a STRONG BUY recommendation on Ventas shares, as we find the company's scale and cost of capital highly attractive. We consider Ventas a consolidator being managed by highly-capable and experienced senior management executives.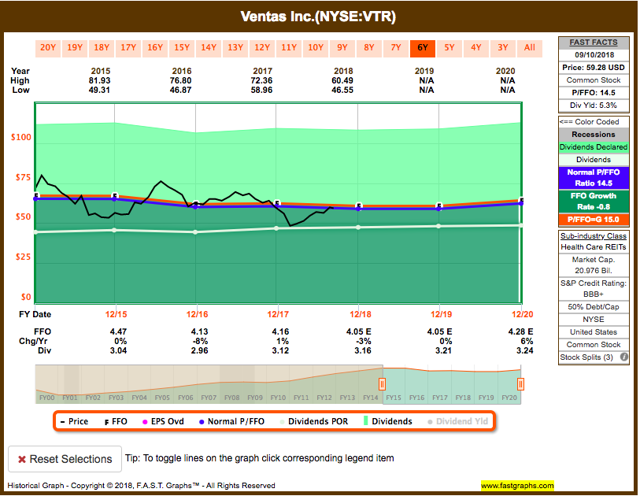 Tanger Outlets (SKT)
Acquisitions: Tanger is not a traditional mall REIT (no department stores); instead, the North Carolina-based company owns 44 outlet centers in the U.S. (22 states) and Canada. Shoppers visit Tanger locations more than 188 million times each year where they get a great deal every day with 80 to 90 brand-name and designer stores to choose from, each featuring a full assortment of colors and sizes. The outlet industry is an operating business, and marketing outlets to consumers is a crucial skill for success. Tanger's platform offers a more compelling risk/return thesis as the company has ZERO exposure to malls. When Sears (SHLD), Bon-Ton (NASDAQ:BONT) and J.C. Penney (NYSE:JCP) closes a store, the landlord must shell out millions of dollars to demolish and rebuild or to redevelop the site for a new customer.
Dividend Safety: In April, Tanger raised its dividend by 2.2% on an annualized basis to $1.40 per share. The company has raised the dividend every year since becoming a public company 25 years ago, and over the last three years, the dividend has grown 22% cumulatively. Tanger expects FFO to exceed the dividend by more than $100 million in 2018 with an expected FFO payout ratio under 60% (actually 57.4%).
Earnings Growth: Tanger's Q2-18 FFO available to common shareholders was $0.60 per share, an increase of 2% over Q2-17. Incremental income from new developments and expansions completed in 2017 and reduced G&A expense were partially offset by the same-center NOI decrease of 1.9% compared to the prior year quarter, driven primarily by the 2017 and 2018 store closures. On a year-to-date basis, same-center NOI was less than 1.7%. There were no material lease termination fees in the consolidated portfolio during Q2-18.
Valuation: Tanger shares trade at $23.17 with a P/FFO multiple of 10.0x (four-year trailing average is 15.3x). We maintain the STRONG BUY recommendation, as we believe this company represents a compelling risk/return thesis.
These Moat-Worthy REIT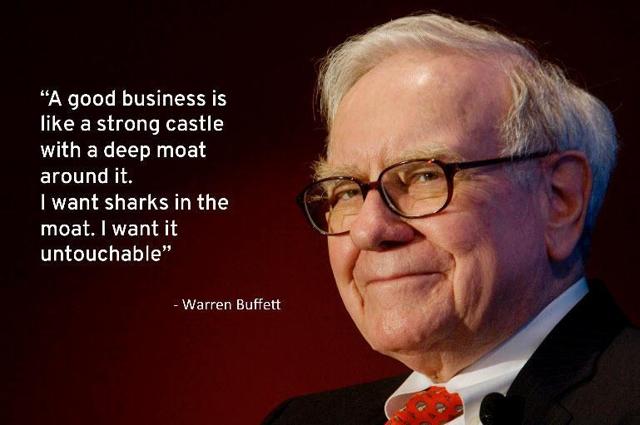 These 12 moat-worthy REITs were all screened for their durability and scalability attributes. As I stated in the introduction, we consider scale and cost of capital to be the most important drivers for a REIT's success. Regardless of the size of the moat, valuation is paramount, and investors should always pay close attention to the price being paid. "Price is what you pay; value is what you get".

Note: Brad Thomas is a Wall Street writer, and that means he is not always right with his predictions or recommendations. That also applies to his grammar. Please excuse any typos, and be assured that he will do his best to correct any errors, if they are overlooked.
Finally, this article is free, and the sole purpose for writing it is to assist with research, while also providing a forum for second-level thinking. If you have not followed him, please take five seconds and click his name above (top of the page).
Sources: F.A.S.T. Graphs
Brad Thomas is the #1 writer on Seeking Alpha (based on page-views), and over the years, he has developed a trusted brand in the REIT sector. His articles generate significant traffic (around 500,000 views monthly) and he has thousands of satisfied customers who rely on his expertise.
Marketplace subscribers have access to a growing list of services, including weekly property sector updates and weekly Buy/Strong Buy/Hold/Sell (and soon Strong Sell) recommendations. For new subscribers we will include a FREE autographed copy of The Intelligent REIT Investor. Act Now!
Disclosure: I am/we are long ACC, AVB, BHR, BPY, BRX, BXMT, CCI, CHCT, CIO, CLDT, CONE, CORR, CTRE, CXP, CUBE, DEA, DLR, DOC, EPR, EQIX, ESS, EXR, FRT, GDS, GEO, GMRE, GPT, HASI, HT, HTA, INN, IRET, IRM, JCAP, KIM, KREF, KRG, LADR, LAND, LMRK, LTC, MNR, NNN, NXRT, O, OFC, OHI, OUT, PEB, PEI, PK, PSB, PTTTS, QTS, REG, RHP, ROIC, SBRA, SKT, SPG, SRC, STAG, STOR, TCO, TRTX, UBA, UMH, UNIT, VER, VICI, VNO, VNQ, VTR, WPC.
I wrote this article myself, and it expresses my own opinions. I am not receiving compensation for it (other than from Seeking Alpha). I have no business relationship with any company whose stock is mentioned in this article.