Early on Tuesday, September 11, AcelRx Pharmaceuticals (NASDAQ: ACRX) announced that an FDA Advisory Committee meeting will be held for the company's lead drug candidate Dsuvia on October 12. In so doing, ACRX essentially places Dsuvia's fate in the hands of the Advisory Committee - the FDA will likely echo the AdCom's vote on or before the PDUFA date of November 3.
Clinical Status
After the unexplained cancellation of last year's AdCom meeting for Dsuvia, the confirmation of an AdCom meeting this year is actually a major milestone for ACRX. With regards to the AdCom itself, I see no reason to believe that Dsuvia will not perform well and receive a strong vote of approval. Although the safety concerns mentioned in the drug's CRL intially created doubt among investors regarding Dsuvia's ultimate potential for approval, the company announced in March that it had conducted a very productive Type A meeting with the FDA. To address the FDA's concerns over maximum dosage and directions for use, ACRX agreed to lower the maximum dose of Dsuvia and modify the directions for use. Having completing a human studies factor to validate the changes to the directions for use (per the FDA's recommendation) in April, the company appears to have done all that it can to comply with the FDA's requests and maximize Dsuvia's chances at approval.
Additionally, sublingual sufentanil still boasts an impressive safety record throughout its Phase 3 trials, with more patients reporting serious adverse events from placebo than from ACRX's drug; throughout the trials, nausea was the most frequently reported adverse event, affecting around 28% of patients. Though certainly unfortunate, these side effects pale in comparison to the known adverse effects of the current standard-of-care opioids - for instance, one study reported that around 40% of non-cancer opioid patients experienced opioid-induced constipation. On the whole, Dsuvia represents an easier, faster-acting, more effective, and safer alternative to IV morphine, and I believe it is likely that the advisory committee will recognize this.
Financial and Commercial Status
Since my last update on ACRX after their Q2 earnings call, very little has changed with regard to the company's finances. At the end of Q2, ACRX had $50.1 million in cash on its balance sheet, not including the $20 million raised by the July equity offering. Management has indicated that quarterly burn rate going forward will be $10-11 million, meaning that ACRX has enough cash for at least the next year. In the event that the company tries to seek a buyout from a larger pharma company, ACRX's large cash balance and relatively long runway also affords the company a stronger position from which to negotiate.
At the moment, the company has been rather tight-lipped about any potential post-approval partnerships. Instead, in its Q2 earnings call, ACRX's management gave a high-level outline of its plan to commercialize Dsuvia - the company is seeking to "potentially displace the IV for those 18 million emergency department visits that are receiving the IV just for pain." The company has even gone so far as to hire sales reps already, indicating how bullish ACRX is on Dsuvia's chances with the AdCom and the FDA.
Stock Outlook and Potential Strategies
Now that the AdCom meeting date has officially been set, I would expect ACRX's stock to experience a slight run-up leading up to October 12. As the graph below shows, ACRX experienced a significant run-up leading into last year's PDUFA date: the stock climbed from the low $2 range to just over $5.50 in just three months.
ACRX Stock Price: May - November 2017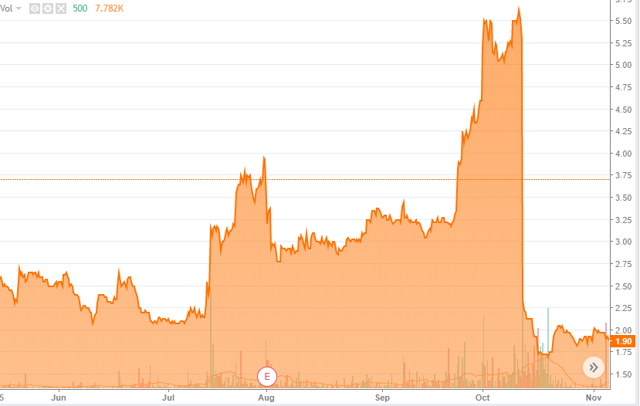 Source: Seeking Alpha
This time around, however, the market is much less bullish. Less than two months before Dsuvia's PDUFA date (and one month before the AdCom meeting), ACRX's stock trades for $3.25 - a significant discount to the intraday high of $5.75 it reached just before its October 12 PDUFA date in 2017. That said, I believe there is enough investor interest to drive a run-up to $4 over the next month - the company simply has too much potential to not take a bet on.
Management has projected $1.1B in eventual peak sales revenue for Dsuvia; for the sake of being conservative, let's assume the company only manages to reach $550 million, half of its goal. Using a modest 2x peak sales revenue multiplier, we arrive at a valuation of $1.1 billion for ACRX (if Dsuvia is approved), representing a share price of $18.18. This figure is nearly six times ACRX's current share price, and demonstrates the company's enormous future potential. Over the weeks leading into the AdCom meeting, I expect part of the market to recognize this risk-reward imbalance; the resultant buys will help drive a run-up.
Risks
As with any clinical-stage biotech company, investment in ACRX holds some significant risks. The greatest risk is simply that Dsuvia will not find approval - a second CRL for Dsuvia in November would be nearly impossible for ACRX to recover from. Rejection from the FDA would likely mean another clinical trial, which would necessitate a raise of capital and further share dilution in the future. Given that stock price fell to as low as $1.55 in the aftermath of Dsuvia's first CRL, a second CRL would probably send share price below $1. Investors should be well aware of these risks before initiating any position in ACRX.
Stock Outlook
Should Dsuvia receive a positive AdCom vote, I would reasonably expect ACRX's stock price to rise to $8-9, around half of my previous valuation. To maximize profits from the forecasted run-up as well as the projected post-AdCom pop, I'd recommend that investors with a relatively high risk tolerance follow the combination options-shares strategy I've outlined in a previous article. Using this strategy, and operating under the assumption that ACRX's stock will run up into the AdCom date, investors should buy both shares and $5 Dec. 21 call options at their current price. Just before the October 12 AdCom meeting, I recommend that investors sell their shares (while still holding the options). Holding the options through the AdCom date still allows investors the potential for very high returns, and selling the shares reduces the investment's exposure to catalyst risk. If ACRX does indeed run-up, investors can recognize a small profit; then, if ACRX ends up receiving a CRL, this profit would offset some of the losses.
I must note once again that the above strategy is only for speculative investors with a high risk tolerance. For those with a more modest risk preference, I would recommend buying shares alone. Either way, ACRX is almost certainly undervalued at its current price, and the doubts surrounding Dsuvia have created a prime buying opportunity for the stock. Come October, investors willing to take a chance on ACRX might just be rewarded handsomely.
Author's note: If you liked this article and want to read more pharma ideas like it, click here for my profile - then click the big, orange "Follow" button. Thanks, and good luck.
Disclosure: I am/we are long ACRX. I wrote this article myself, and it expresses my own opinions. I am not receiving compensation for it (other than from Seeking Alpha). I have no business relationship with any company whose stock is mentioned in this article.
Editor's Note: This article covers one or more microcap stocks. Please be aware of the risks associated with these stocks.