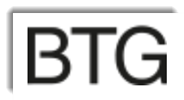 Quick Take
BTG (OTCPK:BTGGF) has announced it has acquired Novate Medical for up to $150M in total consideration.
Novate Medical is focused on the prevention of pulmonary embolism [PE] among high-risk patients.
BTG has acquired Novate's Sentry device, which was recently approved for sale in the U.S. and will add it to its portfolio and begin selling it through its existing vascular sales force.
Investors should see Sentry's contribution to BTG revenues in the coming quarters and accretion to earnings within two years.
Target Company
Dublin, Ireland-based Novate Medical was founded in 2006 to improve the life of patients with high risk of venous thromboembolic events by prevention of PE.
The company's lead product, Sentry, is the first bio-convertible IVC filter, designed to provide protection against Pulmonary Embolism during the patient's high-risk period and then to bioconvert to leave an unobstructed IVC lumen after a minimum of sixty (60) days.
As a result of its bioconversion qualities, there is no need to have another procedure to remove the device after its task is completed.
Market & Competition
According to a 2017 market research report by Reportlinker, the global Inferior Vena Cava market is projected to grow at a CAGR of 11.1% between 2021 and 2021.
Major competitive vendors that provide IVC filters include:
Acquisition Terms and Rationale
BTG disclosed the acquisition price as $20 million in upfront cash and additional contingent cash consideration of up to $130 million based on meeting commercial and sales-related milestones.
BTGGF said the acquisition 'is expected to be accretive to adjusted EPS from the second full year of ownership.'
A review of the firm's most recent annual financial results indicates that as of March 31, 2018, BTG had $273 million in cash and equivalents and $324.9 million in total liabilities.
Free cash flow during the 12 months ended March 31, 2018, was $142.1 million.
BTG acquired Novate as part of an ongoing strategy the firm has to acquire promising or approved devices or device/treatment combinations and further develop and expand their application or footprint to other markets it serves.
As BTG CEO Louise Makin stated in the deal announcement,
This bolt-on acquisition further enhances BTG's strength in the vascular space. Novate's unique IVC filter offers our existing customers a highly complementary product in the management of PE.
In the past 12 months, BTG's stock price has dropped by 20% vs. the S&P 500 Index 13% gain, as the chart below indicates: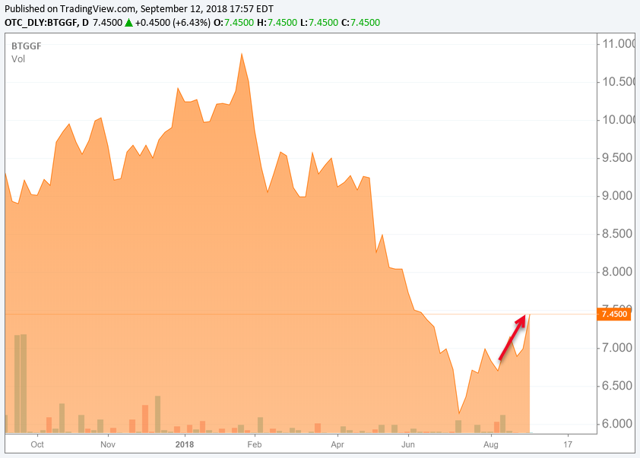 (Source: SEEKING ALPHA)
Since the deal announcement, BTGGF stock has risen about 8% on no other material news.
The deal for Novate promises to be accretive in a reasonable timeframe as the Sentry device has already been granted 510[k] approval in the U.S.
BTG recently received FDA disapproval for an unrelated product in the emphysema space, so acquiring a product with approval significantly de-risks the acquisition in a major way.
Furthermore, many of the more successful medical devices are devices that reduce invasiveness, thus reducing complications from treatment and lowering costs. Sentry performs along these lines and should be an excellent addition to BTG's portfolio.
Now that the transaction has closed, management can add Sentry to its vascular sales force and presumably hit the ground running.
BTG continues to operate a suite of business segments that are strongly cash flow positive and I expect that the Sentry device will quickly show up in BTGGF results within a few quarters.
Thank you for reading. I write about IPOs, M&A deals and public company investments in tech startups. I focus most of my time on IPOs. If you're interested in investing smarter in IPOs, check out IPO Edge with a free trial.
Disclosure: I/we have no positions in any stocks mentioned, and no plans to initiate any positions within the next 72 hours. I wrote this article myself, and it expresses my own opinions. I am not receiving compensation for it (other than from Seeking Alpha). I have no business relationship with any company whose stock is mentioned in this article.
Editor's Note: This article discusses one or more securities that do not trade on a major U.S. exchange. Please be aware of the risks associated with these stocks.