Intel (INTC) has had a difficult 3 months with shares now priced at under the $45 mark. Intel, because of its longstanding history in the chip-making industry, has always been a go-to stock in this arena primarily because of its dividend. In fact, INTC still boasts a 10-year dividend growth rate average of almost 9% despite freezing the dividend for some time a few years back.
Currently, the stock trades with an earnings multiple of around 16.1, which is slightly above its 5-year average of 14.4. Its cash flow multiple of 7.7, though, looks particularly attractive compared to its historic averages.
Going on the company's most recent numbers, it's hard to envisage Intel staying at this valuation, given what some of its peers are trading at. In the second quarter, management lifted its full fiscal year top-line guidance by $2 billion on the back of strong trends taking shape in the data center group. This means we will almost see 11% top-line gains this year bringing sales to $69.55 billion. Therefore, this year will then be the first year since 2011 where the firm has delivered double-digit top-line growth. Remember, Intel's 10-year average growth rate is just over 5%, so the numbers this year are a big deal.
We continue to believe that the forward looking fundamentals for Intel remain strong. Yes sales of the PC segment will continue to soften over the next few years, but the data center group has more than enough firepower to offset this temporary weakness. AI, big data, and cloud computing will drive Intel forward over the next few years, with Xeon Scalable leading the charge. The growth rate of DCG should enable the segment catch up with the PC segment in only a matter of 3 years or so.
Furthermore, from a fundamental standpoint, Intel's position in the race to bring a viable driver assistance system to market through Mobileye looks very strong. Billions are being invested into this market at present by tech companies, chip companies, and, obviously, automobile companies. There are 13 automakers currently in partnership with Mobileye, which is encouraging. In fact, Mobileye's is on board 70%+ of the 27 million cars, which currently have a driver assistance system. This is why we believe the automotive segment will drive long-term gains and will be right on the back of growth from the DCG over the next 5+ years.
So, the long-term fundamentals are stating one thing. What the company's current financials looking like though? Are they trending in the right direction? Any potential roadblocks ahead? Let's dive in.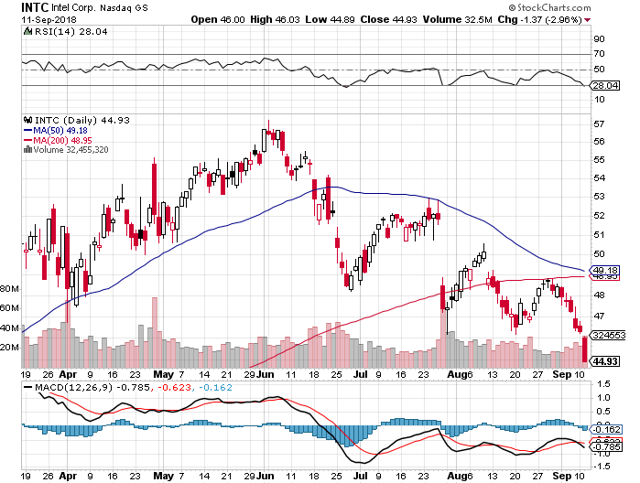 The income statement's most important metrics by far are sales and profit numbers. Furthermore, what grabs my eye straight away is the elevated $13.2 billion number for the company's R&D budget. This number is just under a fifth of sales, which seems high compared to peers. However, one has to remember that Intel controls both the design and production of its in-house products, so elevated spend is definitely warranted for scale purposes.
The R&D spend is trending very similarly to the net income tally, which is up about 130% over the past decade. I'm not concerned about a drop in operating (they have been rising aggressively) or net profit margins as long as the price to earnings ratio is in line. As mentioned already, the current earnings multiple of 16.1 and forward earnings multiple of 10.7 look very attractive compared to industry averages. Don't sweat the small stuff from quarter to quarter as long as these numbers stay in line.
Moving on to the balance sheet, it is encouraging to see that there hasn't been more equity on the balance sheet in more than a decade. The present number is just over $69 billion. So, the low forward earnings multiple is not because of any weakness here. My take is that the market is still looking too much into the declining PC segment and ignoring what is coming down the track. The CEO departure didn't help either.
However, one of the best ways of seeing if there are any structural issues with respect to Intel's growth path is to look at how the earnings trend has been trending both over the short term and long term. It is true that earnings have fallen by close to 5% on average per year over the past 3 years but have gained the same amount over the past decade on average per year. However, earnings this year are well over $4 a share, which will handsomely beat 2017 numbers by a significant margin. Nothing from my side structurally awry here.
The cash flow statement over a 12-month trailing average reports $27.2 billion in operational cash flow. This explains the attractive price to cash flow ratio of under 8 mentioned earlier. Again, we like this as it protects against a future uncertainty such as a recession or a couple of unexpected earnings reports. Furthermore, we see that free cash flow pay-out ratio comes in at about 42%, which is attractive.
Bears will cite the $14+ billion being spent on capex as being high, but the company generates plenty of operational cash flow to compensate for this. When a stock is trading down near the lows of its recent trading range, it is good to see elevated share buybacks. Over $6.9 billion in stock has been bought back over the past four quarters, which is a vote of confidence by management in the direction of the firm.
Therefore, considering the state of the company's present financials and its forward-looking fundamentals, Intel should see share price gains over the long run. Sentiment remains ultra-depressed, so we will be looking for market expectations to improve. The best strategy here though is to wait for an end to the selling, which should result in a swing low. A weekly swing low would even be a safer entry at this stage.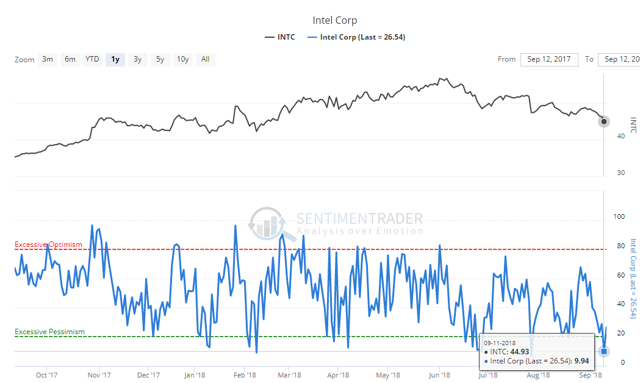 Source: Sentimentrader.com
Disclosure: I/we have no positions in any stocks mentioned, but may initiate a long position in INTC over the next 72 hours.
I wrote this article myself, and it expresses my own opinions. I am not receiving compensation for it (other than from Seeking Alpha). I have no business relationship with any company whose stock is mentioned in this article.