The Global Retirement Index tracks the retirement readiness or quality of life for retirees. It combines finances, material wellbeing, quality of life, and health–to provide a baseline for retirement security around the world.
Here's the top ten scorecard for 2018.

Of course, you could stare at this top 10 list all day and develop interesting insights and ideas as to why these countries top the list. But more important than topping a list, and more important than political or intellectual debate, at the heart of the matter is retirees who have a better quality of life - real retirees in perhaps their most vulnerable stage of life.
At least as a collective group (and on average for each nation) the retirees in these countries enjoy a better or more secure retirement.
Looking at the top 10 list, it appears that you want to live 'up north' if you want to stand a good or better chance to have a comfortable retirement - of course, you'll have to dress warmly. The exceptions to the northern observation are two Commonwealth Nations (descendants from England) by way of New Zealand and Australia. Joining the group of English speaking peoples is Ireland. We have 4 small countries (by population) with English speaking peoples making the top 10. In fact if you look at the list, all of the countries are small by headcount. The biggest country on the list is Canada with less than 38,000,000 citizens. In aggregate the top 10 countries would make up much less than 2% of the world population.
And we see that Scandinavian countries dominate the list.
In top spot, not surprisingly, is Switzerland. I often read reports on how the Swiss are the healthiest and happiest group of people on earth. It's perhaps a natural extension that their seniors would continue to be happy and healthy and well prepared for retirement. The Swiss are also one of the richest folks on earth per capita. These are very productive and hard working people who also know when to stop work and have a good time. It's all that life/work balance 'stuff'. Much, or enough of that money and security continues to be in the hands of retirees.
Maybe my Duck Dynasty T-Shirt has it right. Though I doubt the Swiss are inspired by or are watch that show, or know of Uncle Si. They are perhaps a little bit more productive that Si, even in their off-times. We know the Swiss embrace exercise and healthy eating habits. Here's some words of wisdom from Si …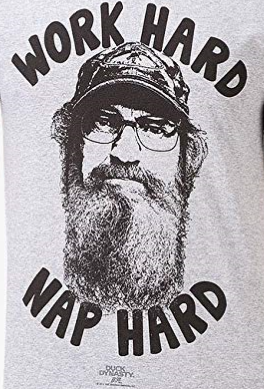 Yes the Swiss seem to have it all. Here's a simple and wonderful blog post from greatist (the author of this post now lives in Switzerland and has immersed herself in the Swiss culture) - 9 Things The Swiss Get Right About Healthy Living.
Of course a defining characteristic of the top 10 countries is that they all invest heavily in social programs. The countries are all wealthy democracies but they have extensive social safety nets. All of the countries also have universal healthcare systems. But that does not mean that healthcare is 'Free' and provided for by the state in every country. In Switzerland for instance, healthcare insurance is mandatory and according to a wiki post (with appropriate study/article source).
Insurers are required to offer this basic insurance to everyone, regardless of age or medical condition. They are not allowed to make a profit off this basic insurance, but can on supplemental plans.
We have private insurance and private delivery models in competition with some public services. There is a healthy mix of universal coverage and personal responsibility as users do have to pay for insurance costs and they are required to cover some drug costs. What is surprising is that the Swiss system makes no special allowances for seniors beyond a basic supplement to assist those whose health insurance premiums eat up too much of their total income. Compare that to the US system that actually covers tens of millions of seniors in very expensive fashion with Medicare.
And once again the US did rise to #16 on the GRI list. The report cited a drop in income inequality and employment prospects in the US as reasons for the bump up the list. A small move in the right direction, but there might be bigger issues to address. Recently I looked at the unique and very formidable challenges for US seniors and asked Is The Reality Really That Bad For American Retirees? Many of the readers replied Yes!
That article was a follow up to an article that certainly suggests that some basic financial planning and personal responsibility can and should come into play and that Yes, Most Of Us Should Retire Rich. On how 'easy' it might be build wealth with some basic budgeting and sensible investing I Found $888,000 In Your Coffee. As always the saviour might be saving 10% or more of your income and investing those monies on a regular schedule into a Balanced Portfolio that might include US stocks (IVV), International Stocks (EFA) (EWC) and Bonds to manage risks (AGG), (TLT).
Just as the ideal healthcare model might consist of a sensible combination of personal responsibility and public support and safety net, perhaps that general rule can apply to retirement policy across the board. Help is available but help yourself.
President Trump has announced some potential changes. A recent Franklin Templeton post on Seeking Alpha suggests that these are the Biggest Changes In A Decade Impacting The US Retirement System. It's centred around the Retirement Enhancement and Savings Act, or RESA and the President signing an executive order.
From that article …
It would all require implementing regulations, but it directs the Department of Treasury and the Department of Labor to look at a couple of areas to try to improve retirement security.

Essentially what the president has ordered the Department of Labor and Treasury to look at is how to make it easier for employers to band together under a single plan and increase coverage, because unfortunately, not enough small employers offer 401(K) or similar plans to their employees.
There are provisions to address Required Minimum Distributions. Also being examined is the employee savings rates currently in place as per a bill called the Retirement Enhancement and Savings Act, or RESA. There is an attempt to increase coverage and savings rates.
Causing some controversy is a recommendation that employers and plan providers list expected income in retirement that the investments might generate. That's more than tricky of course as one might use an annuity as a benchmark or apply a rule of thumb benchmark such as the 4% Rule. I recently had a look at the 4% rule and asked if there was A New Normal for Retirees and then I followed up on Seeking Alpha with a look at the 4% Rule and What The Creator of the 4% Rule Had To Say.
It's more than difficult to apply rules of thumb with respect to retirement funding. It might be more than awkward trying to sign a bill with that rule of thumb in hand.
Stay tuned. I'll be watching. You can see that at times, there's real work 'going on' in Washington, but it gets overshadowed by all the noise.
We might be happy to see that amongst all of the noise and distractions and name calling - retirement issues are being addressed.
Author's note: Thanks for reading. Please always know and invest within your risk tolerance level. Always know all tax implications and consequences. If you liked this article, please hit that "Like" button. If you'd like notices of future articles, click the "Follow" button.
Happy investing.
Dale
Disclosure: I am/we are long BNS, TD, RY, AAPL, NKE, BCE, TU, ENB, TRP, CVS, WBA, MSFT, MMM, CL, JNJ, QCOM, MDT, BRK.B, ABT, PEP, TXN, WMT, UTX, BLK. I wrote this article myself, and it expresses my own opinions. I am not receiving compensation for it (other than from Seeking Alpha). I have no business relationship with any company whose stock is mentioned in this article.