In a recent article on CNBC, it was announced that Vanguard had said goodbye to its cap-weighted S&P 500 (VOO) and said hello to the total market (VTI). Jack Bogle and Warren Buffett (NYSE:BRK.A) (NYSE:BRK.B) have long suggested the traditional cap-weighted S&P 500 as THE US large-cap core holding.
CNBC: The best core stock index fund for long-term investors may not be the Vanguard S&P 500.
With VTI, investors are now getting "exposure" to 5 times as many stocks. VTI includes 3,462 holdings, representing nearly the entire US equity market, outside penny stocks. The S&P 500 fund covers about 80 percent of the US stock market.
Sure, own the entire market. As we know, there are many more companies with greater growth and greater growth potential in that 501 to 3,462 segment of stocks traded on the major exchanges. The problem is those two indices are cap weighted, and the funds are both greatly concentrated in the largest companies in the stock markets. There's not a lot of exposure to the 501-3,462 crowd.
From that CNBC article: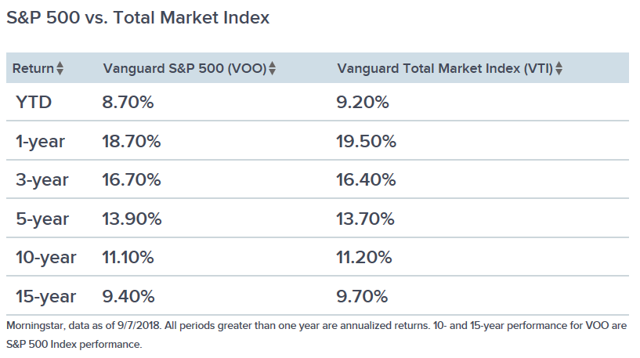 The 10-year performance comparison shows a .10% outperformance for the VTI total market approach, while the 15-year period shows a .30% annual boost. Hey, that's nothing to sneeze at, and every small boost can certainly deliver a meaningful amount of monies in your pocket over time.
But I'd suggest that if you want to take advantage of the size premium, go buy those lesser caps directly, and in a meaningful way. Or you can buy the Equal Weighted S&P 500 (RSP) offered by Guggenheim. You can find that size premium without going outside of the S&P 500 companies.
For mid cap, investors might use IJH from iShares, and for small cap, IJR also from iShares.
Now you're talking Outperformance. It's talking so loud, it's shouting. And that difference would be more than life-changing. Of course, as always, past performance does not guarantee future returns. What is more than interesting is that the small- and mid-cap companies did not suffer as tragically as the S&P 500 in the 2000-2003 market correction. Those mid- and small-cap groups of companies did not get sucked into the tech mania melt-up. They were better behaved to a modest degree. Of course, the tech companies dominated the market gains and weightings heading into the market crash. The large-cap tech sector itself fell in the area of 90%. Like many boomers, I lived that tech index meltdown, felt that one. I got sucked in, chewed up, and spit out.
The main reason that most investors will not go that mid-cap or small-cap route is that they feel or are told that they are taking on additional risk for the potential of those additional gains. But that's an investment myth according to this article. In the Financial Times, Terry Smith busts the small-cap asset allocation myth.
From the article:
"However, there is no doubt that adding a small/mid-cap element to a portfolio can achieve the seemingly impossible feat of generating additional return whilst reducing risk, as this chart shows:"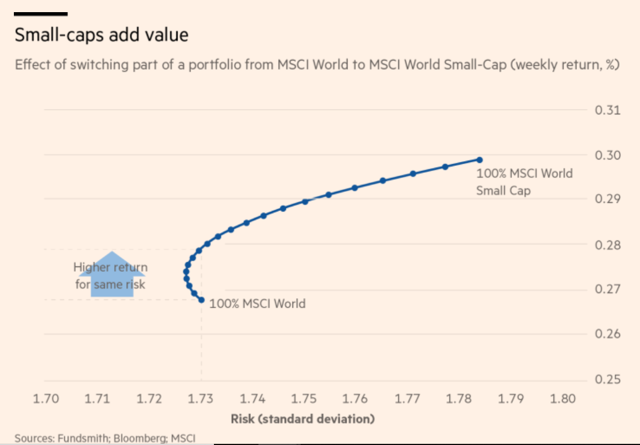 If you're looking for growth, go get some growth, and there's the potential that you might not be increasing portfolio volatility; if you find the sweet spot, you might create less portfolio volatility. On portfoliovisualizer.com, when I check US stock allocations adding mid-cap stocks and small-cap stocks to US large-cap stocks, I find that volatility and drawdown were increased just slightly moving through the last two market corrections, but we do get meaningful greater returns.
On my ETF Portfolio Model Page, I suggest the use of RSP, IJH and IJR for creating a growth portfolio. I also throw the growth-oriented Nasdaq 100 (QQQ) in the mix. Each individual investor will have to know their own comfort level for stock to bond allocation, and their comfort level for adding assets that in shorter periods can display greater volatility compared to a core cap-weighted S&P 500. These are long-term strategies. Canadian and US investors should understand the tax implications for their holdings and know the currency implications. When in doubt, check in with a fee-for-service advisor.
Many Seeking Alpha readers also know that the equal-weighted RSP has a history of beating the S&P 500, thanks to the work of SA author Ploutos.
Here's the performance of Equal Weight vs. Cap Weight for the periods (starting at top and working down) for 1, 3, 5, 10 and 20 years from this Ploutos factor update article.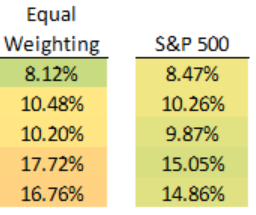 Once again, an investor does not have to go outside of the S&P 500 to find that historical outperformance. It's up for debate as to what factor gets the most credit, but the RSP outperformance will come by way of that size premium (smaller companies) and a value tilt as the equal-weighting mechanism (upon rebalancing) will move monies from the top-performing companies and redirect those funds to the companies that are more out of market favor.
Net, net, if you want more mid and small cap, go buy 'em in a meaningful way.
And if you're young and brave and have a very long time horizon, you might embrace the smaller- and mid-cap indices in a meaningful way. Here's my article that suggest You Might Skip The Dividends If You're Young And Brave.
Author's note: Thanks for reading. Please always know and invest within your risk tolerance level. Always know all tax implications and consequences. If you liked this article, please hit that "Like" button. If you'd like notices of future articles, click the "Follow" button.
Happy investing.
Dale
Disclosure: I am/we are long BNS, TD, RY, AAPL, NKE, BCE, TU, ENB, TRP, CVS, WBA, MSFT, MMM, CL, JNJ, QCOM, MDT, BRK.B, ABT, PEP, TXN, WMT, UTX, BLK. I wrote this article myself, and it expresses my own opinions. I am not receiving compensation for it (other than from Seeking Alpha). I have no business relationship with any company whose stock is mentioned in this article.