Hurricane Florence is headed for the Carolinas with North Carolina being the most directly hit. This is only a category 2 (recently downgraded from category 3), so the wind speeds are unlikely to cause severe damage, but the real problem is its size and the rainfall. Recent forecasts suggest that this hurricane will have broader impact than most and will likely cause substantial rainfall throughout a majority of the Carolinas, even areas that are somewhat far from the coast.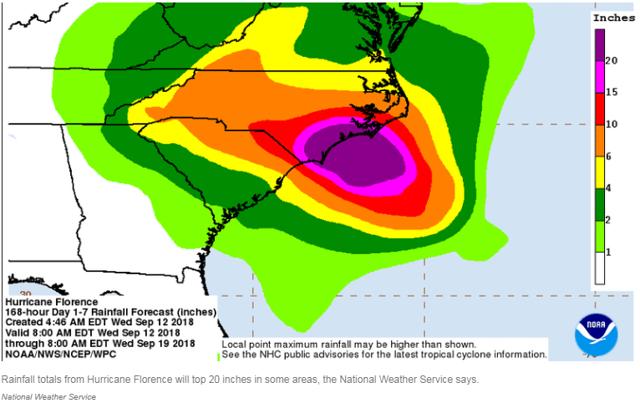 It is anticipated to move slowly and perhaps even stall over the Carolinas. This slow movement exacerbates the rainfall as the downpour will have an extended duration compared to faster moving hurricanes.
I have no training in meteorology, so please do not consider this a better source of hurricane information than other providers. The above information is merely passed along from NPR and the National Weather Service such that we can begin to look at the impact this hurricane may have on REITs.
Impact on REITs
Since the damage looks to be less about wind speed and more about flooding, it will have a lower acuity but greater duration than normal. This means a large portion of the impact will be one of displacement.
Flooded businesses could be out of operation for months.
Flooded homes could be destroyed leaving their occupants seeking other shelters.
The excessive rainfall could damage some REIT properties of which there are over 3000 in the Carolinas.
Highwoods Properties (HIW) is arguably most at risk with over 21% of its NOI derived from NC. Raleigh is somewhat protected from the wind factor of hurricanes as it is reasonably far inland, but it has low elevation and susceptible to flooding. Given that this is a particularly high rainfall hurricane, it seems likely that flooding will be an issue with Florence.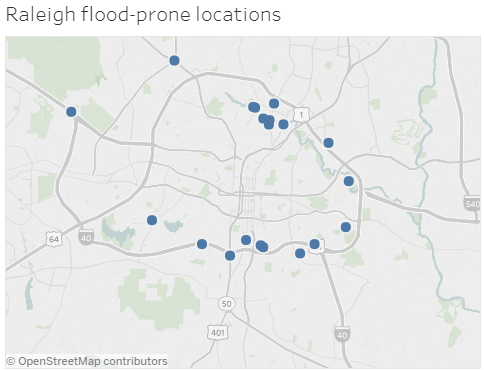 Note that the flood-prone areas of Raleigh overlap with a number of HIW's property locations.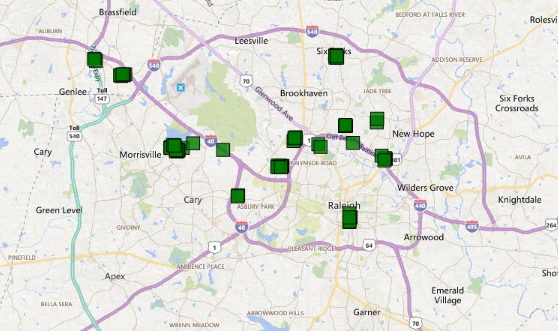 Source: SNL Financial
Other REITs at higher than average risk are American Finance Trust (AFIN) which gets 12% of its revenues from the Carolinas and EastGroup Properties (EGP) with 8.5% from the area.
REITs almost always have insurance on their properties; so to the extent there is flood damage, they will be reimbursed. However, the reimbursement is often delayed and may not pay fully for the interruption of revenue streams. Generally, I think there is substantially more fear than is warranted by the actual financial impact to REITs. Historically, when REITs announce property damage from hurricanes, their stocks drop a few percentage points, yet the damage rarely causes that much actual harm to intrinsic value. We will be watching for overreaction as the reports roll in as this may be a good time to scoop up discounted shares.
Winners from Hurricane Florence
This is clearly shaping up to be a devastating event for those impacted, so it is somewhat crass and unpleasant to think of there being winners in the situation. In suggesting that, there are winners I am not intending to downplay the hardship of those who have been displaced. It is merely my job as a REIT analyst to consider what the financial impacts could be and my analysis suggests that 2 groups stand to benefit:
Hotels
Self-storage
Both are beneficiaries of displacement. Many homes will likely be flooded and this can make the homes inhospitable for months and in some cases permanently. Displaced residents will seek other shelters which in the near term mean hotels.
Generally, those who just lost their house are not looking to splurge on a fancy hotel room, so we see more benefit to cheaper ADR (average daily rate) hotels. Specifically, Extended Stay America (STAY) and Sotherly Hotels (SOHO) are likely to see an uptick in occupancy and both have significant exposure to the area. Rates are likely to remain flat over the duration of the disaster as price gouging can in some cases be illegal and is certainly frowned upon. SOHO consistently makes a point to be a good neighbor, so I would expect no gouging from them.
That being said, running at near 100% occupancy for potentially a few months is a huge boost to a hotel's revenue. Beyond the displaced residents, hotels are likely to see demand from relief workers coming into the region. Following the extreme flooding in Houston after the last round of Hurricanes, hotels in the area had excellent results. We see no reason this hurricane would be any different. It is possible SOHO's Ballast hotel in Wilmington will sustain some damage as that city has the highest anticipated storm surge, but SOHO has adequate insurance coverage to mitigate the risk.
Self-storage also benefits from displacement in that those who lose their homes are often forced to downsize. Smaller places hold less stuff with the remainder being relegated to a self-storage facility. To the extent that people's stuff is damaged in the flooding, the benefit to self-storage would be mitigated. However, there could be increased demand in anticipation of the disaster. Residents in flood zones may store their valuable items in high-ground self-storage facilities in anticipation of Florence.
Global Self Storage (SELF) derives 15% of its NOI from South Carolina, so any bump to its facilities would be impactful to the bottom line.
Key points for investing through natural disasters.
Don't overreact. The actual impacts to companies are usually smaller than they initially seem. Wait for the market's overreaction as a potential opportunity.
The hotel REITs in the impacted region will often sell-off during the disaster as the market seems to have not yet recognized the benefit that comes in the following months.
Generally speaking, hurricanes are devastating events for the individuals involved but are often quite minor for the REITs involved. It can be very tempting to "sell ahead of the damage," but in our experience, this is often a mistake.
2nd Market Capital and its affiliated accounts are long SOHO and SELF. I am personally long SOHO. This article is provided for informational purposes only. It is not a recommendation to buy or sell any security and is strictly the opinion of the writer. Information contained in this article is impersonal and not tailored to the investment needs of any particular person. It does not constitute a recommendation that any particular security or strategy is suitable for a specific person. Investing in publicly held securities is speculative and involves risk, including the possible loss of principal. The reader must determine whether any investment is suitable and accepts responsibility for their investment decisions. Dane Bowler is an investment advisor representative of 2MCAC, a Wisconsin registered investment advisor. Commentary may contain forward-looking statements which are by definition uncertain. Actual results may differ materially from our forecasts or estimations, and 2MCAC and its affiliates cannot be held liable for the use of and reliance upon the opinions, estimates, forecasts, and findings in this article. Positive comments made by others should not be construed as an endorsement of the writer's abilities as an investment advisor representative.
Conflicts of Interest. We routinely own and trade the same securities purchased or sold for advisory clients of 2MCAC. This circumstance is communicated to clients on an ongoing basis. As fiduciaries, we prioritize our clients' interests above those of our corporate and personal accounts to avoid conflict and adverse selection in trading these commonly held interests.
Disclosure: I am/we are long SOHO. I wrote this article myself, and it expresses my own opinions. I am not receiving compensation for it (other than from Seeking Alpha). I have no business relationship with any company whose stock is mentioned in this article.
Editor's Note: This article covers one or more microcap stocks. Please be aware of the risks associated with these stocks.