The Fed issued its latest Beige Book yesterday. Here's the key analysis (emphasis added):
Reports from the Federal Reserve Districts suggested that the economy expanded at a moderate pace through the end of August. Dallas reported relatively brisk growth, while Philadelphia, St. Louis, and Kansas City indicated somewhat below average growth. Consumer spending continued to grow at a modest pace since the last report, and tourism activity expanded, to varying degrees, across the nation. Manufacturing activity grew at a moderate rate in most Districts, though St. Louis described business as little changed and Richmond reported a decline in activity. Transportation activity expanded, with a few Districts characterizing growth as robust. Home construction activity was mixed but up modestly, on balance. However, home sales were somewhat softer, on balance--in some cases due to reduced demand, in others due more to low inventories. Commercial real estate construction was also mixed, while both sales and leasing activity expanded modestly. Lending activity grew throughout the nation. Some Districts noted weakness in agricultural conditions. Businesses generally remained optimistic about the near-term outlook, though most Districts noted concern and uncertainty about trade tensions--particularly though not only among manufacturers. A number of Districts noted that such concerns had prompted some businesses to scale back or postpone capital investment.
First off, the Fed is not going to sound too excited or depressed regardless of the actual economic environment. The book is beige, OK? At the height of the financial crisis, the overall tone of the Beige Book was similar to a small town Texas farm report on AM radio. But there is a key takeaway: Housing is clearly on their radar screen. They specifically mentioned potential housing weakness in their Meeting Minutes as a potential downside for the economy. Yet the data doesn't show anything remarkably negative in housing. Sure, there's some weakness. But that could easily be attributed to high prices slowing buying activity. I'm guessing the Fed is hearing anecdotal stories through their business contacts that's causing their concern. In economic data, problems start as whispers, that turn into conversations that eventually manifest in the numbers.
What is going on at Tesla? They have had a flood of people leave the company -- 30, in fact, since June. That's a lot of people. I love Elon Musk -- he has that crazy entrepreneur of the future vibe. The product is revolutionary. And the company is growing revenues at a breakneck pace. But when this many higher-ups leave a company, you've got to wonder what's going on that is causing these departures. There is no positive spin for this story.
Fed President Brainard gave a speech on the neutral rate of interest and how it affects Fed policy. Brainard is brilliant -- she's one of the most original thinkers in the Fed. I can't summarize her here. Read the whole thing. There's a quiz at the end.
Turning to the markets, let's look at today's overall performance:

Solid day. The QQQs led the pack, rising a little over 1%. They were followed by the OEFs, DIAs, and SPYs. The treasury market sold off a touch, but not a large amount. Overall, this is a bullish performance chart.
When we last left the markets, they were trying to move higher. And they were, but the rally wasn't that convincing. Let's take a look at a few key charts to see if we made any forward progress today.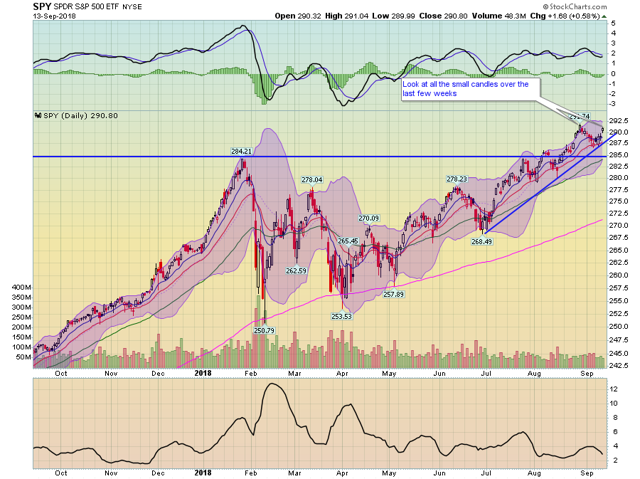 I've added a callout box to the chart. Notice the very small candles over the last few weeks. Yes, the market has moved to new highs. But you'd think there'd be some excitement -- y'know, traders bidding up shares, thrilled that the bull was out of the pen. But we're not seeing that. Instead, there's piecemeal movement, which isn't bad but which lacks a certain amount of enthusiasm.
We really see this in the 30-minute time frame: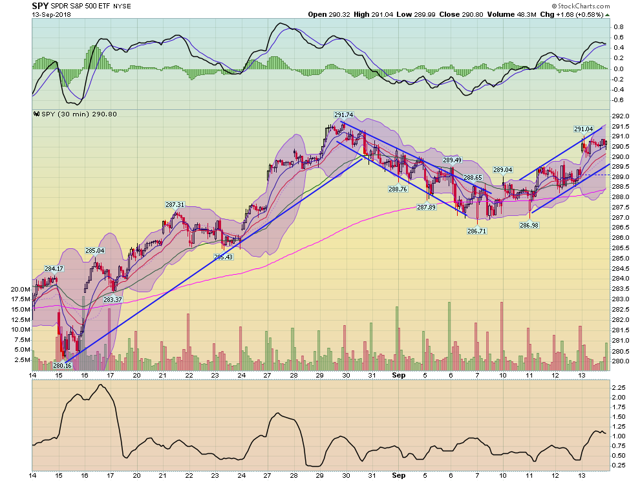 There have been three trends over the last 30 day: a move higher, a correction to a 200-minute EMA, and a second rally. But look at the ultimate lack of overall movement on a daily basis (the space between the verticle bars). There's just not much happening. Prices gap higher, but then the rally fizzles. Or prices move sideways. Or they sell off, but then really, recouping most of their losses. We don't have any days where prices rally throughout the day.
To a certain extent, I could be nit-picking, complaining that the rally just isn't good enough. But with the economy doing really well, a great earnings season behind us, and predictions of a strong 3Q18, you'd thing traders would be just a little bit more excited, wouldn't you?
Disclosure: I/we have no positions in any stocks mentioned, and no plans to initiate any positions within the next 72 hours.
I wrote this article myself, and it expresses my own opinions. I am not receiving compensation for it (other than from Seeking Alpha). I have no business relationship with any company whose stock is mentioned in this article.