They're baaack! Actually, some of them have been back for a while, but I have not felt compelled to write about them until now. "They" are, of course, former members of my Bottom of the Barrel Club who declared bankruptcy during the past 2-3 years. The companies in this article are now trading publicly again (with 1 or 2 exceptions). I may refer to them as the "X-11 Club" occasionally.
Those who are familiar with my Bottom of the Barrel Club series may want to compare the companies presented here in the X-11 Club with the companies from the BOTB Club. For those who may not be familiar with the Bottom of the Barrel Club, the most recent article in the series, which contains similar discussions and data to what is found herein, can be found at the following link: "#18-4: The Second Half Kickoff Gets Muffed."
I can already anticipate some of the reaction to even discussing these companies:
"They lost a good chunk of my savings."
"They are crooks who should be in jail."
"I never want to hear about them again."
"Why are you touting these companies?"
And so on. Well, I am not planning to "tout" any companies here. Having already gone through bankruptcy, though, the companies and their strategies might be useful for investors to use in comparing them to other industry participants. Properly reorganized, they are competing for capital and investors with many companies that investors may think have better prospects. I am not here to defend them, but rather to analyze what they have become.
In some cases, they may offer cautionary tales that apply to companies that are financially distressed but not yet bankrupt, etc. In most cases, X-11 Club companies' former management has been replaced, new ownership in the form of former creditors has taken over, and new strategies devised … none of which would have happened without bankruptcy and without the risk capital that the new shareholders have provided by converting their debt to equity.
Who are these companies? Well, fortunately, the executives from each company posed for a group picture before filing for bankruptcy, as provided below: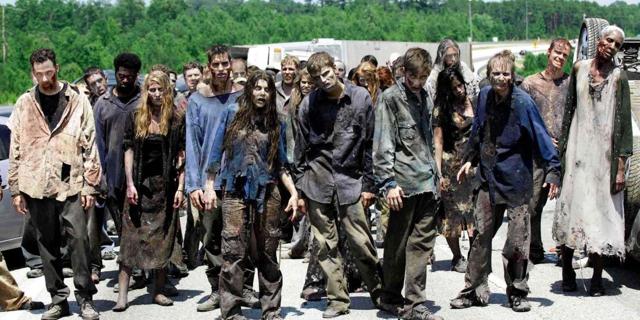 Source: BBC.com
Oops, I must have misplaced the correct photo. The companies to be discussed here include:
Amplify Energy (OTCQX:AMPY) (formerly Memorial Production Partners)
Berry Petroleum (NASDAQ:BRY) (formerly a subsidiary of Linn Energy)
Blue Ridge Mountain Resources (OTC:BRMR) (formerly Magnum Hunter)
Bonanza Creek Energy (NYSE:BCEI)
Chaparral Energy (NYSE:CHAP)
Energy Gulf Coast (NASDAQ:EGC) (formerly Energy XXI)
Goodrich Petroleum (NYSEMKT:GDP)
Halcon Resources (NYSE:HK)
Harvest Oil & Gas (EVEPQ) (formerly EV Energy Partners)
Linn Energy (LNGG)
Midstates Petroleum (NYSE:MPO)
Penn Virginia Corp. (NASDAQ:PVAC)
Sandridge Energy (NYSE:SD)
Silverbow Resources (NYSE:SBOW) (formerly Swift Energy)
Talos Energy (NYSE:TALO) (formerly Stone Energy)
Titan Energy (OTCPK:TTEN) (formerly Atlas Energy Partners)
Ultra Petroleum (NASDAQ:UPL)
Vanguard Natural Resources (OTCQX:VNRR)
I am saving details of the various reorganization processes for a separate memo on bankruptcies in general, so this article will focus primarily on 2018 results. Obviously, with as companies as are in this group, a deep dive analysis of every company is not possible or capable of being condensed into a SA article, and I don't have plans to cover any of these in an individual company article at the present time. Other authors have begun writing about some members, while articles about other members may follow this article as well.
The charts later in this article will have lots of details I have obtained and summarized from public sources like 10-Qs, 10-Ks, earnings reports, presentations, etc. I have endeavored to check and double check the numbers and details in this article to the best of my ability. Given the volume of data there may very well be errors, but that is the nature of a "screen" which, despite the level of detail, this is. Readers should do their own research and make their own investment decisions. Rather than go into a deep dive directly, I will present an overview of each company and a link to a pertinent presentation or other data source.
The dataset from the charts can be "mined" for any relevant information about each company, and I will try to highlight those metrics I find most useful in analyzing companies. In other words, readers can do a lot of research and digging on their own into this data, but there won't be any specific "Buy" or "Sell" recommendations here. In some respect, this is a base from which to do deeper research into companies that look interesting … whether in the X-11 Club or outside, depending on what I uncover. There's not much sense to me keeping the data private if I can supply it to others for their own benefit and possible reactions back in the comments section below.
Overview of Companies and 1H 2018 Activities
Amplify - AMPY emerged from bankruptcy in May 2017. It has producing assets in 5 primary areas: East Texas/Louisiana Haynesville, the Rockies, California's offshore Beta Field, South Texas and East Texas. Total reserves at 12/31/17 were 990 BCFE with an SEC value of $768 mm, producing from 2,547 gross/ 1,498 net producing wells. Approximately half of AMPY's 230,000 net acres is in the Haynesville area, as is half of their SEC value. Debt was $376 mm, or roughly 50% of SEC value.
AMPY sold properties in South Texas for $20 mm in May, 2017. It has maintained a modest drilling program in East Texas and in the EagleFord Trend, but its drilling program win East Texas was suspended in the 2Q due to poor results. Applying cash flow and sales proceeds to debt has reduced its debt balance to around $300 mm currently. Further reductions from cash flow seem likely given the limited nature of the company's drilling.
Amplify's Emergence Presentation
Berry Petroleum - Berry emerged from bankruptcy on Feb. 28, 2017, when it also became independent of its former parent, Linn Energy. It remained a private company until just recently, when it conducted an IPO of its shares.
At 12/31/2017, BRY had proved reserves of 141 mmboe (71% oil) and an SEC value of roughly $1 billion (90% California). It owned 117,000 net acres, of which roughly 90% were in the Uinta and Piceance areas of Colorado. With 3,800 producing wells currently, BRY had identified almost 7,000 future drilling locations on its properties, although it had written off as uneconomic 30%+ of those in Colorado.
In February, 2018, BRY issued $400 mm in 7% senior unsecured notes due 2026. At 6/30/18 it had $66 mm in bank debt and by the time of its IPO in August it had $105 mm, which it paid off with proceeds from the IPO. As a result, total debt should now stand at around $350 mm.
BRY has maintained a 3-rig drilling program during 2018, drilling shallow (and low-cost) wells in California. Performance tends to be low risk, low decline with relatively predictable reserves and economics, although not game-changers except with respect to oil prices, perhaps.
Blue Ridge Mountain Resources - BRMR emerged from bankruptcy and changed its name from Magnum Hunter on May 6, 2016. BRMR is not yet a reporting company for SEC purposes. At 6/30/18, it reported reserves of 452 bcfe (75 mmboe), with 74% proved developed reserves and almost all natural gas/ngls. It operates exclusively in the Utica area. Its PV10 was reported at $260 mm. It has no debt.
On Aug. 27, BRMR agreed to merge with Eclipse Resources in a transaction that will create a company with a total enterprise value of $1.4 B. The combined company will be owned 57% by ECR shareholders and 43% by BRMR shareholders (former MHR creditors). The company will own interests in 227,000 net effective undeveloped acres in the heart of the Utica and Marcellus plays.
Eclipse/Blue Ridge Mountain Merger Presentation
Bonanza Creek - BCEI emerged from bankruptcy on April 28, 2017. At 12/31/17, it had reserves of 90 mmboe and an SEC value of $485 mm, with 47% of reserves proved developed. It had no long-term debt. Its properties are all located in the Wattenberg area of Colorado, and BCEI estimates that they have 150+ drilling locations on their 67,000 net acres.
In August, BCEI sold all of its Mid-Continent assets (excluded from the above #s) for $117 mm. Net proceeds will be available for BCEI's CAPEX program in Wattenberg. In the 2Q, BCEI entered into a 25-year gathering, processing and transportation agreement with a firm transportation commitment for 15 mmcfpd.
BCEI has recently sold off as news that Colorado Initiative 97 had obtained enough signatures to be placed on the ballot for voters in November. That measure, if passed, would likely place off-limits to drilling 90% or more of Colorado acreage, dealing a major blow to the E&P industry there. A portion of the decline may also be due to having BCEI added to an S&P index, which is often a high point for new companies; surprisingly, new companies often underperform those who are exiting the indices for a period of 6 months or so.
BCEI Enercom Presentation - Download
Chaparral Energy - CHAP emerged from bankruptcy on March 21, 2017. It had been a private company prior to bankruptcy, but it recently became listed by registering shares that had been issued to former creditors as the new shareholders of the company.
At 12/31/17 it had proved reserves of 76 mmboe (67% proved developed), of which 35% were oil. The SEC value was $498 mm, with 675 gross/ 258 net wells in the STACK area of Oklahoma, its largest position with over 250,000 net acres. CHAP had $141 mm in debt.
In June, CHAP issued $300 mm in senior unsecured notes due 2023. It is using net proceeds in its $300 mm CAPEX program, which is designed to grow production by 40+% and de-risk most of its remaining STACK acreage. It also entered into a $100 mm JV with Bayou City Energy to drill 30 wells in Canadian and Garfield Counties.
CHAP Investor Presentation - August
Energy Gulf Coast - EGC emerged from bankruptcy on December 30, 2016. At 12/31/17 it had proved reserves of 88 mmboe (75% proved developed and 85% oil) and an SEC value of $15 mm. All of its assets are in the Gulf of Mexico.
EGC had $74 mm in debt at such time, but the bulk of its obligations were in the form of letters of credit in favor of XOM to fund P&A obligations in the Gulf. Those plus P&A obligations on future abandonments left the company with essentially no net present value.
EGC has interests in 155 producing blocks with 55 producing fields, 577 producing wells, 422,000 total/ 57,000 net undeveloped acres and a significant seismic inventory. They also had 3P (Proved + Probable + Possible) reserves of 200 mmboe which showed SEC/strip PV10s of $1.0 - $1.5 B. What they did not show was the way those reserves could be developed for the benefit of RGC, which did not have funds to develop the prospects.
Despite searching for the better part of 2 years, EGC was unable to find a partner to merge with or do a joint venture with to develop those prospects. Until this year. In May, the company agreed with Orinoco to convey much of its potential P&A properties to Orinoco in exchange for a significant equity ownership of EGC. That transaction met with some opposition from shareholders, who felt that EGC was giving up too much equity.
Subsequent to the announcement of the transaction with Orinoco, EGC received a cash offer for the company from privately held Cox Oil for $9.10/share. Its Board accepted that offer and ceased negotiating with Orinoco, who has since sued EGC for breach of contract.
The transaction was unanimously approved by the EGC Board, and in a vote held on Sept. 6, the measure was approved by shareholders with an approval of 95% of the votes cast. Normally, a transaction will close almost immediately after approval by the shareholders at such a meeting.
However, in this case, EGC filed an 8-K on Sept. 10 announcing that an amendment to the merger agreement had been filed, and that the transaction would need to close by Oct. 10. The market has reacted harshly to that news since no explanation was given for the possible delay beyond 3Q, probably surmising that there might be problems with Cox's financing or some other factor that poses a risk to completion of the deal. The deal is therefore in limbo as this is written.
One major lesson for investors from the EGC saga, both before and after bankruptcy, is that management presentations of "potential" reserve outcomes are just that, assuming all of the factors usually disclosed are accurate. Many investors view these as being misleading, but in general terms what they are is "unrisked." Especially when probable and possible reserves are discussed, they are usually very highly risked by potential acquirers; in exploration and/or offshore plays it would not be uncommon to see probable reserves risked by 50%+ and possible reserves by 75%+. The farther one gets from proved producing and the further out in time one projects reserves to come online, the more risk is assumed. In EGC's case (or any other), their past experience is also a factor in determining risk, a past record that is not encouraging. So, while investors might be upset that the company got so little for its assets, that result is not terribly surprising once those risks have been considered.
EGC/Cox Proxy -- see pp. 28+ for Merger Discussions
Goodrich Petroleum - GDP emerged from bankruptcy on October 12, 2016. The negotiations leading up to the filing of bankruptcy here were among the strangest I have seen. GDP management proposed a split between the holders of its preferred shares and its common shares that the preferred holders would not accept. Despite statements that the 2L holder, Franklin, intended to take the company into bankruptcy if a deal could not be worked out between equity holders, neither the preferred nor the common would budge, and the company declared bankruptcy, wiping out equity in the process.
Fast forward to 12/31/17, and the company reported 428 bcfe of reserves (85% PUD and almost 100% natural gas), with an SEC value of $260 mm (up from $56 mm at 12/31/16). The valuable parts of its acreage are in the Haynesville area where almost 100% of its CAPEX is being devoted. The company currently has $50 mm in 13.5% secured 2L debt that is due in March, 2020.
According to the company, it has 19,000 net acres and 200 gross/ 90 net locations yet to drill in its Haynesville acreage, where a JV with CHK takes up almost 50% of its activities. Based on the continued success of its drilling program, GDP recently sold wells and acreage for $23 mm to fund future CAPEX. Based on the number of locations it estimates a drilling inventory with 2 rigs of 10-15 years, with production scheduled to be up 65% this year and another 40% in 2019. Many of its metrics look very good in the chart below.
Management Presentation- August 2018
Halcon Resources - HK emerged from bankruptcy on September 9, 2016. HK reported reserves of 51 mmboe (65% oil and 70% PUD) with an SEC value of $336 mm. Perhaps more than any other company, HK shifted course away from the Bakken after selling properties for $1.4 B to Bruin Oil & Gas, a portfolio company of PE firm ArcLight Capital. It then entered into a series of acquisitions in the Delaware Basin.
In February, HK issued $200 mm in 6.75% senior unsecured notes due 2025, and also issued 8 mm common shares in an offering at $6.90/share, raising $55 mm net. At approximately the same time, HK purchased 10,500 acres in Ward County, TX (West Quito Draw) for $381 mm in cash, or roughly $14,674/acre. This acquisition added 250 locations to the existing Monument Draw acreage it had purchased in 2017. All told, HK controls 66,500 net acres acquired at a cost of $17,800/acre after accounting for production.
In the 3Q, HK announced that it would be reducing its drilling rig commitment from four to three, based largely on Midland oil price levels. Its initial level would have involved a considerable CAPEX outspend of cash flow, and it said the reduction would still allow for growth but still require an outspend in 2018. At the same time, it entered into hedges and basis hedges to mitigate pricing risk into 2019. It entered into a 15-year agreement for 25,000 bopd for its properties, along with a 15-year gas takeaway and processing agreement for those properties.
Although no details were provided, HK also engaged investment bankers to sell all or part of its Field Services division that holds infrastructure assets that include water gathering, recycling, disposal and sourcing, in addition to gas gathering and treatment and crude gathering systems. Indications on the conference call were that a price of $400 mm+ might be expected, although that was certainly a bit of puffery on the part of management, not wanting to commit to a range.
HK currently has 3 rigs running on its 60,000 net acre trio of projects, which contain 2,072 gross drilling locations according to management. Efforts remain centered on increasing efficiencies to lower costs, as well as to maximize the length of laterals they can drill through acreage trades, etc. Growth rates for production will be substantial in 2018 due to the low base HK started from after its Bakken sale, while the pipeline takeaway issues may moderate that growth well into 2019 once a higher level of production is attained.
Harvest Oil & Gas - Harvest has applied for listing on the OTC markets but is not publicly traded yet. It emerged from bankruptcy on June 4, 2018. At 12/31/17 it reported reserves of 814 bcfe (135 mmboe) with roughly 80% natural gas and 100% proved developed). It wrote off its PUD reserves prior to bankruptcy because it did not have funds to develop them. It owns 3 mm gross/ 1.3 mm net acres spread out over many states. Harvest has $280 mm in debt currently.
In August, Harvest agreed to sell its properties in certain EagleFord properties to Magnolia Oil & Gas for $190 mm in total proceeds, $135 mm in cash and $55 mm in Magnolia stock. Magnolia was recently created by a contribution/purchase of EnerVest's South Texas Division assets (EnerVest also sponsored EV Energy, Harvest's original name).
The sold properties had an estimated SEC value of $174 mm and 107 bcfe. These sales leave Harvest with reserves of 767 bcfe and an SEC value of $511 mm. Debt would be $145 mm if all cash were applied to existing debt.
Linn Energy - LNGG emerged from bankruptcy on February 27, 2017. It reported reserves of 2.0 bcfe (333 mmboe), of which 92% were natural gas/ngls and 97% were proved developed. It owns interests in 16,000 gross/ 10,600 net producing wells and 3.6 mm gross/ 2.3 mm net acres. It has no debt after selling over $1.2 B in assets in 2017 and over $2 B since emergence.
In August, 2017, LNGG contributed its assets in the STACK/SCOOP to Roan Resources, a company owned 50/50 by LNGG and Citizen Energy. That company will be developing the combined asset base, both upstream and midstream. After the transaction described below, LNGG's equity investment in Roan will be its primary asset.
In August, 2018, LNGG spun off as a new entity Riviera Resources, which will hold all of LNGG's assets other than its interest in Roan. RVRA will also own Blue Mountain Midstream, a midstream business centered in the MERGE play in Oklahoma. At 6/30, all of RVRA's assets were still held directly by LNGG.
According to Riviera, at 6/30, their adjusted PV10 value was $963 mm, and the company owned 60,000 net acres in the NW Stack, 37,000 net acres in the Arkoma, 110,000 net acres in East Texas and 100,000 net acres in North Louisiana, containing 900 potential drilling locations. It has no debt, up to $495 mm in available borrowing capacity and will have $100 mm in projected cash at 9/30. The Hugoton area contains the highest PV10 value (53%), with the only other significant area being East Texas (14%),
Riviera Investor Presentation - excellent
Midstates Petroleum - MPO emerged from bankruptcy on October 21, 2016. At 12/31/17 it had reserves of 109 mmboe (55% proved developed and 30% oil) with an SEC value of $588 mm. At 6/30 it had debt of $28 mm. Essentially all of the company's acreage of 98,000 net acres is located in the Mississippian Lime in Woods and Alfalfa Counties, Oklahoma.
To focus on its core properties, MPO sold its assets in the Anadarko Basin for $58 mm to a private company backed by PE firm Denham Capital. That acreage comprised 92,000 net acres and roughly 4,000 boepd of production, with an SEC value of $53 mm. Beyond that, CAPEX has been devoted primarily to workovers and other optimization projects.
MPO also became somewhat embroiled in a takeover saga involving Sandridge Energy after it proposed a merger. While SD rejected that proposal and subsequently launched its own strategic options evaluation, it recently decided that none of the proposals it received were acceptable. Because SD is also heavily involved in the Mississippian Lime, that auction failure announcement recently caused the price of MPO to drop as well, given the offering price for SD's assets of a severe discount to expectations.
Penn Virginia - PVAC emerged from bankruptcy on September 12, 2016. At 12/31/17 it reported reserves of 44 mmboe (42% proved developed and 67% oil) with an SEC value of $323 mm. By early 2018, it had 83,000 net acres primarily in the EagleFord Trend due to acquisitions from Devon Energy ($205 mm) and Hunt Oil ($86 mm). At 6/30, PVAC had debt of $433 mm.
With a $400 mm CAPEX budget for 2018 and production growth estimated at 80% for the year, PVAC's stock soared from $39 to $96 before backing off to $75 recently. After that rise, the Board of Directors announced that they would be exploring strategic options for the company, and they recently announced that they had to decided to sell the company via an auction process in September.
With additional production growth for 2019 expected in the range of 40%, PVAC is clearly positioned to try to sell at an optimum time. EagleFord assets are highly marketable, and the areas that PVAC operates in are near where other operators like CHK and EOG also operate. So, it appears the company may be trying to strike while the iron is hot.
PVAC Conference Presentation- September, 2018
Sandridge Energy - SD emerged from bankruptcy on October 4, 2016. At 12/31/17 it reported proved reserves of 188 mmboe (70% proved developed and 35% oil) with an SEC value of $749 mm. With almost 1,774 producing wells and 500,000 net acres in the Mississippian Lime, that area is SD's main focus area. At 6/30, the company had no long-term debt.
SD has been drama city this year. Early in the year, SD management proposed to merge with BCEI in an all-stock transaction. However, SD shareholders led by Carl Icahn balked at the terms, established board control, kicked out management and undertook an evaluation of strategic options. A recent announcement indicated that, despite sending materials to almost 700 potential partners and receiving back 8 proposals, none were acceptable to SD because they valued the company at the equivalent of $12-$13/share, about where it was trading.
As a result, SD will stay independent for now, and focus on development drilling at its North Park Basin property (which reminds many of South Park due to extremely remote location), the Lime, which produces prodigious amounts of water and occasional oil and the NW STACK area, with a CAPEX budget of $185 mm.
Silverbow Resources - SBOW emerged from bankruptcy on April 22, 2016. It reported reserves of 1,024 mmcfe (171 mmboe) with roughly 60% proved developed and primarily natural gas) having an SEC value of $732 mm. It has 100,000 net acres in the EagleFord Trend, with 709 gross/ 662 net wells. At 6/30, SBOW had $274 mm in debt. In late 2017, it issued $200 mm at an interest rate of LIBOR + 7.5%, which matures on December 15, 2024.
RAWenergy Article - May 2017
SBOW Investor Presentation - August 2018
Talos Energy - Stone Energy emerged from bankruptcy on February 27, 2017. In April, 2018, SGY merged into TALO, with shareholders of SGY receiving 37% of TALO and the original shareholders of TALO, including PE firms Riverstone and Apollo, receiving 63%.
On a pro forma combined basis, TALO had 133 mmboe at 12/31/17 (70% oil and 60% proved developed, roughly) with an SEC value of $2.2 B. TALO had 631,000 gross/ 443,000 net acres in various Gulf of Mexico blocks, which contained 159 gross/ 123 net wells. On a pro forma basis, TALO had $703 mm in debt, most of which was contributed by original Talos.
The Talos/Stone merger transaction only closed in May, so the second quarter numbers are not a good indicator of a full quarter's results. Subsequent to the 2Q, TALO agreed to buy Whistler II for $52 mm. As part of the transaction, a surety bond securing Whistler's P&A obligations was released because of the greater finances of TALO, and under terms of that deal $38 mm was returned to TALO, resulting in a net acquisition price of $14 mm (plus future P&A obligations).
TALO Conference Presentation- Oslo, September 2018
Ultra Petroleum - UPL emerged from bankruptcy on April 12, 2017, following a particularly contentious bankruptcy free-fall filing. At year-end 2017, UPL reported proved reserves of 3.1 tcfe (75% natural gas and 77% proved developed), with an SEC value of $2.4 B. At 6/30, UPL had long term debt of $2.2 B and a negative shareholders' equity of ($1.1) B.
UPL's primary assets are the Jonah and Pinedale Fields in Wyoming. Its assets are comprised of 112,000 gross/ 77,000 net acres which contain 3,032 gross/ 2,144 producing wells. Subsequent to the 2Q, UPL agreed to sell Utah properties producing 2,000 boepd for $75 mm.
In late 2017, Fir Tree, a major UPL shareholder, announced on behalf of the board of UPL that it would seek offers for UPL, but none have been announced. In the meantime, the company has continued to drill on its existing property, some using vertical drilling and completion and others using horizontal methods. UPL recently announced that it would scale back on its development program because of low natural gas prices and results that did not meet expectations.
UPL Earnings Presentation- Download
Vanguard Natural Resources - VNRR emerged from bankruptcy on August 1, 2017. At 12/31/17 it had proved reserves of 1.8 tcfe (300 mmboe) with 98% in natural gas/ngls, and an SEC value of $1.2 B. Proved developed reserves constituted 67% of total reserves. Reflecting its former status as an MLP, VNRR owns disparate interests in many different areas, with interests in 11,300 gross/ 3,900 net wells. Total acreage is 1.4 mm gross/ 0.7 mm net acres in many different states. Total debt is $900 mm.
The largest concentration of assets for VNRR is in the Green River Basin (35%), where it owns interests in the Pinedale Field, which is operated by UPL. During 1H 2018 it sold properties in the Permian and Green River Basins and in Mississippi for $60 mm, and since 2Q it has sold another $28 mm in properties in various states. In connection with the sales, VNRR's borrowing base was reduced to $703 mm, a very high number for a company that has recently emerged from bankruptcy. Several further divestitures are planned.
1H 2018 Reserves, Financial Results and Statistical Summary
The first chart below has information about each company's reserves, including totals for the most recent year (2017), capex spent, finding costs and measures of changes in both reserves and reserve value. While not definitive about what is likely to happen in the future, the past experience of a company often yields clues about how effective their capex will be going forward. The information is also used in some form to construct bank or M&A evaluations, and is the only source of such information investors will get until the 2018 annual reports are available.
I have highlighted the top performance figures in green and the bottom performances in red for the changes to reserves, the changes to SEC value and the F&D costs for the group. As you can see, Penn Virginia and Silverbow had the biggest % changes in reserves, while Goodrich and Bonanza Creek had the largest % increase in value; both of these were among the smaller companies to start with, however. Still, Amplify, Penn Virginia and Silverbow also posted strong increases as prices remained higher than the previous year.
Taking costs into account, AMPY, HK, SD and UPL need to reduce their costs substantially to achieve anything close to profitability. One-year #s are not always the most reliable, so where available I have also included 3-year F&D costs from Enercom.
(Note: The best chart views are obtained by right-clicking on their image, then clicking on "Open image in new tab." Zooming in or out will then offer an acceptable view.)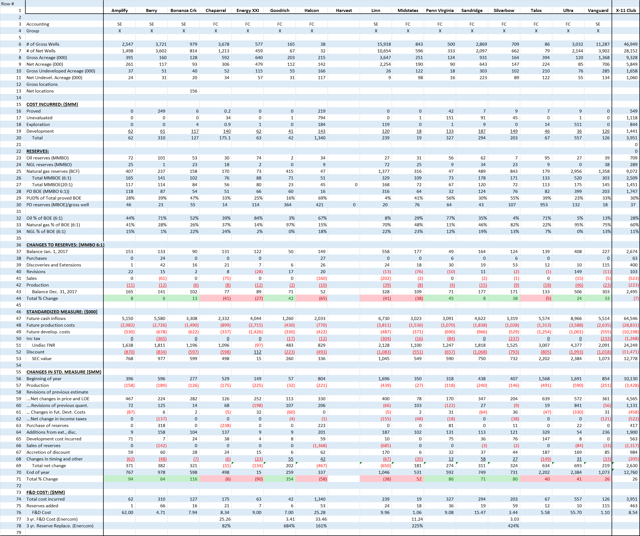 The second chart contains production and pricing information, the income statement items and $/BOE calculations from the 2Q financials. I chose to include 2Q because prices were more comparable to current figures.
The revenues/BOE figure are interesting, because they illustrate how much of a company's revenue comes from products other than oil. The lower the figure, the more natural gas is produced by that company, as the revenue equivalency of oil at $70 vs. natural gas at $3 is 23:1, compared to the $/BOE heating-equivalent figures that are usually supplied by management of 6:1. Companies like EXXI, BRY, PVAC and TALO head up the group of higher $/revenue producers, while UPL, GDP, SBOW and SD have the lowest ratios.
In furnishing guidance for any particular period, management often provides only those details that are incurred at the property level, and often G&A. Interest is often not included, nor is DD&A. While it is true that DD&A is a non-cash item in that period, capex must be expended to produce the revenues that show up, and going forward that is certainly truer. So, I include both interest and DD&A to show what a typical full-cycle return for each company might look like if it is as successful at adding reserves in the future as it has been in the past. Besides, most if not all of these companies have had reserve write-downs in the past, so their DD&A rates now might well be less than their F&D costs in the future.
The recycle ratio is a metric that is often used by analysts to indicate efficiency of capex. It shows the ratio of cash flow before DD&A to the level after DD&A. A ratio of more than one shows that a company is able to generate cash above its capex, while a ratio below that indicates the opposite. Although it does not address debt, it is still a useful metric to consider.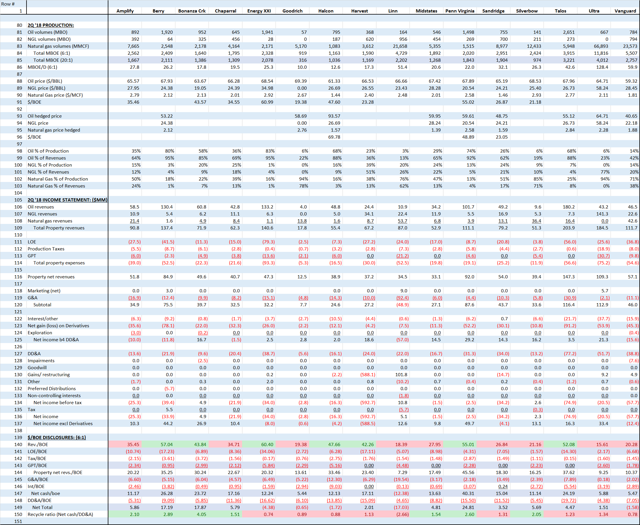 The next chart includes the balance sheet and cash flow summary data. The balance sheet figures might seem obvious, but there is a significant quirk in them for this group of companies. After a company declares bankruptcy, it is entitled to use "fresh start accounting," which essentially does just that … it allows companies to set current market values for all of its assets, regardless of what they might have been before. Whether that is "true" market value is a question, since it is usually determined by the financial advisors in bankruptcy to establish the fairness of the plan. Stock prices based on those figures have proven to be ambitious. UPL, the lone exception here, was not required to use fresh start accounting because it believed the value of its assets exceeded its debt; the market has disagreed strongly with that.
The cash flow numbers come directly from the financial statements. cash flow from operations (CFFO) includes changes in assets and liabilities, which should technically be excluded from cash flow, but that this the accounting treatment. I have included all capex in cash flow from investing; some companies do not break out acquisitions vs. development, and cash flow can be generated just as easily from each. Free cash flow is merely the difference between the two, something that does not measure profitability or financial health. However, companies spending more than cash flow (i.e., incurring debt in particular) need to be watched carefully to make sure that growth occurs. In this group, BCEI, BRY and PVAC have the best recycle ratios, while VNRR, HK and GDP need improvement (HK was active in acquisitions).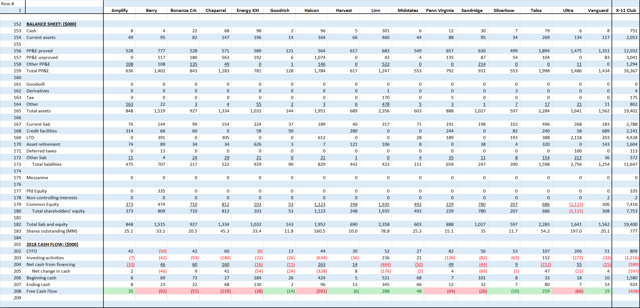 The chart below contains data on debt and financial measures. It includes figures that are somewhat comparable to what banks look at, in terms of EBITDA/interest, debt/EBITDA, debt/BOE and debt/borrowing base. The figures may help in assessing debt risk, although that was something that bankruptcy should have taken care of in theory. As it turns out, companies like UPL, VNRR AMPY and others are not yet at "safe" levels (which in normal times might be debt/EBITDA of 2:1 or so. Titan Energy (formerly Atlas Energy) was not included in this group because they have already defaulted on their debt and appear headed for BK 2.0. Companies like CHAP, HK, SD and LNGG have no or little debt, should be able to grow going forward, while many others are also at low debt levels.
The market stats calculate Total Enterprise Value (TEV) as simply market cap of equity + preferred at liquidation value + non-controlling interests, then show things like how that relates to reserves, book value, debt and my favorite (sarcasm), TEV per flowing barrel. Metrics like that creep into analysts' vocabulary even though they are not primary evaluation tools; they are merely calculations done after valuation has already been established by other means (i.e., IRR, ROI, years to payout, etc.). Still, out of the data publicly available, it can be useful to know and is often quoted in the media.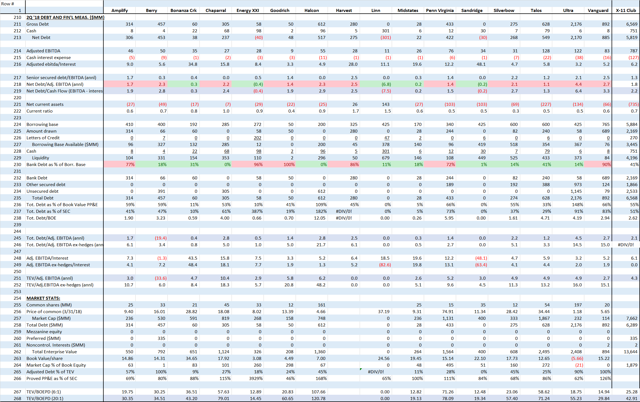 Conclusion
I had this great idea about a year ago. I would watch all of the stocks in the X-11 Club to see if they sold off into tax year-ends of the funds that made up their stockholder/former creditor group, allowing investors to take losses at that time. Then I would scoop up shares at a bargain price. What happened, though, is that many of the companies kept going down … and down… and down. They would have been much better as short sale candidates rather than as longs, but at least I did not try to catch falling knives.
Still, one of the major issues facing these companies is that their investors are not really long-term holders or even fans of E&P in some cases. "Trapped longs" may be overstating the case, but without a strong retail or institutional base coming out of bankruptcy, many of them are reduced to selling out either piecemeal or in total, or merging into another company, maybe even another X-11 company. That's why you see SD trying to do a deal with BCEI, then MPO trying to do a deal with SD, then SD and UPL trying to do a deal with anybody, etc. Meanwhile, companies like LNGG, AMPY, VNRR and others sell off assets to an attempt to reduce debt to a manageable level. Many companies learn that by the time they sell off assets, the cash flow from the remaining assets is not sufficiently large for them to grow and/or support the corporate infrastructure they have built.
For now, BCEI and LNFF/RVRA look like the most interesting companies to me, with HK also of interest as a more speculative, leveraged play. I follow all of these companies daily with watchlists and chart scanning software, so I can be ready when they look like they are in favor with others, mostly as measured by volume and price.
Hopefully these data will be of use to readers, and if not, the price of admission to read the article is right. Whether I will follow up on these companies from this point depends largely on what I see them doing heading into 2019, which should be disclosed when Q3 releases are made.
Disclosure: I/we have no positions in any stocks mentioned, and no plans to initiate any positions within the next 72 hours.
I wrote this article myself, and it expresses my own opinions. I am not receiving compensation for it (other than from Seeking Alpha). I have no business relationship with any company whose stock is mentioned in this article.
Editor's Note: This article discusses one or more securities that do not trade on a major U.S. exchange. Please be aware of the risks associated with these stocks.