We've been witnessing the carnage of memory stocks in recent weeks. Much of the bloodbath has come from downgrades, most recently a downgrade of Micron (NASDAQ:MU) from buy to neutral by Goldman Sacks on September 12, 2018.
The GS analyst named three reasons why investors should no longer be buyers of the stock:
Micron's stock is historically correlated to margins, but looking forward through mid-2019, gross margins should decline sequentially, Delaney said. Margin weakness could be attributed to lower memory average selling prices from a challenging DRAM S/D market along with an oversupply of NAND, he said. The DRAM and NAND weakness implies that Micron is likely to report earnings for 2019 that are 31 percent below the Street's current estimate.
Memory downturns are highlighted by an acceleration in price declines, which prompts customers to delay their buying activity and wait for even lower prices, Delaney said. This "snowballing effect" typically lasts several quarters and could also result in a downturn that is worse than originally expected, he said.
Depending on how bad of a downturn it experiences, Micron's stock could fall as low as $20 per share under a worst-case scenario, Delaney said. One of the more commonly used metrics that investors follow during downturns is price/tangible book and EV/sales. Assuming a peak-to-trough DRAM ASP decline of up to 50 percent, the analyst's two valuation methodologies yield a price range of $21-$49 and $19-$41, respectively.
On September 11, a day earlier, RBC Capital lowered its Micron price target from $83 to $70 due to memory cycle headwinds.
Just a few days earlier, on September 6, 2018, Baird removed Micron as a top semiconductor large-cap idea and lowers the price target from $100 to $75. Analyst Tristan Gerra said gross margins are near a peak, DRAM pricing will likely top out in Q3, and NAND oversupply has recently worsened.
NAND Price Drop - The Chinese are Coming
A September 6, 2018 DigiTimes article reports that industry supply chain is flooded with substandard NAND flash chips, which have made a further negative impact on the memory prices. NAND flash contract prices are likely to fall by a larger-than-expected 10-15% sequentially in the third quarter and another 15% in the fourth.
I looked into where these "substandard" NAND chips are coming from. At the 2018 Flash Memory Summit, China's Yangtze Memory Technologies Co (YMTC) announced meaningful development of its 64-layer 3D NAND so much so that it moved up mass production end-2019 to mid-2019. Thus, these chips are not the 64-layer devices.
What I discovered through my contacts, however, is that YMTC is providing 32-layer MLC 3D NAND flash to some Chinese clients. Most of these chips are used in USB devices and embedded multi- media cards. Production capacity at wholly owned subsidiary XMC 5,000 wafers per month and monthly capacity. Capacity at YMTC is another 5,000 wafers per month.
A few days earlier, on September 4, Baird forecast a 10% sequential dip in NAND chip prices in 3Q, but kept its Outperform rating on Micron Technology. Baird analysts Tristan Gerra and Maggie Sims wrote in a flash report:
"TLC 128Gb NAND contract pricing declined 4% month-over-month for August while MLC NAND pricing declined 3%. We expect NAND pricing will decline 10%+ sequentially in the 3Q."
Acknowledging the drop on September 7, Micron Technology CFO David Zinsner said at a Citi conference Thursday that NAND pricing decreased in the third quarter.
"In general, NAND pricing fell, but Micron saw average selling prices increase form the second to third quarter, partly due to multi-chip products that have both NAND and DRAM in them. ASPs are actually higher in that space."
DRAM Price Drop
DRAM contract prices have also shown signs of falling. The memory contract prices are expected to start falling in the fourth quarter 2018 as the market becomes oversupplied.
On September 3, 2018, DRAMeXchange issued a report that although PC DRAM contract prices have stayed unchanged in August, with average prices for 4GB and 8GB DDR4 modules remaining flat at US$34.50 and US$68, respectively, spot market prices started their downward trend, and contract prices will likely start trending downward in the fourth quarter.
Avril Wu, senior research director of DRAMeXchange stated:
"The spot market, where developments are an early indicator of the contract price trend, shows that prices of mainstream chips have kept falling in August, and their general difference with contract prices continues to widen. DRAM suppliers are heading into negotiations with their clients to arrange the contracts for 4Q18. However, they will have more difficulties in maintaining their prices going forward."
DRAMeXchange indicated that end-market demand has been weaker-than-expected in the third quarter, with several smartphone vendors and server manufacturers already revising down their shipment goals for the quarter.
Importantly, DRAM chipmakers have seen their clients become reluctant to build up their inventories given the less-tight supply situation. These downstream customers have also anticipated a downward trend in the memory prices, DRAMeXchange added.
Then another bombshell from DRAMeXchange came on September 11, 2018 when the company adjusted its 2018 global notebook shipments projection downwards due to the worsening shortage of Intel CPUs. The company noted:
"CPU shortage is expected to impact the entire memory market as well. DRAM prices are now approaching an inflection point after climbing for nine successive quarters. DRAMeXchange, a division of TrendForce, previously estimated that the contract prices of PC DRAM products will drop by around 2% QoQ in 4Q18 as the market gradually shifts into oversupply. However, it is now possible that the price decline will become larger due the shortage of Intel CPUs and lower demand for notebooks and PC DRAM in a row."
Investor Takeaway
I have been writing about a drop in NAND and DRAM chips for more than a year only to be met with caustic comments by MU longs that I was wrong and the supply side analysts who pegged the price of the stock would reach $100 were right.
I reported in an April 12, 2017 Seeking Alpha article entitled "Micron Technology Will Be Impacted By Lower DRAM And NAND Prices As Competitors Increase Capacity," that DRAM and NAND prices would begin to decrease in Q3 and Q4, 2017.
In reality, the forecasts were spot on with NAND but a year too early on DRAMs. The DRAM forecast neglected to consider that the three DRAM companies, MU, Samsung Electronics (OTC:SSNLF) and SK Hynix (OTC:HXSCL) could collude to keep DRAM prices artificially high by minimizing capex spend or because of two accidents in as many months at MU's Inotera plant impacting production. I wasn't alone, and these companies are under investigation by the Chinese government and a U.S. class action lawsuit, which I wrote about in a June 2, 2018 Seeking Alpha article entitled "Micron: First Price Fixing, Now Antitrust Allegations By The Chinese Government."
In the three charts below, I present updated forecasts for the DRAM and NAND ASPs charts described in previous Seeking Alpha articles.
Chart 1 presents historic and forecasted changes in ASPs for Samsung Electronics showing that QoQ ASP change for NAND started slowing in Q2 2017 and contracted 3% QoQ in Q4 2017, resulting in price decreases. NAND price decreases continued, and in Q2 2018, ASP change contracted 11.5% and is projected to contract another 12% in Q3 2018.
Bit growth is estimated at 24% for DRAM and 45% for NAND in 2018. Samsung's 2019 DRAM and NAND bit growth is estimated at 28% and 41%, respectively.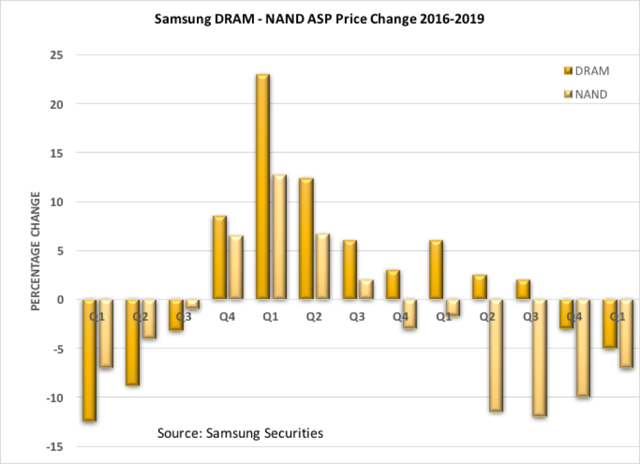 Chart 1
SK's DRAM prices are forecast to contract 3% in 4Q18, following a two-year uptrend (Q4 2016-Q3 2018), as shown in Chart 2. ASPs are forecast to contract 6% in Q1 2019. For 2019, ASPs are forecast to drop 12%.
At the same time, SK's 2019 DRAM bit growth could reach 20% in 2019, following an estimated increase in bit growth of 23% in 2018.
NAND prices are expected to tumble 14% in Q4 2018 and another 10% in Q1 2019. NAND bit growth of 48% in in 2018 was the catalyst in price drops, and based on NAND capacity at SK Hynix, bit growth is projected to increase 46% in 2019. For 2019, NAND ASPs are forecast to drop 26%.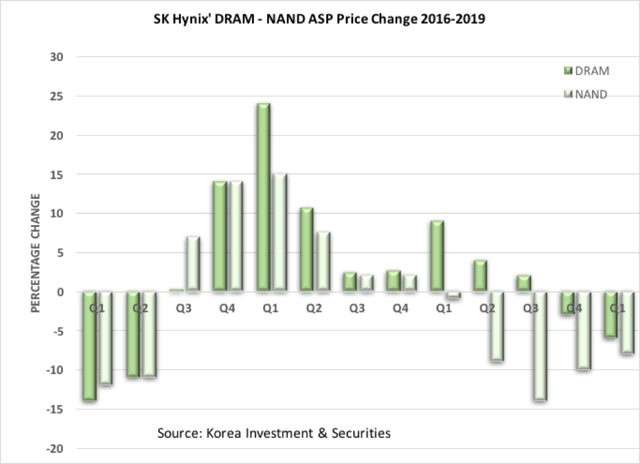 Chart 2
Micron Technology's NAND and DRAM ASPs are shown in Chart 3. Keep in mind that the company's FY Q3 is the same as CY Q2.
MU's DRAM bit growth is forecast to grow 18% in FY2019 as ASPs for the fiscal year are forecast to decrease 8%. A further decrease in ASPs of 16% is forecast for FY 2020.
NAND bit growth is forecast to grow 35% in FY2019 as ASPs for the fiscal year are forecast to decrease 20%. A further decrease in ASPs of 18% is forecast for FY 2020.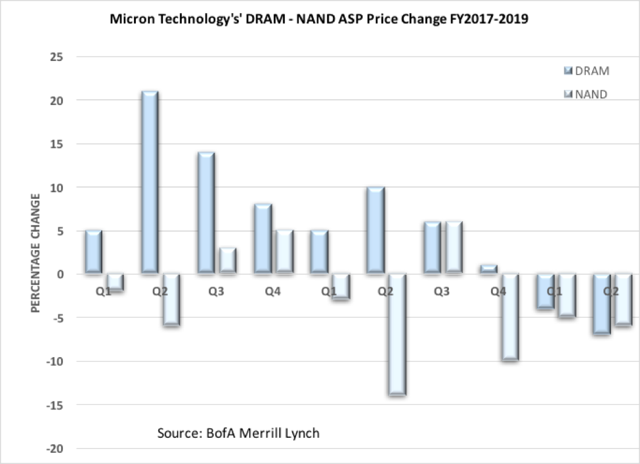 Chart 3
For all three companies, the drop in DRAM and NAND prices are forecast to drop YoY in 2019, suggesting that the supply-demand dynamics has shifted for both types of devices and oversupply will continue for at least another six quarters.
Already we are seeing 32-layer Chinese NAND chips entering the market. As YMTC begins production of its 64-layer 3D NAND in mid-2019, supply will increase further. Chinese DRAM development is far behind what is being done on NANDs.
But bear in mind the Chinese dominate the Solar and Rare Earth industries, starting small and eventually decimating foreign competitors. I discussed these issues in a September 27, 2017 Seeking Alpha article entitled "Chinese Solar Manufacturers Decimated Not Only Competitors, But Also The Foreign Supply Chain." They are moving in that direction in EV batteries, and will do the same in memory.
Disclosure: I/we have no positions in any stocks mentioned, and no plans to initiate any positions within the next 72 hours.
I wrote this article myself, and it expresses my own opinions. I am not receiving compensation for it (other than from Seeking Alpha). I have no business relationship with any company whose stock is mentioned in this article.
Editor's Note: This article discusses one or more securities that do not trade on a major U.S. exchange. Please be aware of the risks associated with these stocks.