Finally, the miners (GDX) delivered a strong move to the upside on 12th and confirmed at least a daily swing low. The ETF bottomed at 17.42 on 12th in intra-day trading before finally ending the trading day at 18.11. The highs of the day (18.29) also broke through the index's 10-day moving average which usually is a sure sign that a daily cycle low has been printed. Why? Because the 12th of September marked trading day 17 since its last lows in mid August. Miners were in their timing band for a daily low. However, we probably need to see price break above the declining trend line shown below to confirm that the DCL is indeed in.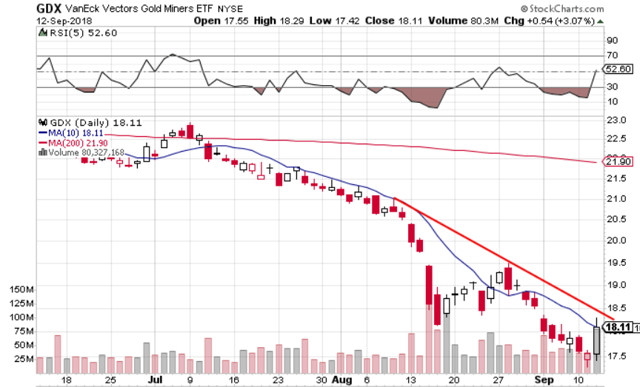 Even if miners can break that down cycle trend line, we still will need to wait until next week for a possible weekly swing low. Miners printed a lower low this week meaning we will not be able to confirm a possible intermediate low until next week as we can see from the chart below.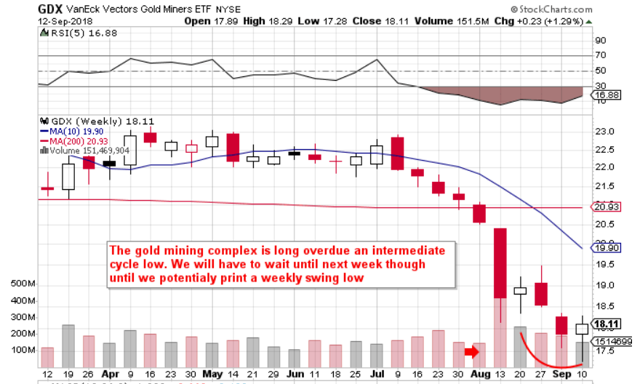 How does trading in the mining complex though affect gold? We stated recently in commentary that the price of gold was being suppressed by the poor trading performance of the miners. If miners can print its intermediate low next week, this should remove the shackles for gold to trade freely and aggressively northward from here. Let's discuss.
The biggest fundamental driver we feel for gold long term is sustained weakness in the currency it is priced in - the US dollar. Many dollar bulls believe that the greenback remains in a bull market. However, what they may not know is that the dollar cycles through a 15-year cycle. With these multi-year cycles, we obviously have a cycle high and a cycle low. The last 2 multi-year cycle lows in the dollar took place in 1992 and 2008. This means the next 15 year low is due around 2023.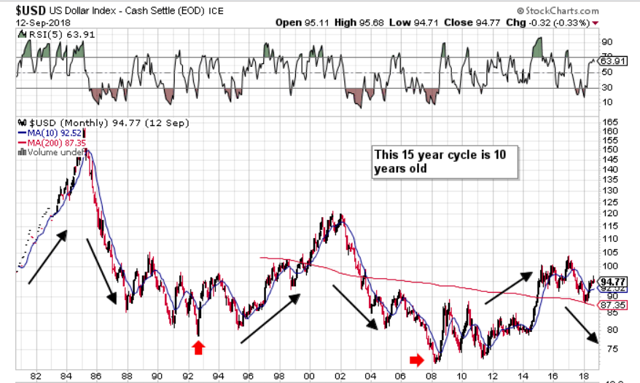 Now, we are already 10 years into this cycle, so I'm going to go out on a limb here and say that I believe the dollar has topped. Why? Well, we are already 10 years into this cycle but also in danger of printing a monthly swing high this month. Furthermore, the pattern, the lower yearly lows in the greenback (compared to 2015 and 2016 should be putting dollar bulls on alert). Yes, short term; since the start of the year, the dollar has traded strongly but bulls must consider the levels from which we are coming from.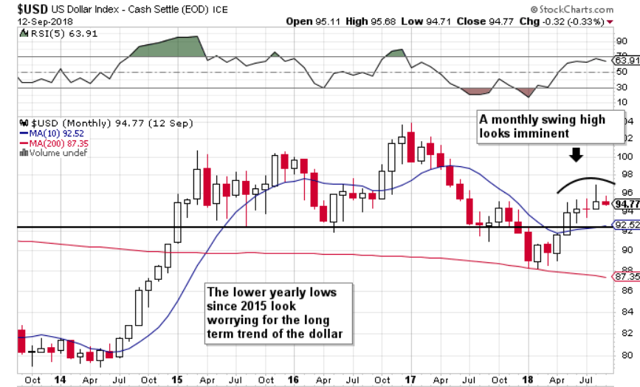 With respect to the daily chart for gold, we can see that the yellow metal printed a swing low on 12th. The question now is whether gold has started a brand new daily cycle. Odds are that it has, considering price on 12th broke the down cycle trend-line and also the 10-day moving average. The next task for gold is to take out the highs which it printed on the 28th of August. If gold can accomplish this, it would mean that we would be back to the trend of higher highs which would be bullish for price going forward.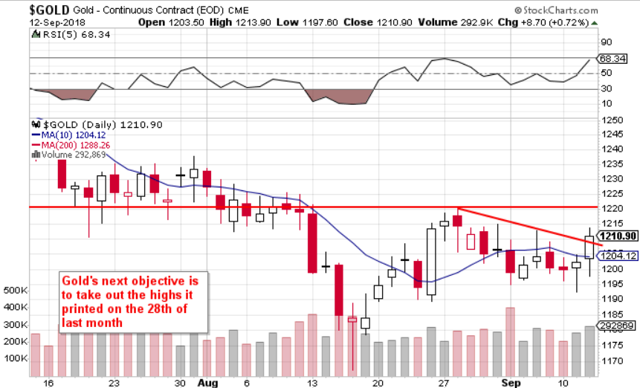 Secondly, onto the weekly chart, and we can see that although Gold's August lows have held, we still do not have a weekly swing low. From an intermediate standpoint, gold still has it all to do. First, it needs to break its 10-week moving average of about 1215, then as mentioned, a weekly swing and thirdly, it needs to break the down-cycle weekly trend line. Considering that gold's yearly cycle lows remain in an uptrend, I feel a confirmed intermediate cycle would definitely be a bullish signal for the gold price going forward.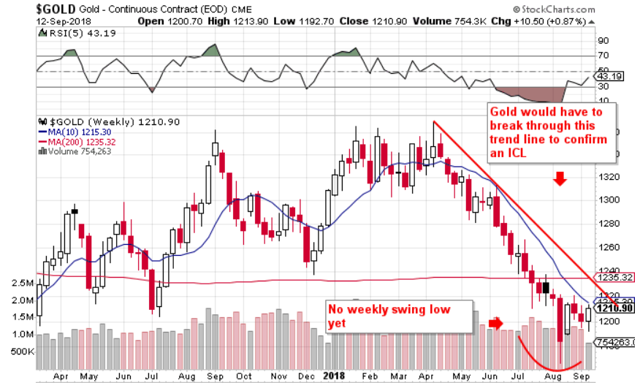 The long-term charts have not changed, but they remain crucial with respect to the long-term direction of precious metals. As mentioned in previous commentary, we remain convinced that gold printed a multi-year cycle low in December 2015. Gold normally trades through a 7- or 8-year cycle meaning every cycle, price dips down steeply into a multi-year cycle low. Now sometimes, price can drop over a period of years like it did from 2011 to 2015. Other times like in 2008, price can revert sharply over a shorter time-frame into its multi-year cycle low.
This is why the bear market in gold from '11 to '15 caught many by surprise. Why? Well in the previous multi-year cycle, price went straight up for almost 8 years before collapsing in '08. The following bull market though out of those lows only lasted 3 years before left translating into multi-year lows in 2015. Past cycles keep us very alert to downside risk.
What is interesting though from the chart below is that price got to even more oversold conditions from a momentum standpoint last month compared to the $1050 lows in December of 2015. To complete a yearly cycle low, gold needs to:
print a monthly swing low
break through the down month cycle trend line
break through the 10-month moving average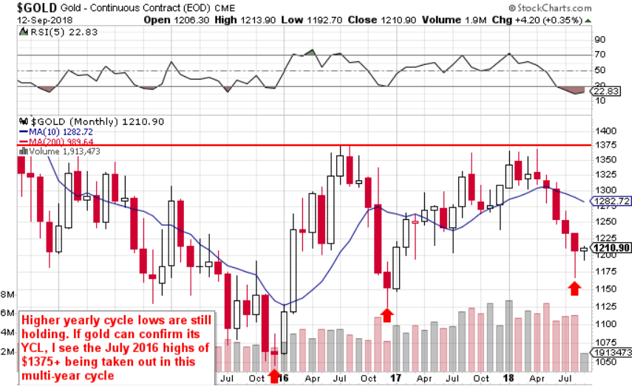 If this can happen, we can see July 2016 highs being taken out as it would confirm the uptrend is back in play. For the moment though, gold needs to keep the momentum going in order to print that weekly swing low. One step at a time. Professional traders increase their size when the underlying trend is in place. Due to the lack of a confirmed intermediate low, we are not there yet. Gold needs to take out $1221 before that trend is confirmed.
In our marketplace service "Elevation Code", we run a portfolio where our precious metals positions play an important role. We remain convinced that gold printed a multi-cycle low in December 2015. Our aim is to spot daily, intermediate and yearly cycle lows in order to ride the wave higher of this cyclical bull
Disclosure: I/we have no positions in any stocks mentioned, and no plans to initiate any positions within the next 72 hours. I wrote this article myself, and it expresses my own opinions. I am not receiving compensation for it (other than from Seeking Alpha). I have no business relationship with any company whose stock is mentioned in this article.