Editor's note: Seeking Alpha is proud to welcome Cameron Rivas as a new contributor. It's easy to become a Seeking Alpha contributor and earn money for your best investment ideas. Active contributors also get free access to the SA PRO archive. Click here to find out more »
In the face of rising interest rates, financial and retail stocks should be near the top of every investor's watchlist. Bank of America (NYSE:BAC) and Costco Wholesale Corporation (NASDAQ:COST), backed up by strong fundamentals, are poised to reap the full benefits of a high rate environment.
Insight from the CPI Report
New Labor Department data out this past Friday shows that workers' wages in the U.S. continue to rise. This was followed up by a sell-off of government bonds and has refocused the markets attention towards the near-inevitable 25 basis point hike from the Fed late this month. The consumer-price index release from earlier today indicates that a rate hike it still likely, and we can make some strong inferences as to what will likely occur in the future.
This year the CPI soared to a six-year high largely on the back of increasing energy and transportation services costs. With oil prices still on the rise as U.S. rig numbers plateau and sanctions on Iran continue to intensify, there is little evidence to support that energy figures will be going down in the foreseeable future. From the same BLS report let out on Friday, we saw that average hourly wages grew faster than expected. This leads me to believe that seeing a cooling down period for consumer spending during the month of August is unlikely, especially when a survey of economists shows retail sales have climbed 0.4% last month.
Why not worry?
One should bear in mind that the Federal Reserve raises interest rates to curb inflation. As the chart below shows, we currently have the highest level of inflation since February 2012. From the CPI, I would argue that the increases we have seen in inflation recently have been a natural effect of growth and spending outstripping supply limits. A rate hike at this time is the right move as we're seeing near record high consumer confidence, which has largely been spurred on by a pickup in employment and incomes, as well as easy access to debt.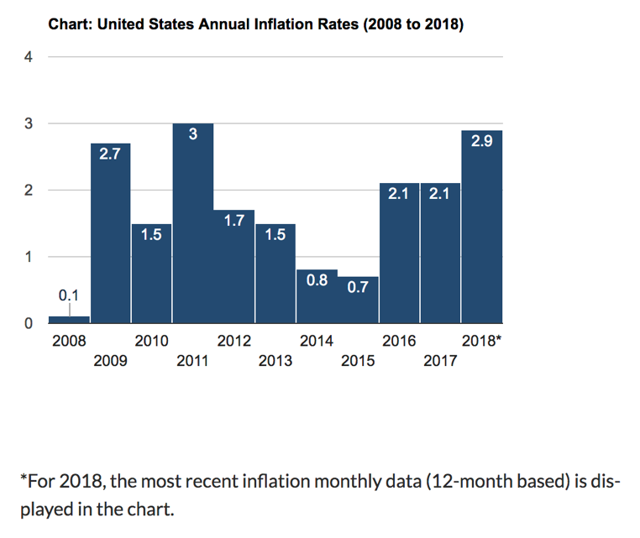 Source: U.S. Inflation Calculator
It's worth noting, if you weren't already aware, that we are still clawing our way back from the "quantitative easing" policies instituted by the Federal Reserve as a response to the credit crunch. One of the hallmark actions taken by the Bernanke Fed was to slash interest rates to zero. Even today, interest rates are as low as they've been in 5,000 years. The question to ask here is whether or not these rates are appropriate. With unemployment at 3.9% and an inflation rate of 2.9%, does our economy still need the crutch of an artificially low borrowing rate? I believe not, and I'm in good company as Fed Governor Lael Brainard has come out saying that she expects rate to continue to rise for the next two years without jeopardizing the state of the economy. In short, the current interest rates don't adequately match the strength of the economy, so a hike is the only economically reasonable action.
Consumption isn't going to decrease even if the Fed raises rates, as it still will not be hard for most Americans to borrow and most will see their purchasing power remain relatively the same. In fact, only 59% of American's think credit card rates are too high, which shows that there's still plenty of room to go before we hit the ceiling. Those who have invested in retail (and to a lesser degree consumer staple) stocks might be running for the exit, and there may be some reason to. But, none of those reasons should include rising interest rates.
Consumer discretionary spending traditionally moves in the same direction with interest rates in the short term due to more people working and increased incomes which inevitably lead to increased spending. There are a number of buying opportunities for investors while the yield curve continues to flatten, so keep on the lookout for value. In other words:

Source: keepcalmandinvest.com
What to watch
Bank of America
Investing in financials when the borrowing rate is going up is a real no-brainer. Financials have recently been taking a hit due to tariff tensions, but investors will be quick to warm back up to them when the short end of the yield curve rises. There are a lot of attractive opportunities out there right now as profits soar as a result of the tax cuts and regulations rollback, but Bank of America stand out among its peers as an overweight stock set ready to reap the benefits of a rate hike.
Putting aside the $2.84 billion worth of increases in net income that The Motley Fool's Sean Williams pointed out, would come as a result of rate hikes; BAC is backed up by strong extant pre rate hike fundamentals. BAC ended their last fiscal year with over $700 billion in cash and equivalents and have seen a modest 3% increase in revenues. Paul Donofrio, the CFO of the bank, has stated they are working to see an additional 9% growth in net income in the future.
So, while most banks are poised to simply muster their way through higher rates, BOA is taking steps to ensure gains. On the equity front, there is a 2% dividend yield that will attract income seekers looking to diversify. The amount of cash on hand assures that we will continue to see dividend payments increase as well, so dividend growth investors should take note.
The consensus among analysts have given Bank of America an average target price of $35, but a buy and hold investor could look for something much higher.
Costco Wholesale Corporation
As I stated earlier, consumer staples are going to benefit from a higher rate environment in the short term. People are always going to need to go to the grocery store. In fact, I would bet no one knows anyone who has ever once checked the rate of interest before deciding whether or not they need to go shopping. The beauty of the grocery business is that the list of threats is limited to new entrants into the market, and if your name is Costco, that list is scant.
Costco saw net sales increase more than 12%, equating to about $11 billion during August, beating its competitor's average of just 9.2%. It is also proving to be an e-commerce juggernaut on the rise, seeing their online sales go up 36.8% in its third fiscal quarter, while e-commerce revenue increases 41.5%.
Unlike a lot of their competitors, Costco is still in a period of growth with their physical stores. There have been 125 stores that have opened from this time last year, so expanding their footprint can be seen as one of their priorities.
As consumers start to need to stretch their dollar further than they are now, the low prices Costco offers will ultimately lead to even greater increases in revenue. The membership fees, which accounted for 73% operating profit last quarter, is an optimal structure since consumers have had a tendency to gravitate toward the store when purchasing power decreases since they generally make back the money they spend on the membership fees by being able to buy high end goods at a discounted.
Costco is primed to take advantage of a rate hike on both ends. They can see increased revenue from higher consumer confidence and consumption that comes with interest rate hikes as well as being where many people will go to shop when the rates decrease purchasing power. Analysts currently have a target price for Costco at $210, which is approximately a 5% gain before the 1.15% dividend yield.
The Takeaway
There are a number of good buying opportunities that will arise as we head from a low interest rate environment to a high one. Bank of America will see a huge influx of revenue and is focused on growing net income. Costco is staring to become competitive in the e-commerce domain and can benefit from the long term effect of increased interest rates as consumers have to slow down spending. Both stocks are, in my opinion, two of the better prospects to realize long term gains as we enter new territory and see how the economy holds up without artificially low rates buttressing markets.