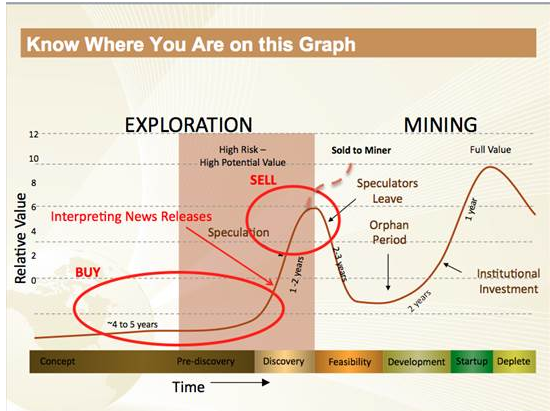 Source: Exploration Insights
Introduction
Welcome to the fourth edition of Gold Panda's weekly series of articles covering the best drill interception in the metals mining sector. My first three articles from the series can be read here, here and here.
If you're into investing in the mining sector, you should know the above chart very well. Exploration and discovery can add a lot of value for a mining company across all stages of its life cycle although the greatest increases in the share price usually happen when a small company makes a major discovery and the hype arrives. However, great exploration results can also improve the economics of large projects of established global mining companies.
I'm planning on writing a weekly series of articles in which I will analyze the three projects with the most significant drill interceptions over the past week as well as the prospects of the companies which own these projects. I will use data from the weekly bulletin of RSC Mining and Mineral Exploration which can be found on their website. Note that the drill interceptions are converted into grades of gold equivalence using the following formula:

Source: RSC Mining and Mineral Exploration
RSC Mining and Mineral Exploration have chosen gold as the metal equivalent for all conversions as they consider it the most widely used and best understood benchmark to determine or appreciate the grade tenor of a drilling intercept.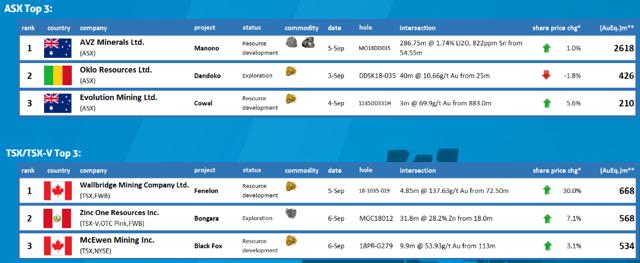 Source: RSC Mining and Mineral Exploration
1) Manono lithium project in the DRC
By far the best result this week was 286.75m @ 1.74% Li2O and 822ppm Sn from 54.55m in hole MO18DD035 at the Manono lithium project, which is 60%-owned by AVZ Minerals (OTC:AZZVF). This is equal to 2,618m (AuEq.) and it managed to beat the company's previous best 2018 drill interception of 2,420m (AuEq.), which was reported at the end of June.
Manono is located in the south part of the DRC and is one of the world's best lithium-rich lithium, caesium, tantalum (LCT) pegmatite deposits. The Manono pegmatite extends for a strike length of at least 13km and is more than 290m thick in places: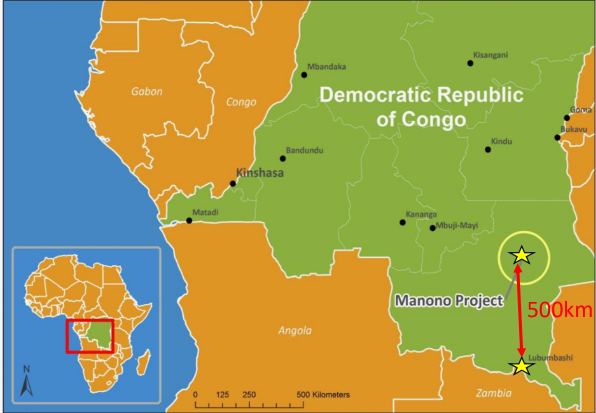 The company currently has four rigs on site and has completed around 20,880 meters of drilling to date. Around 8,000 meters of additional drilling is expected to be completed before the end of 2018.
On 2 August, AVZ Minerals released the maiden mineral resource estimate for the project, which confirmed it as the world's largest hard rock lithium deposit, with the second highest grade: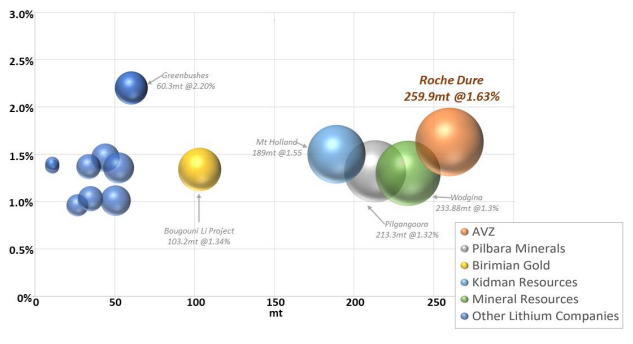 Source: AVZ Minerals
Assay data from 11 of the 42 drill holes was not included in the resource estimate which means that Manono has the potential to become much larger. The resource estimate was based on assay data from only 50% of the total strike length at the Roche Dure prospect.
I think that the project will have very competitive operating costs considering that tin can be used for by-product credits and that ferric oxide, which is a potentially deleterious element, is very low for a hard rock deposit with an average of just 0.88%.
On 27 June, AVZ Minerals announced that it has engaged CPC Engineering to complete a scoping study for Manono which will yield initial capital and operating cost estimates.
2) Fenelon gold project in Canada
On 5 September, Wallbridge Mining (OTC:WLBMF) reported more assay results from its underground drill program at the Fenelon gold project in Quebec and the best result included 4.85m @ 137.63 g/t Au from 72.5m in hole 18-1035-019. This is equal to 668m (AuEq.) and managed to improve on the 497m (AuEq.) reported at hole 18-1035-017 on 28 August.
I have already covered this project in detail in my last week's article from the series and my thought on Wallbridge remains unchanged.
While the internal rate of return of Fenelon is very high, companies rarely meet figures from PFS studies and money in the mining space is usually made from large projects. As a result, I prefer to avoid small projects no matter the economics. Wallbridge has mentioned in its latest corporate presentation an exploration target of 250,000-400,000 ounces of gold, 40,000 ounces annual production, and a 10-year mine life.
3) Bongara zinc project in Peru
On 6 September, Zinc One (OTCPK:ZZZOF) released assay results for 29 of the 64 holes drilled in the Mina Grande Centro zone of its Bongara zinc project in northern Peru and the most impressive hole was MGC18012 which intercepted 31.8m @ 28.2% Zn from 18m drill depth. This is equal to 568 (AuEq.)m.
Other significant interceptions included – 15m @ 28.9% Zn from surface in hole MGC18008 and 18m @ 26.2% Zn from 13.5m in hole MGC18023.
The assay results released last week confirmed the near-surface zinc mineralization left behind by previous mining and showed that additional high-grade mineralization has yet to be delineated to the northeast.
Bongara is located in north-central Peru and has an area of 11,125 ha: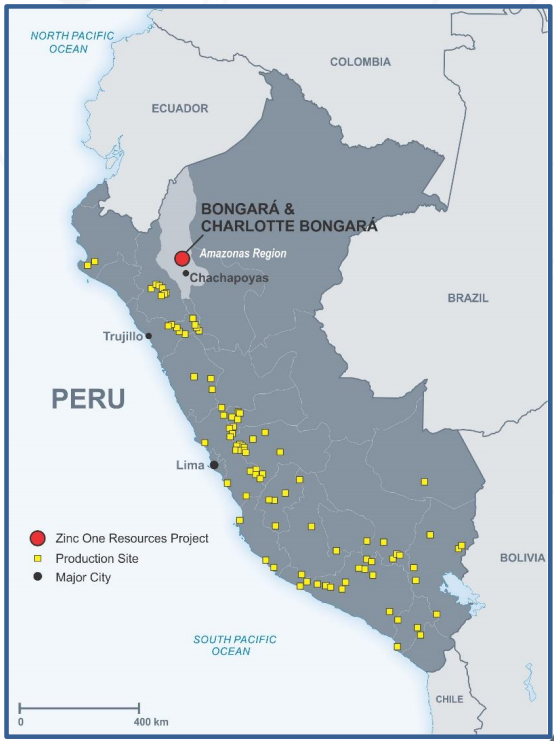 It used to operate as an open pit mine between 2007 and 2008 but was closed due to low zinc prices. Corianta, the previous operator, mined at an average rate of 358 tonnes per day for a total of around 55.1 million pounds of zinc metal.
Bongara has a historical measured and indicated resource totaling 1,007,796 tonnes at 21.61% zinc and historical inferred resource of 209,018 at 21.18% zinc. Zinc One's current drilling campaign aims to confirm the historic results as well as target untested extensions of the deposit along strike and downslope.
I think that Bongara has a very good exploration potential considering that resources are outlined only in around three kilometers of the system and there are mineralized showings over 10 kilometers along strike.
Zinc One plans to complete a resources estimate as well as a preliminary economic assessment for Bongara by the end of 2018. If the results are favorable, production could start by 2020.
Conclusion
Manono is continuing to prove itself as the best lithium project in the world and this comes to show just how amazing the geology of the DRC is – there is a lot of gold, copper, cobalt, lithium and tin among others and the grades for all of these resources are amazing. However, one has to keep in mind that this country has never had a peaceful transition to power and with elections scheduled for 23 December, things can get messy.
Besides the size and grade of Manono, I also like the good amount of tin, which can be a valuable by-product, as well as the low volume of ferric oxide, which can be a potentially deleterious element. The project seems to be attracting a lot of interest from China, which I consider a positive since it will help with funding but I prefer to wait until the release of the scoping study before considering an investment in AVZ Minerals.
Wallbridge has been reporting amazing grades at its Fenelon gold project with visible gold in 37 of 56 holes drilled to date. It has also raised its exploration target to a range of 800-1,000 ounces of gold per vertical meter from the initial 400 ounces. However, as I said last week, I'm not a fan of small projects and I prefer to pass on Wallbridge unless the company continues to release great drill interceptions until the end of 2018 and beyond.
Regarding Zinc One, I'm really stunned by the zinc grade at Bongara. A resource at 20-21% zinc is simply amazing. For comparison, Teck Resource's (NYSE:TECK) Red Dog mine in Alaska, which is considered one of the world's highest-grade zinc projects, has an average head grade of 14.6% zinc.
Bongara has a very decent exploration potential and I think that Zinc One could ultimately double the tonnage without diluting grade. Bongara should be easy to put back into production considering that it was mined just a decade ago. However, I prefer to wait for the release of the preliminary economic assessment in the fourth quarter of 2018 before committing any funds to Zinc One.
Disclosure: I/we have no positions in any stocks mentioned, and no plans to initiate any positions within the next 72 hours.
I wrote this article myself, and it expresses my own opinions. I am not receiving compensation for it (other than from Seeking Alpha). I have no business relationship with any company whose stock is mentioned in this article.
Additional disclosure: I am not a financial adviser. All articles are my opinion - they are not suggestions to buy or sell any securities. Perform your own due diligence and consult a financial professional before trading.
Editor's Note: This article covers one or more microcap stocks. Please be aware of the risks associated with these stocks.