Of course, I look at a granular level at each investment in my portfolio, but I also have three overall goals for the entire portfolio itself: (1) grow the overall earnings per share from diverse income sources in diverse lines of business, (2) allocate capital based on the credit quality and earnings quality of each of the portfolio's businesses, and (3) generate compound earnings growth by investing in companies that efficiently reinvest their capital and also by reinvesting portfolio dividends into the highest quality, highest growth areas currently trading at the lowest prices.
Running the portfolio primary involves three activities: (1) reinvest dividends, (2) ensure the portfolio is appropriately weighted in terms of how much income it earns from each source and how much capital is invested into any one source, and (3) reallocate capital to reduce overly concentrated positions, to harvest tax losses or to take advantage of any higher quality, cheaper, and faster growing investment opportunities.
Portfolio activity during the month of September
Capital reallocations:
1. Apple (AAPL) continues to be a runaway success and accounts for a relatively large position in the portfolio. For that reason alone, I decided to sell some shares of Apple that I held in a ROTH IRA, triggering a non-taxable gain of over 300%. I put the proceeds into Disney (NYSE:DIS) and Kraft (KHC), garnering a slight bump in the overall EPS for the portfolio and (as luck would have it) a slight dividend increase that I can eventually use to purchase more shares and generate higher income growth.
This may have been an idiotic move on my part. The majority of companies you invest in will perform well enough, a few will tank, and a very select few will take off like a rocket. As a natural consequence of this simple fact, you can expect at least a couple of positions in your portfolio to become disproportionately weighted unless you do something about it. Peter Lynch famously described the practice of rebalancing your portfolio by selling your winning positions as "cutting the flowers and watering the weeds." I know what he means. Once upon a time in 2007, I sold 1,000 shares of Canadian National Railway (CNI) for $27 a share. I felt like a genius because I'd bought those shares for only $8 a pop, and since I owned those shares in an IRA, the $19,000 gain was totally tax deferred. Well, fast forward to today. Had I simply held those shares, they'd be worth $86 a share today and I'd be sitting on a gain of nearly $80,000 - four times what I made on my brilliant 2007 sale. Fortunately, I kept the 1,000 shares of CNI that I owned in my taxable account since I didn't want to trigger taxable gains. Since 2007, I've bought additional shares of CNI, too - and at much higher prices than $37 a share. Diversification made all the sense in the world to me back in 2007, but in retrospect, it seems like it was a huge mistake.
On the other hand, I think of my dearly departed grandfather. He owned shares of only one company: Banco Popular (OTCPK:BPESY). During his lifetime, my grandfather accumulated tens of thousands of shares of BPESY that he bought at prices measured in pennies per share rather than dollars per share. By the time he died, the stock was trading at almost $150 per share. During his lifetime, my grandfather made a return of up to 10,000% on his BPESY investments - not including the hefty dividends he collected. He came to know the company extremely well, too and ate lunch with the CEO from time to time. My grandfather ultimately became so comfortable with the business that he opted to own no assets BESIDES some Puerto Rican municipal bonds, a condo unit in Puerto Rico, and his shares of BPESY.
BPESY consisted of the bulk of his considerable fortune, almost all of which went to his two remaining children after he died. My uncles lived comfortably on the dividends for a time, but then the stock crashed by over 90% and the company cut the dividend down by 90% as well. They (and ultimately, their heirs) sold their BPESY shares (and their Puerto Rican municipal bonds) to make up for the lost dividend income, and by 2009, my grandfather's entire estate had vanished in a whiff of smoke.
Should have snipped those flowers, I'll tell you.
Well, to be honest, almost all of my grandfather's entire fortune vanished in a whiff of smoke. In fact, my grandfather left me about 1,000 shares of BPESY, which I promptly sold off in 2003 and 2004 for just under $200 a share (and when the stock rallied to $285, I sure felt dumb). I parked the proceeds into an S&P 500 Index fund (VOO) and, in the fullness of time, I put all of those shares into a trust for the benefit of my kid.
Diversification ensured that at least a small portion (and in fact, the ONLY portion) of my grandfather's fortune would pass down through the generations to a descendant he never met but who shares his name. It's not a lesson I will lightly forget.
Will Apple go the way of Banco Popular? I doubt it, but I know far less about Apple than my grandfather knew about Banco Popular, and I also know beyond any shadow of a doubt that I cannot predict the future. So, I diversify and take pains to prune the most successful investments if they start to take up too much space. But I hate to sell Apple, which strikes me as a bargain at today's prices.
2. Google (GOOG) (NASDAQ:GOOGL) trades at a very high price in my view, which is warranted only if you assume their earnings growth in the past will continue in the future. That assumption seems unrealistic - the heart of their business model is to sell user info. I believe that practice will continue to come under intense government scrutiny and, eventually, may be regulated closely and possibly even restricted significantly in markets like Europe. I sold off half the portfolio's shares of Google (also in a ROTH, thank heavens, because the capital gains are huge) and put the proceeds into LVMH (OTCPK:LVMUY). As a result, I boosted the EPS of the portfolio slightly and enhanced the dividend income as well.
3. I harvested losses by selling some shares of General Mills (GIS) in a taxable account and put the sales proceeds into Altria (MO) and Starbucks (SBUX). MO and SBUX have better credit ratings, lower PE ratios, and higher earnings growth than GIS. Most importantly, MO has a shocking level of growth in equity per share. Much ink has been spilled on the subject of MO having a dwindling business. Not enough ink has been spilled on the company raising EPS and raising equity per share (but thank god for that - were the case otherwise I wouldn't be able to purchase the company's shares at a PE ratio of 15). As it happens, the timing was fortuitous. MO stock rallied by almost 7% shortly after I added the shares.
Dividend reinvestments:
1. I reinvested dividends in both our taxable and nontaxable accounts and purchased additional shares of Oneok (OKE), Diageo (DEO), Stanley Black & Decker (SWK), HCP (HCP), and Disney. I plan to do another large dividend investing round towards the end of this month.
Dividend increases:
1. So far this month, Verizon (VZ) announced a small, but always very welcome, dividend increase.
Summary of September performance:
The overall earnings per share of the portfolio grew by .6% so far during the month of September, and the dividends have grown by .2%. These balls move forward inches at a time, but far more steadily than the portfolio's price which zigs and zags randomly (albeit with less volatility than the S&P 500). The current holdings and portfolio performance since March 2018 is listed below: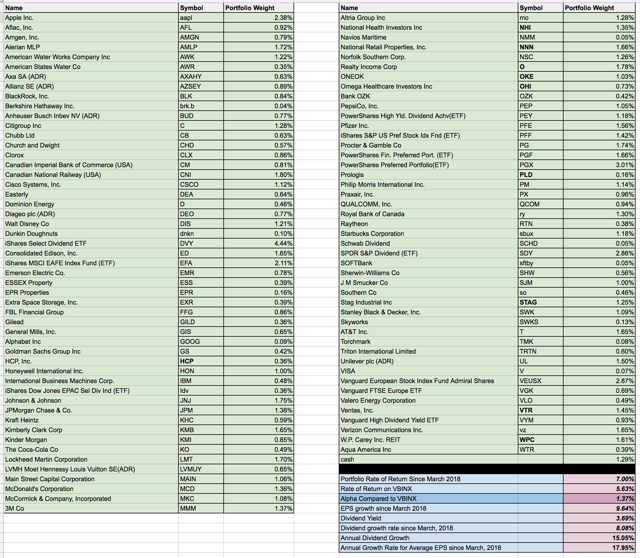 Disclosure: I am/we are long AAPL.
I wrote this article myself, and it expresses my own opinions. I am not receiving compensation for it (other than from Seeking Alpha). I have no business relationship with any company whose stock is mentioned in this article.
Additional disclosure: I am long all positions listed in the attached chart. I am not an investment advisor. Nothing contained in this article is investment advice. This article is written strictly for entertainment purposes and cannot be relied upon for any other reason.
Editor's Note: This article discusses one or more securities that do not trade on a major U.S. exchange. Please be aware of the risks associated with these stocks.