Welcome to the weekly natural gas storage report edition of Natural Gas Daily!
EIA reported a storage build of 69 Bcf for the week ending September 7. This compares to the +67 Bcf we projected and consensus average of +65 Bcf. The +69 Bcf was 5 Bcf lower than the five-year average of +74 Bcf and 22 Bcf lower than last year's.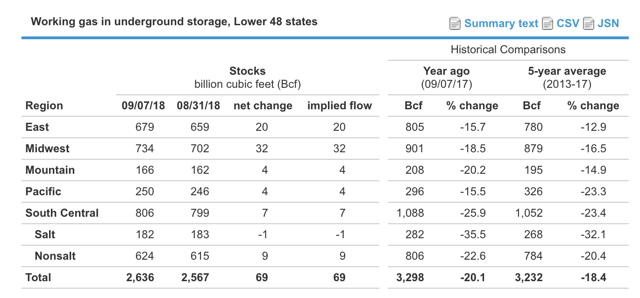 Source: EIA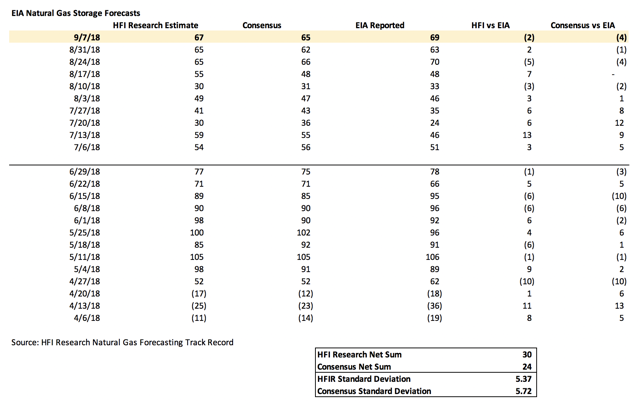 Next Week's Estimate
For the week ending 9/14, we currently have a forecast of +81 Bcf.
EOS decreased from last week's 3.39 Tcf to 3.38 Tcf today.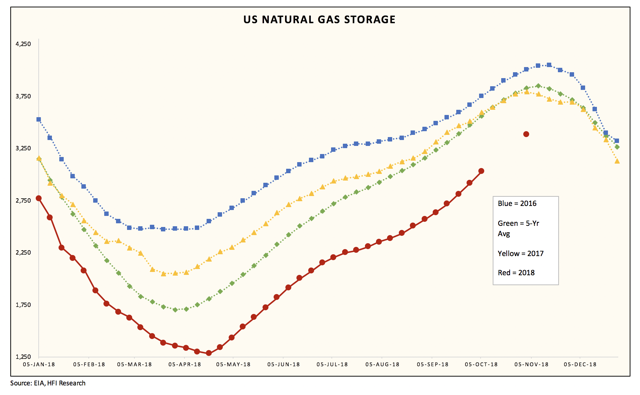 It's almost time to go long...
Natural gas prices are taking it on the chin today with October contracts back to $2.770/MMBtu, while November contracts are down to $2.753/MMBtu.
As we wrote on our Tuesday NGD, our next trading bias is to the long side, but we want to wait for prices to reach the right level. With natural gas prices now approaching the bottom of the trading band, our inclination is to go long, but not quite yet.
One of the variables that continue to keep natural gas prices under pressure is the growth in lower 48 production, which reached another all-time high yesterday: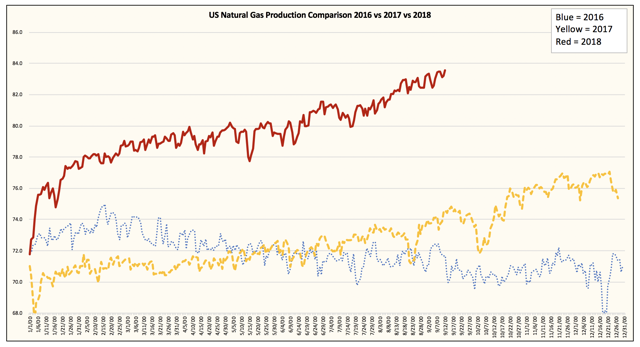 Source: HFI Research
With production moving higher to ~83.6 Bcf/d, September volumes are some ~1 Bcf/d ahead of our estimates. This will keep pressuring natural gas prices, especially since we are now in the seasonally low demand period of the year. Mother nature (e.g. weather) has done a considerable amount of damage to natural gas storage by boosting power burn demand over the last several months, but this support is expected to be neutralized by the end of September.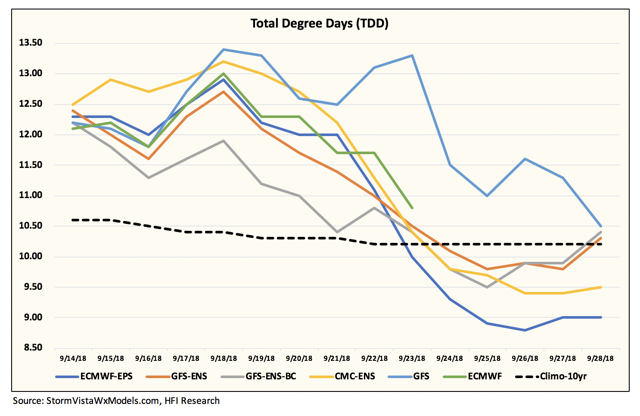 You can see that starting September 23, total degree days or TDD start falling below the 10-year average. It remains below that until the end of the month. GFS-ENS is forecasting a slight rebound in demand toward the end of the month, while ECMWF-EPS remains bearish.
This is not supportive for bulls, so this makes going long natural gas right now particularly difficult when there's no obvious catalyst on the horizon.
In addition, our trader survey shows that traders remain on the sidelines and did not take on new long positions.
Combining both data points indicate to us the time to go long may be premature right now, but the next trading bias is still to the long side. We just need to see a more obvious catalyst.
For longer-term natural gas fundamentals, the latest production figure is as bearish as it gets. This puts the likelihood of exiting 2018 at ~84.5 Bcf/d as a highly likely event. This also would put the odds of any supply shortage in 2019 as slim to none even if LNG demand ramps up. So far, production has surprised to the upside, and we have not seen evidence that indicates otherwise.
For readers who are interested in receiving real-time trade alerts along with our exclusive natural gas fundamental, weather, and trader positioning updates, we highly recommend you to give HFI Research Natural Gas a try. You can see here for more info.
Disclosure: I/we have no positions in any stocks mentioned, and no plans to initiate any positions within the next 72 hours.
I wrote this article myself, and it expresses my own opinions. I am not receiving compensation for it (other than from Seeking Alpha). I have no business relationship with any company whose stock is mentioned in this article.