Adobe Systems (NASDAQ:ADBE) provides software for graphic design, publishing and print production and most of their applications are delivered in the company's "Creative Cloud". The company beat earnings estimates when they reported earnings for their quarter ended in August after the close on Thursday. Solid results occurred in digital media, digital experience and publishing.
The stock closed Thursday, Sept. 13 at $268.52 up 54.1% year to date and set its all-time intraday high of $270.94 on Sept. 12. The stock traded as high as $273.39 and as low as $261.20 in after hours trading and the stock should open Friday closing in or above a fresh all-time intraday high.
The daily chart for Adobe Systems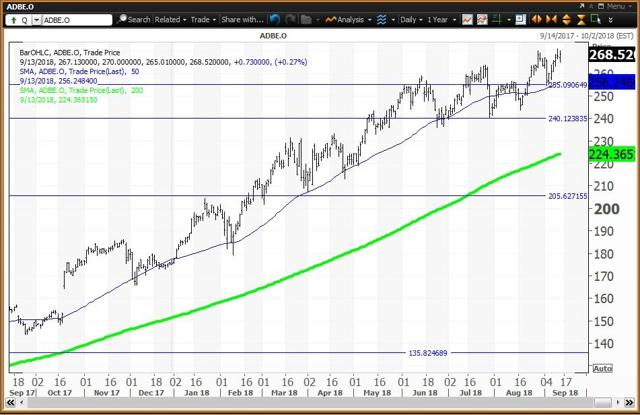 Courtesy of MetaStock Xenith
Adobe Systems remains well above a 'golden cross' that was confirmed back on April 6, 2016 when the stock closed at $95.40. A "golden cross" occurs when the 50-day simple moving average rises above the 200-day simple moving and indicates that higher prices lie ahead, and this was obviously a successful investment strategy for Adobe. Note how the stock has tracked the 50-day simple moving average all year with that average now at $256.25. There are four chart horizontal lines. The lowest is my annual value level at $135.82. The second line is my semiannual value level of $205.57. The third horizontal is my quarterly value level of $240.03 which held as a buying opportunity on July 2. The fourth is my value level for this week at $255.14. My monthly risky level is above the chart at $293.93.
The weekly chart for Adobe Systems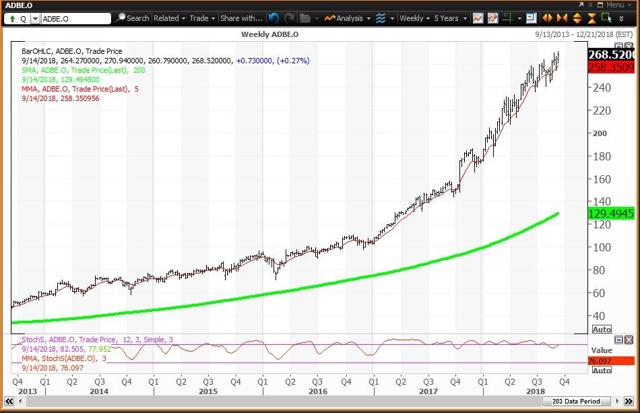 Courtesy of MetaStock Xenith
The weekly chart for Adobe is positive with the stock above its five-week modified moving average of $258.35. The stock is well above its 200-week simple moving average of $129.49 which is the "reversion to the mean" last crossed during the week of Oct. 13, 2012 when the average was around $32.50. The 12x3x3 weekly slow stochastic reading is projected to end this week at 76.10 up from 72.89 on Sept. 7 and will soon be overbought above the overbought threshold of 80.00.
Given these charts and analysis investors should buy Adobe on weakness to the 50-day simple moving average which is rising at $256.25 and reduce holdings on strength to my monthly risky level of $293.93. Buying at the rising 50-day simple moving average has been a successful strategy all year long.
Disclosure: I/we have no positions in any stocks mentioned, and no plans to initiate any positions within the next 72 hours. I wrote this article myself, and it expresses my own opinions. I am not receiving compensation for it (other than from Seeking Alpha). I have no business relationship with any company whose stock is mentioned in this article.