Real Estate Weekly Review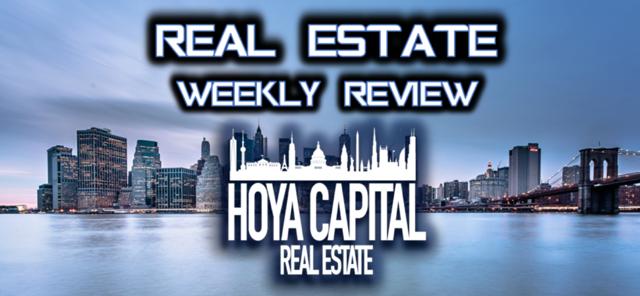 The S&P 500 (SPY) climbed 1% on a busy week of economic data and hurricane-related disruptions. Real estate equities were mixed on the week as the housing-related sectors await the impact of Hurricane Florence on the Southeastern US. A quarter million homes are at risk of damage from record amounts of rainfall and storm surge from the storm. The REIT ETFs (VNQ and IYR) finished roughly unchanged while homebuilders (XHB and ITB) climbed nearly 2%.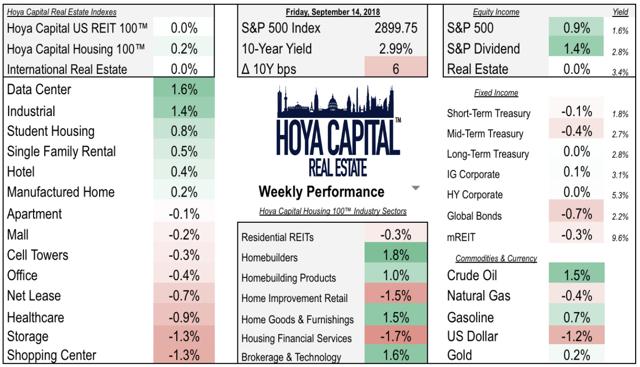 (Hoya Capital Real Estate, Performance as of 1pm Friday)
The Housing 100 finished modestly higher on the week, led by gains in the homebuilder, brokerage and technology, and home goods sectors. After jumping last week, home improvement retailers finished lower on the week. In other areas of the real estate sector, mortgage REITs (REM) finished the week lower by 0.3% while international real estate (VNQI) finished flat.
Real Estate News & Outperformers
Hurricane Florence made landfall on Friday morning in North Carolina as a Category 1 Hurricane and is widely expected to be one of the most damaging storms to affect the region in the last fifty years. While the region appears to have avoided a worst-case scenario from the immediate wind-related impact of the storm, with many regions expecting to see rainfall totals in excess of 30 inches, flooding appears to be the more substantial risk to property damage. A quarter million homes are at risk of storm-related damage, according to a CoreLogic (CLGX) report. Notably, home improvement retailers Home Depot (HD) and Lowe's (LOW) finished the week lower after rallying last week in anticipation of a large jump in storm-related spending.

Private equity interest in the real estate sector has intensified in recent months as fundamentals have strengthened amid the broader economic reacceleration of 2018. The newsmakers this week were private equity giants Blackstone (BX), Brookfield (BAM), and Carlyle Group (CG). On Friday, Blackstone is reportedly seeking to raise $18 billion for a new real estate fund, surpassing in size the firms $16 billion fund raised in 2015. Brookfield Asset Management announced that it has closed a $1 billion fund focused on multifamily value-add projects with Fairfield Residential. Carlyle Group announced that it closed a $5.5 billion fund that will invest in assets across the entire CRE sector. Strong private equity demand should be expected to keep CRE valuations firm despite gradually rising interest rates.
Data center and industrial REITs were the winners this week, highlighted by strong performance from Equinix (EQIX), Duke Realty (DRE), CoreSite (COR), and Eastgroup (EGP). While the Carolinas are not typical "REIT territory," several REITs are expecting impacts from Hurricane Florence. The aftermath of Hurricane Harvey last year provided a favorable boost for the hotel, apartment, and storage sectors.

Homebuilders climbed 1% on the week, recovering after several weeks of negative performance amid signs of slowing home sales. Meritage (MTH), MDC Holdings (MDC) and Lennar (LEN) were the top-perfomers on the week. We recently discussed the sector in Homebuilders: Signs of Softness.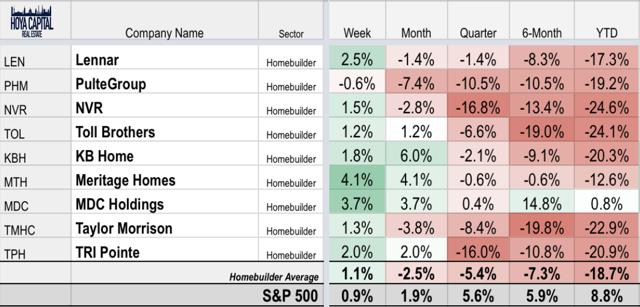 Earnings Season Recap
This week, we published our quarterly report on the storage sector Storage REITs: The Boom is Over, But Outlook Remains Solid. The secret got out: Self-storage REITs, the darling of the REIT sector from 2010-2015, have struggled over the last two years as supply growth rapidly intensified. Robust rent growth and favorable demographic trends prompted a wave of institutional money to enter the space. High levels of new development have pressured rental rates and occupancy. Fundamentals have stabilized as demand continues to be solid amid the economic reacceleration of 2018. 2Q18 earnings were generally better than expected.

We also recently published our second quarter REIT Earnings Recap. Bull markets don't die of old age, and neither does the real estate cycle. Following a mild downturn in 2017, robust economic growth has reignited the real estate cycle. After a disappointing 2017 beset by earnings misses and downward revision, REITs have delivered strong results through first two quarters of 2018, beating expectations and raising guidance across most sectors.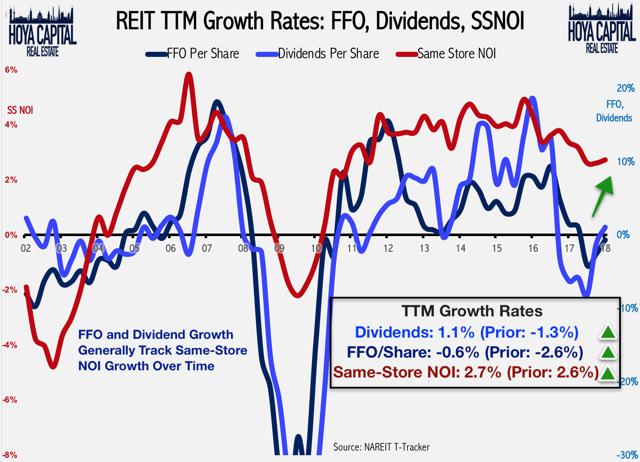 REIT metrics inflected higher in the second quarter, led by continued strength in the industrial and residential sectors. Retail REITs have seen improving metrics as the "retail apocalypse" has receded. Of course, don't forget about interest rates. Rising rates pressured REITs in the first quarter of 2018, but REIT valuations have been buoyed recently by the pullback in Treasury yields.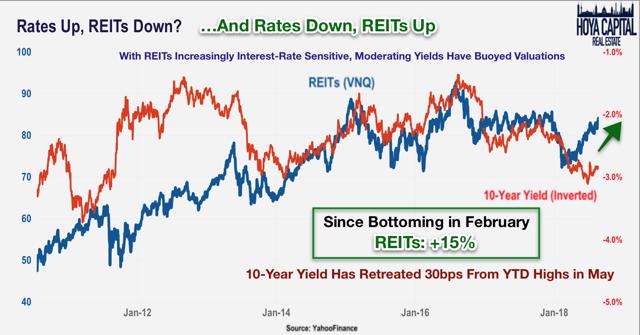 2018 Performance
REITs are now higher by 0.7% YTD on a price-basis, and despite the recent strong performance, REITs are still underperforming the S&P 500 on the year, which is higher by roughly 9%. Homebuilders are off by more than 17% after rising more than 50% last year. The 10-Year yield has climbed 59 basis points since the start of the year, aided by the 21% climb in the price of crude oil and 9% rise in gasoline prices.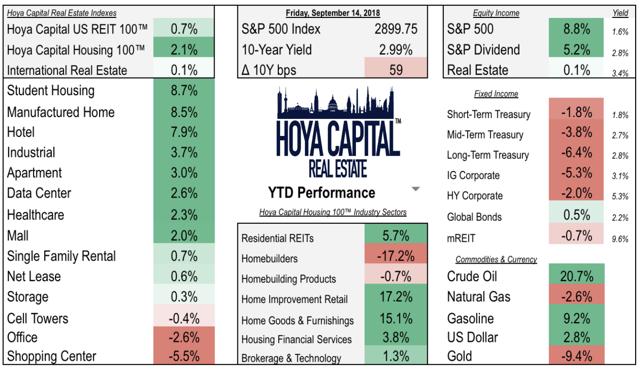 REITs and housing-related equities have outperformed the broader US stock market over the last 25 years. The NAREIT All-Equity REIT Index has delivered a 12.1% average annual return while the Fidelity Construction & Housing Fund (FSHOX) has delivered a 10.8% annual return since 1994. The S&P 500, meanwhile, delivered a 9.9% annualized rate of return during this period.
Real Estate Economic Data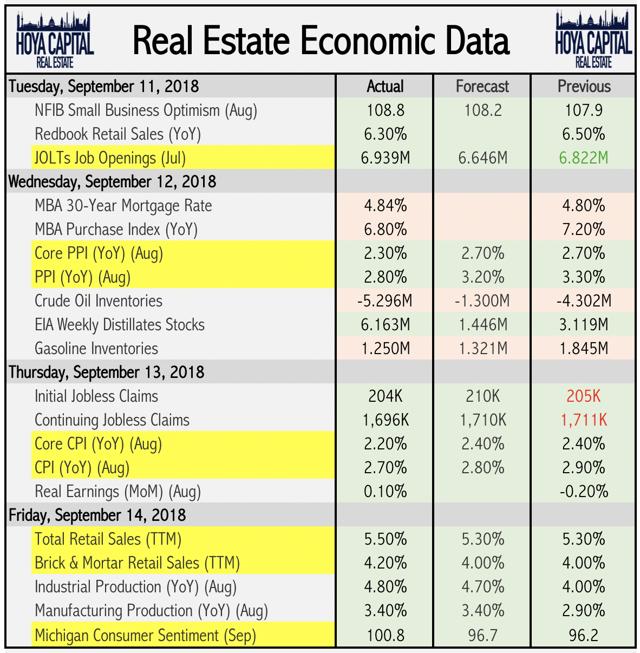 (Hoya Capital Real Estate, HousingWire)
Inflation Cools In August
Inflation data was cooler than expected in August. Core CPI ticked down from 2.4% to 2.2% while Core PPI moderated even more significantly from 2.7% to 2.4%. Core PCE data, the Federal Reserve's "preferred" metric, showed a 2.0% rise in prices compared to a 1.9% rise in the prior month. Considering the broad-based strength in economic data, August's cool inflation print is not expected to derail the Federal Reserve's rate hike path for the rest of 2018. The market-implied probability of a rate hike later this month is nearly 100% while the probability of a December rate hike is nearly 85%, up from 65% a month ago.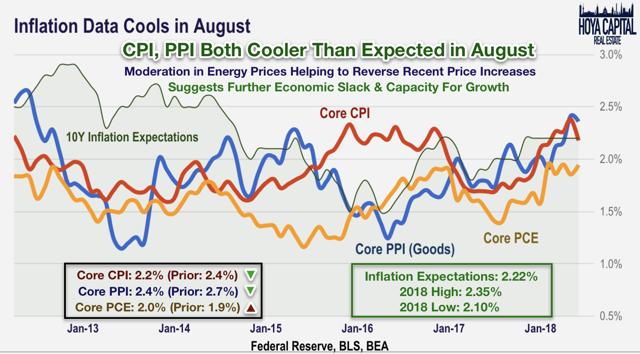 Shelter accounts for 34% of the CPI weight and since 2013, it has been significantly above the overall inflation rate. From 2015 through late 2016, shelter inflation was the one of the only component keeping Core CPI out of deflationary territory. We have discussed for several quarters that we expect shelter inflation to moderate as the lagging CPI data "catches up" with current market conditions in the rental and housing markets. Core CPI excluding shelter, however, is quickly approaching its fastest rate since 2012, fueled by the bleed-through from rising oil and gasoline prices. Core CPI ex-shelter, however, retreated to 1.3% in August while Shelter CPI remained steady at 3.4%.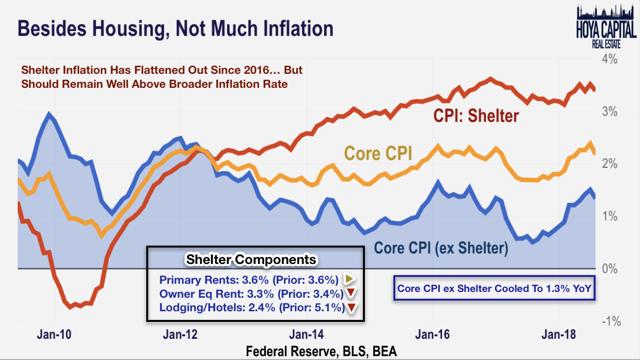 The importance of housing costs on the overall price index cannot be overstated. Since 1995, shelter inflation has outpaced the broader rate of inflation by more than 1% per year, fueled by a persistent supply shortage in the US housing markets. Over the last three decades, structural impediments to supply growth, aggravated by the dramatic dislocations during the housing crisis, have dramatically slowed the rate of housing starts per capita. The implications of this housing shortage, we believe, will be a continued persistence of "real" housing cost inflation and a long runway for growth in residential housing construction.

Solid Trends in Retail Continue
Retail sales, particularly in the traditional brick and mortar categories, continued their positive momentum in August. On a trailing twelve-month basis, growth in total retail sales climbed 5.5% to the strongest rate since late-2012. After slowing from 2012 through 2016, retail sales growth has mounted a solid recovery. Again, there is mounting evidence that tax cuts have strengthened the spending capacity and willingness of the American consumer. Brick and mortar sales rose 4.2% on a TTM basis while nonstore (e-commerce) sales ticked sideways at roughly 10%.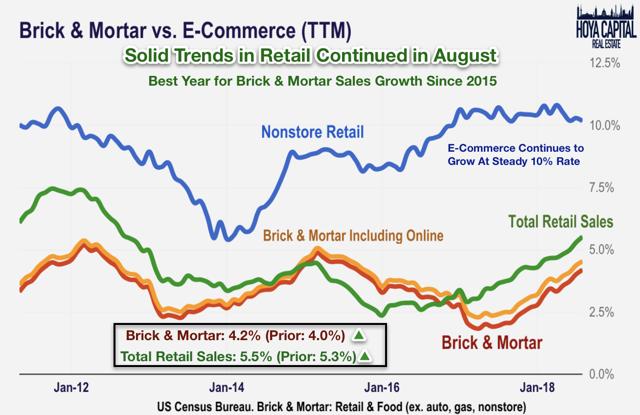 On a TTM basis, six of the ten brick and mortar categories ticked higher on the month. As a whole, the services, food-based, and discount retailers continue to thrive, but the recent story has been the surprising reacceleration in the beaten-down retail categories including clothing, electronics, and health and beauty. Redbook Retail Sales data noted a robust 6.3% YoY rise in same-store retail sales, a trend that has been confirmed by recent retail earnings reports.

As we discussed in our recent report, Good Riddance To The Retail Apocalypse, recent retail jobs data indicates that the wave of store closings in 2017 have significantly subsided and that 2018 will likely see a net increase in store openings. Retail REITs have been among the best-performing sectors over the last quarter but underlying fundamentals will continue to be held back over the near-term by last year's unusual surge in store closings, particularly in the big-box category.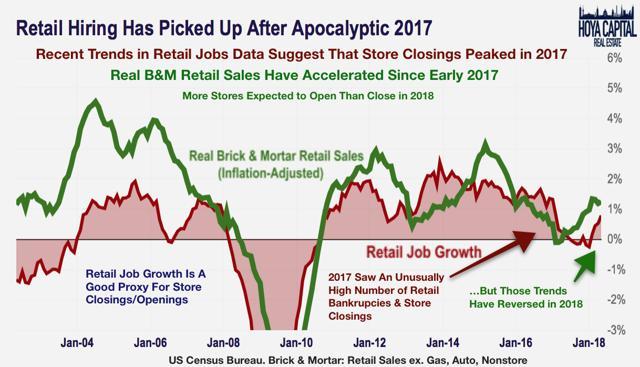 JOLTs, Industrial Production Both Strong
Evidence of broad-based strength in the labor markets continues to show across nearly all metrics, as deregulation and corporate tax reform appears to have added another leg to the labor market recovery. Last week, nonfarm payrolls data showed that 1.7 million jobs have been added so far in 2018, representing a significant uptick in hiring from the rate of 2016 and 2017. This week, JOLTs showed that 6.93 million jobs are available and the rate of hiring rose to 4.4% on a TTM basis, near the highest rate since 2015.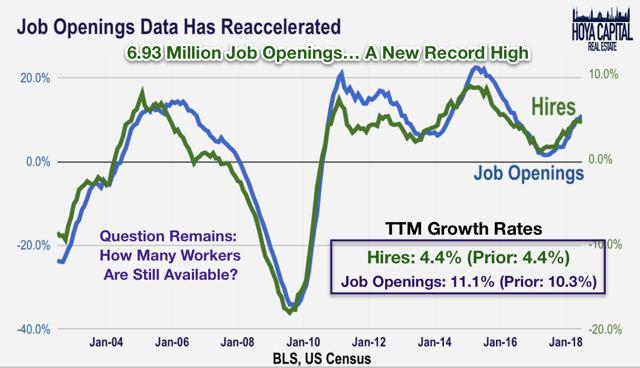 The rate of voluntary quits continues to rise, a sign of increased labor market dynamism and an indication that workers are feeling more confident about their financial situation. The lack of labor market dynamism in the post-recession period has been blamed for weak productivity growth and there is hope that the uptick in the quit rate may foreshadow future productivity gains as workers pursue jobs that better maximize their skills. Despite several announced layoffs that are given extensive media coverage, the rate of involuntary layoffs remains near record-lows.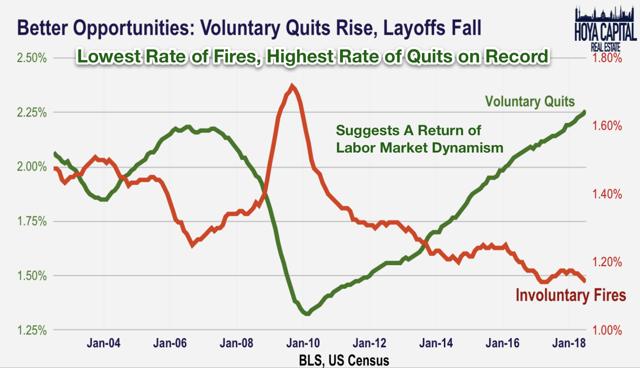 The story behind the post-election economic reacceleration has been a dramatic resurgence in the goods-producing economic sectors. Industrial production, which had dipped recessionary territory between 2014 and 2016, has surged since late 2016. At 4.8% YoY growth, industrial production is growing at the fastest rate since 2010. Capacity utilization, interestingly, remains well below levels seen during the mid-2000s economic expansion, suggesting continued slack and room for further production growth.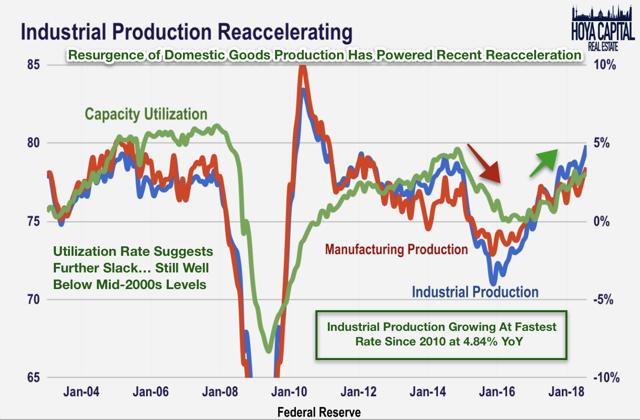 Bottom Line
On a busy week of economic data and hurricane-related disruptions, US equities advanced 1% while real estate equities finished roughly flat. Housing-related categories await the impact of Hurricane Florence. A quarter million homes are at risk of damage from Hurricane Florence. While it appears the Carolinas avoided a worst-case scenario, housing markets in the region will be significantly disrupted.
Private equity interest in commercial real estate has intensified in recent months as fundamentals have improved amid the post-election economic reacceleration. Blackstone, Brookfield, and Carlyle were in focus this week.
Retail sales delivered another solid month in August. Total retail sales have climbed 5.5% over the last twelve months, led by strong performance from the brick and mortar categories. The story behind the post-election economic reacceleration has been a dramatic resurgence in the goods-producing economic sectors. Industrial production is growing at the fastest rate since 2010.
We will continue our REIT and Homebuilder Rankings updates next week with reports on the mall and homebuilder sectors. Be sure to check out all of our quarterly updates: Net Lease, Malls, Industrial, Single Family Rentals, Data Center, Apartments, Cell Towers, Manufactured Housing, Industrial, Shopping Center, Hotel, Office, Healthcare, Industrial, Storage, Homebuilders, and Student Housing.
Please add your comments if you have additional insight or opinions. We encourage readers to follow our Seeking Alpha page (click "Follow" at the top) to continue to stay up to date on our REIT rankings, weekly recaps, and analysis on the commercial and residential real estate sectors.
Disclosure: I am/we are long VNQ, SPY, HD, COR. I wrote this article myself, and it expresses my own opinions. I am not receiving compensation for it (other than from Seeking Alpha). I have no business relationship with any company whose stock is mentioned in this article.
Additional disclosure: All of our research is for informational purposes only, always provided free of charge exclusively on Seeking Alpha. Recommendations and commentary are purely theoretical and not intended as investment advice. Information presented is believed to be factual and up-to-date, but we do not guarantee its accuracy and it should not be regarded as a complete analysis of the subjects discussed. For investment advice, consult your financial advisor.