"If all the economists were laid end to end, they'd never reach a conclusion." - George Bernard Shaw
Every so often I run into someone that wants to make the argument about how the market is on a sugar high. They proclaim that when the stimulus of the tax cuts and increased government spending wears off, the house of cards will come crumbling down. Of course, many of these folks never wanted the tax cuts to begin with, so maybe there is some political bias interwoven into their theories.
This type of thinking isn't new. After all it was proclaimed that the end of QE was supposed to have the same dire outcome. When the Fed was interjecting liquidity into the system, all investors heard was "this is going to end badly". It got to the point that anyone who was bullish and staying invested in the equity market realized it was foolhardy and a huge waste of time to keep debating these arguments.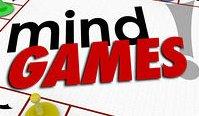 So many were focused on that and didn't see what was and is unfolding before their eyes. Rather than debating the issue, I simply asked anyone that doubted this bull market a simple question, do you want to be right, or do you want to make money? Clutching on to an idea and reciting a litany of reasons why they just have to be correct shows tremendous conviction. Therein lies a problem for all investors. It is a fine line between conviction and stubbornly holding on to an idea that simply isn't working. That goes for both Bulls and Bears. It's why the practice of looking at all of the data with an OPEN mind is the only way to manage money.
Price action was once again highlighted last week as being the first metric to watch. Market participants often take their convictions to extremes in the face of interpreting what the market is telling them. The biggest problem for most is due to that mountain of data, an investor can easily be tricked into seeing something that really isn't there. That is partly true due to the fact that humans are inherently irrational and can be victim to wild emotional swings. Then the errors start to mount up.
The right thing to do is recognize that this is in fact human nature at work, and in most cases it is this issue which is the underlying cause of that poor performance. Once this is recognized, it helps the average investor make better, less emotional decisions.

There are times when feeling bullish is pretty easy and then there are times when it feels pretty lonely. When equity markets are at or near all-time highs, not many want to step out on limb and suggest there is more to come. The odds seem to be against anyone that is bullish now.
Yet I continue to believe that is the correct call. Before anyone wants to be overly critical, let me be clear that I'm not calling for a "bet the farm", "all in" approach here. We take what the market is giving us.
Therefore, I do not believe it is time to turn my back on owning equities. No one is going to be correct 100% of the time when it comes to the stock market. Being right more often than wrong enhances a person's chance of better returns over the long run. What helps that percentage is knowing when your stance is, or is not, paying off.
Investors that have stayed in the bullish camp for the duration of this latest run have made the correct call. In doing so they followed the path they decided to take a while ago. Eliminating costly mistakes by dismissing all of the "issues" that have been thrown at them in the course of the last 6 years.

As I look around at the scene now, U.S. Manufacturing is improving. The ISM gauge jumped to a 14-year high in August, with broad improvement across industries and a surge in new orders and production.
The same can be said for U.S. Services. In reports that mirrored their manufacturing counterparts, the August non-manufacturing ISM jumped to near a new cycle high, driven by big increases in new orders and order backlogs.
There is nothing wrong with the job market. August nonfarm jobs came in above expectations, as the labor market continued to reflect broad strength. Notably, wage growth accelerated. Jobless claims fell to new 50-year lows.
The consumer has their balance sheet in order and spending is humming along. The fundamental backdrop remains supportive. With the S&P now a mere 0.5% from the new all-time high of 2,914, the price action is in line with the positive backdrop.
For those that wish to follow their convictions that geopolitical risks, tariff talk, Mueller investigation, midterm elections, soaring inflation, Fed overreacting, overvaluations are all set to undermine the stock market, they may just want to stop and reflect for a moment. At some point you may be correct, but for the present, do you want to be right, or do you want to make money?

Economy
Scott Grannis assembles his views on manufacturing, the economy and valuations.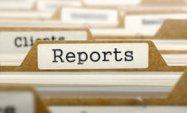 NFIB Small Business Optimism Index soared to 108.8 in August, a new record in the survey's 45-year history.
The latest PPI report revealed a weaker-than-expected -0.1% August headline and core reading.
August CPI revealed a surprisingly soft core price rise, alongside the expected headline gain. Headline CPI rose 0.2% with a 0.1% core consumer gain. The year-over-year increase of 2.7% in the headline index was down from 2.9% in July and June, and the 2.2% year-over-year core reading was down from 2.4% in July.
The 0.4% U.S. August Industrial Production rise followed small net downward revisions that left a slightly stronger-than-expected report, with a steep climb for 2018 and a fifth consecutive reading above the prior peak in November of 2014.
Business inventories jumped 0.6% in July, the Commerce Department said Friday. Sales rose 0.2% in the month. The ratio of inventories to sales, meanwhile, rose to 1.34 from 1.33. That's how many months it would take to sell all the inventory on hand. One year ago, the inventory-to-sales ratio was higher at 1.39. An increase in inventories adds to gross domestic product and is a sign of an expanding economy. The increase in inventories in June was unchanged at 0.1%.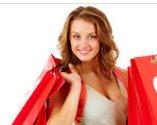 August retail sales rose 0.1%, and were up 0.3% excluding autos, both shy of expectations. But there were some big revisions. The 0.5% July headline gain was revised higher to 0.7%, while the 0.6% ex-auto increase was boosted to 0.9% (with June revised to 0.3% from 0.2%). Sales excluding autos, gas, and building materials (which feed into GDP forecasts) rose 0.2% versus 1.0% previously (revised from 0.6%).
Economists will scurry around and offer a myriad of opinions over every minute detail in the report to explain what's going on now. It's pretty obvious consumers went on a spending spree in July and toned it down in August. Overall spending remains robust.
The Michigan consumer sentiment bounced to 100.8 from a 7-month low of 96.2 in August, left the measure just below the 14-year high of 101.4 in March, but above prior peaks of 100.7 last October and 98.5 in January of 2017.

July's JOLTS report came in very strong. Today's Job Openings and Labor Turnover Survey from the BLS came in significantly stronger than expected as the number of job openings came in at 6.939 million versus estimates for a level of 6.675 million. Based on this report and reports over the last few months, 2018 is shaping up as a year where economists have underestimated the strength of the US job market.
As an example, in the each of the JOLTS reports covering 2018 so far, all seven of them have come in better than expected, beating expectations by an average of 219K. There are more openings than unemployed workers.

Global Economy
The widening disparity between U.S. and rest of the world equity performance is something to monitor, but I wouldn't go as far as saying it is a precursor to a bear market here.
Strategas Research notes over the course of 1994-95 (the last secular bull market), U.S. stocks held their own during the respective 33% and near 20% routs in emerging markets and European equities. And while the S&P did suffer in the 1997-98 EM crisis, it quickly recovered to new highs.

ECB leaves rates unchanged; expects to end asset purchases in December.

Earnings Observations
FactSet Research Weekly Update for Q3 2018:
Analysts expect companies to report earnings growth of 19.9% and revenue growth of 7.5%.

The forward 12-month P/E ratio for the S&P 500 is 16.8. This P/E ratio is above the 5-year average (16.3) and above the 10-year average (14.4).
While analysts currently expect earnings to grow at double-digit levels for Q4, they also expect more moderate growth in early 2019.
For Q4 2018, analysts are projecting earnings growth of 17.5% and revenue growth of 6.0%. For CY 2018, analysts are projecting earnings growth of 20.6% and revenue growth of 8.1%.
Forecasts remain very positive and support the case for S&P 3,000+.

The Political Scene
Wolfe Research surmises that even if Democrats take both houses of Congress in the midterms, they don't expect much in the way of major legislative actions.
"Many of the hopes that drove markets higher after the 2016 election (tax reform, deregulation) have materialized and will be hard to undo without veto-proof majorities. Gridlock is the likely outcome and the markets love gridlock. Under a Republican president, a split Congress historically has yielded 12% average annual returns. Gridlock also could act as a check on trade policy, reducing that downside risk."

The Fed
The San Francisco Fed just published a paper demonstrating the "3-month to 10-year yield curve'' as the most reliable predictor of recessions. It notes that a recession historically has tended to occur a year or two after the curve inverts, i.e. the 3-month Treasury yield moves above the 10-year. The curve currently is far from inversion, with the spread between the two around 80 basis points.
The Beige Book was released this week with mostly positive findings. Districts generally reported moderate growth across the board. Transportation and manufacturing industries claimed moderate growth, while construction and real estate were slightly less positive. No surprises here.

Sentiment
In this week's sentiment survey from AAII, bullish sentiment dropped by over 10 percentage points, falling from 42.2% down to 32.1%. That's the lowest weekly reading in optimism since the beginning of August and the largest weekly decline in bullish sentiment since late June.
It matches the research note from Lipper Fund Research; $20 billion flowed out of equity mutual funds and ETFs this past week. The only larger outflow this year was the first week in February. That happened to be the year-to-date low for the S&P 500 index.
Are folks leaving just when the market is about to move higher? It wouldn't be the first time nor the last. What it does tell me is that sentiment is about the same when the S&P was at 2,000. It's now 900 points higher.

Crude Oil
The EIA weekly inventory report revealed that U.S. commercial crude oil inventories (excluding those in the Strategic Petroleum Reserve) decreased by 5.3 million barrels from the previous week. At 396.2 million barrels, U.S. crude oil inventories are about 3% below the five-year average for this time of year. That was the fourth consecutive week of declines. Total motor gasoline inventories increased by 1.3 million barrels last week and are about 8% above the five-year average for this time of year.
WTI closed the week at $68.97, up $1.25 for the week. A second week of gains. The lower end of the trading range was tested; now it may be time to try the upper end.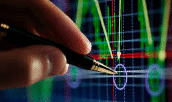 The Technical Picture
The daily chart shows that more time and distance have been put in since the index broke out of the trading range after the correction.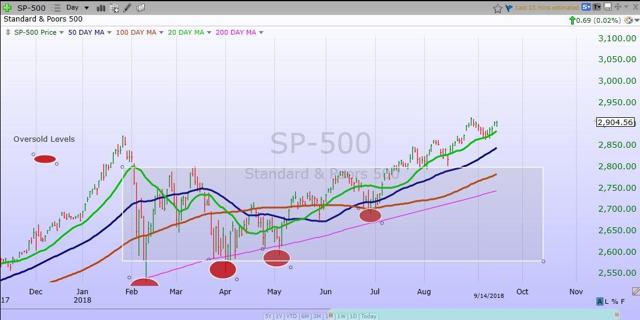 Chart courtesy of FreeChartStocks.com
Price action in the S&P looks solid, and is demonstrating that despite all of the issues, the path of least resistance looks to be higher. The index rides along the short-term 20-day moving average (green line). Until we see a break there, any thought of a pullback has a low probability of occurring.
Short-term support resides at the rising 20-day moving average of 2,883. Resistance is at the old high of 2,914.
The lagging Dow Jones Industrial Average closed at its highest level since February 1 this week and is now less than 2% away from confirming the breakout in the Dow Jones Transports by hitting its first new all-time high since the late January peak.
This type of overall strong trading action is not exactly flashing any warning signs and probabilities of a new high being forged before any weakness sets in remain elevated.

The talk of overvaluation and citing the Cape Shiller PE ratio as their guide is still with us. I do not subscribe to the Shiller PE valuation concept for a variety of reasons, but the one I'm about to talk about is the primary one.
In 1984, the shiller PE was 10; it increased every year, and by mid-1994 it had doubled. The Shiller PE didn't stop there as it continued to rise each and every year to 2000, where it peaked at 44. During this time the S&P rose 582%. The takeaway, the Shiller PE was telling investors valuations were rich and to get out of stocks each and every year the stock market was going up.
Why anyone wants to cite this useless metric for making investment decisions is beyond me.
Individual Stocks and Sectors
Technology, Healthcare, and Financials continue to be my top choices as we enter into the last quarter of the year. Industrials are now added to that list as any positive development on the trade commentary will send those stocks higher. The Select Industrial ETF (XLI) has already shown positive development on its price chart, perhaps signaling the reaction to the trade talks was overdone. All of the negatives have been priced in. I look for that ETF to make an all-time high very soon.
Energy is also an area to start looking for bargains. Once this global trade scare is over, the demand side of the energy picture should take prices higher. The Select Oil and Gas Exploration ETF (XOP) is in consolidation mode, and it is my view the probability remains high that another leg higher is in the cards.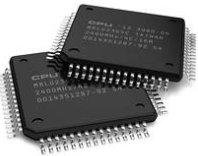 Plenty of discussion on the Semiconductor sector these days. Most of that discussion revolves around the collapse of the sector that will signal the end of the tech trade, and possibly the end of the bull market.
I believe these calls are premature. While we have to remain vigilant on the weakness that has overtaken the sector, we also have to put things in perspective. The counterargument to the dire scenario that is being forecast by some is the price action we are witnessing; it may be an expected consolidation phase.
The sector gained a whopping 143% from the lows of February 2016 to the recent highs. It's now a simple matter of working off that excess. What we have seen now is a volatile sideways pattern. The majority of analysts are now negative and downright bearish on the sector.
The WEEKLY chart shows a series of lower highs and that is where the calls for a major top being formed are coming from. However, we also see a series of HIGHER lows established.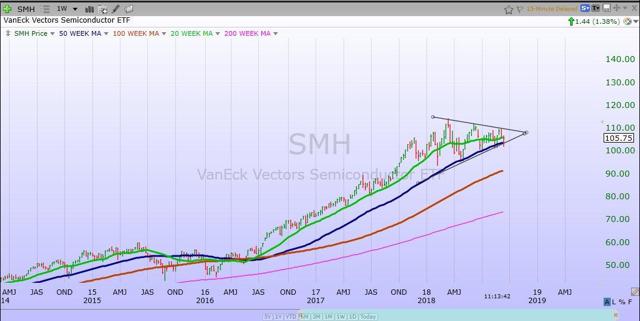 Chart courtesy of FreeStockCharts.com
In a bull market, the wedge pattern being displayed often resolves itself to the upside. It may take a while with more consolidation in order, but unless I am wrong about the economy, I believe that will be the case here.
One other point to be made on the sector. The majority of semiconductor companies are reporting excellent earnings and RAISING guidance.
As an example Intel (INTC), which is getting beat-up with negative headline after negative headline from the analyst community, raised its EPS guidance in April to $3.85 for the year. In July, it raised that to $4.15. In the same time period, revenue forecast was raised from $65B to $69B. The stock is down 20% in that span on worries over "everything" and a slew of negative analyst headlines.
In contrast to the headlines that swirl around, the company isn't forecasting a dire scenario. Is it an analyst community that simply wants to be the first to predict the end of the cycle? Or companies that are healthy, signaling sustained growth? Time will tell; something is amiss with this entire story.

The anniversary of the Lehman Brothers collapse brings about the memories of the financial crisis. That's enough to get many pondering when the next collapse will be and what will cause it. Nothing has changed in the last few years. There is a contingent of analysts and pundits looking around for a catalyst that will end this cycle. Either they just don't get it or they are playing the game of let's keep pushing back the date for the debacle. My instincts tell me it's about 50-50 on that score.
Now it seems we have come full circle. It's the same rinse and repeat story from the Bears as they take advantage of the corporate news vacuum between earnings seasons. Issues like student debt and energy company defaults are being surfaced again. I realize the role human nature plays in the world of investing, but I am continually amazed how so many look for the end instead of realizing where we are.

By the way, it is never about seeing down to the end of the road and making predictions. It is all about assigning probabilities to the issues that we can see, and following ALL of the signals that are in front of us. Then forming an opinion and strategy. Telling me that student debt could cause the next crisis is absolutely absurd thinking when we look at ALL of the other factors around us "today".
"Today" being the operative word. I'll also remind the obsessive crowd that whatever will cause the end of this cycle is an unknown event or issue, and their fortune telling prowess won't identify the cause "today". Believing that one can say today that this or that issue will bring about the end of any economic cycle is tantamount to believing in the Easter Bunny.
So instead of searching for the end, I would rather spend my time dealing with the present. That scenario is telling me there is no reason to lighten up on my equity exposure now. The present is telling me the probability of higher stock prices remains elevated.
There are some seasonal factors that point to near-term risks. The S&P is at the top of its trend channel, September seasonally has not been a good month (particularly in midterm years), and macro data surprises could impact the scene.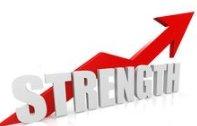 Add in the noise from the bears during the corporate news vacuum between earnings seasons and there could be some weakness. That said, strong seasonal tailwinds that tend to kick in after September shouldn't be ignored, particularly during midterm elections years.
Since 1929, Q4 of midterm years through Q2 of pre-election years have represented the best 9-month stretch of the 4-year U.S. presidential cycle, with bullish tailwinds typically starting in October.
Investors need to ask themselves if it is worth trying to time what could be a weak period by trimming exposure now. Then decide when they should get back in and re-deploy if the market does turn higher. In my view that exercise isn't worth attempting. No need to overthink the situation; the uptrend is solidly in place.
Stay the course.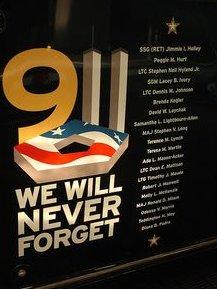 A moment of silence. Remembering the victims of the 9-11 terrorist attack this week.
I was very fortunate this week as my home is located on the northern fringe of the path of Hurricane Florence and was spared any major issues. Many are not so fortunate, as the impact is being felt by both North and South Carolina residents now. Best wishes for all in the path of this storm.

I would also like to take a moment and remind all of the readers of an important issue. In these types of forums, readers bring a host of situations and variables to the table when visiting these articles. Therefore, it is impossible to pinpoint what may be right for each situation. Please keep that in mind when forming your investment strategy.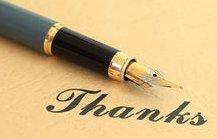 to all of the readers that contribute to this forum to make these articles a better experience for all.
Best of Luck to All!
Did you see the new high in the S&P coming? More importantly were you in the right stocks? What stocks and sectors look good now? The Savvy Investor Marketplace service is here to help. Invest without emotion, drown out the noise and start profiting from what this stock market is giving investors. Please consider joining one of the most successful new ventures here on Seeking Alpha. The reviews speak for themselves.
Disclosure: I am/we are long INTC. I wrote this article myself, and it expresses my own opinions. I am not receiving compensation for it (other than from Seeking Alpha). I have no business relationship with any company whose stock is mentioned in this article.
Additional disclosure: My portfolios are ALL positioned to take advantage of the bull market with NO hedges in place.

This article contains my views of the equity market and what strategy and positioning is comfortable for me. Of course, it is not suited for everyone, as there are far too many variables. Hopefully it sparks ideas, adds some common sense to the intricate investing process, and makes investors feel more calm, putting them in control.

The opinions rendered here, are just that – opinions – and along with positions can change at any time.

As always I encourage readers to use common sense when it comes to managing any ideas that I decide to share with the community. Nowhere is it implied that any stock should be bought and put away until you die. Periodic reviews are mandatory to adjust to changes in the macro backdrop that will take place over time.