This report covers the week ending September 14, 2018. Daily data for September 8 to September 13 is estimated. Daily data for September 14 is forecast.
TOTAL SUPPLY/DEMAND BALANCE
We estimate that aggregate demand for American natural gas (consumption + exports) totaled around 490 bcf for the week ending September 14 (down 4.5% w-o-w, but up 10.0% y-o-y). The deviation from the norm stayed positive, but declined from +23% to +19% (see the chart below). According to our calculations, aggregate demand for U.S. natural gas (on a weekly basis) has been above 9-year norm since February 24, 2017. The weather conditions cooled down significantly across the country. We estimate that the number of nationwide cooling degree-days (CDDs) dropped by no less than 32.0% w-o-w, for the week ending September 14. However, total energy demand (measured in total degree-days) was still above last year's level by around 12%. Seasonal trends call for a declining number of CDDs and TDDs. Natural gas consumption should hit a trough in the end of September or early October.
Total exports increased by 2% w-o-w, mostly due to stronger LNG sales. According to Marine Traffic data, Sabine Pass and Cove Point together served at least 5 LNG tankers this week (total natural gas carrying capacity 17 bcf). In annual terms, total exports were up 23.0%.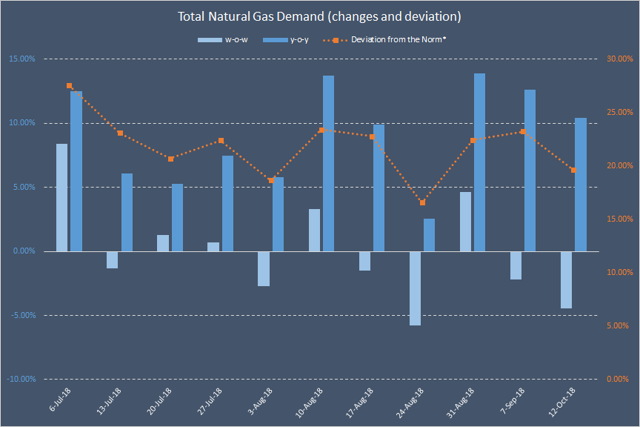 * norm defined as simple average over the last nine years. Source: Bluegold Research
We estimate that dry gas production has been expanding in annual terms for 67 consecutive weeks now. We project that dry gas production will average 84.4 bcf/d in September, 84.5 bcf/d in October and 84.6 bcf/d in November. The aggregate supply of natural gas (production + imports) averaged around 91.7 bcf per day for the week ending September 14 (up 12.0% y-o-y, but mostly flat w-o-w). Overall, total unadjusted supply/demand balance should be positive at around 150 bcf. The volume is some 20 bcf larger than a week ago and as much as 35 bcf above 5-year average for this time of the year (see the chart below).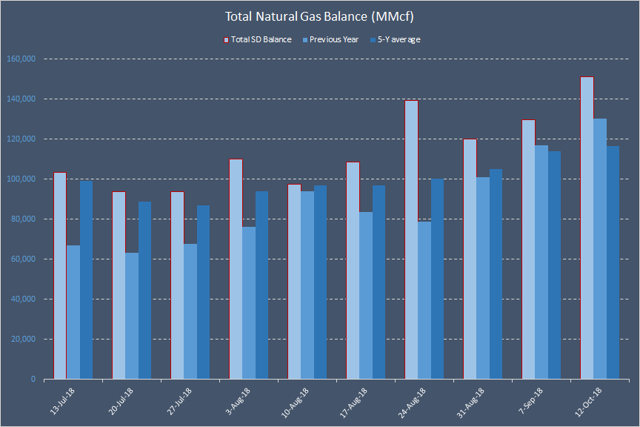 Note that the total Supply-Demand Balance does not equal storage flows. Source: Bluegold Research
In the simplest of terms, and with all other things being equal, this kind of volume is bearish for natural gas prices, since it is above last year's level and also above the historical norm. However, the market is forward-looking and this week's data is, to some extent, irrelevant for traders. The price is often a function of a 2-week weather forecast, but as we are moving into the shoulder season, other factors start to play an important role – notably, end-of-season (EOS) storage outlook and winter forecast.
EOS STORAGE EXPECTATIONS
Indeed, as we said in our previous article, "market's EOS storage expectations are too bullish". It means that there is an increased chance that at some point in time the market will be disappointed or that at some point it will have to face the reality and adjust its expectations to the upside (i.e., start to anticipate more natural gas in storage). Upward adjustments in EOS expectations usually result in lower prices.
Therefore, there is a significant bearish risk in natural gas market right now. Our research shows that under the latest production and weather/consumption forecast, storage expectations for both seasons (injection and withdrawal) are too bullish (i.e., too low) – see the table below.

* ICE data – implied market expectations; ** – end-of-injection-season; *** – end-of-withdrawal season.
Hence, the reason we continue to focus on the short side of the trade. Our subscribers receive a daily update on the end-of-season storage outlook as well as a full update on natural gas fundamentals and trade alerts. Consider signing up if interested (see the link below).
Thank you for reading our weekly report. We also write a daily update of our forecast for key natural gas variables: weather, production, consumption, exports, imports and storage. Interested in getting this daily update? Sign up for Natural Gas Fundamentals, our Marketplace service, to get the most critical natural gas data. In addition, every Sunday, we publish three special reports: "Trends in the U.S. Electric Power sector", "Trends in Global LNG Market", "Global Oil Products Inventories".
Disclosure: I/we have no positions in any stocks mentioned, and no plans to initiate any positions within the next 72 hours. I wrote this article myself, and it expresses my own opinions. I am not receiving compensation for it (other than from Seeking Alpha). I have no business relationship with any company whose stock is mentioned in this article.