Editor's note: Seeking Alpha is proud to welcome Adrian Cabanelas as a new contributor. It's easy to become a Seeking Alpha contributor and earn money for your best investment ideas. Active contributors also get free access to the SA PRO archive. Click here to find out more »
Executive summary
2018 has not been a profitable year for emerging markets. Investors are turning their backs on risky EM stocks and bonds for the safety of US assets, which are much more attractive due to increasing interest rates. Argentina, Turkey, South Africa and countries heavily reliant on foreign capital are suffering from fiscal stress, current account deficit, rising inflation, and political instability, while the once-mighty BRIC now faces inevitable decelerating growth.
The possibility of contagion to other emerging markets is real, given the investment vehicles that allow one to buy and sell the assets of several countries in a single bundle. While this effect might catch up on frontier markets, these are mostly dominated by local investors, accounting in most cases for 80 to 85 percent of ownership. Countries such as Vietnam, Pakistan and Bangladesh are showing continuous growth, coming from the lower end of economic development, and there is also the possibility of an upgrade to emerging status in the case of an EM meltdown. Combined, these factors make FM an option for investors willing to take a long-term stance due to these markets' inherent illiquidity.
Emerging Markets Classification
Emerging and frontier markets cover around 85% of the world population, offering a historical correlation with developed markets of 0.60 and enhanced returns due to their increasing growth. After the different financial crises in the late 1990s and early 2000s, some of the biggest emerging markets have pushed structural reforms to reduce their riskiness and avoid contagion in a potential emerging-market meltdown. While BRIC, Argentina, and Turkey are suffering the effects of a strong dollar, rising tariff threats and a sell-off in developing-nation currencies, Asian weaker markets are starting to shine. Vietnam and Bangladesh had foreign direct investment rise to $11.25 billion during the first half of the year (+9.2% YoY), while Taiwan, Singapore, and South Korea are showing strong fundamentals, with a surplus on current account, low debt risk, and a sophisticated economy.
The MSCI Emerging Markets Index groups 24 emerging economies within the same group, although these are very different regarding sensitivities and exposure to global and local factors. We can divide EM into four elements:
Sensitivity to developed markets: stocks in emerging markets that are dependent on exports of goods and services to developed economies, such as South Korea and Mexico, with exports accounting for +30% of GDP.
Sensitivity to domestic economic forces: stocks in markets that are more sensitive to local events than to global demand. China, focused on domestic spending and reducing its exports to GDP from the 38% peak in 2006 to 18.4% in 2017, sits within this category.
Sensitivity to changes in currency markets: countries with a large percentage of short-term debt denominated in other currencies makes them sensitive to fluctuations in local currency, as do South Africa, Turkey, Thailand or Indonesia.
Sensitivity to commodities markets: countries that rely heavily on commodity exports, such as the dependence of Middle Eastern countries on oil or Chile on metals.
Emerging Markets Performance
We have seen increased debt in emerging markets - $63 trillion in 4Q2017, according to the Institute of International Finance - as well as constant rumors about weakening fundamentals that point to a global crisis. As a result, investors have been pulling their money away from EM stocks and bonds, with the MSCI Emerging Markets Index taking a 9% hit since the beginning of the year.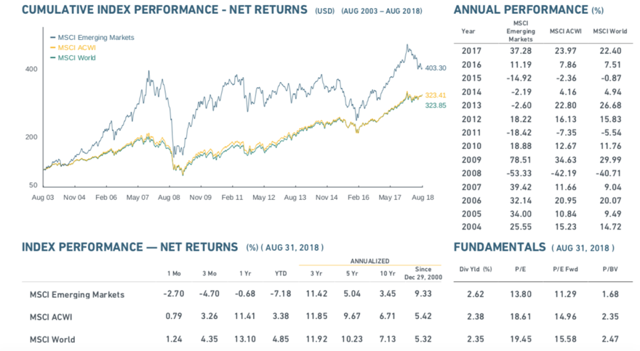 Figure 1: MSCI Emerging Markets Index
Exposure to emerging markets has increased within the past five years, motivated by global themes such as low yields, regulatory efforts around suitability, and technological development. Among the primary investment products used to gain such exposure are ETFs, mutual funds and hedge funds.
Exchange traded funds have benefited from a global shift toward self-directed retirement savings and passive investment. The three largest ETFs in the EM space - Vanguard FTSE EM ETF (VWO), iShares Core MSCI EM ETF (IEMG) and iShares MSCI EM ETF (EEM), with assets totaling $134 billion - have all suffered a 20% hit since their January peak.
Similar to ETFs, mutual funds will struggle in the near future due to the negative sentiment toward emerging markets. The Vanguard Emerging Markets Stock Index Fund (VEIEX) and the American Funds New World Fund Class F-1 (NWFFX) are only two examples of these funds that are in the red: they have reported annualized returns of -7.74% and -3.64% respectively, and have sustained declines of -21.07% and -12.14% since January 2018.
Hedge funds have historically managed to generate alpha even under distressed scenarios. Studies such as that of Huij and Post (2011) provide evidence of EM managers earning positive abnormal returns of up to 40%, although these papers focus on cumulative emerging market hedge fund outperformance independent of the investment style.
Hedge Fund Research Inc. provides insight into different strategies used to succeed in generating superior fund returns. Among them, emerging markets hedge funds managers have historically outperformed their developed markets counterparts through equity hedge, event-driven and macro funds.
Investment Strategies
Indices
Equity Hedge
Event-Driven
Funds of Funds
Macro
Relative Value
HFRI
HFRL
HFRU
HFRX
DM
0,669
0,655
0,320
0,523
0,615
0,420
0,296
0,148
0,317
EM
0,722
1,033
0,229
0,801
0,482
0,613
0,597
(Source: HFR)
The Eurekahedge Emerging Markets Hedge Fund Index is an equally weighted index of 315 constituents investing exclusively in emerging markets. Despite the current situation, the index presents a global 2018 return of -3.03% with CTA/Managed Futures and Macro strategies earning positive returns.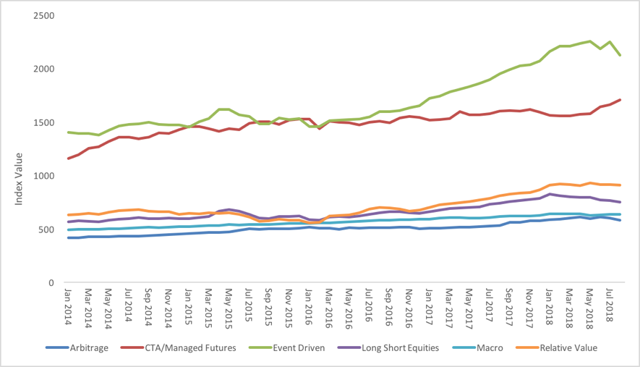 Figure 2: Eurekahedge Emerging Markets Hedge Fund Index returns
Frontier Markets Performance
Frontier markets are even less mature and less established than emerging markets, with less available investment, lower market cap and lower liquidity than countries classified within the emerging markets bundle. The frontier equity markets are usually followed by investors looking for long-term capital commitment, as returns are often correlated to the directionality of the market rather than arbitrage opportunities, and low correlations with developed or emerging markets. According to Burnham, Gakidis, and Wurgler (2017), movements from a less-benchmarked to a more-benchmarked index (such as Frontier to Emerging) present a 15% rise in stock price between announcement and effective dates.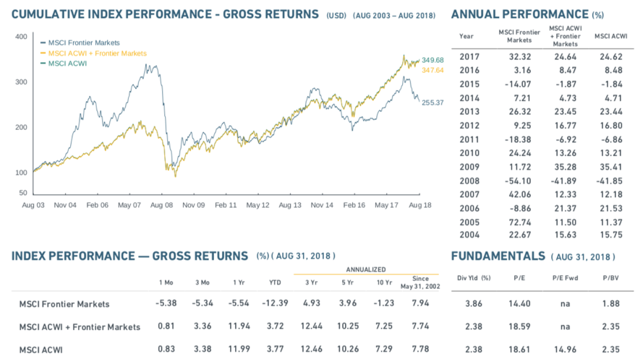 Figure 3: MSCI Frontier Markets Index
Frontier investable countries tend to have sensitivity to domestic factors and some are rich in natural resources, mostly those in the African continent. An additional characteristic is the short life expectancy, making for a ratio of workers to retirees of around 30% to 45%.
According to FTSE, the market cap of securities in FM barely represents a 0.3% of the total, compared with the 8.8% of EM. Nonetheless, there is value in investing in fast-growing nations with large populations that can eventually look eye to eye at more advanced economies, as is the case for Vietnam or Bangladesh. Such investing can be done either via ETFs or mutual funds, although these usually have high investment requirements and high annual expenses:
In the ETF world, the largest ones with exposure to frontier markets are the iShares MSCI Frontier 100 ETF (FM) and the VanEck Vectors Vietnam ETF (VNM), with combined AUM of $900 million. These have been affected by similar corrections to those of their emerging counterparts.
Frontier market funds have also suffered a slight drop within the last eight months. Charlemagne's Magna New Frontiers Fund, the highest-performing FM fund in the 2014-2017 period, has returned -7.6% since September 2017. The top frontier market funds - including HSBC, Morgan Stanley, Schroders, and Franklin Templeton, among others - present a +35.1% return over a five-year period, and a -8.8% over a one-year period, according to Citywire Financial Publishers.
Concluding thoughts
Whether we are heading towards an emerging market meltdown is yet to be seen. While the current-currency environment and trade uncertainty will undoubtedly affect those countries with current account deficits and short-term debt denominated in US dollars, not every emerging market is exposed to the same threats. Egypt, with 5.4% growth YoY after enacting a series of investment reforms in 2016, and Taiwan and South Korea, with FDI at all-time highs and strong fundamentals, are examples of potential investments in the short term.
Uncertainty offers an opportunity for hedge funds with cultural, political and market insight to obtain a positive alpha in emerging markets. Although their returns have fallen in 2018, cumulative hedge fund performance in emerging markets has outperformed the MSCI EM index, with potential returns at hand in the future for investors willing to take some risk rather than invest in a bundle of assets with different sensitivities.
As per frontier markets, their correlation of 0.59 to emerging markets over the past 15 years makes them an attractive investment opportunity when combined with other asset classes. A strong tendency towards future appreciation in countries like Vietnam, and robust government investment on infrastructure of countries like Kuwait, will surely provide not only long-term capital appreciation through directionality but also arbitrage opportunities through active investment.