"A message prepared in the mind reaches a mind; a message prepared in a life reaches a life." - Bill Gothard
On February 23rd here on Seeking Alpha I addressed the relative weakness of small-caps to large-caps in an article titled "Small-Cap Message and Revisiting the Winter Resolution" (here). In it I stated the following:
"I've been hearing a lot of bearish arguments now hitting the airwaves in recent days, with many calling a "top" in equities. I don't see it just yet in any of the market internals I study, as the conditions are suggesting a continuation of the reflation theme and the idea that its still very early on ... Has the trend in leadership (of small-caps) definitively broken? Its not clear, but there is some pick up in strength returning to the Russell 2000. Should money move back into small-caps, I would argue we could be headed for higher highs with no near-term correction just yet as risk-sentiment continues to rise. This likely will remain an important ratio to watch in coming days to see what the risk bias is internally within the stock market."
I wanted to provide a quick update on the chart with implications given that markets seem to be resilient even though small-caps have been languishing. Take a look below at the price ratio of the Russell 2000 (NYSEARCA:IWM) relative to the S&P 500 (NYSEARCA:IVV). As a reminder, a rising price ratio means the numerator/IWM is outperforming (up more/down less) the denominator/IVV.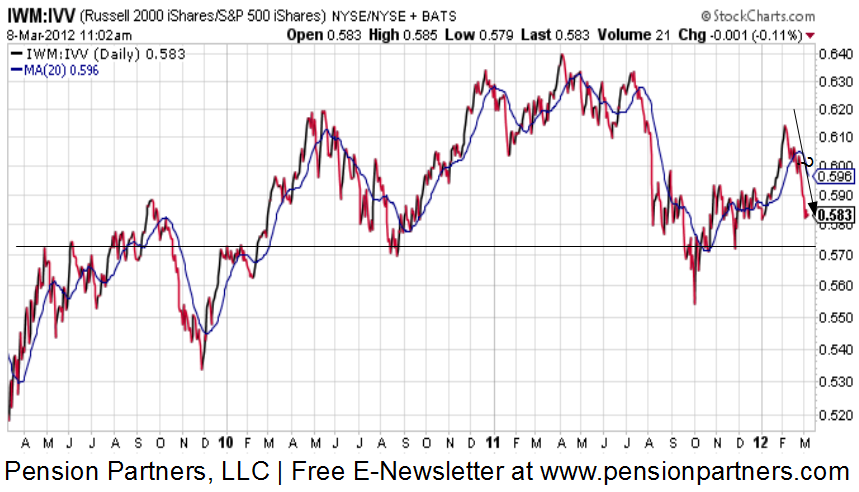 There is no doubt that the decline has been substantial in terms of relative weakness of high beta small-cap names to larger-cap stocks. I've drawn a resistance line in the ratio which we are actually fairly close to hitting. Market internals may be favoring large-caps purely because of a recovery in the global growth story, which in turn benefits larger-cap companies with global presence.
Either way, weakness in small-caps still looks to be in play for the near term, but not in a way that is confirmed in other areas of the investable landscape that means its weakness is a cause for concern just yet. I continue to believe that 2012 is similar to 2003 and 2009 in terms of reflationary conditions, and that a huge move in risk assets could result. I addressed this on CNBC yesterday - why stocks could conceivably rise 40+% this year available here. I encourage you to watch it - its not as crazy as it sounds.
Disclosure: I have no positions in any stocks mentioned, and no plans to initiate any positions within the next 72 hours.
Additional Disclosure: Pension Partners, LLC, and/or its clients may hold positions in securities mentioned in this article at time of writing.