Background
This month's article marks the forty-second installment in my ongoing series outlining my efforts to achieve dividend growth success. The portfolio is nicknamed the MnM portfolio, which is a moniker for "Minne(sota) 'n Monthly."
Note: The portfolio now sits at 33 stocks, now filled out. This year I adopted a revised strategy, resetting my target portfolio size to 33 (or so), down from my prior target of 40. For me, this portfolio size will be easier to monitor while still maintaining strong diversification.
I also receive 100 free trades each year from my brokerage, Wells Fargo Advisors, so I can trade in small quantities without worry about brokerage trading costs.
That being said, here's what happened in August.
August 2018
Another strong month! The value stocks in the portfolio saw a nice little surge once again and the portfolio saw a ~4.1% rise to finish the month up 4.5% for the year. The performance this month created some separation from the S&P 500 Value Index which is up 3.12% for the year. I was trailing the index for most of the year, but this month proved to be a differentiator!
I do occasionally benchmark my dividend growth against the Vanguard Dividend Appreciation ETF (VIG), which I wrote about in a separate article last month. Hopefully you caught it as well. For those that didn't, my portfolio is outperforming the VIG in terms of dividend growth as well.
I have captured the activity for August and for the year-to-date in the standard roll-forward summary below: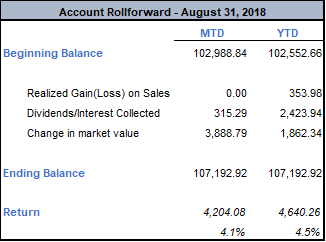 The portfolio collected $315.27 in recurring dividends and $.02 of interest during the month. The portfolio was comprised of the following securities as of August 31, 2018: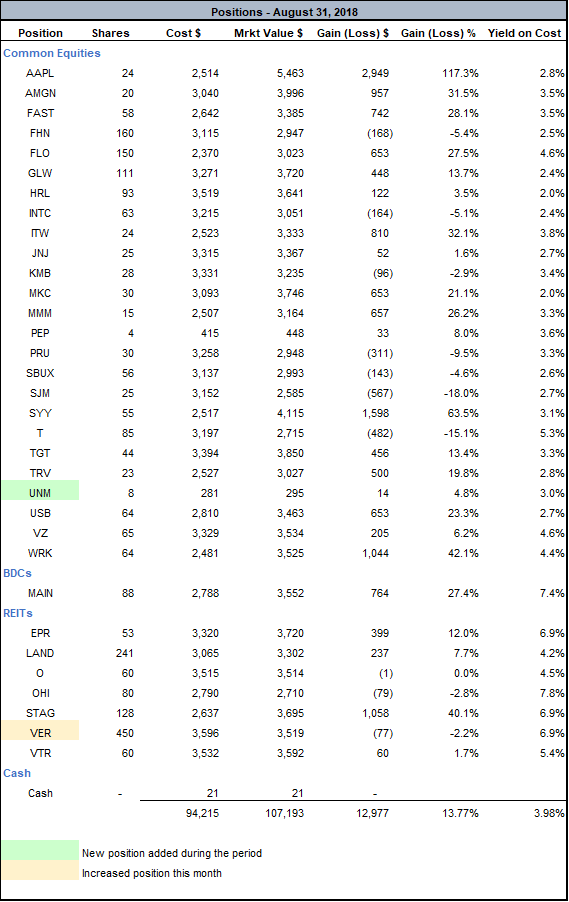 The following sections go into greater detail of the events that have occurred since the end of July.
Sales
None.
Additions
My August purchases centered on re-initiating Unum Group (UNM) as a portfolio holding, where I added 8 shares.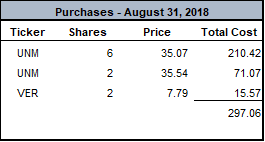 For those unfamiliar, I held Unum for some time until I parted with it last year on what I viewed to be excessive pricing. I presented my thoughts on Unum in an article on Seeking Alpha, but the crux of the argument to sell was that the fundamentals didn't support the surge in prices that the stock was seeing. In my opinion, it was caught up in the overarching bullish sentiment created by a rising interest rate environment, which impacted many financials, including insurers.
I didn't get the top completely correct, but I was right to sell, and now a year later I see the stock selling at ~$10 per share less than what I sold it at. The fundamentals point to deep value, but we need to ask ourselves why.

So why has Unum sold off?
If you dig into the earnings and calls, you will find that ongoing operations are doing really well, but there is some near-term pain coming from the closed block of insurance that Unum still operates. If you're unfamiliar with this line of business, it's comprised of lines of insurance that Unum exited a number of years ago, which it is in the process of winding down. The problem with these lines is that their claims ratios have ticked up recently to the point where they are becoming a drag on Unum's ongoing operations.
To compound these matters, Unum is undertaking a study and is looking at another potentially large charge related to these operations. Jack McGarry, Unum's EVP and CFO, had this to say on the last earnings call:
Our current thinking, subject to the completion of our work is that we may need to increase our reserves as part of our third quarter closing process. Although, we still have work to complete and we are still assessing our assumptions, our current expectation is that any increase of our long-term care reserves will likely be predominantly a GAAP event and will likely not exceed $750 million after tax.

Source: Seeking Alpha Transcripts
Ouch.
With regard to Unum, $750 million is a pretty substantial sum. Keep in mind that Unum's net income was only $994.2 million in 2017. Essentially what it is telling us is that closed-block charges could wipe out a good chunk of this year's income.
That being said, if you can stomach the potential for short-term pain and have a longer investment horizon, then you will find that now is as good of an entry point into Unum as we've seen in a long time. My presumption is that this charge is already baked into the stock's price and explains the discount.
As a dividend-growth investment, I love what Unum has been doing. Its growth rates over the last 1, 3, 5 and 10 years have all been double digits, and as I have written in the past, it retires about 1% of its stock float (on average) each quarter. My plan is to average into the stock over the next couple months, adding through dividends received in the portfolio.
I think that it's worth a look for deep-value investors.
Dividends Collected
As noted earlier, I collected $315.27 in dividends during the month; all of which except for $.02 of interest was on recurring positions held. I have updated and included the forward-looking dividend summary as follows: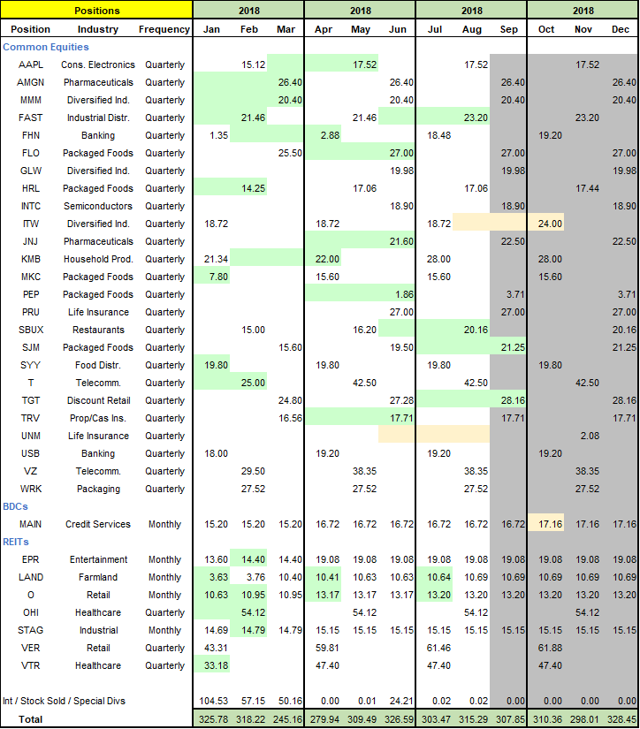 Note: I have highlighted current month dividend increases in a shade of yellow to distinguish from previously reported increases.
I highlighted this last month, but in terms of annual dividend growth, this quarter will be my strongest on record. Q3's projected year-over-year growth will likely finish around 12.6%. Q4's projected income had strong gains this month as well, with YoY income growth now trending at 9.8%, up from 8.6% last month.

Dividend Increases
August was a good month for dividend raises. The portfolio logged a 28.2% bump from Illinois Tool Works (ITW), a 13% bump from new entrant Unum Group, and a nice 2.6% increase from Main Street Capital (MAIN).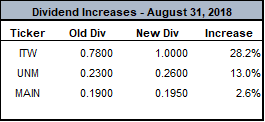 I was pretty surprised at how large the bump was from Illinois Tool Works; it's been a great investment since I added it back in 2016. Next month will likely only feature Verizon (VZ) and Realty Income (O), so I do not expect quite as strong of a month.
The MnM 401(k)
This month, I received three contributions into the 401(k) and you will notice that I received a raise at work as well. The raise is the reason that the contribution amounts increased mid-month. Other than that, there was no other activity in the 401(k) this month.

Closing Thoughts
No surprises here, just another steady month for the portfolio. It's nice to be ahead of the benchmarks for the first time this year, but with four months to go, we'll see if the outperformance holds. Q4 is on the cusp of hitting my annual income growth target of 10%, and I have now built out the portfolio to where I want it to be size-wise (33 positions). All in all, things are going well.
The highlight for the month goes to Illinois Tool Works which passed along a remarkable dividend increase. I was only expecting half of what it passed along, so very appreciative there.
The other big story this month is the Unum addition. I'm willing to take a shot on Unum once again. Right now, financials are out of favor, and the company has some challenges with its closed block, but I think it's a good opportunity to pounce. Time will tell if I am right or wrong and if management can navigate through the closed-block mess, but I haven't been able to buy the stock with a 3% dividend yield in a long time.
Looking into September, I plan to focus primarily on building the stake in Unum. Financials and industrials seem out of favor at the minute and may be the best place to find value within the portfolio.
I hope you enjoyed the update. All the best.
Disclosure: I am/we are long THE STOCKS LISTED IN THE PORTFOLIO. I wrote this article myself, and it expresses my own opinions. I am not receiving compensation for it (other than from Seeking Alpha). I have no business relationship with any company whose stock is mentioned in this article.