Despite my best efforts to explain that the stark divergence between U.S. stocks and the rest of the world need not necessarily resolve itself by the S&P (SPY) catching down to, for instance, emerging market stocks (EEM), there seems to be a bit of lingering confusion among my readers on this platform. Or at least that's how it appears judging by some of the comments.
To be clear, there is no question that the divergence between the U.S. equity market and the rest of the world is stark. Depending on how you want to conceptualize it, it's unprecedented. For instance, JPMorgan's Marko Kolanovic wrote the following in a note late last month:
If one looks at price momentum – it is positive for US stocks and negative for Europe and Emerging markets across all relevant lookback windows. This has never happened before. Over the past 20 years, even the individual regional indices rarely had such a divergence (for instance, the divergence of US and Europe momentum happened only 2 times).
As mentioned here earlier this week, you needn't be a quant to understand that what's going on is some semblance of remarkable. A simple YTD chart that plots the S&P against regional benchmarks and downtrodden sectors will do the trick. Here's the decoupling between U.S. stocks (yellow, on top) and the MSCI Asia Pac index (light blue), the MSCI Emerging Markets index (red), European autos (purple), European banks (green), and the Shanghai Composite (yellow, on bottom):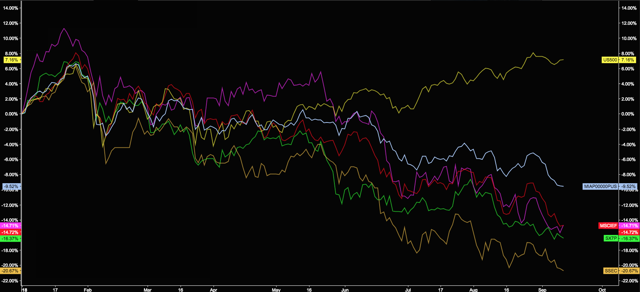 (Heisenberg)
What gives with that? Well, again, regular readers know the story. At this point, I've run out of ways to paraphrase myself, so rather than waste your time and mine with a laborious effort to say the same thing using a different combination of words, I'll just quote my Friday evening post for this site (if you're a regular reader, bear with me and I'll get to the new material, but in the interest of accommodating anyone who is new, I need to quickly rehash this):
2018 has been defined by U.S. stocks' ability to rise despite international developments. That bulletproof character is ironically attributable to the very same policies that have rattled risk sentiment outside the U.S. U.S. fiscal policy catalyzed a buyback binge, bolstered corporate bottom lines, and helped prolong the economic expansion, but a consequence of that same fiscal policy is a more hawkish Fed and a stronger dollar. The stronger the dollar, the more pressure on EM. Meanwhile, the trade tensions have weighed on the outlook for global growth, and as a consequence, the divergence between the U.S. economy and the rest of the world has widened, making U.S. assets look even more attractive compared to their international counterparts and thereby exacerbating the performance disparity. Finally, protectionism raises the specter of higher consumer prices at home, which in turn makes the Fed predisposed to hawkishness in the interest of guarding against an inflation overshoot.
Ok, let's run through a few of visuals that should help to illustrate some of the points in those excerpted passages.
In a Friday evening note, Goldman observed that for the first time in a decade, buybacks account for the biggest share of corporate cash use by S&P 500 companies. As the bank reminds you, capex has been the single-largest use of cash for 19 of the past 20 years. But not in 2018. Thanks in no small part to the windfall from the tax cuts, buybacks surged 48% YoY in the first half: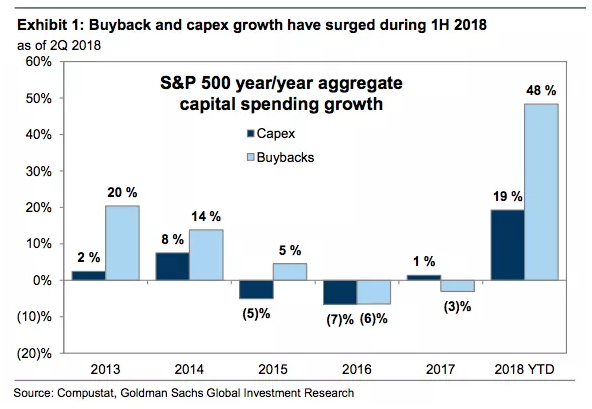 (Goldman)
As you can see, capex growth was healthy too, but it pales in comparison to the growth in repurchases. There's a ton of more detail on that here, but for our purposes, the point is simply that U.S. fiscal policy has helped support stocks by facilitating a buyback binge.
When it comes to the divergence between the U.S. economy and the outlook for global growth, note that the difference between PMIs stateside and those of non-US regions as a group and non-US developed markets, is the widest in nearly three decades: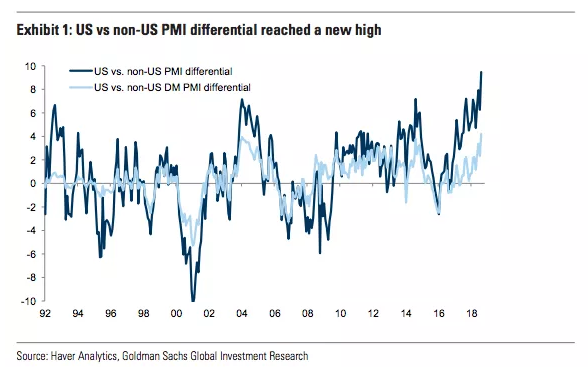 (Goldman)
That's the product of U.S. fiscal stimulus juicing the economy while U.S. trade policy weighs on the outlook for global growth.
Now, think about what hawkish Fed policy and rising U.S. short rates mean for ex-U.S. assets. Here's Citi's Matt King to help you out (this is from a note dated August 17):
The big trade during the years of QE and zero rates has been out of cash and into just about anything. And for years, that wall of money produced not only excellent returns but also extremely low volatility – both of them encouraging further inflows. Now, both sides of this equation are increasingly being challenged.

That sucking sound is the irresistible lure of 2.5% on $ cash – risk-free – pulling money from your asset class.
Here is what he means by "that sucking sound" (note how the orange, green and pink lines are sitting at their highest levels since the crisis):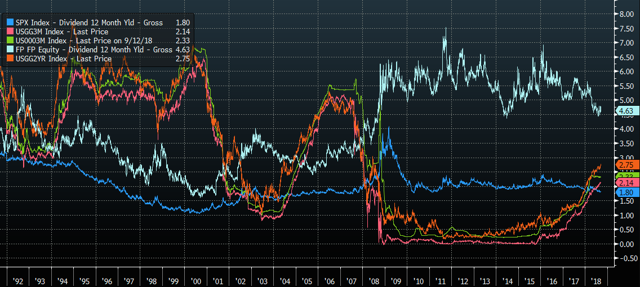 (Bloomberg)
Simply put: Shorter-dated USD fixed income (i.e. "cash") of all types is now offering more yield than the S&P. "TINA" is dead. There is an alternative.
The above-mentioned Matt King is essentially adapting the famous Daniel Day-Lewis line: "I drink your milkshake!"
Here's a companion visual from Nomura's Charlie McElligott which shows the same thing: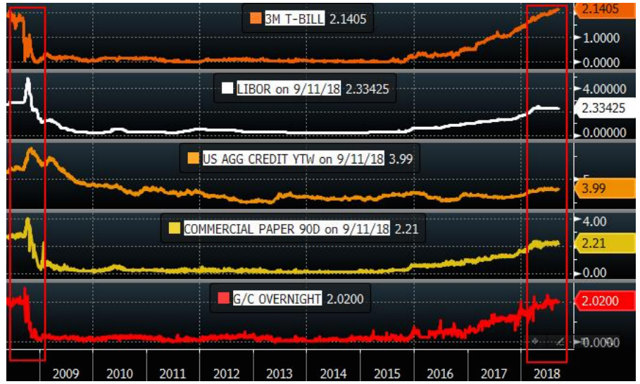 (Bloomberg, Nomura)
Those four visuals and the accompanying brief color should help when it comes to understanding why and how the divergence mentioned here at the outset developed. The tide of dollar liquidity is going out and financial conditions are tightening. As that happens, the dynamics that drove investors out the yield curve and down the quality ladder into speculative grade debt and emerging market assets are reversing. The first acute symptoms of that in 2018 are the egregious selloff in emerging market stocks (EEM) and the spike in EM FX volatility, with the latter serving to effectively blow up carry trades (see the chart below, which is the ratio of EM FX volatility to G7 FX volatility).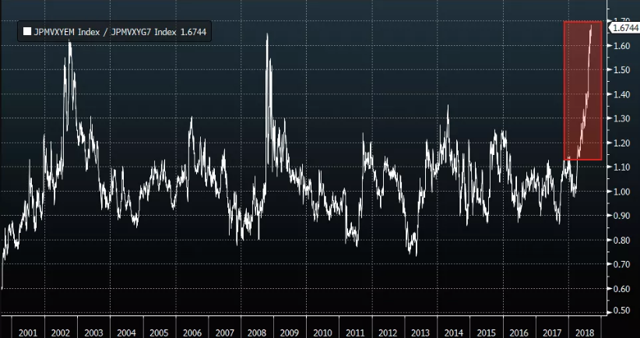 (Bloomberg)
Happily, BofAML is out with a new piece that picks up on all of this and ties things together with a few visuals that illustrate the main point, which is that the U.S. has become a global outlier. Consider this excerpt from the note:
We think QT (Quantitative Tightening) is having the effect of pulling global capital out of those pockets of the economy that were the big beneficiaries of the post-GFC reach for yield. As chart 5 shows, for instance, this year's Emerging Market vulnerability has coincided with the sharp deceleration in central bank balance sheet growth.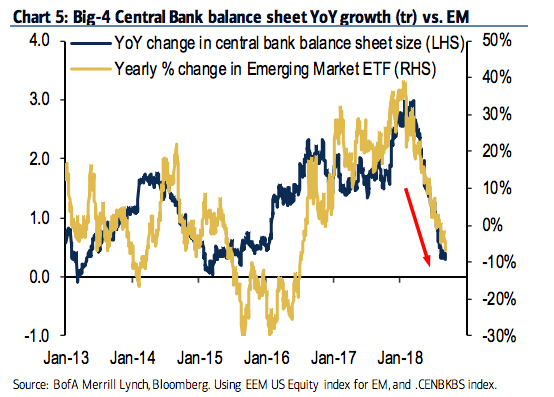 To reiterate, U.S. fiscal policy is backing U.S. monetary policy into a hawkish corner and that, in turn, is pushing up the dollar and USD short rates, facilitating the tightening that's driving emerging markets to the brink of crisis.
Now, go back up and look at the chart which shows the ratio of EM FX volatility to G7 FX volatility. That's not the best news in the world for Europe. Here's BofAML again, from the same note:
Extreme EM FX volatility becomes a fundamental issue for a number of European companies. As chart 10 shows, Europe is a relatively open economy and many European companies have become a lot more global over the last decade, increasing their reliance on emerging market revenues.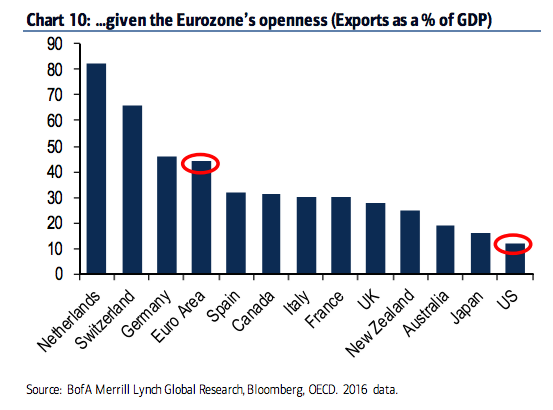 Over the past two weeks, I've repeatedly trotted out a chart that shows the correlation between the S&P and the MSCI EM equities index plunging into extreme negative territory. Well, guess what? While the correlation between U.S. stocks and EM stocks has remained negative, the correlation between European equities (FEZ) and those same EM stocks has flipped back to sharply positive since late May: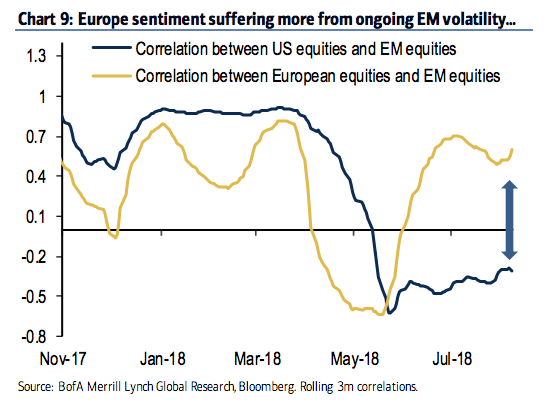 (BofAML)
That's just another way of illustrating the point made last month by JPMorgan's Kolanovic - namely that both European and EM assets are diverging markedly from the U.S.
What's abundantly clear from the above is that the dollar (UUP) needs to take a breather and, in the same vein, that the Fed needs to take a pause if this divergence is going to resolve itself in a way that doesn't involve U.S. stocks selling off.
That brings me neatly to the point made here at the outset. This need not entail a bearish outcome. There are two ways this can resolve itself, and I'll quote Kolanovic here:
'Risk on, USD down' outcome with EM and value assets staging a rally and USD selling off, while US stocks continue going higher (but lagging).
Alternatively, we could see a "Risk off, USD up" convergence, with US markets selling off and catching up with the poor performance of Europe and EM assets, e.g. driven by a continuation of the trade war and further USD strength (for now we will ignore a spectrum of 'in-between' outcomes).
Unfortunately, trade tensions look set to be ratcheted up further in the week ahead, but despite the likelihood that the U.S. moves forward with more tariffs, most analysts (including Kolanovic himself) generally see this playing out in line with point number one above. That is, consensus seems to be that the dollar will take a breather and the rest of the world will rally while the U.S. rallies too, albeit not as dramatically, allowing the performance gap to close.
That scenario would probably see U.S. equities make new highs into year-end. What comes after that is anyone's guess, but what I would note is that should the Fed continue apace on the way to pushing the dollar stronger and U.S. short rates even higher, you're going to continue to hear that "sucking sound" that Citi's Matt King described as USD "cash" persists in "drinking your milkshake."
Finally, I would also note that if the Fed ends up creating restrictive conditions by mid-2019, it's likely that the rates market will "sniff out" (to quote the above-mentioned Charlie McElligott) the end of the hiking cycle.
At that point (perhaps once the curve inverts), you want to watch for steepening, because as Charlie makes abundantly clear in his latest missive, it's not the inversion you should fear, it's the steepening.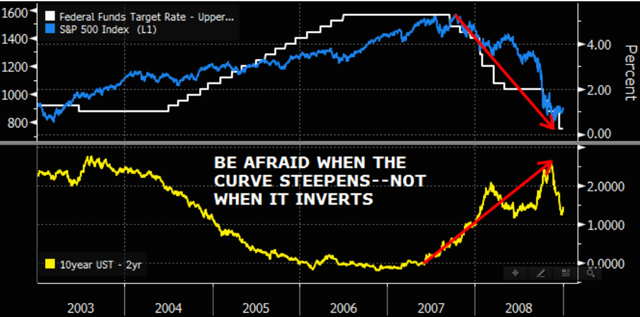 (Bloomberg, Nomura)
Nothing further for now.
Disclosure: I/we have no positions in any stocks mentioned, and no plans to initiate any positions within the next 72 hours. I wrote this article myself, and it expresses my own opinions. I am not receiving compensation for it (other than from Seeking Alpha). I have no business relationship with any company whose stock is mentioned in this article.