Pressure against U.S.-based tobacco companies has been building recently, amid ongoing trade disputes, the potential for stricter product regulation, as well as the likelihood of regional crop damage from Hurricane Florence.
Shares of North Carolina-headquartered Pyxus International (NYSE:PYX), for example, took a nosedive in intraday trading Thursday, as the company grapples with a host of adverse financial and operational risks.
While PYX's stock had shot up about 35% on the day Wednesday, amid an update to investors and analysts on its business transformation, it has since retraced some of those gains.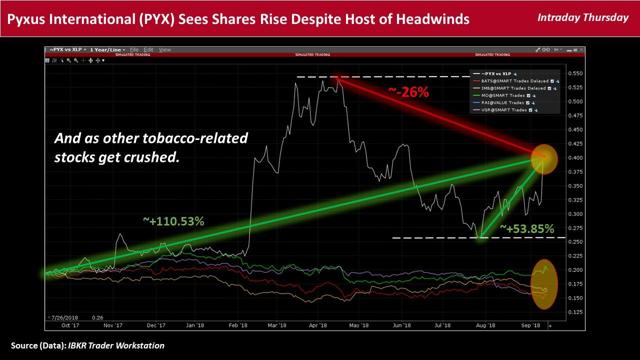 Among other products and services, the company – formerly known as Alliance One International – offers blends of tobacco, menthol and flavors for cigarettes, pipes, 'roll-your-own' (RYO) and cigars. However, given its product line, PYX, along with other domestic tobacco companies, face a potential regulatory threat from the U.S. Food and Drug Administration (FDA).
FDA commissioner Scott Gottlieb said Wednesday that, among other steps aimed at combatting youth access to tobacco products, the administration was targeting the use of flavors.
Gottlieb said, "We know that the flavors play an important role in driving the youth appeal. And in view of the trends underway, we may take steps to curtail the marketing and selling of flavored products. We're now actively evaluating how we'd implement such a policy."
Higher prices among myriad of risks
The FDA commissioner's recent rhetoric has added to an existing mountain of risks for the tobacco industry.
Jitters about the potential implementation of the new regulation have been compounded by fears of crop devastation by Hurricane Florence in North Carolina – the top U.S. tobacco producing state – as well as by Chinese export duties on cigarettes imposed in July as part of China's tit-for-tat tariff tactics.
In terms of costs, producer prices in the beverage and tobacco manufacturing subsector have increased nearly 1.2% in 2018 year-to-date, with consumer prices of tobacco and smoking products up 0.1 in August from the prior month, according to the Bureau of Labor Statistics.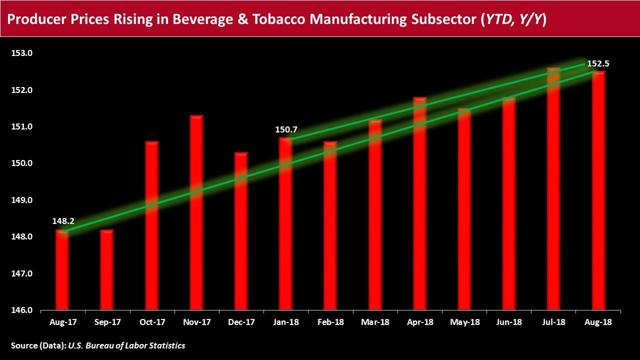 Against this backdrop, shares of Vector Group (NYSE:VGR), owner of North Carolina-based cigarette maker Liggett Group, were down about 0.5% intraday Thursday, while PYX's stock had hit a low of US$20.15 before recovering somewhat, amid reports of a downgrade to Florence's severity from a Category 4 to Category 2 hurricane.
Alternative routes
Meanwhile, as the population of smokers dwindles, and as potential new regulations threaten PYX's portfolio of products and services, the firm has forayed into certain alternative products.
Pyxus CEO Pieter Sikkel said the company is "continuing to make measured investments in industrial hemp, e-liquids and legal Canadian cannabis business lines as we build out capabilities to position them for further success in evolving regulatory and consumer environments."
With Canada's legalization of recreational cannabis use going into effect in mid-October 2018, Sikkel added that construction work has been underway for its wholly owned, indirect Canadian subsidiary FIGR to expand its greenhouse and warehouse capacity in that market.
However, the FDA's potential policy of targeting the restriction of flavors also appears to have posed some concerns for the Canadian cannabis sector, as well as U.S. companies such as Constellation Brands (NYSE:STZ) and PYX, who have recently committed hefty investments in that market.
In the wake of the FDA's announcement, some of Canada's cannabis-related companies, for example, saw their respective stocks plunge amid broader fears about e-cigarettes and vaping products.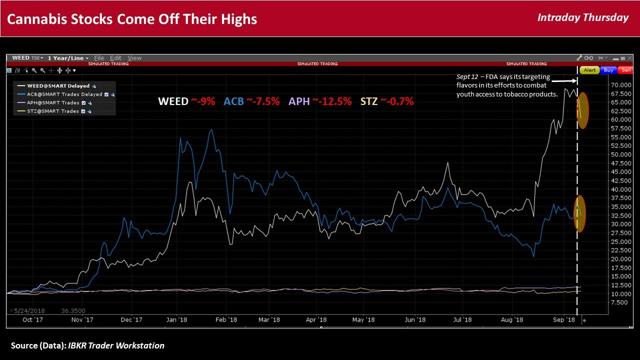 Canada's Canopy Growth (TSX:WEED, NYSE:CGC) — which received close to US$4bn from STZ in mid-August – was last quoted down roughly 9% intraday Thursday, with STZ off around 0.25%.
Change of strategy
In the meantime, PYX's transformational strategy appears to have helped bolster the company's bottom line.
In its fiscal first quarter of 2019, the firm has improved its loss position and shored up its liquidity profile.
For the three months ended June 30, 2018, PYX posted a much smaller net loss of US$0.8m, compared to its US$32.5m negative position in the same year-ago period.
PYX also said it used its surplus cash during the latest quarter to reduce long-term debt with the
purchase and cancellation of nearly US$11m of its 9.875% senior secured second lien notes, and an
additional US$7m in July 2018, leaving a little more than US$645m outstanding after the purchases in July.
The company stated its liquidity at quarter-end was "strong" with available credit lines and cash amounting to almost US$531m.
To date, the value of PYX has grown more than 110.5% year-on-year compared to the Consumer Staples Select Sector SPDR ETF (NYSE:XLP), with about a 54% jump since late July.
Click here to access Traders' Academy – providing you with complimentary courses on asset classes, markets, currencies, tools and functionality available on the IBKR Trader Workstation (TWS), IBKR Mobile, Account Management and TWS API applications.
Note: This material was originally published on IBKR Traders' Insight on September 13, 2018.
The analysis in this material is provided for information only and is not and should not be construed as an offer to sell or the solicitation of an offer to buy any security. To the extent that this material discusses general market activity, industry or sector trends or other broad-based economic or political conditions, it should not be construed as research or investment advice. To the extent that it includes references to specific securities, commodities, currencies, or other instruments, those references do not constitute a recommendation by IB to buy, sell or hold such investments. This material does not and is not intended to take into account the particular financial conditions, investment objectives or requirements of individual customers. Before acting on this material, you should consider whether it is suitable for your particular circumstances and, as necessary, seek professional advice.
Disclosure: I/we have no positions in any stocks mentioned, and no plans to initiate any positions within the next 72 hours.
Business relationship disclosure: I am receiving compensation from my employer to produce this material.
Editor's Note: This article discusses one or more securities that do not trade on a major U.S. exchange. Please be aware of the risks associated with these stocks.