Adobe Systems (NASDAQ:ADBE) does not cease to impress me.
This Thursday after the closing bell, the San Jose-based software company delivered its eighth straight all-around beat. Better yet, guidance for a traditionally strong fiscal 4Q came an inch ahead of consensus, in what now seems to me like a reoccurring game of anchoring expectations at current levels and beating them three months later.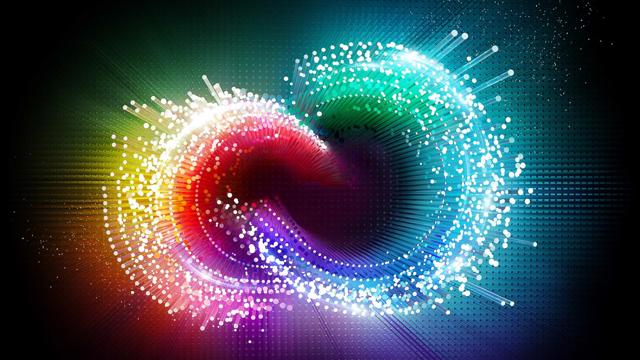 Credit: Extreme Tech
Revenues of $2.29 billion landed precisely at my more aggressive estimate. As I noted in my earnings preview, the guided 22% top-line growth that would have represented the smallest revenue increase since early 2017 looked too conservative for my taste, considering the minor uplift from Adobe's recent acquisition. In fact, the same seems to hold true for the upcoming quarter. The guided 20% growth coupled with an estimated minimum $30 million in Magento sales (about 150 bps in YOY total company revenue increase) appear to suggest a noticeable deceleration in organic growth in fiscal 4Q18 that I find unlikely to materialize.
The three-cent upside to my more aggressive fiscal 3Q18 EPS estimate began to take shape in the form of significantly better gross margin: 87.1% vs. 85.7% last year. The results confirmed my expectation for improved ARPU on the digital media side, which has been driven by a higher mix of standard-to-promotional pricing and price hikes in the U.S. for products like Lightroom, Spark and others.
Opex ex-SBC came in below my expectations on an absolute and relative-to-revenue bases, which I estimate to have caused a three-cent positive impact to my EPS forecast. It looks like the slightly richer integration expenses that I expected to see this time did not materialize. Adobe took advantage of its increasing scale to create operating leverage and deliver record levels of net income that I believe could reach $1 billion per quarter, non-GAAP, by mid-fiscal 2019.
See simplified P&L below.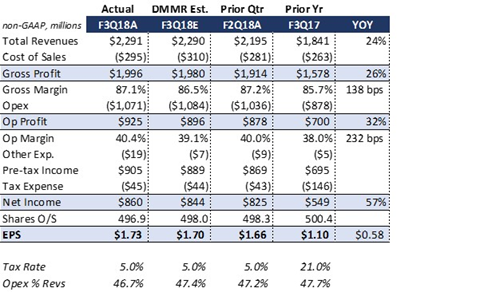 Source: DM Martins Research, using data from company reports
Very confident on the investment case
Certainly past performance does not guarantee future results. But I believe history can sometimes give us hints about what to expect going forward. In the case of Adobe, I am pleased to see fiscal 3Q18 financial results that were even more robust than I had forecasted last week. However, my excitement for the stock can be best illustrated by the following table:

Source: DM Martins Research, using data from Yahoo Finance
Since ADBE went public in August 1986, the stock has beaten the annual return of the S&P 500 (SPY) by a factor of three. Even on a risk-adjusted basis, ADBE's 0.55 Sharpe ratio is significantly better than the benchmark's 0.30 (a rare occurrence), suggesting more reward captured for the risk taken over the period.
Even though the same level of outperformance was not achieved during the massive bear markets of 2000-2002 and 2007-2009, I believe Adobe is a very different company operating in a different environment today. First, it has a compelling digital media and marketing product portfolio whose revenues I believe to be protected by a well-established subscription model.
Second, whereas Adobe's target market might have been narrower ten years ago or more, I believe digital content creation and distribution have become much more spread out across a number of individual, pro, semi-pro, and large enterprise clients. The business seems to be more appealing today, and Adobe is the name to beat in its market.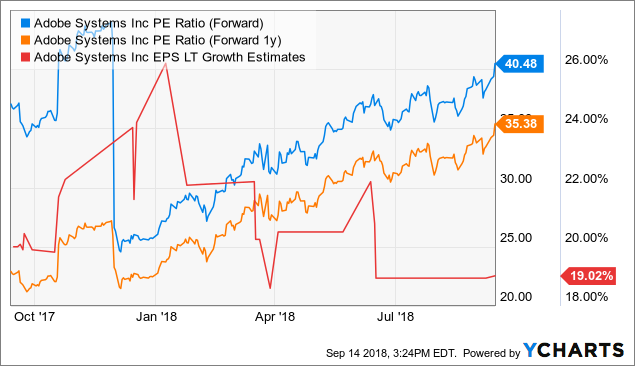 For all these reasons, plus the solidity of the company's balance sheet, I remain a confident ADBE shareholder. Despite valuations that could scare some (see chart above), I believe this GARP (growth at a reasonable price) stock will continue to climb at a relatively steady pace for at least a few quarters to come.