Three energy stocks were added to the portfolio
On September 6, I held two energy stocks. Together, Exxon Mobil (NYSE:XOM) and Enterprise Products Partners (NYSE:EPD) comprised 4.43% of the portfolio's market value and contributed 5.73% of the portfolio's income. This compares with energy's broad market weighting of 5.78%.
Now, there are five energy stocks in the portfolio, for a combined 7.81% of the portfolio's market value and 10.54% of the portfolio's income. So, the energy sector in the portfolio has moved from slightly underweight to moderately overweight. I'll briefly describe each of these additions and why I see them as special situations.
Royal Dutch Shell's dividend has been flat for 18 quarters, but the company has implemented a new strategy
On September 7, I established a position in Royal Dutch Shell (NYSE:RDS.B) at $65.22. RDS.B is 1.20% of the portfolio's market value and contributes 1.73% of the portfolio's income. Shell's quarterly dividend is $.94, for an annual payout of $3.76. The company declares dividends in U.S. dollars. The payout has been flat at $.94 per quarter since mid-2014. Ordinarily, I would not be interested in a company that has gone 18 quarters without a dividend increase. But 2014 was the year the bottom fell out of the oil business, and RDS.B has maintained its dividend during the downturn. At a September 14 closing price of $66.52, the yield was 5.65%. That yield makes me willing to be somewhat patient as Shell recovers from troubles in the oil industry. The primary reason I'm a shareholder is the current management team. I like the way they think, and I agree with their goals of increasing distributions to shareholders and of strengthening the company's balance sheet.
This is the second time I've owned shares of RDS.B. I purchased shares in 2013 at $67.90, and I closed the position in 2014 at $78.64.
The company was created in 1907 via a merger between the Royal Dutch Petroleum Company of the Netherlands and the Shell Transport and Trading Company of the United Kingdom. Shell is ranked fifth of the 2018 Fortune Global 500.
After the 1907 merger, the two partners maintained separate governance, with the Dutch group owning 60% and the British group owning 40%. The Dutch component focused on exploration and production, and the British group focused on transporting the petroleum. By 1930, the partnership was the world's largest petroleum company, producing 11% of the world's crude oil.
In 2005, the company moved to a single capital structure, creating a new parent company, Royal Dutch Shell plc. Company headquarters are in The Hague, Netherlands. Ben van Beurden, 60, has been the Chief Executive Officer since January 1, 2014. He is a Dutch citizen and has been with Shell since 1983. Jessica Uhl, 50, a US national, has been Chief Financial Officer since March 2017. Charles O. Holliday, 70, a US national, has been non-executive Chairman of the Board of Directors since May 2015.
RDS.A shares are subject to Dutch law, and RDS.B shares are subject to UK law. I own shares of RDS.B because the Dutch shares have a 15% withholding tax on dividends. The Dutch withholding tax on dividends expires in 2019, however, which was explained in an October 2017 article by SA author Dividends are Coming. Dividends are declared in US dollars.
Shell's special situation that prompted my purchase is the company's new dividend strategy, which is part of the company's ongoing revitalization following the oil industry shakeup in the wake of oil's slide from $115 a barrel in June 2014 to $35 a barrel in February, 2016. An August 2017 article by Ray Merola describes the first years of Ben van Beurden's tenure as CEO and Shell's recovery from the 2014-2016 oil slump.
On November 28, 2017, the company announced an end to the script program which gave shareholders the option of receiving their dividend in shares rather than cash. The announcement included a reaffirmation of the 2015 plan to repurchase $25 billion of stock, subject to further debt reductions and a continued recovery in oil prices. Shell has been in a major effort to cut costs and reduce debt. As of June 30, 2018, it had reduced debt by $13 billion in the past year. The company stated that it had completed or announced divestments of $25 billion since 2016 and plans to sell an average of $5 billion of assets annually through 2020.
Shell's 2018 Q2 earnings call is available for replay at the company website, and the transcript is available at Seeking Alpha.
I like the way this management team thinks. CEO Ben van Beurden stated in the 2018 Q2 earnings call, "An attractive dividend is obviously a critical part of our world-class investment case and achieving competitive total shareholder returns." In response to a question about quarter-to-quarter performance, van Beurden said, "... we don't manage for earnings, we don't manage for results, we manage for value."
Shell's Standard & Poor's credit rating is A+. I was impressed with CFO Jessica Uhl's priorities, including her priority to improve the company's credit rating. The CFO began her prepared comments with these words:
"The pillars of our financial framework remain unchanged. Firstly, a strong balance sheet. We aim to achieve AA equivalent credit metrics through the cycle, for which gearing is a proxy. At this point in the cycle, we think that 20% is adequate, but we expect to go lower than 20% as we continue to reduce net debt over the coming years. Secondly, maintaining an attractive US
dollar dividend per share. And thirdly, distributing surplus free cash flow to shareholders in the form of share buybacks."
The company offers two earnings calls. One is for the financial media and the other is for analysts. SA provides a transcript of the analysts call. In the media call, Bloomberg's Javier Blas asked about the sequencing of share buybacks. Here is CFO Jessica Uhl's response:
"We are committed to our $25 billion buyback by the end of 2020... We're trying to balance various things. We remain committed to a resilient financial framework. What that means is continuing to deleverage, to bring gearing down over the next couple of years. We're committed to growing this company, growing value. That means continued investment in the underlying business and growing the value and of course we're committed to increasing shareholder distributions. We're going to achieve all of those things over the next 2 1/2 years."
A good follow-up question would have been to ask about the company's dividend strategy. Most management teams understandably answer such queries with vague generalities, saying it is a board decision. However, as a dividend investor, I want to hear more about Shell's plan to begin to increase the dividend over time.
I affirm management's stated priorities, beginning with strengthening an already strong balance sheet. I like the CFO's aim to achieve AA credit metrics and the entire team's commitment to prudently and safely reduce operating expenses. They are reducing debt, focusing on long-term value and committed to the dividend and stock buybacks. Given the current high yield, I'm willing to be patient about dividend hikes while the team rebuilds the company's business and strengthens the balance sheet.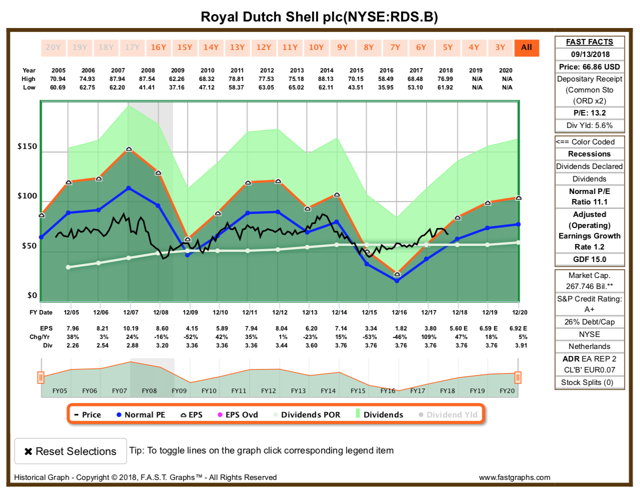 (Graph from F.A.S.T. Graphs)
Helmerich & Payne has eked out 3 small increases in 17 quarters to reach 46 years of dividend increases
On September 7, I initiated a position in the Tulsa, Oklahoma-based oil field contract driller Helmerich & Payne (NYSE:HP) at $61.88. HP is 1.18% of the portfolio's market value and contributes 1.31% of the portfolio's income. The current quarterly dividend is $.71, for an annual dividend of $2.84. At a September 14 closing price of $65.32, the yield was 4.35%.
HP is another former holding. It was my one of my first forays into the oil patch. In 2014, when oil businesses were in trouble, I bought shares of HP in four tranches, from November 2014 to January 2015, at prices ranging from $70.03 to $55.52. The oil crisis turned out to be a wilder roller coaster than I expected, so I sold the shares between April and June 2015 at prices ranging from $74.13 to $73.03. I described the original purchase in an article about HP that I've made an "Author's Pick," thus removing it from the paywall.
I watched HP for several years because it was a long-time Dividend Champion, but the dividend was small and slow-growing. That changed dramatically in 2013. After seven quarterly payments of $.07 in 2011-12, HP paid $.15 for two quarters in 2013, then $.50 for the last two quarters of 2013. HP raised the dividend again to $.625 for the first two quarters of 2014 and to $.6875 for the last two quarters of 2014.
This ramped-up dividend coincided with a long-planned change of leadership. CEO Hans Helmerich retired in March 2014 to become the non-executive chairman. He was replaced by John Lindsay. The Chief Financial Officer is Mark Smith, who was introduced at HP's 2018 Q3 earnings call on July 25, 2018. (HP's fiscal year ends on September 30.)
HP raised the dividend right before the great oil slide that began in 2014. The company didn't see it coming. The fact that it raised the dividend twice in 2014 indicated that the company didn't realize how deep the oil recession would be. Drills were shut down left and right. When questioned about the dividend, management made it clear that they would do what they could to maintain the newly raised dividend but that the survival of the business would be their top priority. I fully expected them to either cut the dividend or at least freeze it. Thanks to a strong balance sheet going into the crisis, the company managed to remain strong and to pay the newly plateaued dividend.
To management's credit, HP didn't cut or freeze the dividend, but it has been on the bottom shelf of the refrigerator. The $.6875 quarterly dividend was maintained for eight quarters, from mid-2014 through mid-2016. It was raised to $.70 for eight quarters through mid-2018. The most recent dividend, payable August 30, 2018, was raised to $.71. Because the company hasn't raised the dividend every four quarters, some purists would deny that its dividend streak is still intact, but HP continues to be included on the list of Dividend Champions with 46 consecutive years of increases.
You can get a flavor of the company's performance during the difficult 2014-2016 period by scrolling through headlines posted in the Seeking Alpha news items on the HP page. It has been a saga of selloffs and rallies, upgrades and downgrades, drillers "under heavy pressure," job cuts and idled oil rigs.
I decided to re-establish a position in HP because of management's skill in maneuvering through the downturn and their commitment to the dividend. Another factor was S&P's commentary about the company's conservative financial structure. Here's a summary of S&P's analysis:
"NEW YORK (S&P Global Ratings) Jan. 25, 2018 - S&P Global Ratings today affirmed its 'BBB+' corporate credit rating on Tulsa-based contract driller Helmerich & Payne Inc. (H&P). The rating outlook remains stable... Our corporate credit rating on H&P reflects the company's strong financial measures and leading position in the onshore U.S. contract drilling industry. H&P's financial measures are supported by its conservative financial policies, including its very low net debt, which supported the rating through the 2016 market trough. The rating also reflects our expectation for continued modest improvement in rig demand and EBITDA margins in the U.S., supported by our West Texas Intermediate (WTI) price assumption of $55 per barrel for 2018 and thereafter. The stable outlook reflects our expectation that H&P will continue to adhere to its conservative financial policies to maintain strong financial measures. We also expect FFO to debt to remain above 60% and debt to EBITDA to not exceed 1.5x over the next two years, based on our assumption that current U.S. drilling activity should remain relatively stable under our $55 per barrel WTI price assumption."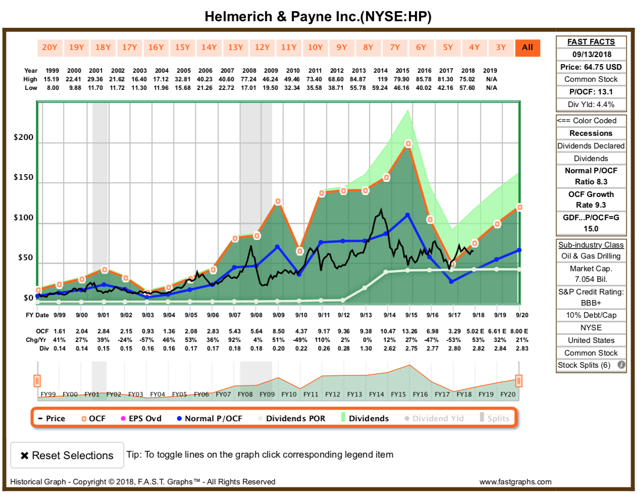 (Graph from F.A.S.T. Graphs)
Enbridge is a compelling energy infrastructure presence in North America
On September 11, I initiated a position in Enbridge Inc. (NYSE:ENB) at $33.76. ENB is 1.83% of the market value of the portfolio and contributes 2.84% of the portfolio's income. Enbridge is a Canadian petroleum pipeline corporation based in Calgary, Alberta. It has a major presence in the United States. In this article, per share information is expressed in US dollars. All other data, unless otherwise specified, is reported in Canadian dollars. The current dividend is C$.67. The current exchange rate is: C$1.00 = US$.7670. I have several Canadian companies in the portfolio, so I dedicate a cell of the spreadsheet to the current exchange rate, thus the dividend is automatically translated into US dollars. The quarterly C$.67 dividend is US$.5139, or $2.0556 annually. At a September 14 closing price of US$33.88, the yield was 6.07%.
An August 2018 Investor Presentation describes Enbridge as "North America's leading energy infrastructure company." Here are some statistics from that presentation:
Enbridge transports about 28% of North America's crude oil and about 20% of North America's natural gas.
The company has the largest crude oil pipeline in the world, with 27,600 kilometers of pipe connecting high-quality producing basins with the best refining markets.
It transports about 65% of Canada's crude exports to the U.S.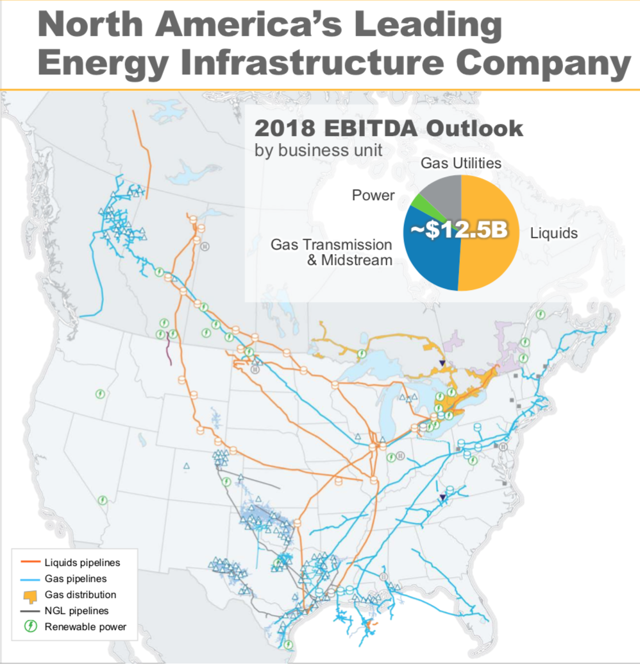 (Map from Enbridge website)
In February 2017, the company merged with Spectra Energy in a deal that was described thus on Enbridge's website:
"The Merger of Enbridge and Spectra Energy creates a leading global energy infrastructure company and the largest in North America with roughly C$166 billion (US$126 billion) in enterprise value and the strongest liquids and natural gas infrastructure franchises on the continent. It will have a diverse set of low-risk businesses comprised of a best in class network of crude oil, liquids and natural gas pipelines (and) a large portfolio of strong, regulated gas distribution utilities... The combined company will be positioned to provide integrated services and first and last mile connectivity to virtually all key liquids and gas supply basins and demand markets in North America."
On May 17, 2018, Enbridge announced a plan to fold four affiliated businesses into the parent company. It described the proposal as a simplification of its corporate structure. The four businesses being merged with ENB are:
Spectra Energy Partners (NYSE:SEP);
Enbridge Energy Partners, L.P. (NYSE:EEP);
Enbridge Energy Management, L.L.C. (NYSE:EEQ); and
Enbridge Income Fund Holdings Inc. (TSX: ENF).
A May 18, 2018, Seeking Alpha (paywalled) article by Juan de la Hoz assessed the pros and cons of the proposal: "Enbridge's Restructuring: Who Wins? Who Loses?" Prior to September 11, I had no position in ENB or any affiliated companies, so I have no insights or opinions about the question addressed in Juan's article.
I've read about Enbridge through the years, but I didn't study the company until recently. The first article I remember reading about ENB was John Lawlor's December, 2016 (paywalled) article, "Enbridge Inc. Acquisition Of Spectra Energy Corp. Will Produce A North American Energy Infrastructure Powerhouse."
The comment thread following John's article raised questions about ENB's increased debt due to the SEP acquisition. There were concerns about some of ENB's affiliated companies, with comparisons made to Kinder Morgan's (NYSE:KMI) 2014 roll-up of its affiliated companies. I learned that in June 2015, S&P lowered the Enbridge credit rating from A- to BBB+. I decided not to pursue further study of ENB until some of the "dust" settled.
When Enbridge made the official announcement that it would acquire its affiliated companies, I read some of the coverage on SA. Understandable concerns (such as those expressed in the Juan de la Hoz article) by holders of affiliated company shares caused me to postpone a deeper dive.
In July, a pension rollover to my IRA was completed, and I narrowed my search for a few more companies to add to the portfolio. Rather late in the process, I re-read some of the earlier articles about Enbridge. I was reminded that ENB is a Canadian Dividend All-Star with 22 consecutive years of dividend increases. The company is selling what it considers non-core assets as it moves to a "pure regulated pipelines/utility model." Enbridge had identified potential asset sales of $3 billion in 2018, but its August 2018 Investor Presentation announced sales of $7.5 billion of non-core assets. The company says it is on track for a 5.0x Debt-to-EBITDA ratio by the end of 2018.
An August 29, 2018, SA article (paywalled) by Steve Brodrick cited several reasons he is buying more Enbridge, such as the company's size and scale, the recent approval of its preferred route for Line 3, asset sales and deleveraging. Steve wrote:
"This deeply undervalued stock has significant upside potential which has been further buoyed by impressive Q2 results. Compared to 2017, quarter over quarter EBITDA outlook is up 21%, DCF/share is up 17% and there have been positive earnings surprises in each of the last three quarters. Cash flow per share is estimated to be between $4.15­ 4.45 for 2018 versus $3.68 in 2017."
Al Monaco is Enbridge's President and Chief Executive Officer. He has been with the company since 1995, and was appointed President and CEO in 2012. Gregory Ebel has been Chairman of the Board of Directors since February 2017. Previously, he was Chairman, President and CEO of Spectra Energy. He came to Enbridge with the company's acquisition of Spectra. John Whelen is Executive Vice President and Chief Financial Officer.
I'll be watching Enbridge's debt and its progress with deleveraging. I would like to see a restoration of the A- S&P credit rating.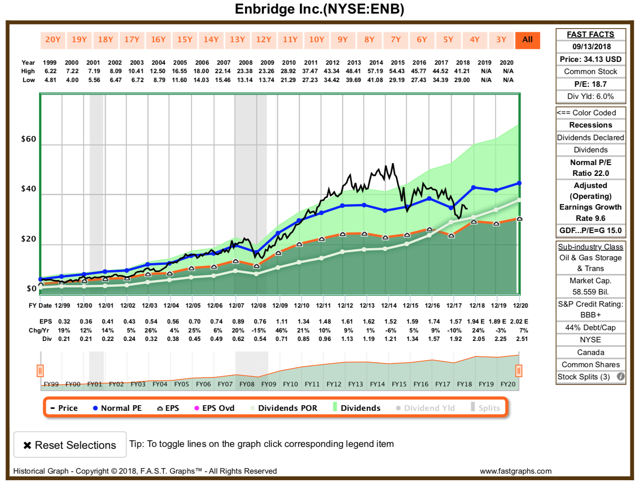 (Graph from F.A.S.T. Graphs)
Target Prices
This week, I spent some time revising my target "add" prices for considering an additional purchase and my target "trim" prices for considering selling some shares/units of each of the 48 individual equities in the portfolio. I decided that I have a better chance of remembering some of these targets if I round them to the nearest dollar. Some of you already have adopted this practice. The target prices are listed below.
Dividend Derek's Custom Stock Alerts notify me when one of my stocks is approaching a target price. Price is the closing price on September 14, 2018. Add is the price at which I would consider adding more shares or units. Off is the percentage the security must drop to reach the target Add price. Trim is the price at which I would consider trimming some shares or units. Off is the percentage the security must rise to reach the target Trim price.
| | | | | | |
| --- | --- | --- | --- | --- | --- |
| Security | Price | Add | Off | Trim | Off |
| Johnson & Johnson (JNJ) | 139.49 | 120 | 14% | 180 | 29% |
| Microsoft (MSFT) | 113.35 | 90 | 21% | 140 | 24% |
| Exxon Mobil | 82.91 | 75 | 10% | 100 | 21% |
| Apple (AAPL) | 223.84 | 170 | 24% | 250 | 12% |
| Walmart (WMT) | 94.58 | 77 | 19% | 130 | 37% |
| Automatic Data Processing (ADP) | 147.45 | 120 | 19% | 200 | 36% |
| Pfizer (PFE) | 42.96 | 34 | 21% | 50 | 16% |
| Merck (MRK) | 69.98 | 58 | 17% | 90 | 29% |
| Procter & Gamble (PG) | 83.59 | 70 | 16% | 95 | 14% |
| 3M (MMM) | 207.78 | 190 | 9% | 260 | 25% |
| BlackRock (BLK) | 475.85 | 420 | 12% | 600 | 26% |
| Cisco Systems (CSCO) | 47.39 | 40 | 16% | 60 | 27% |
| Royal Bank Canada (RY) | 79.08 | 64 | 19% | 90 | 14% |
| Toronto-Dominion (TD) | 60.54 | 52 | 14% | 72 | 19% |
| Toyota Motor Corp. (TM) | 122.28 | 110 | 10% | 150 | 23% |
| Northwest Natural Gas Company (NWN) | 68.45 | 52 | 24% | 84 | 23% |
| PepsiCo (PEP) | 114.56 | 100 | 13% | 150 | 31% |
| Illinois Tool Works (ITW) | 144.87 | 135 | 7% | 220 | 52% |
| International Business Machines (IBM) | 148.29 | 140 | 6% | 180 | 21% |
| Texas Instruments (TXN) | 105.35 | 101 | 4% | 160 | 52% |
| Cummins (CMI) | 143.17 | 137 | 4% | 190 | 33% |
| Bank of Nova Scotia (BNS) | 57.85 | 55 | 5% | 75 | 30% |
| Royal Dutch Shell | 66.50 | 60 | 10% | 90 | 35% |
| Kimberly-Clark (KMB) | 116.45 | 100 | 14% | 140 | 20% |
| Qualcomm (QCOM) | 75.08 | 65 | 13% | 100 | 33% |
| Simon Property Group (SPG) | 182.54 | 160 | 12% | 200 | 10% |
| Manulife Financial Corp. (MFC) | 17.70 | 17 | 4% | 25 | 41% |
| Canadian Utilities Ltd. (OTCPK:CDUAF) | 24.01 | 23 | 4% | 31 | 29% |
| Fortis (FTS) | 32.57 | 31 | 5% | 38 | 17% |
| Clorox (CLX) | 151.40 | 120 | 21% | 180 | 19% |
| Realty Income (O) | 57.67 | 53 | 8% | 70 | 21% |
| PPL Corporation (PPL) | 30.15 | 25 | 17% | 35 | 16% |
| WEC Energy (WEC) | 68.80 | 59 | 14% | 79 | 15% |
| Eaton Corp. PLC (ETN) | 87.14 | 75 | 14% | 100 | 15% |
| AbbVie (ABBV) | 95.68 | 88 | 8% | 120 | 25% |
| Helmerich & Payne | 65.32 | 56 | 14% | 80 | 22% |
| National Retail Properties (NNN) | 45.46 | 40 | 12% | 54 | 19% |
| Tanger Factory Outlet Centers (SKT) | 22.77 | 20 | 12% | 29 | 27% |
| Enbridge Inc. | 33.88 | 30 | 12% | 42 | 24% |
| Enterprise Products Partners | 29.23 | 25 | 15% | 35 | 20% |
| Brookfield Infrastructure (BIP) | 39.71 | 38 | 4% | 50 | 26% |
| BCE Inc. (BCE) | 39.91 | 34 | 15% | 44 | 10% |
| Brookfield Renewable Partners (BEP) | 30.97 | 28 | 10% | 44 | 42% |
| Ventas Inc. (VTR) | 57.86 | 55 | 5% | 80 | 38% |
| AT&T (T) | 33.60 | 29 | 14% | 37 | 10% |
| W.P. Carey (WPC) | 65.39 | 60 | 8% | 90 | 38% |
| Main Street Capital (MAIN) | 39.61 | 37 | 7% | 51 | 29% |
| Apple Hospitality (APLE) | 17.61 | 17 | 4% | 24 | 36% |
Conclusion
As indicated, there are now 48 individual equities in the portfolio, comprising 83.88% of the portfolio's market value. The portfolio includes five closed-end funds, comprising 4.68% of the portfolio's market value, and seven exchange-traded funds, comprising 3.68% of the portfolio's market value. Cash is 7.76% of the portfolio. The portfolio's year-to-date gain has been 5.46%, compared with a year-to-date gain of 8.65% for the S&P 500 Index. The portfolio's current yield is 3.91%.
I'm not advocating the purchase or sale of any security. My articles generally offer ideas for stocks to study. These articles form a journal of my effort to design and maintain a retirement income portfolio with a relatively safe stream of growing dividends. I seek companies with histories of rising dividends, strong financials and solid future prospects. Your goals and risk tolerance may differ, so please do your own due diligence.
If you are not yet a follower, I invite you to click the "Follow" button at the top of the page. After you click "Follow," you can check "Get Email Alerts," and you will receive an email when an article is published.
Disclosure: I am/we are long JNJ, MSFT, XOM, AAPL, WMT, ADP, PFE, MRK, PG, MMM, BLK, CSCO, RY, TD, TM, NWN, PEP, ITW, IBM, TXN, CMI, BNS, RDS.B, KMB, QCOM, SPG, MFC, CDUAF, FTS, CLX, PPL, WEC, ETN, ABBV, HP, NNN, O, SKT, ENB, EPD, BIP, BEP, VTR, BCE, T, WPC, MAIN, APLE, ADX, ECF, IFN, RMT, RVT, VTI, VEA, VWO, VYM, VYMI, VOE, VBR.
I wrote this article myself, and it expresses my own opinions. I am not receiving compensation for it (other than from Seeking Alpha). I have no business relationship with any company whose stock is mentioned in this article.