Breakout Forecast Selections for Week 38:
Market conditions have generated a slight decrease in both positive breakout momentum and negative momentum this week. The positive momentum gauge moved lower to 39, down from a value of 44 at the end of last week. The yellow positive momentum conditions signal momentum is holding or weakening.
In Week 34 of last year, the positive momentum gauge set its all-time highest score of 120 since the momentum gauge has been put to use. The all-time low for the positive momentum selection gauge is 8 during week 14 of 2018
The negative momentum score also decreased slightly this week to 38 from a medium condition of 44 last week. In relative scaled values, the negative momentum is slightly higher than positive momentum.
Last published report: Week 37 Breakout Forecast

My momentum gauges are based on the count of the momentum stocks screened as either positive accelerating or negative accelerating stocks based on my research algorithm. The combination of the two different types of momentum categories screened by segments 2 and 6 of my algorithm may help validate the quality of the overall market momentum strength.
Total Return Chart: +95.35% New All-Time High
The Total Return Chart reflects total return of all stocks in the weekly portfolio.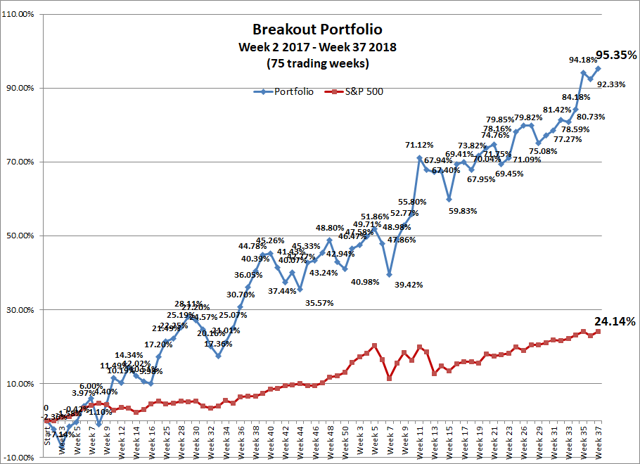 Market fund flow update Sept. 14 from ETF.com:
The latest look into ETF asset flows suggests investors are flocking to safety and quality.

Not only was U.S. fixed income the most in-demand asset class the week ended Thursday, Sept. 13, funds like the iShares iBoxx USD Investment Grade Corporate Bond ETF (LQD) and the iShares 20+ Year Treasury Bond ETF (TLT) saw some of the week's biggest net creations.
Last week the portfolio gained over 3% for the week with STRATA Skin Sciences (SSKN) finishing the week up +22.03% and Sierra Wireless (SWIR) up more than 12% in less than 3 days. This week I have selected 8 breakout stocks from the following sectors: 3 healthcare, 1 basic material, 1 services, 1 financial, and 2 technology.
The two sampled selections of positive momentum stocks for this week include:
Entravision Communications Corp. (EVC) - Services / Broadcasting - TV
MEI Pharma (MEIP) - Healthcare / Drug Manufacturers
Caution: These stocks are not necessarily recommended for long-term buy/hold unless you are comfortable with very large price swings. These are the most volatile selections I offer from among all the different Value & Momentum portfolios.
As I continue to observe, strong momentum events usually last from one to three weeks and may encounter some substantial decline before returning again to positive gains. Proposed entry points for each of the selected stocks are as close to the highlighted prices in yellow on the charts at market open.
Breakout Stock Selections for Week 38
Note: All breakout stocks are selected based on my algorithm to increase the frequency of 10% gains within a very short period of time. Price targets are estimated through an unrelated technical charting process for those who are looking for estimated exit points; however, it is possible the momentum in these selections may move well beyond the initial target.
Sample #1: Entravision Communications Corp. - Services / Broadcasting - TV

Price Target: $6.20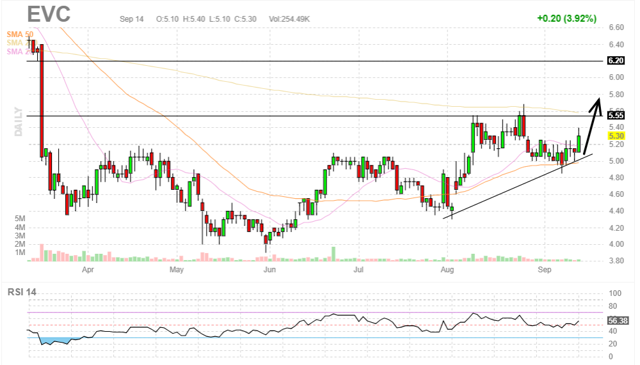 Entravision Communications Corporation operates as a media company that reaches and engages Hispanics across media channels and advertising platforms primarily in the United States, Spain, Mexico, Argentina, and other Latin American countries. The company operates through three segments: Television Broadcasting, Radio Broadcasting, and Digital Media.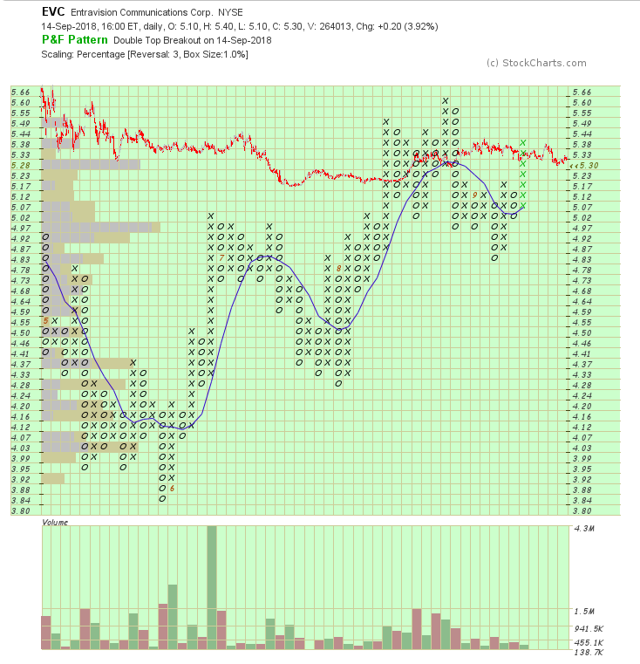 Sample #2: MEI Pharma - Healthcare / Drug Manufacturers

Price Target: $5.00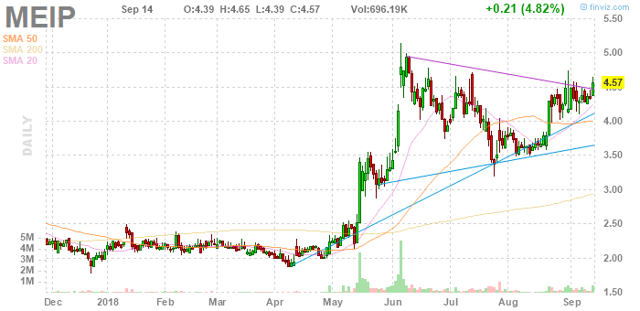 MEI Pharma, Inc., a pharmaceutical company, focuses on the clinical development of novel therapies for the treatment of cancer. The company's clinical drug candidate includes Pracinostat, an oral available histone deacetylase inhibitor for the treatment of patients with acute myeloid leukemia and myelodysplastic syndrome.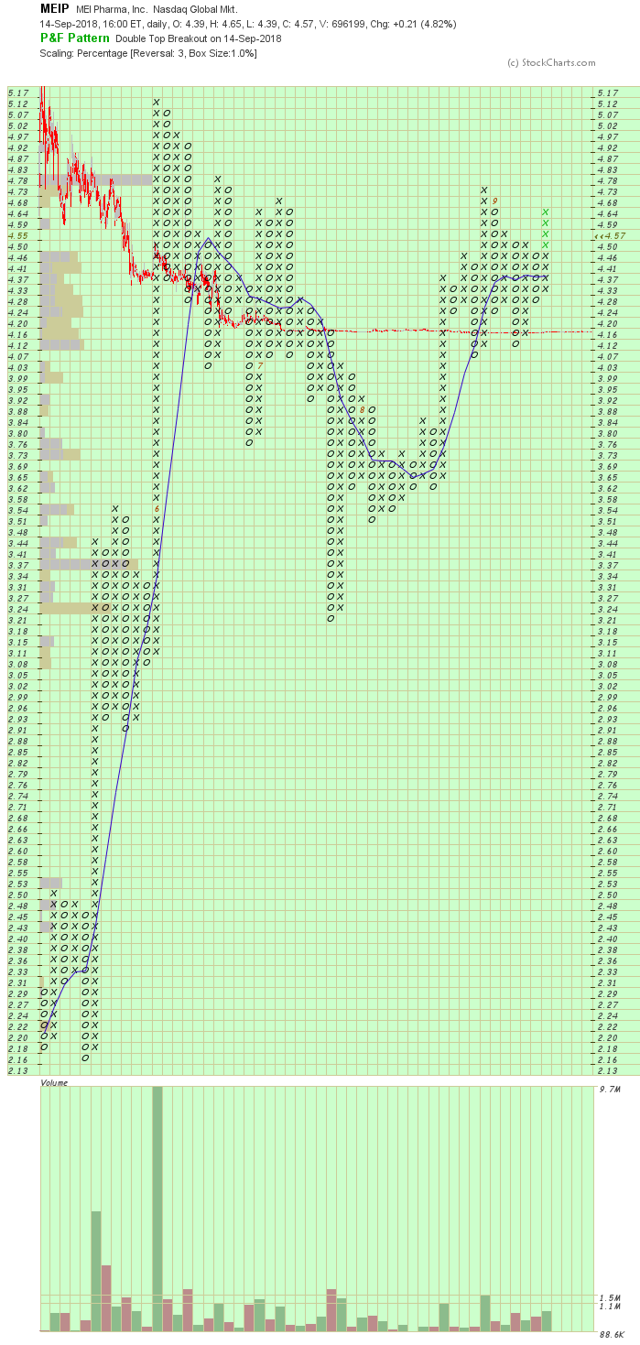 2018 YTD Chart: +54.16% New High
Cumulative return with 1-Week holding period.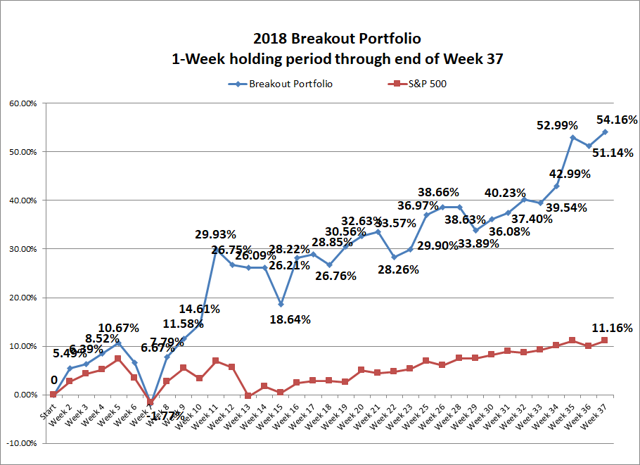 A detailed holding period analysis for Q1 2018 sampled Breakout Stocks is available here for review: Value & Momentum Breakout Stock Returns For Q1 2018
Top BO Gainers last four weeks: Pacific Biosciences (PACB) +20.70%, Gogo (GOGO) +16.67%, RiceBran (RIBT) +14.61%, Pixelworks (PXLW) +18.70%, Avid Bioservices (CDMO) +16.23%, Adaptimmune Therapeutics (ADAP) +10.92%, MediciNova (MNOV) +10.04%, SSKN +22.03%, Cheetah Mobile (CMCM) +9.96%, Compugen (CGEN) +9.66%.
Long-Term Portfolio Returns
As a reminder of the other longer-term portfolios being tracked and updated regularly with portfolio spreadsheets listed in the Tools section, here are the returns through Week 37.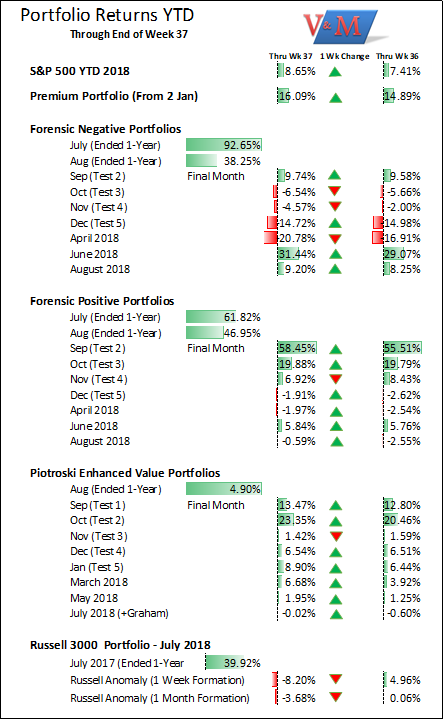 Click the "Follow" button at the top of the page to enjoy free updates and select real-time alerts if you want timely updates on the latest stocks and portfolios I offer that are outperforming the S&P 500 in each of their respective time periods.
Be sure to check out my many other free articles here.
To subscribe to Value and Momentum Breakouts, click on the link here.
I think these breakout stocks will serve you well in Week 38 and beyond. I hope you all do well with these stocks and always diversify to minimize some of the market risks.
All the very best and have a great week of trading!
JD Henning, PhD, MBA, CFE, CAMS
Disclosure: I am/we are long MEIP, SWIR, PACB, CMCM, CDMO, IOTS.
I wrote this article myself, and it expresses my own opinions. I am not receiving compensation for it (other than from Seeking Alpha). I have no business relationship with any company whose stock is mentioned in this article.
Editor's Note: This article covers one or more microcap stocks. Please be aware of the risks associated with these stocks.