Stocks rallying, momentum to sustain
Telco stocks have been staging an impressive rally recently. They were battered at the beginning of the year by a string of measures to cut cell plans, which triggered worries over a deterioration of company fundamentals and further regulatory pressure. The recent rally of telco shares has to do with: 1) the fading of regulatory issues; 2) mounting expectations for 5G; 3) sentiment that the stocks are punitively oversold; and 4) enhanced dividend policies. In our view, the stocks' bullish movements will continue for the foreseeable future. The aforementioned reasons should continue to drive shares higher, and we do not see any negative issues that could return to dampen momentum.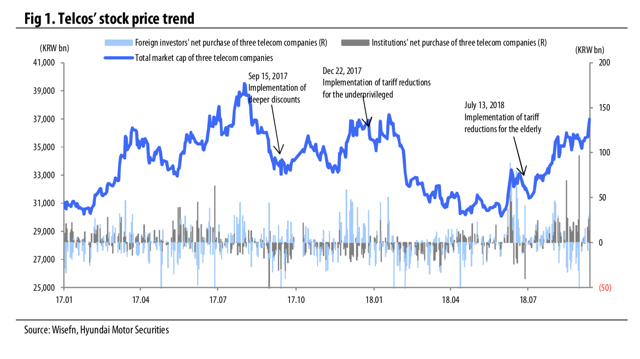 Regulatory risks to subside
Regulatory risks, the biggest threat to telco shares in 1H18, are mostly priced in, and we do not see these risks posing additional threats. A series of measures designed to reduce cell plans have all been implemented. While a universal cell plan is still the subject of heated discussions, we do not believe it will come into practice as there are wide differences in opinions among stakeholders and the regulatory authority itself is somewhat burdened by the recent string of measures that has come into effect. We also note that the three big telcos have voluntarily introduced cell plans with bigger data offerings, in compliance with the purpose of the universal cell plan. In all, we believe it is time to focus more on the arrival of the 5G era rather than regulatory uncertainties.
Mounting expectations heading into the 5G era
As the key infrastructure of the fourth industrial revolution, 5G will provide the momentum for telcos to pull out of the simple "dumb pipe" status. 5G's ultra-high speed, low latency and massive connectivity should allow telcos to align with a variety of different sectors and connect with unlimited numbers of devices. This will help telcos to extend their business scope from the B2C to B2B space as all-IoT platforms are increasingly used. Some say that device innovations are not keeping pace with 5G and there is a lack of killer services. However, we believe it is premature to lower expectations because we are still preparing for 5G, and 5G itself will evolve over a long period of time. Korea's 5G services are likely to become commercial in 1H19 and telcos will start building the network for 5G after the frequency auction is complete.
Maintain Overweight
Looking back, the biggest inflection point for telco shares tended to happen during the period of network migration. We believe the current momentum is also quite robust, as expectations grow over the establishment of new network infrastructure and diversification of earnings models. Strong dividends are another factor that will justify the bullishness of the stocks. We maintain Overweight with SK Telecom (NYSE:SKM) as our top pick, for its potential to realize the value of its non-telco businesses. SK Hynix's (OTC:HXSCL) robust earnings could send the DPS over KRW10,000.
Disclosure: I/we have no positions in any stocks mentioned, and no plans to initiate any positions within the next 72 hours.
I wrote this article myself, and it expresses my own opinions. I am not receiving compensation for it (other than from Seeking Alpha). I have no business relationship with any company whose stock is mentioned in this article.
Editor's Note: This article discusses one or more securities that do not trade on a major U.S. exchange. Please be aware of the risks associated with these stocks.