If you only watched the S&P 500 you could be forgiven for missing the bear market in emerging market equities (EEM). The silver lining to this pain in EM equities has been a reduction in valuations.
The chart comes from an intensive look at EM equity valuations and investor sentiment in the Weekly Best Idea report.
The chart shows the blended P/E ratio for EM equities against its long-term average, and the key point is EM equities have gotten cheaper.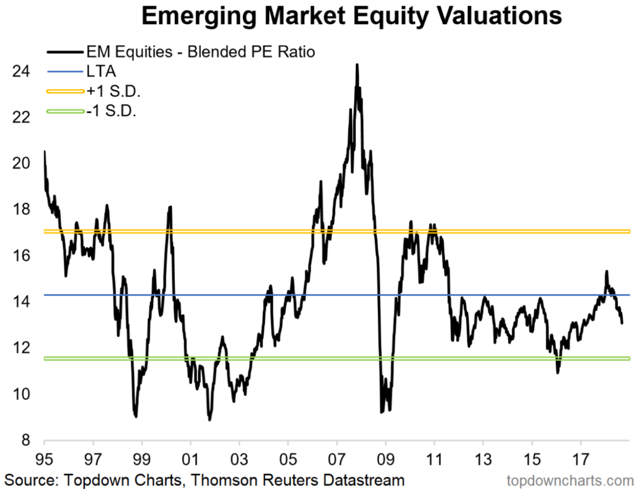 The blended P/E ratio is a mix of the PE10 (price vs. 10-year average earnings), forward P/E (price vs. consensus year ahead earnings), and trailing P/E (price vs. last 12 months' earnings). The purpose of combining these P/E ratios is to try and emphasize the signal vs. the noise. The standard deviation bands give a guide as to what we should consider extremely cheap/expensive. The index is the MSCI Emerging Markets (same as the ETF, EEM).
The first point to note is that when you look at longer term valuations like this, the Long Term Average line (blue line) basically serves as the line of demarcation between expensive vs. cheap. In that respect, EM equities went from slightly expensive to now slightly cheap (although at almost 0.5 SD below the long-term average you could argue this is cheap enough to start building a position or scaling in).
The issue with looking only at valuations is that you miss the various other factors like the macroeconomic cycle, monetary policy (both in EM and with regards to the Fed), broader financial conditions, and risk sentiment. In all respects, these have been headwinds of late for EM equities, and there is every risk that the flare-up in emerging markets has further to run yet. Thus, it's entirely possible that we could yet see cheaper valuations.
So with EM equity valuations moving to the cheap side, it's worth paying closer attention as the risk vs. reward balance improves.
Disclosure: I/we have no positions in any stocks mentioned, and no plans to initiate any positions within the next 72 hours. I wrote this article myself, and it expresses my own opinions. I am not receiving compensation for it (other than from Seeking Alpha). I have no business relationship with any company whose stock is mentioned in this article.