By Erik Knutzen, Chief Investment Officer - Multi-Asset Class
Unusually wide disparities in market returns have been this year's theme, but how long can it last?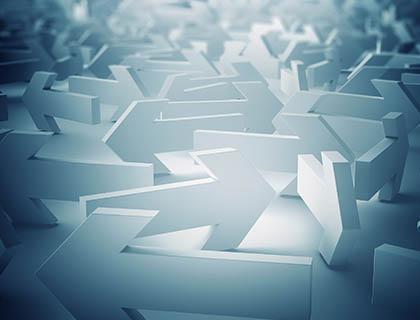 This year, in CIO Weekly Perspectives and our Asset Allocation Committee meetings, we have repeatedly spoken of global economic divergence across countries and regions, after 2017 was characterized by economic convergence.
During 2018, divergence at the economic level has fed into divergence across asset classes and within them. And we are not talking about a few basis points here and there. Markets exposed to similar risks, which usually exhibit quite high correlations, have sped off in utterly different directions. These divergences are so notable that they should prompt investors to ask: Are they significant relative value opportunities, or signs of deeper structural changes in the economy that may have further still to run?
Substantial
Let's take three examples.
In equities, the S&P 500 Index was up 9.94% for the year by the end of August, while the MSCI Emerging Markets Index was down 6.99% - a difference of almost 17 percentage points. Divergence has not been solely regional. Within the U.S., the Russell 1000 Growth Index outperformed the Russell 1000 Value Index by 12.73 percentage points.
From our multi-asset perspective, we also see that similar divergences have opened up within government bonds, corporate bonds, commodities and other asset classes. In fixed income, a great example is that U.S. high yield was up 2% by the end of August, but emerging markets local currency bonds, whose issuers enjoy a better average credit rating, were down 10.47%.
These are substantial moves by historical standards. Can we make sense of them fundamentally? Certainly, we can.
Strong Dollar
Economic data out of the U.S., from business and consumer confidence surveys to employment growth, has been consistently strong this year. Similar data out of Europe and the emerging world has been softening. The new U.S. tax policy added considerable stimulus to that divergence. That has led to expectations for higher U.S. interest rates, which in turn, has pushed the dollar ever higher.
For those economies in the emerging world running current account deficits financed by dollar-denominated debt, a stronger dollar makes life difficult - and the stronger it gets, the more investors worry about contagion to emerging markets with more robust finances. The reduction in the Federal Reserve's balance sheet and the discordant mood music on global trade added even more bad news for emerging markets, which are especially sensitive to global flows of capital and goods.
Against that background, outperforming U.S. equities and corporate bonds, and underperforming emerging markets equities, bonds and currencies are not a big surprise - although the scale of the divergence has been remarkable.
The superiority of growth stocks at this apparently mature stage of the business cycle is more unusual. In the past, when earnings growth has been abundant, credit spreads tight and equity multiples high, investors have been more inclined to seek out value stocks. They promise further multiple expansion, and they also tend to be more cyclical businesses whose earnings respond well to higher economic growth, rates and inflation.
It's not difficult to see why aspects of this cycle are different, however. Global growth remains modest given the length of the expansion, and inflation and interest rates are still low. That means companies promising sustainably high earnings growth, and valuations that are less sensitive to the discount rate, can still command a premium. Furthermore, a decade of low rates has kept numerous zombie companies on life support, and the confidence of value investors will only return once higher rates have swept the market clean of these value traps.
Reversions to the Mean
These divergences are strong but explicable trends, then.
The one thing every investor should know about trends is that they can last much longer than anyone anticipates. Each one of their fundamental drivers could easily persist, or even intensify, over the short term.
Moreover, as we discuss in our recent reflections on the anniversary of the Great Financial Crisis, these divergences could be signs of structural realignment in the global economy: demographic trends; fiscal stimulus in the U.S. combined with tough talk on trade abroad; and an increasing sense that only a handful of large companies wielding disruptive technologies may have unique edges in this new, low-growth world.
When all is said and done, however, trees do not grow to the sky and elastic bands don't stretch indefinitely. Even structural changes lead us to a new equilibrium rather than an eternal disequilibrium. There are good reasons why prudent investors aim to buy low and sell high, and periodically rebalance their portfolios.
The past two weeks in emerging markets and technology stocks suggest that, in some markets at least, this "Year of Living Divergently" may be reaching its extremes. I co-chair our Asset Allocation Committee, and our next quarterly meeting is scheduled for later this week: Expect the discussion to dig deeper into the timing of, and the specific investment opportunities associated with, these potential reversions to the mean. I look forward to sharing our views on these pages soon.
In Case You Missed It
U.S. Producer Price Index: -0.1% in August month-over-month and +2.8% year-over-year
U.S. Consumer Price Index: +0.2% in August month-over-month and +2.7% year-over-year (core CPI increased 0.1% month-over-month and 2.2% year-over-year)
European Central Bank Policy Meeting: Policy unchanged
U.S. Retail Sales: +0.1% in August
What to Watch For
Monday, 9/17:

Euro Zone Consumer Price Index

Tuesday, 9/18:

NAHB Housing Market Index

Wednesday, 9/19:

U.S. Housing Starts and Building Permits
Bank of Japan Policy Rate Decision

Thursday, 9/20:

U.S. Existing Home Sales
Japan Consumer Price Index

Friday, 9/21:

U.S. Purchasing Managers' Index
Euro Zone Purchasing Managers' Index
- Andrew White, Investment Strategy Group
Statistics on the Current State of the Market - as of September 14, 2018
| | | | |
| --- | --- | --- | --- |
| Market Index | WTD | MTD | YTD |
| Equity | | | |
| S&P 500 Index | 1.2% | 0.2% | 10.2% |
| Russell 1000 Index | 1.2% | 0.2% | 10.3% |
| Russell 1000 Growth Index | 1.6% | 0.0% | 16.4% |
| Russell 1000 Value Index | 0.9% | 0.4% | 4.2% |
| Russell 2000 Index | 0.5% | -1.0% | 13.1% |
| MSCI World Index | 1.4% | -0.3% | 4.9% |
| MSCI EAFE Index | 1.8% | -1.1% | -3.0% |
| MSCI Emerging Markets Index | 0.6% | -2.5% | -9.2% |
| STOXX Europe 600 | 1.8% | -0.8% | -3.4% |
| FTSE 100 Index | 0.4% | -1.6% | -1.8% |
| TOPIX | 2.6% | -0.4% | -3.8% |
| CSI 300 Index | -1.1% | -2.7% | -17.8% |
| Fixed Income & Currency | | | |
| Citigroup 2-Year Treasury Index | -0.1% | -0.2% | 0.1% |
| Citigroup 10-Year Treasury Index | -0.4% | -1.1% | -3.4% |
| Bloomberg Barclays Municipal Bond Index | -0.2% | -0.5% | -0.2% |
| Bloomberg Barclays US Aggregate Bond Index | -0.1% | -0.6% | -1.5% |
| Bloomberg Barclays Global Aggregate Index | 0.0% | -0.4% | -1.9% |
| S&P/LSTA U.S. Leveraged Loan 100 Index | 0.1% | 0.3% | 3.6% |
| ICE BofA Merrill Lynch U.S. High Yield Index | 0.5% | 0.3% | 2.3% |
| ICE BofA Merrill Lynch Global High Yield Index | 0.6% | 0.4% | 0.1% |
| JP Morgan EMBI Global Diversified Index | 0.6% | 0.3% | -4.2% |
| JP Morgan GBI-EM Global Diversified Index | 1.1% | 0.0% | -10.5% |
| U.S. Dollar per British Pounds | 1.0% | 0.6% | -3.3% |
| U.S. Dollar per Euro | 0.7% | 0.3% | -2.8% |
| U.S. Dollar per Japanese Yen | -0.9% | -1.1% | 0.5% |
| Real & Alternative Assets | | | |
| Alerian MLP Index | 0.4% | 0.3% | 7.9% |
| FTSE EPRA/NAREIT North America Index | 0.1% | -1.1% | 3.9% |
| FTSE EPRA/NAREIT Global Index | 0.6% | -1.4% | 0.2% |
| Bloomberg Commodity Index | -0.1% | -1.4% | -5.3% |
| Gold (NYM $/ozt) Continuous Future | 0.1% | -0.5% | -8.3% |
| Crude Oil (NYM $/bbl) Continuous Future | 1.8% | -1.2% | 14.2% |
(Source: FactSet, Neuberger Berman)
This material is provided for informational purposes only and nothing herein constitutes investment, legal, accounting or tax advice. This material is general in nature and is not directed to any category of investors and should not be regarded as individualized, a recommendation, investment advice or a suggestion to engage in or refrain from any investment-related course of action. Investment decisions and the appropriateness of this material should be made based on an investor's individual objectives and circumstances and in consultation with his or her advisors. Information is obtained from sources deemed reliable, but there is no representation or warranty as to its accuracy, completeness or reliability. All information is current as of the date of this material and is subject to change without notice. The firm, its employees and advisory accounts may hold positions of any companies discussed. Any views or opinions expressed may not reflect those of the firm as a whole. Neuberger Berman products and services may not be available in all jurisdictions or to all client types.
Investing entails risks, including possible loss of principal. Investments in hedge funds and private equity are speculative and involve a higher degree of risk than more traditional investments. Investments in hedge funds and private equity are intended for sophisticated investors only. Indexes are unmanaged and are not available for direct investment. Past performance is no guarantee of future results.
The views expressed herein include those of the Neuberger Berman Multi-Asset Class (MAC) team and Neuberger Berman's Asset Allocation Committee. The Asset Allocation Committee is comprised of professionals across multiple disciplines, including equity and fixed income strategists and portfolio managers. The Asset Allocation Committee reviews and sets long-term asset allocation models, establishes preferred near-term tactical asset class allocations and, upon request, reviews asset allocations for large diversified mandates. Tactical asset allocation views are based on a hypothetical reference portfolio. The views of the MAC team or the Asset Allocation Committee may not reflect the views of the firm as a whole and Neuberger Berman advisers and portfolio managers may take contrary positions to the views of the MAC team or the Asset Allocation Committee. The MAC team and the Asset Allocation Committee views do not constitute a prediction or projection of future events or future market behavior. This material may include estimates, outlooks, projections and other "forward-looking statements." Due to a variety of factors, actual events or market behavior may differ significantly from any views expressed.
This material is being issued on a limited basis through various global subsidiaries and affiliates of Neuberger Berman Group LLC. Please visit www.nb.com/disclosure-global-communications for the specific entities and jurisdictional limitations and restrictions.
The "Neuberger Berman" name and logo are registered service marks of Neuberger Berman Group LLC.
© 2009-2018 Neuberger Berman Group LLC. All rights reserved.