So the Central Bank of the Republic of Turkey (CBRT) decided to break free from Erdogan's unique and pushy brand of economics, and raised interest rates by 625 bps to 24%. Just hours prior to the announcement, Erdogan had reiterated his stubborn stance against raising interest rates. This time however, the CBRT decided not to bow down to the president's pressure and influence, and did what it thought was necessary to stem weakness in the Lira.
This surprising show of independence caught the market by surprise, and pushed USD/TRY down to re-test the 6.00 handle, albeit briefly.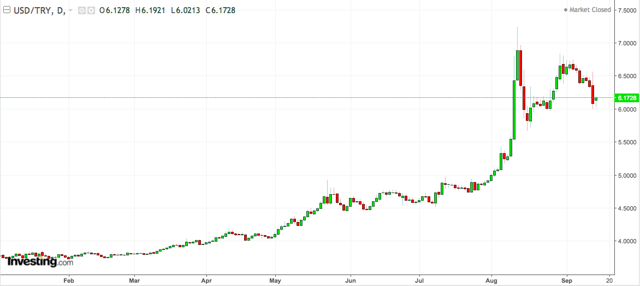 Economists had expected the CBRT to raise rates by 325 bps to 21%, according to Bloomberg estimates. 625 bps was a "shock and awe" strategy aimed to drive speculative shorts out of the Lira, and it did work.
So is it all fine and dandy in Turkey now? What next?
Turkey would only need to look across the Atlantic Ocean to see the Argentine Peso continuing to flounder, despite best efforts by its central bank to defend the currency. Argentina's benchmark interest rate now stands at 60%, but the Peso continues to plumb new depths. USD/ARS closed the week at unprecedented levels, and it seems not even traditional (read: non-Erdogan) economics might stop the Peso rout.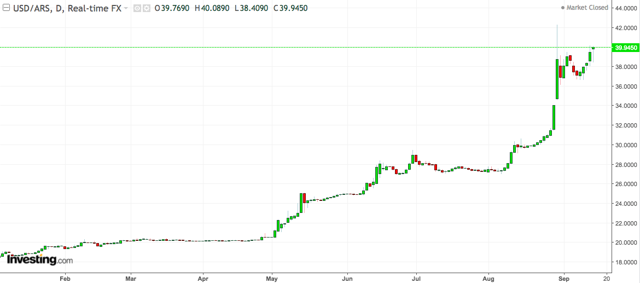 The main issue with Turkey, as I had previously described in "Turkey Caught Between A Rock And A Hard Place", is that the country is struggling to contend with doing what is right for the economy and at the same time, distracting issues that are geopolitical in nature. Trump's punitive tariffs on Turkey's exports will continue to bite, and may yet worsen along with the POTUS' relationship with Erdogan. Unlike Argentina, Turkey cannot seek help from the IMF, as the US sits on the board of the organisation and would potentially have a say in the reforms Turkey has to go through - an awkward position Erdogan would surely want to avoid placing himself in.
This probably left the CBRT with the slightly uncomfortable decision to bypass Erdogan and raise interest rates on Thursday. What if the currency weakness does not stop? Can the CBRT continue to resort to raising interest rates further? Unfortunately, no, this is unsustainable.
On 15 August, when USD/TRY was trading around current levels, ANZ released the figures below, where Turkey's foreign currency external debt as a % of their GDP stood close to 90%, taking into account exchange rates then. Even without the weakness in the Lira, the figure stands close to a whopping 50%. Argentina's external debt as a % of GDP stands at a more palatable 37% in comparison, based on 2017 data.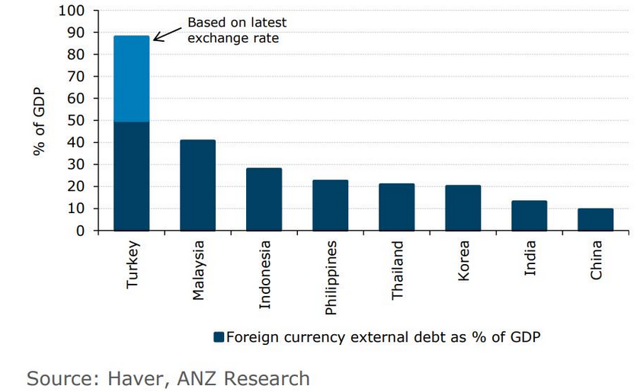 What this means is that Turkey's economy is highly reliant on foreign capital to achieve its 5-7% annual growth rate, a stellar number even by emerging market standards. Emerging market stalwarts like Brazil and India can only boast of a 0.2% and 1.9% annual growth rate respectively.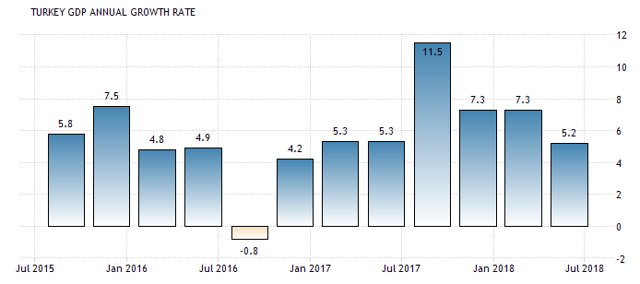 Hiking interest rates to stem currency weakness will lead to higher borrowing costs for corporates in Turkey, which will most likely lead to a tide of deleveraging and slower economic growth. This is a vicious cycle, as slower economic growth would take the shine off Turkey for foreign investors, not to mention the amount of time it might take for foreign investors to regain their confidence in Turkey following this fracas in 2018. Turkey may well face difficulties gaining access to credit markets, especially if credit rating agencies continue to cut its ratings further into junk territory. All this, without mentioning the possibility of further weakness in the Lira, which might cause inflation to spin out of control. Consumer prices rose to a 15-year high of 17.9% in August.
As Mark Mobius has warned, raising interest rates for Turkey is not the solution. The country has to balance its budgets to restore confidence in the economy. According to Trading Economics, Turkey is running a current account deficit of 5.5% of its GDP, and a government budget deficit of 1.5% of its GDP. These numbers will look worse if the country's GDP falls, or if it enters a recession.
All eyes will be on the details of Turkey's medium term programme, set to be released in September. The programme will guide the country's economic strategy and budget from 2019 to 2021. Already, there has been talk that the government will aim to cut back on unnecessary expenditures and to identify fields of strategic growth to focus on. The devil will be in the details. Amidst a backdrop of tariffs imposed by the US, a sound economic strategy with fiscal discipline will be of utmost importance.
Disclosure: I/we have no positions in any stocks mentioned, and no plans to initiate any positions within the next 72 hours.
I wrote this article myself, and it expresses my own opinions. I am not receiving compensation for it (other than from Seeking Alpha). I have no business relationship with any company whose stock is mentioned in this article.